5 Smart Money Stocks to Profit from the Market Rebound
Oct 11, 2019
Have you seen the film Gully Boy?
There's a reason why it has been chosen as India's official entry for the prestigious Oscars. Everything about the film is great - the acting, the screenplay, and the direction.
If you have already watched it, I am sure you will agree. If you haven't seen the film, I will urge you to watch it.
Anyway, the other aspect of the film that has really struck a chord with the Indian audience is the music. One of the songs has the catch line 'apna time aayega', which has become quite the rage.
The idea behind that catch line is pretty simple - Every individual will take his own time to excel, age does not need to be a constraint.
There are quite a few notable examples.
Take the US Presidential history for instance. Barack Obama became the President when he was 48, while the current President Donald Trump assumed the same office at the age of 71.
Something similar often happens in the stock markets too. Not all the stocks perform well at the same time. Some of them do. Others just need a turn in the sentiment in the stock markets to get that extra push.
--- Advertisement ---
You're missing out on a profit source that's up to 200X bigger than stocks

Stocks have been performing terribly over the last 2 years...And it's probably cost you a lot of money.

But what if we told you that instead of stocks - there's another profit source that you can tap into...

One that's up to 200 times bigger than stocks...

And has the potential to deliver explosive payouts like Rs 63,400 in 1 day, Rs 18,250 in 1 day, Rs 13,950 in less than 12 hours and a lot more.

When you can tap into a profit source like this, you won't need to rely on stocks to build a fortune.

Now over the last 30 years, India's #1 trader has been using a special Blueprint to trade these profit sources...And we've convinced him to share it with you.

All you need to do is register for a special summit we're holding on the 26th of November.

Register now – it's free.

*Past performance does not guarantee future results.
*Two lots of each trade have been assumed to calculate the returns of all the backtest examples used.
------------------------------
Indeed, I was wondering if the last couple of years weren't some of the worst we have seen. The magnitude of the fall in the indices, notably midcaps and smallcaps, has been quite steep. But it isn't really surprising...
You see, if we go back several years in history, there have been periods when the markets have corrected quite sharply only to surge in the following years.
Probably, what has spooked everyone is the duration of this under performance. Being down in the dumps for two consecutive years is a bitter pill to swallow.
Indeed, stocks falling 20% these days have become the norm rather than an exception.
And yet, there are also quite a few stocks that have bucked the trend.
Consider the stocks Sarvajeet and I have recommended in Smart Money Secrets...
We identified stocks that have been resilient these couple of years. Some of them have even gone on to deliver heathy gains so far.
An agro-chemicals stock we had recommended in June last year has gone up around 75% so far.
The Best Performing Smart Money Secrets Stock So Far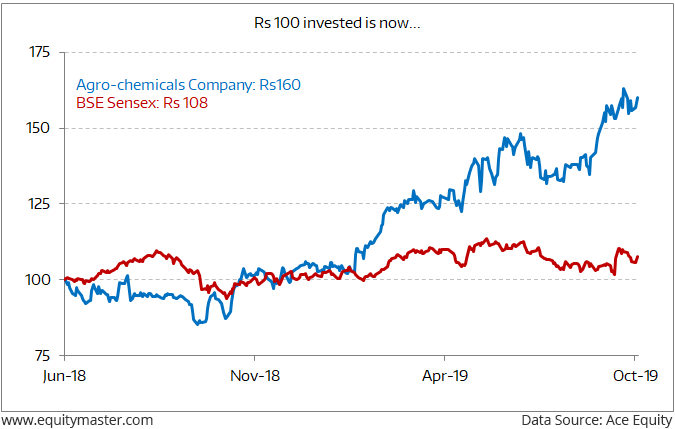 Another with a strong brand we recommended just a couple of months back is already up 18% in this difficult market.
Now while some stocks have done well, does it mean the rest of the stocks won't deliver? Certainly not.
We're sure the rest will do well too. Their time will come!
--- Advertisement ---
Our No. 1 Recommendation for 2020

This tiny company is Richa Agarwal's No. 1 Small Cap Stock for 2020…

It is a little-known company which trades around Rs 300, but is the backbone behind industry giants like Asian Paints, Vadilal and Heinz…

And has immense profit potential for early investors.

Get all the details here.
------------------------------
That is why, taking advantage of the market correction, Sarvajeet and I picked 5 stocks to recommend an increased exposure from 50% to 100%.
These are companies with strong business models and quality management at the helm. They have all scored highly on our Smart Money Score, just as the outperformers have.
It's just a simple matter of time, dear reader.
When the markets bounce back, these 5 stocks will get that extra booster shot and can go on to deliver big profits for shareholders.
Will you be among them?
Warm regards,



Radhika Pandit
Co-editor and Research Analyst, Smart Money Secrets
PS: Dear reader, Sarvajeet Bodas and I, co-editors of Smart Money Secrets, have recently published our latest stock recommendation report. If you don't have access to Smart Money Secrets...sign up here.
Recent Articles