You Can Buy Select Auto Stocks Now for Big Long-Term Returns
Oct 17, 2018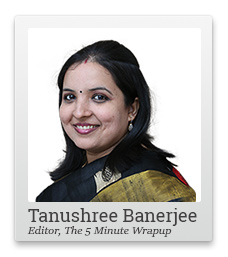 Demonetisation derailed the hopes of most Indian businesses in November 2016. Demand froze. India's consumption story came to a standstill.
Auto sales nosedived in the first quarter of 2017. In fact, the cash dependent rural markets took the sector's sales to a 16-year low.
Even as dealers began to clear inventory by March, the new emission norms kicked in (BS-III). The unsold stocks began affecting working capital for auto businesses.
Naturally, the gloom surrounding auto stocks kept most investors wary.
But what happens in the stock markets is often not in sync with the business realities.
The year following demonetisation turned out to be amongst the best the auto sector has ever seen. Not one or two...but as many as 25 stocks from the auto and auto ancillary sectors doubled between December 2016 and 2017.
Stocks of smaller companies were far nimbler than that of their bluechip peers. Companies selling auto seats, springs, axles, and suspensions saw their stocks soar between three to six times within months.
But business realities had to catch up with the stock prices sooner than later. In less than a year, the sentiments have dramatically changed for auto and auto ancillary stocks.
To begin with, there is of no dearth of bad news for the sector.
The Kerala floods, higher insurance premiums for two-wheelers, steep fuel prices, high lead and rubber prices, potentially higher taxes on luxury cars, rising interest rates and falling rupee have all taken the wind out of the auto sector's tails.
--- Advertisement ---


The No. 1 Book on Investing Goes Off the Shelves in 3 Days…

The only way you can still get a virtually free copy of Equitymaster's Secrets is if you claim it ASAP.

At 11:59 PM, 19th October – this offer will be pulled off the net forever.

After that, you'll have no way of claiming your virtually free copy of Equitymaster's Secrets.

Hurry – claim your copy now.
------------------------------
Second, the bluechip companies in the sector are facing headwinds that they did not encounter for many years.
Even as they begin to roll out new variants from their assembly lines, they're not sure of exercising raising prices.
You aren't alone if you have begun doubting the long-term potential of auto stocks. But that reminds me of Warren Buffett's comparison of auto stocks and horses...
At one stage, there were more than 2,000 separate auto manufacturers in the US. Even if you had bought shares in all of them, you would have lost money. It was virtually impossible to know which would fail and which would succeed. However, it was very easy to see who would definitely lose out - horses. The best investment strategy would therefore have been to go short on horses. There were 20 million horses in the US in 1900. Today, there are just 4 million.
Not all auto companies will make money over time. They never did.
Some of the oldest auto companies in the world, like General Motors, have been colossal failures.
But if you are ignoring auto stocks altogether today, the only reason I could think of is that you expect people to ride horses again!
On a serious note, many of the auto stocks, particularly the smallcap ones that went to stratospheric levels in 2017, could languish.
Some of the auto and auto ancillary companies will gain from the shift to electric vehicles. Some won't.
But there are businesses in the sector that you cannot ignore. And I am talking about some solid bluechips here.
Like Buffett said...
Fears regarding the long-term prosperity of the nation's many sound companies make no sense. These businesses will indeed suffer earnings hiccups, as they always have. But most major companies will be setting new profit records five, 10 and 20 years from now.
The ValuePro team has zeroed in on one such stock.
--- Advertisement ---


Last 3 Days To Go… (You Could Lose Your Book)

Have you claimed your virtually free copy of Equitymaster's Secrets yet?

We hope you have, because after 11:59 PM, 19th October, you won't be able to.

That's less than 3 days from now! Hurry.

Claim your book here.
------------------------------
Chart of the Day
One out of every three household in India is a buyer of their products. They own some of the cult brands in Indian automobile space. They have formidable R&D teams. They have been through several economic cycles over decades. Few have even visited near-bankruptcy in the past and come out successful.
Yet, some of the biggest passenger car, commercial vehicle, and two-wheeler companies in India have seen a huge dent in valuations in recent times.
This could be the opportunity long term investors were waiting for.
Bluechip Auto Are Stocks Way Off Their Valuation Peaks
Warm regards,



Tanushree Banerjee (Research Analyst)
Editor, The 5 Minute WrapUp
PS: Tanushree Banerjee is Equitymaster's co-head of research and editor of StockSelect. She has a long and illustrious track record of picking safe stocks. For over 16 years, StockSelect subscribers have received safe stock recommendations that delivered double and triple digit gains. You can receive Tanushree's safe stock recommendations by signing up here.
Recent Articles