The 13-Year Coma of Hindustan Unilever Shares...
Oct 28, 2017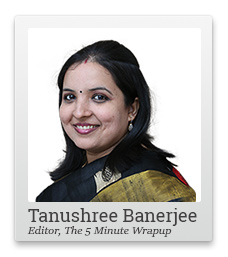 Just the other day I was having a chat with my colleague Radhika. Her sister works in the FMCG behemoth Hindustan Unilever. Not in their sales or marketing department, but in their market research team. HUL takes market research very seriously. And many of their research tools and insights are quite cutting edge.
That doesn't surprise. There's a reason why HUL is the market leader in many categories and the bluest of bluechips in the FMCG space.
It has a fantastic moat. All its products are solid brands. The business hardly requires any capex. Zero debt on its books. Return ratios upwards of 50% consistently.
JUST IN: Limited-Time Access to Full Transcript of Our Urgent Broadcast on India's Revival
It is a perfect Warren Buffett kind of business.
If I had to look at any investor's long term equity portfolio, I would be surprised if HUL wasn't in it.
Just out of curiosity, I charted the company's stock price for the last 20 years. I was pretty sure I would see a nice steady arrow heading upward on a more or less 45 degree incline. There would be minor hiccups, of course - this is the stock market after all. But still, HUL is HUL right. A steady ascent we shall find.
But boy, was I in for a rude shock.
From 1997 to 2010, HUL's stock price went nowhere! A 13-year coma.
You can see for yourself.
HUL's Stock Price Remains Stagnant for 13 Years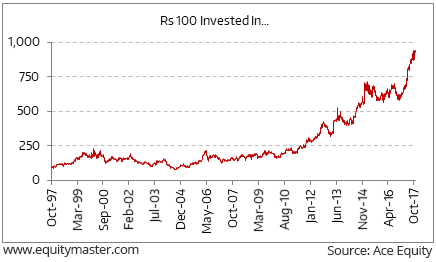 Those who invested in the stock in 2010 and held on since have been richly rewarded.
But those who invested in 1997 must have been quite a frustrated lot. Practically no capital appreciation for 13 years. Hardly the kind of behaviour you would expect from a bluechip stock.
This is exactly the dilemma I have been writing to you about this week. Sometimes a stock goes into a deep Kumbhkaran sleep while long term investors have to sit by the bedside holding its hand and praying for a miraculous recovery.
In HUL's case the recovery came. But what if it hadn't?
How long can we possibly wait before our nerves give in and we pull the plug? Not many investors would have had the patience to hold on to the stock for so long, not knowing if it will ever revive, and not get anything for it.
Is there ANYthing such an investor can do?
I used to think there wasn't.
--- Advertisement ---
READ: FULL Transcript of Our Urgent Broadcast

The full transcript of our urgent broadcast on India's Revival is available for a limited time now.

In case you missed watching our broadcast LIVE...

You can see all the important highlights from our broadcast in this transcript.

Please note that we may take this transcript off the internet any minute.

So it is highly recommended you read it immediately.

Click Here to Read the Transcript NOW
------------------------------
But recently I saw something that changed my mind.
Apurva, our technical analyst - whose work is so different I hardly ever discuss stocks with him - sent me a chart on Page Industries, a stock I know very well indeed. A smaller cap stock compared to HUL, but nevertheless having all the characteristics of a bluechip - a baby bluechip if you will.
Apurva was showing me a strategy that could have fetched about 17% returns in Page Industries within just five days. That too in 2015, a year when the stock was largely stagnant.
If this strategy really works - it would have enabled all those investors to profit from smaller pockets of opportunities from HUL's stock price in all of those 13 comatose years.
I was skeptical at first. Skeptical, as you know, is my middle name. Could this be... sound?
But then Apurva. Patient as ever, explained to me how his strategy made it possible to profit in a way that most long-term investors can't. And this is no fluke. Apurva has painstakingly done all the groundwork and he has convinced (even skeptical) me that this CAN work consistently.
Now, I am not one to jump at new things. I am more one to cautiously watch as things unfold, and take their time.
But I see this as something that could be real. That could be BIG for long term investors. So what I'm going to do is pass it on to you - so you can see for yourself.
So sleep soundly this weekend, because when I write to you again next week, you might find a strategy that could be a dramatic wake up call...
Editor's Note: While you're thinking about what you could do in the short term, here's a quick question... are you prepared for the long term. The markets are entering a golden decade of investing. This next decade is crucial to your and your family's wealth. So I ask again, are you prepared? If you're unsure, you should probably read this report.
PSBs - A decade of underperformance
On 24th October, the government announced its Rs 2.11 trillion public sector bank (PSB) capitalization plan. This move is aimed at reviving the PSBs' drowning in a bad loan mess.
The next day was a field day for investors in PSBs. Stocks went up from 30% to 49% in a day. But long- term investors might as well ignore this, since it was just one good day amongst a decade of underperformance. The top 5 stocks that went up the most on October 25th have given meager returns over the past decade.
CAGR returns of PSBs in the past decade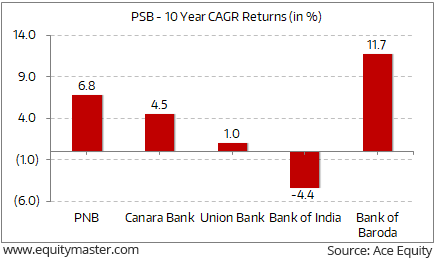 Punjab National Bank, which went up by 49% in one day, has given annualized returns of 6.8% in the past decade even after including the 49% gain. The same goes for the other PSBs. Compare this with HDFC bank which has given a 19.3% annualized return in the last 10 years.
The underperformance can be attributed mainly to bad loans. It is no secret, PSBs have been struggling with their collections on corporate loans. As a result, they have been reluctant to even lend to healthy companies. As a result, growth of these companies has suffered.
The Indian government has recently stepped up its efforts to address the problem. As part of this, the government has amended the Banking Regulation Act through an ordinance, giving more teeth to the RBI to deal with NPAs.
The recent recapitalization plan is one more attempt to bail out PSBs and infuse liquidity into the banking system.
While this might help in the short term, it is more important to focus on the lending and corporate governance processes followed by these banks. Unless that improves, we'll have to be content with the 'one day euphoria' instead of a decade of consistent performance.
Will Amazon cause further disruption in the pharma space?
According to recent reports in the US, Amazon has received approval for wholesale licenses in at least 12 states in the past one year. While the exact purpose of acquiring these licenses is still opaque, it has certainly shook investors in the pharma space.
One inference we can make from Amazon's entry in this space is that prices might fall even further. However, with respect to Indian pharma companies, this certainly doesn't help. Indian Pharma stocks have underperformed in the last 2-3 years.
Price erosion in the US markets due to buyer consolidation has dented profits of generic companies with a large US exposure.
Now, with Amazon's entry in the pharmacy space, are the woes set to continue?
Maybe not.
For once, the business of selling drugs is complicated compared to selling consumer goods. In the US, sale of drugs happen through Pharmacy benefit managers (PBMs). They act as a mediator between the one selling the drugs (pharma companies) and the ones paying for the drugs (insurance companies).
Amazon would need to tie-up with these PBMs to sell the drugs to normal consumers. This is a highly tedious process and involves complicated approvals.
Even if Amazon navigates through all this, only Indian companies selling generic drugs with high competition might be affected. Companies that have a pipeline of complex generics with limited competition might not have little to worry about.
Amazon has the potential to cause major disruption in the pharma space. But Indian pharma companies who have customers in diverse geographies and manufacture niche drugs will continue to do well.
What the Markets Looked Like This Week
Global markets continued to remain buoyant in the week gone by. The US markets ended higher by 0.6% on the back of a tech rally fueled by strong quarterly performance by IT heavyweights such as Amazon, Microsoft, Alphabet and Intel. Even the U.S. dollar rallied backed by a brightening outlook for tax cuts, better-than-expected third quarter GDP data and a dovish take on actions by the European Central Bank. The central bank said it would halve its asset purchase program to €30 billion a month, but also extend it for at least nine months until September 2018.
With the European Central Bank extending its stimulus package, both France and German indices yielded returns of 2.3% and 1.8%, respectively. But the UK market was marginally down by 0.4% in the week gone by. Majority of the Asian markets ended on a firm footing on positive global cues. The Japanese market was the biggest gainer, up 2.6% in the week gone by. Japan's Nikkei hit a 21-year high led by bank and tech stocks. The Indian indices were the second best performing after Nikkei. The BSE Sensex breached the 33,000 mark after the government's big-ticket announcements to recapitalise state-run banks and invest in the road infrastructure revitalised the markets. The Chinese market was up by 1.1% for the week that saw President Xi Jinping consolidate power at a key Party Congress, pledging to build a modern social country for a "new era".
Back home, the spectacular market gains were powered by banks, particularly state-run, that rallied the most after government's Rs 2.11 trillion recapitalization infused fresh hopes in resolving the bad loan mess. Majority of the sectoral indices ended the week on a positive note. Stocks from capital goods and power sector were among the major gainers during the week.
Investment Mantra of the Day
"It's far better to buy a wonderful company at a fair price than a fair company at a wonderful price." - Warren Buffett
Recent Articles