A Strange Investing Strategy That's an Oasis for Desert Stocks
Oct 31, 2017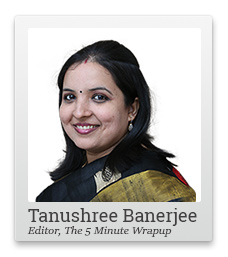 Over the Diwali weekend, I found my dad watching one of his favourite movies, Lawrence of Arabia...again! He's seen it a hundred times and never seems to tire of it.
For the first time, I decided to watch the movie with him. Dad's favourite scenes are where the hero, Lawrence, is desperately trying to survive the vast, empty, endless desert. And this dialogue, especially, is etched in his memory.
No Arab loves the desert. We love water and green trees, there is nothing in the desert. No man needs nothing.
So true. I found myself nodding along. In my line of work, we would have to say - 'no investor needs nothing'.
Irrespective of the investing approach, process and timeframe, an investor always hopes that something would turn in favour of the stock...
But there are so many endless stretches of aridity in the market s- where stocks just didn't work. Not just days or months...but years...several of them, when the stocks didn't move! And not just random stocks...the best of the best: Berkshire Hathaway, Coca Cola, Walmart and our very own Infosys and Hindustan Unilever!
You know that with my safety-first approach, I always look for stocks that can perform reasonably, no matter what. Solid, capital-efficient and high-dividend-paying companies are the best bet - if the company is good at allocating capital, stocks will work wonders even if you go wrong on assumptions like growth, margins, etc.
And in fact HUL, Infosys, Berkshire etc ARE those kinds of stocks - they will perform no matter what. Even after they had been wrong for a long time - these stocks rewarded shareholders handsomely.
But it's the long fallow period that most investors worry about. Stock returns are typically measured over a few years. So, if you feel like you have held on for three to five years and seen nothing - you might feel trapped.
Interestingly, my colleague Apurva, stumbled upon a solution to this 'entrapment'.
Looking through charts of the best performing stocks, like he always does, he noticed something interesting. Even when the stocks were suffering a long period of stagnancy in price movement, there were patterns that could have become money spinners.
Apurva quickly looked for such patterns across fundamentally sound stocks that have had periods of underperformance. And eventually developed his own Lawrence of Arabia-like survival strategy for stocks caught in the desert. The returns Apurva promises from them could literally be the oasis for return-thirsty investors.
This strategy may not be for everyone. But I would advise you to check it out for yourself - because it could just be right for you... You can read all about it here.
No Let Up in Capex by Consumer Led Sectors
The Indian economy is challenged by the abysmal capex in the private sector, and further waned by debt-ridden and cash-strapped sectors such as infrastructure and construction.
Consumption driven sectors, on the other hand, were relatively better-off as they witnessed an increase in investment opportunities backed by good demand. Resultantly, the companies operating in this sector recorded double-digit growth in their fixed assets or capex in the past one year. Sectors such as cement, tyres, auto ancillaries, and personal care registered robust double-digit growth in investments in the past one year.
Consumer Driven Business Frontline Capex Growth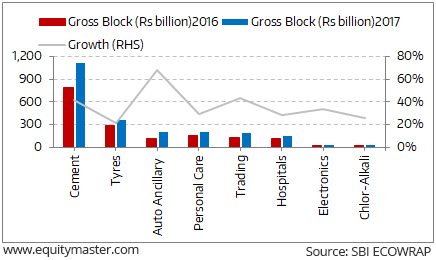 To optimise the movement of people and goods across the country, in the aftermath of GST, the government recently announced mega investments to the tune of Rs 6.9 trillion to lay down a road network of 83,677 km over the next five years. The road construction plan includes the Bharatmala Pariyojana with a Rs 5.4 trillion investment toward road construction of 34,800 km. In addition, Rs 1.6 trillion will be spent on the construction of 48,877 km of roads by the state-run National Highway Authority of India (NHAI), and the ministry of road transport and highways. Improvement in road infrastructure is likely to bring down logistic costs and help improve the cost competitiveness of the manufacturing sector. This in turn is likely to spur the much-needed private sector investments in the country.
IPOs Turn Exit Routes
The IPO market is on a roll, hitting the highest level attained in more than a decade. However, majority of funds so raised will go to the selling shareholders instead of financing company growth. As per an Indian Express Report, 80% of the Rs 462.4 billion of funds raised in 2017 through public issues were offer-for-sale with a mere 20% being in the form of fresh capital issued. This is the lowest share of fresh capital raised through public issues since the previous low of 24.5% in 2003.
What this clearly shows is that existing shareholders are utilising the opportunity to make a neat profit on the stock markets as investor sentiments continue to run high. However, companies from the manufacturing or services sector are refraining from raising fresh capital that does not really bode well for the their long-term business growth. Unless there is a pick-up in investments by India Inc, a sustainable economic recovery will continue to remain elusive.
What the Markets Look Like Today
Indian equity markets opened the day on a flat note. At the time of writing, BSE Sensex was trading lower by 60 points and NSE-Nifty was lower by 13 points. Both the mid cap and small cap indices are trading up by 0.3% and 0.2%, respectively. Stocks from the consumer durable and capital goods are among the gainers.
Investment Mantra of the Day
"I never attempt to make money on the stock market. I buy on the assumption that they could close the market the next day and not reopen it for ten years." - Warren Buffett
Recent Articles