Hawkins: Our First Big Winner in Smart Money Secrets. More to Follow Soon...
Nov 6, 2019
It's been nearly two and a half years since we launched Smart Money Secrets.
Its Equitymaster's first-ever service to track India's super investors - the 'smart money' in India. As co-editor, it's been a great experience.
Radhika and I have tracked many super investors, looked at various stocks, analysed many business models, attended several analyst meetings and AGMs.
Before recommending any stock to our subscribers, we carefully assessed not just the numbers but also qualitative factors like capital allocation skills, quality of management, etc.
We also ended up rejecting several companies, despite the presence of super investors. These companies did not pass our Smart Money ScoreTM.
To be honest, it's also been a difficult period for investors like you.
Since the start of 2018, the broader market, measured by the BSE Midcap and the BSE Small cap indices have fallen of 17% and 29% respectively.
During the period, we also saw several companies trapped in corporate governance issues. But Smart Money Secrets subscribers have managed to stay away from those stocks 😊.
Then there was SEBI's decision to reclassify mutual funds. That had a big impact on the small-cap stocks.
The NBFC crisis also took its toll. The crisis severely impacted the economy as many NBFCs faced a liquidity crunch.
Apart from all this, every sector has faced its own unique challenges.
That said, Radhika and I have focused extensively on identifying quality franchises which are available at good valuations.
Just take our recent successfully closed recommendation - Hawkins Cooker Ltd.
We closed the position in less than three months with more than 40% gains.
--- Advertisement ---
You're missing out on a profit source that's up to 200X bigger than stocks

Stocks have been performing terribly over the last 2 years...And it's probably cost you a lot of money.

But what if we told you that instead of stocks - there's another profit source that you can tap into...

One that's up to 200 times bigger than stocks...

And has the potential to deliver explosive payouts like Rs 63,400 in 1 day, Rs 18,250 in 1 day, Rs 13,950 in less than 12 hours and a lot more.

When you can tap into a profit source like this, you won't need to rely on stocks to build a fortune.

Now over the last 30 years, India's #1 trader has been using a special Blueprint to trade these profit sources...And we've convinced him to share it with you.

All you need to do is register for a special summit we're holding on the 26th of November.

Register now – it's free.

*Past performance does not guarantee future results.
*Two lots of each trade have been assumed to calculate the returns of all the backtest examples used.
------------------------------
I wrote about Hawkins in a previous edition of The 5 Minute WrapUp
The way in which this 60-year old small-cap company operates is clearly differentiated.

No channel stuffing.

No extended receivables to boost sales.

No unnecessary capex.

Believes in its strategy - choosing what not to do.

Extensive focus on product testing.

Sending its channel partners to advanced management programmes. I mean, which small cap company does that?

I believe, the management has set a gold standard when it comes to corporate governance.
We had perfect quality stock in Hawkins.
A strong brand, robust balance sheet, excellent management, strong distribution network etc.
The financials were impressive too. It's one of the few companies boasting of return ratios above 50% for several years.
Hawkins Cooker Gave More Than 40% Returns in Less than 3 months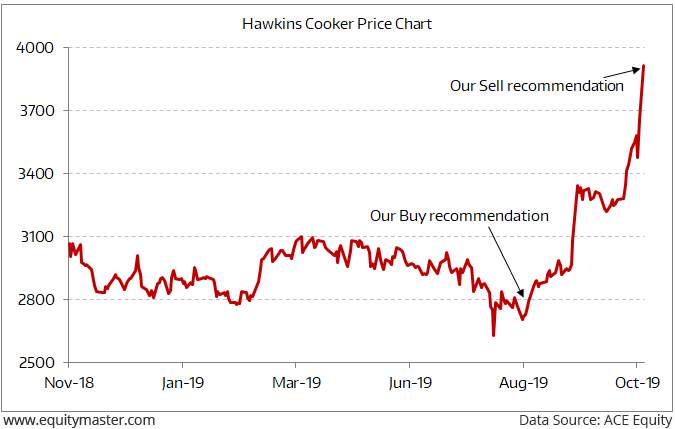 But I believe, this is just the start.
Many of our recommendations will follow Hawkins' trajectory.
Why do I say that?
In Smart Money Secrets, we've identified high-quality businesses which can take advantage of big reforms by the government - the Insolvency and Bankruptcy Code (IBC), GST, corporate tax cuts - which we believe will improve the state of our economy.
India has all the right ingredients in place...
Political stability
Low inflation
Strong and stable forex reserves
A long runway of growth considering our low per capita income compared to other countries
We are betting on the big reforms by the government which will playout over the next several years.
We're written about these before - financial inclusion, revival in consumption, asset-light business models, etc.
In fact, Radhika and I identified our top 5 stocks based on these themes. We believe, these stocks have massive wealth building potential in the long-term. If you've subscribed to Smart Money Secrets, you can download the 5 stocks report here.
If you haven't subscribed to Smart Money Secrets, you can sign up here.
To conclude, I agree with SBI Chairman Rajnish Kumar's recent statement.
He said, the Indian economy is in a 'transition' and India is 'at the bottom as far as growth is concerned.'
The optimist in me also believes, 'The worst seems to be over'. This is a great time to buy high-quality stocks.
Why do I say so?
I will explain in detail next week.
Stay tuned and happy investing!
Warm regards,


Sarvajeet Bodas
Co-editor and Research Analyst, Smart Money Secrets
PS: As you read this, we are looking for our next smart money recommendation. If you would like to receive these recommendations delivered straight to your inbox - sign up for Smart Money Secrets here.
Recent Articles