Best of Both Worlds For a Trader and An Investor
Nov 4, 2017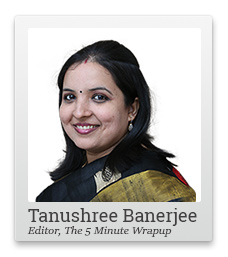 Dear Reader,
Combining fundamental and technical analysis leads to a fascinating style of investing. Never before, in my decade of experience in the sector, have I seen this brilliant combination be used so simply and effectively... by any trader and investor. And yet, here it is, the more I learn, the more I must share it with you... Read on for Apurva's new strategy revealed!
Here's How I Pick Best of The Best Stocks...And You Can Too!




Last time I showed you how to invest in today's market by marrying fundamentals and technicals. Today, let's delve deeper and you will know how I do it.

More importantly, how you can benefit from it.

The process of picking stocks I'm going to share with you is formulated from having closely worked with institutions in the past, and tracking their success to generate money in challenging, difficult environments by trading in only the best fundamental stocks.

Some would trade only in sectors which were doing well. Some would trade only in the best 20 stocks of the Nifty 50 basket.

No matter what your trading style, everyone can use the techno-funda approach. After I joined Equitymaster in November 2014, I knew that the best available research out there is Equitymaster's fundamental research. I apply technical filters on stocks which the Equitymaster team has recommended.

That's how I created this process of picking stocks. And, here's how it works...

Three-Step Process to Identify Best Techno Funda Trading Opportunities




Step 1: Apply Qualitative Filters

I apply qualitative filters to build a universe of fundamentally strong stocks.

Then, I create a bucket of stocks chosen through the magnified lens of the Equitymaster Research team. This includes stocks from some of Equitymaster's premium stock recommendation services. There are seven services which track some of the best stocks across the length and breadth of Indian stock markets.

Each service is designed with a different objective and investment philosophy. But, one thing which is common across these services is that, their well-defined process has delivered solid results over the years. Here's a peek of what the services are all about...
StockSelect - identifies safe blue-chip stocks that subscribers could count on over a long term. It is the longest running Equitymaster service with a successful track record of more than 15 years. At the moment, there are 20 open recommendations in this service.
The India Letter - has zeroed in on 7 visible signals or Megatrends that it believes will be the key tailwinds for the economy. It recommends high growth stocks which could potentially generate market-beating returns over a long time frame. The team has identified 34 stocks which fits the criteria.
Hidden Treasure - identifies small cap stocks with strong moats, good fundamentals, and solid managements that are available at attractive valuations. The stocks that qualify are recommended with a horizon of 3-5 years. The team uses a proprietary tool - Equitymaster Risk Matrix (ERMTM) for an objective and thorough risk analysis of these smallcap companies. Right now, there are 22 companies which have gone through the ERMTM and are live recommendations.
Smart Money Secrets - tracks the investments of what they believe are India's 40+ Super Investors which includes exceptional Fund Managers, Investing Gurus and Promoters. Their aim is to get in early and then just "ride along" with these investing gurus towards solid profits. This is Equitymaster's latest stock recommendation service with six open recommendations.
ValuePro - is a recommendation service based on the principles of Warren Buffett. The companies covered under the service boast of healthy moats, a robust financial track record, and good dividend payouts...the things Buffett looks at before buying any stock. The team has identified 30 companies which Buffett would buy.
Microcap Millionaires - identifies stocks--where the downside to upside ratio is firmly in favour of the subscribers--that could lead to generating strong returns from fundamentally strong but attractively valued microcaps. The service which uses definite rule for buying as well as selling has 10 open recommendations now.
Profit Velocity - is based on Newton's first law of motion which believes that stocks with high past returns tend to have high future returns. It aims to recommend mid and small cap stocks that have had the best returns over the last one year and are also blessed with strong fundamentals. This super active service has 14 open recommendations now.

(Please note: I do not have access to Phase One Alert which is Equitymaster's exclusive recommendation service.)

Equitymaster Services with Open Recommendations as on 1st November 2017
There are about 145 stock recommendations across all the above services. Some of them are common and recommended in two or more services...which is good as it means the stock has gone through two very different set of investment filters and processes.
Overall, there are 117 unique stocks which the Equitymaster team has recommended. These are live as I write this letter. I include all stocks that are recommended with an average liquidity criteria of Rs 5 million in my universe.
Step 2: Use Visual Chart Analysis
I apply technical analysis tools like trendlines, volumes, support and resistance, momentum to identify timely entry and exit points. I have written in detail about them and how I have used these tools alone successfully to identify some of the best stocks.
At this point, I will employ a combination of the fundamentals (stocks recommended by Equitymaster team) and technicals (my time tested proven system of trading) process to identify the best trades on the best stocks.
Step 3: Recommend Best Trades on Best Stocks
Finally, I will recommend stocks which pass both the filters with a maximum buy price along with target and stoploss percentages.
By now, I am sure you may be wondering how you can use the same approach...You may not be a subscriber to any of these services...or you might have only a few of them...or you may not know how to use the technical tools for trading.
You don't have to worry about any of this. We have a solution for you.
Just click here to know about it.
The Biggest Outperformer of Current Financial Year
Are these a sign of changing times?
Traditionally, investors held onto their 'safe' stocks, i.e. the Tata's, Maruti's, TCS, Infosys... and held on to them for life. These large caps provided a certain sense of comfort, reliability even during tough times for the market.
But if the data in FY18 is anything to go by, there has been a marked change in investing patterns. Small caps have comfortably outperformed the Large caps and how.
The BSE Small cap Index has returned 21.7% in FY18 compared to 12.5% by BSE 100 and 11.7% by the Sensex.
Expectedly, valuations of certain Small cap companies have gone through the roof. It is important to understand the highly volatile nature of these stocks. In a downturn, these stocks tend to move in the opposite direction much faster as well.
While there, undoubtedly, lies hidden opportunities in the small cap space, it is important to focus on fundamentals of these stocks. Next, assess if they have the potential to move on to the 'Safe stock' category in the future.
Small Caps - Outperformers in Current Financial Year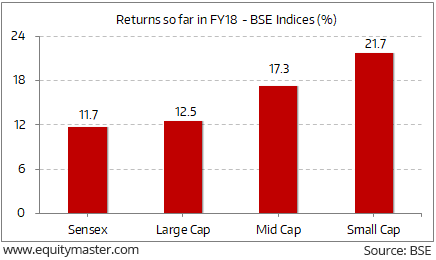 Is the Recent IT Hiring Freeze Going to be the New Norm?
The recent recruitment data of the top IT companies is indicative of the industry's metamorphosis. According to a recent Mint report, the top 6 India based IT companies have reported a decline of 10,505 employees in FY18.
A slowdown in demand in the IT services sector coupled with automation have heavily impacted job creation in the sector.
According to a study by Horses for Sources, India is likely to lose 640,000 low-skilled IT positions to automation by 2021. This is considering the amount of back-office processing and IT support work that are likely to be automated.
India is expected to be the largest workforce in the world by 2026, with 64 % of the population expected to be in the workforce age-group of 15-59 years. Moreover, 69% of the existing jobs are under threat from automation.
A sea-change in the education sector is the need of the hour to get this workforce job-ready . With a single-point focus on specialized skills, the education sector needs to align its curriculum to suit job requirements. The government has to proactively look at manufacturing as a mass hiring industry. This will enable migration of jobs from the services to the manufacturing sector.
Unless these steps are taken, India will be staring at a huge demographic problem in the near future.
What the Markets Looked Like This Week
Global market ended the week on a positive note. Japan's index spiked above the 22,000 level for the first time since 1996. The benchmark index posted gains of 2.4% during the week. Robust corporate earnings coupled with broad economic improvements have led to the surge in the index.
Coming to the European markets, benchmark index in Germany and Britain too touched record highs during the week. Benchmark index in Germany posted gains of 2% during the week. Depreciation of Euro and Pound against the dollar have helped bolster shares of exporters in the European market.
Further, prices of crude oil surged to levels above 60 dollars during the week. From the lows of 30 dollars in 2016, the crude prices have now doubled. With, Organization of Petroleum Exporting Countries (OPEC) cutting production, global oil markets seem to be broadly balanced now after years of oversupply.
This sharp rise could be negative for corporates for whom crude and its derivatives is the main raw material. Paints, FMCG, aviation, oil and cosmetics industry are the industries which rely heavily on crude and its derivatives for its raw material requirement.
Back home, benchmark indices in India too logged record highs as BSE Sensex closed at 33,686. Strong capital inflows and services PMI data coupled with decent corporate earnings led to the index surging by 1.6% during the week.
Investment Mantra of the Day
"It's far better to buy a wonderful company at a fair price than a fair company at a wonderful price." - Warren Buffett
Recent Articles