Why Moody's Rating Downgrade is a Strong Sign to Buy Stocks
Nov 8, 2019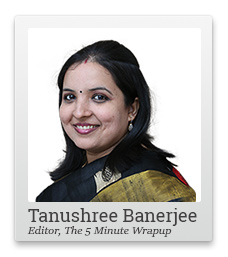 My views on the credibility of rating agencies, especially the global ones, is no secret.
I wrote to you about how poorly the insiders at Moody's rate their rating approach back in 2009. And again in 2015.
In an interview, Moody's former Managing Director, Jerome Fons, had called the rating agencies - Standard & Poor's and Moody's - as worthless and worth ignoring.
But even years after subprime crisis unfolded in 2008, regulators and investors all over the world continue to rely on these rating agencies.
Mr Fons is not the only one who is appalled at this situation. I am too and many others like me.
Nevertheless, the views of the big rating agencies, continue to find takers.
Unfortunately, they are typically too late to signal either a downside or an upside.
You can find the latest example of this in today's papers. Moody's downgraded India's rating from stable to negative.
Ironically, if you track Moody's record of rating downgrades you'll find it works like a 'inflection' indicator.
Think of it as the Cocktail Party Indicator. When everyone at a cocktail party shares stock tips with you, it signals a bursting of a bubble.
Similarly, the Moody's indicator, is typically very late to caution on risks. So late in fact, that now it is time to look forward to the upside.
Investors who take Moody's downgrade of India too seriously, will either suffer losses or miss the bus on the upside.
If you don't believe me, take a look at this chart. What do you see?
Terrible Track Record of Rating Downgrades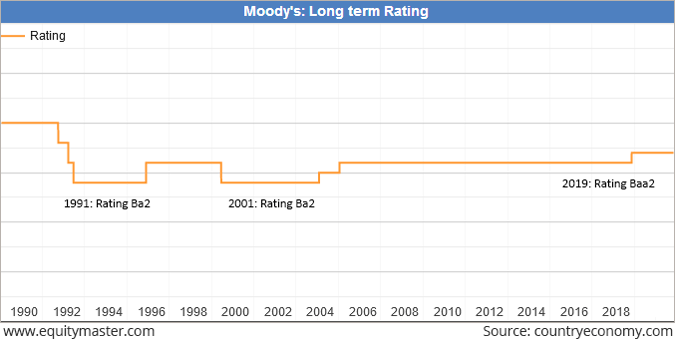 Every time, Moody's has slashed India's rating below the 'stable' category, the economy has bottomed out.
And a stock market boom followed.
So, smart investors who bought stocks after Moody's rating downgrade in 1992 and 2002, created life-changing wealth for themselves.
You need to do the same today.
--- Advertisement ---
New FREE Guide: Find the Next Crorepati Stock in this Futuristic Industry

Tanushree Banerjee, the co-head of research, just released her new guide:

Find the Next Crorepati Stock in this Futuristic Industry

And she has agreed to make it available for free for a limited time.

If you've not claimed your free copy, then do so now. It might not remain free for long. One more thing…

Tanushree has also discovered one stock from this futuristic industry… which she strongly believes has the potential to make you a crore or more.

She'll reveal more details about this stock in her first-ever 'One Stock Crorepati MEGA Summit'

We expect this to a huge event… with more than 10,000 people attending it LIVE.

You simply can't miss it.

Click Here to Download the Guide & Block Your Seat Now. It's Free.
------------------------------
Take advantage of the negativity in the stock market and buy the best stocks that are poised to ride India's economic recovery.
The Moody's rating downgrade will not affect the Rebirth of India at all.
It will also not affect my pick of the 7 best stocks in the market.
The ratings downgrade could only serve my readers, like you, to buy these stocks at valuations that are favourable.
And don't be in a hurry to see markets soar.
Stay assured that the Moody's rating downgrade is a final indicator of an inflection in India's economic and stock market potential.
It is a sign to buy.
How have you reacted to such rating downgrades earlier? Share with us...
Warm regards,



Tanushree Banerjee
Editor and Research Analyst, The 5 Minute WrapUp
PS: Dear reader, you can ignore the negative news surrounding Moody's rating downgrade. Instead, I recommend you consider buying my top 7 stock picks for 2020. Get the details here.
Recent Articles