'Buy and Hold Forever' Not The Best Investing Style After All
Nov 9, 2017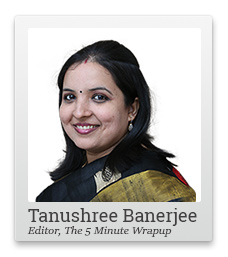 Let's say you come into a fair bit of money and decide to invest it in the stock market. After doing your homework and a lot of deep research, you finally zero in on a list of stocks you want to invest in.
You are excited by the fact that the market valuations are in your favour. A lot of the stocks that have passed your 'quality' checks are actually available at great prices.
So you go ahead and buy them.
So far so good...
Now, what do you do next? As a value investor you will not waste your time tracking daily stock prices. Or even feel the need to continuously churn your portfolio.
And yet the question remains - how long should you hold on to the stocks you have bought?
3 years? 5 years? 20 maybe?
Warren Buffett once famously said that his favourite holding period is forever.
Makes sense right? I mean, why even think of selling the stock of an amazing business that you think will consistently reward you over the years?
But they say the proof of the pudding is in the eating.
So what better way to understand this than to compare Berkshire's portfolio in 1992 with that in 2017?
See these portfolios for yourself.
Berkshire Hathaway's Stock Portfolio 1992
Company
Market Value
(US$ bn)
Coca-Cola
3.9
GEICO
2.2
Capital Cities/ABC, Inc
1.5
The Gilette Company
1.4
Freddie Mac
0.8
Wells Fargo
0.5
General Dynamics
0.5
Washington Post
0.4
Guinness PLC
0.3
Source: Berkshire Hathaway, The Motley Fool
Berkshire Hathaway's Stock Portfolio 2017
Company
Market Value
(US$ bn)
Kraft Heinz
29.2
Wells Fargo
27.2
Coca-Cola
16.5
IBM
14.4
American Express
11.9
Phillips 66
6.4
US Bancorp
4.6
Moody's Corp.
2.7
Goldman Sachs
2.6
Source: Berkshire Hathaway, The Motley Fool
Berkshire's portfolio in 2017 is drastically different from what it was way back in 1992.
There are only two common stocks: Coca Cola and Wells Fargo.
Only two stocks have been in Berkshire's portfolio for 25 years since 1992. (Note that GEICO became a wholly owned subsidiary of Berkshire in 1996.)
For various reasons, Warren Buffett sold the rest of the stocks from his 1992 portfolio.
So you see, Buffett is not always a 'Buy and Hold forever' kind of investor either.
Coca Cola and Wells Fargo continue to have strong moats even after all these years.
So Berkshire saw no reason to exit these stocks. Heck, it might not even do so in the foreseeable future.
But take the case of Freddie Mac.
This stock was part of Berkshire's portfolio in 1992. In 2000, Berkshire decided to sell all of its shares as the company began taking on too much risk.
Buffett was bang on. Freddie Mac's unnecessary risks came to the fore in the 2008 global financial crisis and the company suffered terribly.
You see, it does not make sense to blindly hold on to the stocks in your portfolio forever. It is necessary to review them periodically, if not often.
And ask yourself these questions:
Are the reasons why I bought the stock in the first place valid even today?
Do I still believe in the management?
Is there a possible threat to the company's moat which could hurt its standing in the industry and in turn its financials?
If the answer to the first two questions is yes and to the last one no, then by all means hold on to that stock.
Otherwise, you might want to consider trimming your holdings.
My ValuePro team and I follow a similar approach while evaluating stocks. We make it a point to recommend the best possible 'Buffet-type' stocks for a longer time horizon. At the same time, we make sure that these are periodically reviewed.
[Note: ValuePro is Tanushree's premium service that selects Buffet-style stocks for long term investors. You can learn more about it here.]
Because in the past we have sold off stocks where we felt the reasons why we bought the stock in the first place no longer held true.
Or because the valuations ran way ahead of fundamentals and so we believed it was time to book profits and exit the stock.
There were a couple of instances, where we felt later that there was not much clarity on management's intentions.
All of these are compelling reasons to exit a stock.
Thus, you will see that both the portfolios under my service look way different in 2017 from what they were when they were first created in 2009 and 2011. And these portfolios will continue to evolve.
In fact, over the next few months, expect me to update you on the stocks I think you should be selling to book profits. Do watch your inbox!
Editor's Note: Does the selling of stocks make you nervous? Does it seem too much like trading? Not to worry - there is a halfway between trading and investing. A strategy which will give you much needed confidence in selling - while making you extra profits. Try it now.
Surging Crude Oil Prices; Cruel to the Indian Economy
20 January 2016. Crude Oil Price- US$ 27.88. Crude oil touched a 10-year low.
6 November 2017. Crude Oil Price- US$ 64.27. Short of 20 months, it increased nearly 130%.
This is a typical capital cycle. And it gets interesting every time.
Crude Oil Hits 28-Month High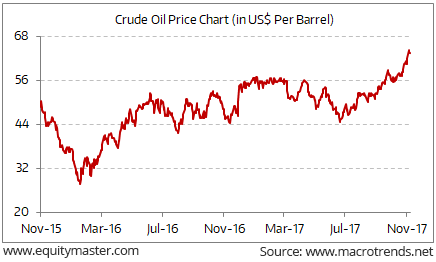 The OPEC is expected to extend a cut of around 1.8 million barrels per day into the whole of 2018. Since June 2017 onwards, prices of Brent have been on the rise, on the back of a drop in US crude inventories, geopolitical tension between OPEC countries, and disruption in production caused by the hurricane activity in the US.
While supplies are tightening, demand is expected to remain strong this year. With this, oil prices gained more than 15% in September and October - their best two months in over a year.
But on the flipside, higher prices could bring on a wave of output from shale fields. US drillers have drilled a massive backlog of wells that have yet to be tapped. Production from those wells could come online quickly.
However, rising oil price is not good news from India's perspective.
Fiscal revenues are at risk. Particularly if the government is forced to consider a cut in fuel excise duties due to a rally in oil prices. In recent times, a sharp jump in excise collections has helped indirect tax collections. Any risk to revenues and subsequent threat to the fiscal deficit target at 3.2% of GDP would require tighter spending cuts.
Secondly, the impact on inflation needs to be monitored. This narrowing the central bank's scope for further rate cuts.
Lastly, low crude prices were a positive growth impetus through higher discretionary incomes for households and lower input costs for manufacturers and farmers. Part of this benefit is likely to be eroded as retail fuel costs rise. As for corporations, expansion in gross margins caused by falling commodity prices is also likely to wane, pressurising profitability.
From India's perspective, rising oil prices warrant close attention. This could lead to rising risks of fiscal slippage, greater inflationary pressures, and lower likelihood of a rate cut by the Reserve Bank of India (RBI) in December prompt investors to review their positions.
35% of the IPOs Trading Below Issue Price in 2017
2017 will be, undoubtedly, considered as the year of IPOs. The IPO activity is headed for a record. According to data from prime database over the last 16 years, IPO mobilisation has been the highest in 2017. Because of the surge in demand for IPOs, valuations are getting out of whack in the IPO market. And, it looks like a valuation bubble in the IPO market.
This year, the IPO activity driven by Offer for Sale (OFS) rather than fresh issues. One of the key reasons for this surge in OFS offering is due to a surge in the Indian equity market backed by liquidity and an increase in demand for financial assets. Private equity investors and promoters are taking advantage of the absurd demand for IPOs.
Interestingly, as per an article in Mint, nearly one-third of stocks listed this year are trading below issue share price.
With greed hypnotising most folks, it is time for retail investors to exercise caution. While this does not mean that you should avoid IPOs lock, stock, and barrel; just ensure you do not end up paying higher valuations for a company that is yet to establish its worth.
That's Ankit Shah's approach at Equitymaster Insider. He keeps a sharp eye on the developments in the IPO space and keeps his readers up-to-date on the big-ticket IPOs.
Ankit and his team of researchers constantly reference this handbook on investing in IPOs. You can download a copy for yourself. It's free. Just click here.
What the Markets Look Like Today
Indian equity markets opened the day in the green. At the time of writing, BSE Sensex was trading higher by 170 points and NSE Nifty was higher by 56 points. Both the mid cap and small cap indices are trading up by 0.8% and 0.8%, respectively. Stocks from the consumer durable and capital goods are among the gainers.
Investment Mantra of the Day
"Unless you can watch your stock holding decline by 50% without becoming panic-stricken, you should not be in the stock market." - Warren Buffett
Recent Articles