Your Mask for the Killer Smog in Stock Markets
Nov 14, 2017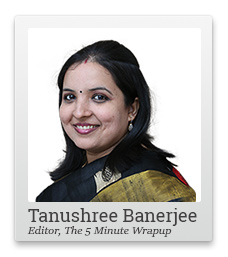 The rating for the air quality index in Delhi has deteriorated from 'very poor' to 'severe'.
You don't have to be an environmentalist to understand how dangerous that is to the lives of Delhiites.
I wish there was such a rating system for the pollution levels in financial markets too. One that could tell us how poisonous the assets floating around us are. Without having to decipher the financial mumbo jumbo that the TV talking heads throw at us.
The plain fact is that the pollution in the financial markets today is higher than it was in 2007.
You are more likely to inhale poisonous stocks and assets in your portfolio than you would otherwise.
And the worst problem is that the smog has left us helpless. There is no visibility!
Bitcoins gained 500% this year. Tons of smallcaps have returned 50% to 500% this year. Over 100 stocks in the BSE Smallcap index doubled over the past ten months. So, the momentary euphoria is hard to ignore.
In fact, even the typical momentum stocks are riding high on speculation. My team tells me...The top 10 momentum stocks in the last quarter have returned around 20% more than stocks selected based on fundamentals and valuations!
I am not surprised.
Chinese real estate, cryptocurrency funds, marijuana ETFs, junk bonds...you name it...and the worst quality assets will feature in top gainers of 2017.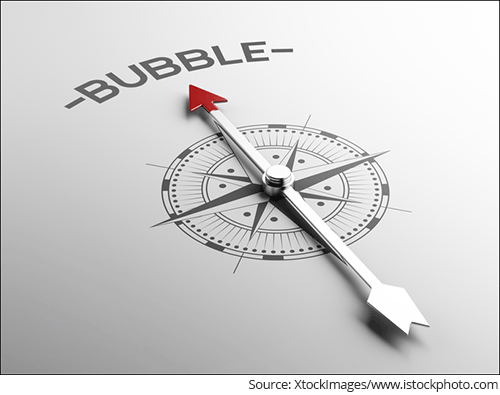 Seeing others make big money from speculative bets is one of the most dangerous aspects of this killer smog. And every time, investors, both novice and seasoned, keep falling prey to it!
This is not to say that I paint all stocks with smaller market cap with the same brush. There are certainly pockets of oxygen in the smog. And a diligent research process could get you great buys even amongst the smallcaps.
But the problem with the smog is that most investors have got carried away with the recent huge gains in smallcaps.
They see no reason to hedge their risk with safer and more stable bluechips.
The past has already faded. And most have forgotten that the last time markets crashed, the bluechip stocks suffered the least volatility. Those who held on only to smallcaps literally lost their shirts!
Size Matters - Offers Stability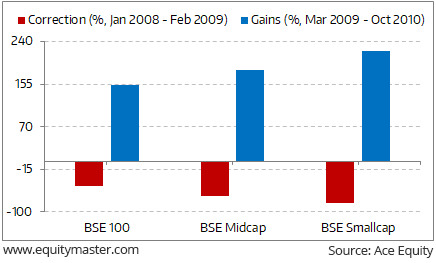 It's far easier for a business with solid cash flows, healthy balance sheet, big franchise, best brands and loyal customer base to survive a crisis.
The core business remains stable despite months of slowdown, pricing pressure and intense competition. And despite limited future visibility you are reasonably assured of fetching risk adjusted returns.
So, get yourself such a mask of solid bluechips, if you haven't already.
For only the mask of safe stocks could prevent a healthy portfolio from getting choked in the smog.
Banks Need to Move Beyond their Traditional Bastion
Public sector banks have been caught in a bad loan mess. To strengthen their shaky balance sheets, the government recently announced a Rs 2.11 trillion recapitalisation plan. However, this is unlikely be another easy bail-out. The Financial Services Secretary has clearly stated that the extent of capital infusion will depend on the swift implementation of reforms carried out by the bank board. The reforms need to focus on the kind of business that the bank wants to target and how it wants to go ahead.
State-run banks urgently need to reorient their fundamental business models if they must remain competitive and relevant in future. As per a report by the Boston Consultancy Group, banks continue to dominate in the traditional banking areas of deposit and advances that are also the principal revenue generators for them. But in non-conventional areas, such as distribution of insurance and mutual fund products, investment banking, and corporate advisory for debt capital markets, banks lagged behind non-banking companies.
Banks Lag in Non-Conventional Revenue Generation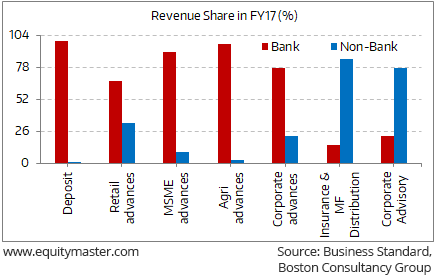 The competitive intensity in the retail banking segment has heightened with the entry of small finance banks and non-banking financial companies upping their ante. Going ahead, payment banks are also expected to eat into the fee business of regular banks. Therefore, public sector banks need to build alternative income sources through bancassurance and investment banking if they are to retain their clout in future.
Hiccups in GST Roll-Out
After a bumpy start on 1st July 2017, the implementation of the Goods and Service Tax (GST) is slowly gaining traction. The states are witnessing a steady improvement in GST collections aided by relaxations of deadlines, waiver of late payment fees, and steps taken by the government to encourage compliance for small and medium enterprises.
As per the GST Council data, the average shortfall in the GST revenue collected by states has reduced to 17.6% in October from a high of 28.4% in August. The government recently reduced the GST rate on 178 items from 28% to 18%. These are mostly fast-moving consumer goods (FMCG) and consumer durables. The council has retained only 50 items, mostly luxury goods, in the highest tax slab of 28%. GST is a landmark reform that has ushered in a unified and standard taxation and is expected to create an efficient environment for doing business. But, the reform measure will be a success only if its implementation is kept simple. Therefore, ironing out the complexities by reducing the tax slabs and reducing rates are the steps taken by the government in the right direction.
What the Markets Looked Like Today
Indian equity markets opened the day in the green. At the time of writing, BSE Sensex was trading lower by 61 points and NSE-Nifty was higher by 8 points. Both the mid cap and small cap indices are trading up by 0.2% and 0.3%, respectively. Stocks from the automobile and FMCG are among the gainers.
Investment Mantra of the Day
"You don't need to be an expert in order to achieve satisfactory investment returns. But if you aren't, you must recognize your limitations and follow a course certain to work reasonably well. Keep things simple and don't swing for the fences. When promised quick profits, respond with a quick 'no'." - Warren Buffett
Recent Articles