If You Can Read your Child's Annual Report Card... You Can Have an Edge in Investing
Dec 2, 2017
Today I want you to think about the way you read your child's annual report card.
Annual report cards, or marksheets, are a reflection of the child's intellectual capabilities.
But they are more than just grades.
An annual report card also talks about the qualities of your child.
They show his strong areas and how he has improved in any area or subject in the last one year.
The remarks by his class teacher give you a very strong signal where your child is heading in his academics, personal growth, and extra-curriculars.
It is, in fact, a complex document that gives you the overall performance of a student in a year, in areas of education, arts, sports, etc.
Annual Report card of your Child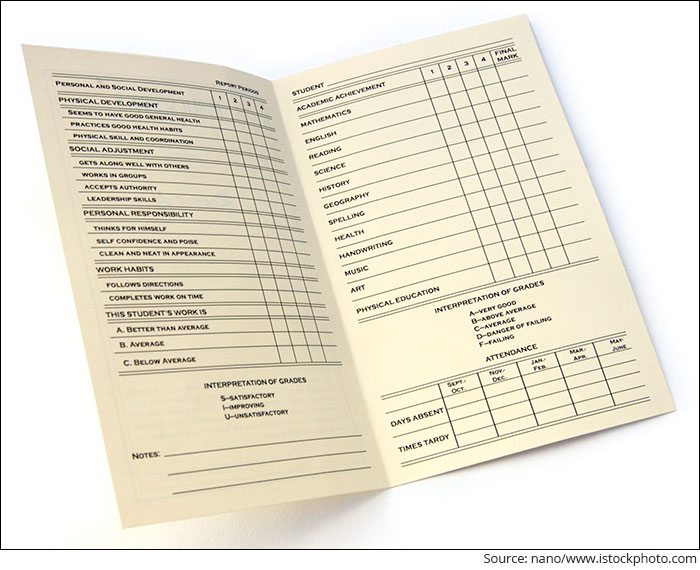 Now, if you dig out your child's annual report cards for all ten grades and look for all these variables, you will easily understand his weak and strong areas.
You will have a fair idea how he has improved over the years in any particular subject or area.
Now, I know that nobody analyses annual report cards like this.
But think about it, if you did, you would know exactly how capable your child is, in which areas, and where to work on for improvement.
The companies that I recommend for investing, are like my children.
Just like your child's annual report card, listed companies also have a document that shows their overall performance in a particular year...
Just as you receive your child's report card from the school, shareholders receive this document every year from the company...
And just as you pore over your child's annual report card eager to see how he's doing, I do the same with this document...
Yes. I am talking about my favourite - the good old boring document - Annual Reports.
Like report cards, annual reports help us understand the financial performance of a company; as well as its qualitative aspects. This annual report is largely regulated i.e. it is binding for companies to disclose certain information to the shareholders (regulated by Companies act, Stock Exchanges, SEBI among others)...
The salaries promoters are drawing. The kind of transactions a company is entering into with related parties. The approach of the management towards the failures and success... you can find all these and more in the annual reports.
And, if like the report card you read annual reports of a company over a decade - you can understand how the business and the management have evolved.
What are the strong areas of the company and what are their blind spots?
How does the management react to success and failure?
Has management learned from their own mistakes of the past?
A company's annual report is a report card for both the company itself, and the management.
Every year management is required by the law to comment on the industry and their own business.
A careful reading of their commentary is nothing less than going back in time and meeting them every year.
Some analysts believe that you can learn enough about 'managements' by meeting them - but I believe that meeting a management for two hours or even four hours cannot be compared to virtually meeting them for more than a decade.
When you meet a management they talk about the current state of business, and the struggles they have overcome in the past to build their business.
But if you read the annual reports of their past struggle periods - you will see exactly what they did and said in the moment. This will show their true character.
Which is why, I believe that not only should you collect your child's annual reports and analyse them across the years, you should do the same for every company you buy stock in.
And if reading those admittedly long, boring reports sounds like a cruel punishment to you, do not worry... If you know me at all, you know that I, boring old chap that I am, love to sit down with a cup of chai and pile high of annual reports...
The Smart Money Secrets team and I will always go back to check the history of any company we ever consider recommending to anyone.
Editor's Note: The Smart Money team's recommendations are doubly secure - they are stocks that the best 'super' investors of India are interested in - and they are also scrutinised with a magnifying glass by Equitymaster's team of in-house stock detective - if you want to try some of their recommendations, you can do so here.
India's Loan Recovery Rates Amongst The Lowest
Public Sector banks (PSB) had a field day on 24th October 2017 after the government's announcement of the recapitalisation plan. Under the plan, it is set to inject Rs 2.11 trillion into public sector banks over a period of two years. State-run bank stocks went up from 30% to 49% in a day.
Loan Recovery Data of Major Economies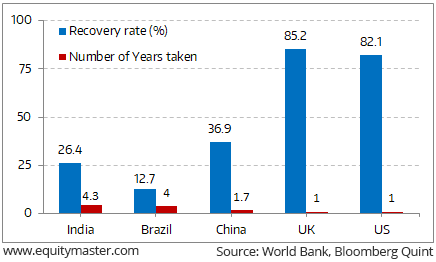 The government's move was mainly aimed at resolving the long standing non-performing assets (NPA) problem of PSBs. It is expected to shore up the capital of state-run banks, spurring them to clean up the bad loan mess and revive lending.
But if historical data is anything to go by, implementation of such initiatives take a long time, especially in India. Recovery takes the longest time here as compared to other developed nations. India takes an average of 4.3 years to resolve insolvencies as compared to one year in the US. Also, recovery rates in India are amongst the lowest at 26.4%.
Although recapitalisation will benefit PSBs, it appears to be a temporary cure for a recurring disease. The main problem is the lending and corporate governance processes these banks follow. If there is improves in these operational processes, PSBs will continue to underperform in the long term.
Indian Exports To Get a Much Needed Boost
It's been a good few months for India's global image. First, it jumped 30 places to move to rank 100 in the World Bank's 'Ease of Doing Business' rankings. This was primarily because of the reforms undertaken to digitize the tax system, resolution of NPAs, and various other regulatory reforms.
Post this, International rating agency Moody's upgraded India's investment outlook after a gap of nearly 13 years. They highlighted factors such as implementation of Goods and Service Tax (GST), financialization of the economy through digitisation, which are likely to be positive in the long term.
While the reform measures like GST are necessary to drive future growth, its implementation had had a lot of the export fraternity worried. Around Rs 500 billion of Indian exporters' money was stuck with the government in refunds. This had impacted their working capital and affected their business adversely.
Although these problems due to GST are expected to smoothen out in the future, the government has also moved swiftly to make life easier for Indian exporters and boost India's economic growth.
According to the ministry of commerce and industry, the government is in the process of setting up a new organization in different countries to facilitate exports. With offices in 10 different countries, the government will work with private bodies to boost promotional activity.
If implemented well, this is likely to boost India's image higher as a favorable destination of doing business. It will also ease the woes existing exporters face due to the GST implementation.
What the Markets Looked Like This Week
The Dow Jones Industrial Average surged by almost 3% during the week and closed above the 24,000 level for the very first time. The rally was supported by the growing investor confidence that the Republican Party would succeed in its push for tax reforms.
The FTSE index in UK fell by 1.5% during the week. The fall was largely attributed to the strengthening of pound. The pound hit a two month high on the back of further hopes of progress in Brexit talks. A stronger pound tends to dent the index, as around 70% of its constituents derive most of their earnings from overseas.
Back home, the S&P BSE Sensex fell by 2.5% during the week. The fall was triggered by weakening in the fiscal deficit numbers. The center's fiscal deficit during the first seven months of the current fiscal was Rs 5.25 lakh crore, or 96.1% of the budgeted target for the current fiscal that ends in March 2018. This can put in jeopardy the government's aim to restrict the fiscal deficit to 3.2% of GDP in the current fiscal.
Further, rising crude oil prices will further create pressure on the fiscal deficit numbers. From the lows of US$ 30 per barrel in 2016, the crude prices have now risen to above US$ 60 per barrel. Considering that India imports 80% of its oil requirements, it could be a big negative for the economy. Every dollar rise in the crude oil prices raises our import bill by a mammoth US$ 1.33 billion.
Investment Mantra of the Day
"It's far better to buy a wonderful company at a fair price than a fair company at a wonderful price." - Warren Buffett
Recent Articles