2020 Will Be a Big Year for the Rebirth of India
Dec 10, 2019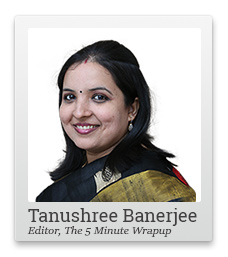 I recently met a college friend of mine after many years. We had been in touch online but I met her in person after more than ten years.
She appeared very different from her pictures I had seen on social media. By different, I meant very lean and fit. I complimented her on how good she looked. On chatting further over a cup of coffee, she told me about her weight loss transformation.
It started with a strict diet she had followed. In one year, she managed to shed 30 kilos!
I was amazed and wanted details. She told me the initial process was to detox and get rid of all the junk from her body. So losing the initial 5 kilos was easy.
Then came the difficult part...
She didn't lose any more weight despite continuing the same diet. Her weight stayed the same for months. This was frustrating and she started doubting herself but she kept at it.
Suddenly after a few months, she started losing weight again and then it never stopped. Everything fell in place. She felt more energetic and more positive mentally. Now, her physical and mental state is as good as its ever been.
I can't help comparing such a transformation to what are seeing in the stock market now.
First, we saw the detoxification of the economy...
Demonetisation happened in in November 2016. Then came GST in July 2017. We added 3.4 million businesses to the taxpayer base.
We are in the stagnation period now.
GDP growth in the recent quarter was the lowest in the last six years. The mainstream media, and rating agencies are doubting the potential of the Indian economy.
Another year has almost gone by with almost nothing to show in the Indian stock market.
So what should you expect in 2020?
I strongly believe, 2020 will be the year of New India.
Why?
Everything the Modi government has done and many other big reforms that have taken place over the last three years, will now start to bear fruit.
--- Advertisement ---

Oops...Did you miss this?

We are sure you have been reading about the MEGA Summit that's happening at Equitymaster...

It's going to be huge, with over 10,000 readers expected to join.

Now we are told that for some reason you are yet to sign up...

If you miss it, it will be a lost opportunity.

We again recommend you Click Here to join our upcoming Rebirth of India Mega Summit with Tanushree Banerjee
------------------------------
The detox resulted in shedding of excess unwanted flab from the system. By excess flab, I mean companies with corporate governance issues. They were exposed and punished severely.
New India will be one with quality companies at the forefront. By quality, I mean companies with an honest management and a business that has a big competitive advantage over its peers.
These will be the businesses that will benefit from the big trends which will play out in New India.
Trends like favorable demographics, urbanisation, financialisation will start to unlock the huge growth potential of our economy.
And believe me...there are many more such irreversible trends driving the Rebirth of India...50 trends to be exact!
I discovered these 50 irreversible trends in my research into the Rebirth of India. I then developed a framework to pick the best stocks.
This is how I picked my best 7 stocks in the market today.
Just like my friend's health, I believe the health of India's economy and the stock market, will be as good as ever.
Make sure you cash in!
Warm regards,

Tanushree Banerjee
Editor, The 5 Minute WrapUp
Equitymaster Agora Research Private Limited (Research Analyst)
PS: I recommend that you ignore the short-term negative news about India's economy. Instead, consider buying my top 7 stock picks for 2020 and beyond. Read more about how to get these 7 recommendations here...
Recent Articles