How a Meeting with a Guru Led to One of Equitymaster's Most Popular Ideas
Dec 26, 2018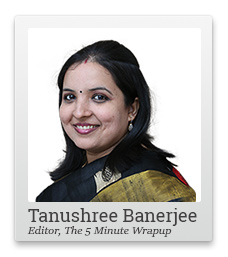 I still remember that day almost two years ago.
It was like a fan boy moment for our Equitymaster research team.
Our analysts Kunal and Rohan were to travel for a meeting.
But this wasn't one of those regular 'management' meetings.
They weren't meeting the management of any company.
They were meeting one of the most highly respected and followed practitioners of value investing in India.
He is a guru to many aspiring and experienced investors...Professor Sanjay Bakshi.
Our analysts expected to learn a lot related to value investing.
They did not know then, the meeting would culminate into one of the most popular services at Equitymaster - Smart Money Secrets.
Smart Money Secrets is Equitymaster's premium stock recommendation service based on following the smart money, i.e. the market activities of the very best investors in India.
In this monthly publication, co-editors, Sarvajeet Bodas and Radhika Pandit, closely track 40+ super investors of India.
They pick the most lucrative stocks, bought by these market gurus, using Equitymaster's proprietary Smart Money ScoreTM.
Premium members receive a monthly recommendation report, with a new stock idea, on or before the last Monday of every month...along with regular updates.
And it all started as interviews with the who's who of the investing world - Professor Sanjay Bakshi, Kenneth Andrade, Professor Aswath Damodaran.
Something clicked during these interviews - the idea to track what these investors were holding.
What was the common thread in their stock picking success?
These were India's most successful investors and their market activities gave us a good starting point to pick stocks.
But what after that?
Blindly recommend what these super investors were buying?
No.
We did not think that was a great idea...
You see, for these super investors, a few duds in their portfolio won't matter. That is because the winners will easily compensate for some poor performing stocks.
But that's not the case for the aam investor.
He can't buy all the stocks that every super investor in India has bought.
Moreover, a super investor might sell a stock where fundamentals have deteriorated. By the time, the aam investor gets to know of this, it might be too late - the stock may have already crashed.
So, we developed our own process to filter only the best stocks these investors were buying - in terms of management and business quality.
Enter the Equitymaster Smart Money ScoreTM.
This is how we filter out any stock the smart money is betting on but is too speculative for the aam investor.
It rates stocks based their fundamentals and potential to become multibaggers over the long run.
It performs a dual role to screen out potentially fraudulent stocks and objectively evaluate investments made by the 'smart money'.
What is left behind is a refined selection of stocks, literally, the best of the best.
With this framework in place, Smart Money Secrets was born.
For the aam investor, this is a win-win.
The quality of the stocks recommended in this service makes me very confident about its future.
Instead of following many so-called gurus and trying to imitate them, let Sarvajeet and Radhika pick their best stocks for you.
Chart of the Day
Now when we talk about our filtering criteria for Smart Money Secrets, what are we talking about exactly?
What does Smart Money Score check for?
Well, it filters a company right from the moat of its business to management quality, to the presence of super investors...and a lot more.
A company with a strong competitive advantage, high quality of earnings, and a scalable business, will get a high score.
Take the case of the recent Smart Money Secrets recommendation.
High Quality Financials of This Smart Money Secrets' Recommendation
It is a business with operating margins north of 50%. Moreover, it pays more than 35% of its profits as dividends.
It operates in a duopoly market with limited competition and ranks highly on business quality.
It is no surprise it has a very high Smart Money ScoreTM of 69 out of 80.
Warm regards,



Tanushree Banerjee (Research Analyst)
Editor, The 5 Minute WrapUp
PS: Now you can track India's super investors and receive their top stock recommendations. Smart Money Secrets is a premium stock recommendation service based on following the smart money, the very best investors in India. Get access to this exclusive stock recommendation service here.
PPS: Our founder and author of The Honest Truth, Ajit Dayal, has just published his latest article - Home Alone - and believe me, it is absolutely worth reading. Ajit discusses what you need to know about the market right now - elections, the Modi government, Trump, gold, crude oil... and more. Read The Honest Truth here.
Recent Articles