Bitcoin: The Miracle that Turns Air Into Wealth?
Dec 30, 2017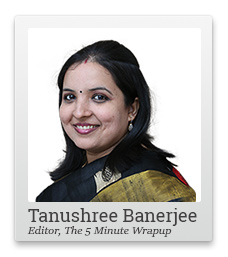 Dear Reader,
The past couple of days you have been hearing about an Indian crypto expert from us... I thought then that it was time I stopped telling you about him, and let him talk to you directly...
Read on for some 'sensible' ideas about the out-of-control cryptocurrency - Bitcoin - from Prasheel Vartak...
Wishing you a very happy, healthy and prosperous 2018!
Tanushree Banerjee (Research Analyst)
----------
The mainstream media is all gung ho about bitcoin these days. Every media outlet worth its salt is featuring the cryptocurrency day in and day out. Predictions for the future of bitcoin range from US$ 1 million to zero... In short, bitcoin is having its 15 minutes of fame right now.
However, bitcoin - and the blockchain technology behind it - wasn't always this famous. In 2009, it poked its head out as a barely-formed fetus of an idea - that of an electronic payment system based on mathematical proof.
This idea was first published as an open source proof of concept - by an anonymous developer who went by the pseudonym Satoshi Nakamoto - in a cryptography mailing list.
While the concept was accepted and adopted by developers and programmers, nobody else really paid it much attention. Until 2014, that is, when one of the biggest exchanges trading in bitcoin - Mt. Gox - filed for bankruptcy protections after an apparent hack, and owners of 850,000 bitcoins never saw them again.
After this, as you can imagine, bitcoin all but disappeared...only to reappear in 2016 with a bang that is still resounding around the world.
In the Indian context...
Bitcoin really only gained currency here after November 2016. The demonetisation exercise opened the floodgates for bitcoin - causing a lot of money to flow into the cryptocurrency as an alternative to gold.
Bitcoin's price has since surged from a modest US$ 700 in November 2016, to over US$ 15,000 today.
A 20-fold increase in just over a year - and now, of course, everyone wants to jump onto the bitcoin bandwagon.
But as veteran investors know...there's one non-negotiable rule of investing: Never invest in what you don't know or understand.
Why is bitcoin driving everybody crazy?
What intrigues me about bitcoin and other cryptos is that it has got people behaving rashly.
Even people who are financially savvy...who have been investing for years...who are well-read, well-informed and worldly wise - don't really have information or understanding of this strange new world of cryptocurrencies.
And still bitcoin is being discussed at dinner tables, weddings, on the trains... Conversations everywhere are bristling with 'guesses' about the cryptocurrency craze...
Just last week, I was on a Mumbai local train, an overheard an older gentleman telling his friends about how his investment has more than doubled in just a few days. His friends, obviously curious, wanted in on this investment, and rushed to download an app that would enable them to buy and sell - you guessed it - bitcoin.
How I lost US$ 14,988...
My first brush with bitcoin was in 2012 when I was working for remote security and virus removal services.
I was a part of the team that helped afflicted users remove viruses. For this service, I was paid in bitcoin for the first time. I received one whole bitcoin in 2012!
Obviously back then I knew next to nothing about it. So what did I do?
I sold it.
Almost immediately, got something like US$ 12 for it. (remember, it's around 15,000 today).
Hah! I do regret selling at such a meagre price. But I, or for that matter, nobody could've guessed Bitcoin will get as big as it did.
And now I'm kinda glad I did, because it has opened up for me the whole new world of cryptocurrencies.
Being stung deeply by my perceived loss - not to mention being incurably curious by nature - I began reading everything I could get my hands on about bitcoin and the blockchain technology. The more I read...the more intrigued I became about the potential of the technology.
Technology that takes over the world...again
You see, while it isn't the star of the show, the blockchain technology holds tremendous potential across all industries - going beyond currency.
Cryptos - and blockchain - are both here to stay. This is NOT, as some believe, a short-term fad that will disappear as fast as it has grown.
Note that I did not say that Bitcoin is here to stay. That's a call which is impossible to make for now.
But what I can say with reasonable certainty that the technology on which bitcoin stands, the blockchain, is here to stay.
And even cryptos are here to stay...but which ones will survive the test of times, like I said, is impossible to tell.
Having said that, there is no denying that this could be a paradigm shift - in money and economics. And it could have the potential to transform not just money, but also how organisations and industries function. And how we, as individuals, think...
For those of us who have the foresight to stay open - and stay informed - the potential to profit is enormous. For others who may think - ehh, it's not for me - the potential to lose is equally significant.
So, if you aren't already - get on board the bitcoin train. Not, as you might think, by going out and buying them. But in a smarter way. And that's where I come in.
I know a smarter way. My guru, Tama-Richard Churchouse, is a globally renowned crypto guru. And his ideas are lucid, forward-looking, and can blow your mind a little bit.
Stay tuned, and I will bring these simple, brilliant ideas straight to you.
Prasheel Vartak, The Cryptowallah
Prasheel Vartak has been a keen follower of Bitcoins and the blockchain technology for nearly five years now; he works closely with international crypto guru, Tama-Richard Churchouse.
Will India Continue to Outperform in 2018?
2017. What a year this has been for equity investors...
The BSE Sensex is trading close to 34,000 mark. The Nifty is trading above 10,500 levels.
Who would have thought the markets would keep climbing higher?
This is despite the sluggishness in corporate earnings thanks to the lingering effects of demonetization and GST implementation. Not to mention, uncertainties from international arena such as tensions between the US and North Korea, Middle-East geopolitics, and three fed hikes in 2017 that kept the market on tenterhooks.
India was among the three emerging markets, which gained more than 35% in dollar terms. The other two are Hungary and South Korea.
India Outperforms Emerging Market Peers in 2017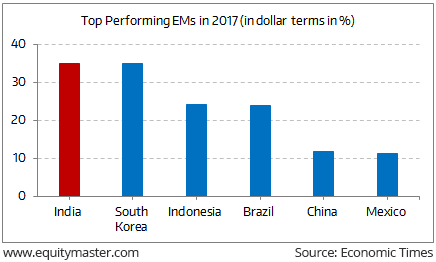 The BSE Sensex earned a 35.1% return in the dollar terms and 28% in the local currency in 2017. However, this wasn't enough to beat the midcap and smallcap indices. The midcap and smallcap indices saw a sharp increase of 47% and 58% respectively in 2017.
With this, the market cap to GDP ratio is close to 100%, indicating market at its peak.
The sharp rally was due to huge inflows from domestic institutional investors (DIIs) and foreign institutional investors (FIIs). According to an article in The Economic Times, domestic mutual funds invested Rs 1.15 trillion in 2017, the highest ever in a single year. Whereas, FIIs invested close to Rs 500 billion. It looks like DIIs and FIIs have fully discounted all the positives in advance.
How will 2018 turn out?
In 2018, the market would be more volatile and under pressure. Investors should brace themselves for the increasing volatility. Although, earnings are likely to recover, profit margins could get squeezed as companies face rising input cost pressures. Rising oil prices may prompt the government to abandon fiscal prudence at a time when GST collections have been lower than expected.
2018 will, therefore, be critical for Indian companies to justify their valuations with earnings growth.
If the earnings growth does not materialize, correction could be on the cards.
Government Set to Miss Fiscal Deficit Target for FY18
The government is set to borrow an additional amount of Rs 500 billion, over and above the budget estimate of Rs 5.8 trillion for FY18. This is a clear signal that the fiscal deficit target of 3.2% of gross domestic product (GDP) will be breached.
This is due to two reasons. First, lower than expected revenue collection on the back of muted good and services tax (GST) collection. The total GST in November stood at Rs 808 billion, a decline of 14% from the collections in July, which is the first month of tax collection and return filing. The sharp fall is on account of reduction in tax rates in November on a large number of daily-use items. The situation is unlikely to improve in December, with the GST collection likely to reflect the effects of pending refunds.
Also, the Reserve Bank of India (RBI) has paid the Centre a surplus of Rs 306 billion, lower than the government's expectation. Similarly, spectrum fees from telecommunication companies have fallen short of the target. However, the only silver lining, meanwhile, seems to be disinvestment, which could garner proceeds of above Rs 900 billion compared to the budget estimate of Rs 725 billion.
The second reason is higher expenditure, which has increased due to Pay commission's recommendations. In the April-October period, the fiscal deficit scaled 96.1% of the fiscal targeted for the full year. To avoid exceeding the target, the government would need to trim expenditure which has a negative impact on growth. This would dampen the expected economic growth recovery in the last quarter of FY18.
A 3.2% target looked unrealistic after the launch of GST. Although the government has shown its determination to maintain fiscal prudence, it will be a challenge in the coming years, considering the general elections in 2019.
What the Markets Look Like This Week
Global stock markets ended the final trading week of the year on a mixed note. Benchmark indices in US ended their best year since 2013 on a quiet note as technology and financial stocks kept equities in the negative territory for the week.
Major indexes in the US hit a series of record highs in 2017, lifted by a combination of strong economic growth, solid corporate earnings, low interest rates and hopes for a tax cut from U.S. President Donald Trump's administration. US stocks ended the week marginally lower by 0.3%.
In a quiet, week, major European indexes except the UK index ended in red as few fresh catalysts seemed to meaningfully shift market sentiment. Meanwhile, in the UK the FTSE100 ended 2017 on a new record high after a strong performance by index stocks.
Stock markets in Asia too were mixed with benchmark indices in Hong Kong and China surging by 1.2% and 0.3% respectively, while the index in Japan ended the week lower by 0.6%.
Back home, benchmark indices in India logged marginal gains of 0.3%, as a spurt in pharma stocks propelled the BSE Sensex to close the year above 34,000 levels.
Investment Mantra of the Day
"Loss of focus is what most worries Charlie and me when we contemplate investing in businesses that in general look outstanding. All too often, we've seen value stagnate in the presence of hubris or of boredom that caused the attention of managers to wander." - Warren Buffett
Recent Articles