What Makes TVS Srichakra and CCL Products a Cut Above the Rest?
May 17, 2019
Investing in commodity stocks is not easy.
First, the profits of these companies are influenced by commodity prices. These price movements are difficult to predict.
It is also futile to predict the changes in the commodity cycle.
You can never be fully sure when a down cycle is on its last legs paving the way for an upcycle and vice versa.
So how do you go about investing in the stock of a commodity business?
Or should you even bother investing in such a business in the first place?
If commodity businesses are out of your circle of competence, you should certainly stay away from them.
But our view is to not shun such stocks altogether.
Even Prof Sanjay Bakshi - a super investor we closely track - who otherwise avoids these stocks, does make one exception.
His rule? Buy Commodities, Sell Brands.
In simple terms, it is a business which can pass through the fluctuations in commodity prices to its customers. Even though it is in a commodity industry, it has stable earnings.
In Smart Money Secrets, Sarvajeet and I have recommended two stocks that are also a part of Prof Bakshi's ValueQuest India Moat Fund - TVS Srichakra and CCL Products.
TVS Srichakra is in the commoditised tyre business and subject to fluctuation in rubber prices.
--- Advertisement ---


What's Common Between Four of the World's Top Five Companies?

If you look at the four of the world's top five companies by market capitalisation - Apple, Alphabet (Google), Amazon, and Microsoft, you'll find something amazing.

They are using one powerful strategy to scale their business all over the world, without any major costs involved.

Even Nike, Uber and Netflix are using the same strategy to kill their competitors mercilessly.

Want to know which Indian companies are using this strategy?

Click here and see yourself...
------------------------------
However, the company has created a niche for itself.
How?
It is a preferred partner for original equipment manufacturers (OEMs). These are the big automobile manufacturers. It specialises in the two-wheeler industry.
Plus, the company signs a formula-based contract with OEMs for a pass-through of raw material price changes.
Thus, it passes along the increased raw material cost to OEMs.
Also, TVS is a strong brand in the auto and auto ancillary space.
Let's look at CCL Products.
It is one of the world's largest coffee producers. It has made its business model resilient to coffee prices. In fact, it is now moving to India's branded coffee market.
CCL is one of the finest coffee producers in the world with more than 1,000 coffee blends.
No other company in the world has this kind of capability. Its value-added coffee products help it garner better realisations and customer stickiness.
Along with its value-added products, most of its plants operate at close to full capacity. This provides significant operating leverage and makes it one of the world's lowest cost coffee producers.
So you see, you do not need to completely avoid commodity businesses. Look for those that have competitive advantages.
Now while we have recommended TVS Srichakra and CCL Products in Smart Money Secrets, what is our latest view on these 2 stocks?
For that, stay tuned for our upcoming Smart Money Secrets report.
Sarvajeet and I will publish it in less than 2 weeks.
The report will have our latest views on these 2 stocks along with the other positions as well...
...And a new stock recommendation!
If you haven't subscribed to Smart Money Secrets yet... you can sign up here.
Chart of the Day
TVS Srichakra and CCL Products.
Both are businesses selling commodities - Tyres and Coffee respectively.
Yet they have some competitive advantages that set them apart from other commodity players.
These advantages are what compelled Sarvajeet and me to recommend them in Smart Money Secrets.
They have a strong positioning in their sectors. Their dominant share means they enjoy a degree of pricing power.
This is also seen in the returns doled out to shareholders, measured by the Return on Equity ratio.
For both, it has averaged at more than 20% in the last five years. This is healthy, although the fluctuation has been more pronounced for TVS Srichakra.
TVS Srichakra and CCL Products Are Rewarding Shareholders Well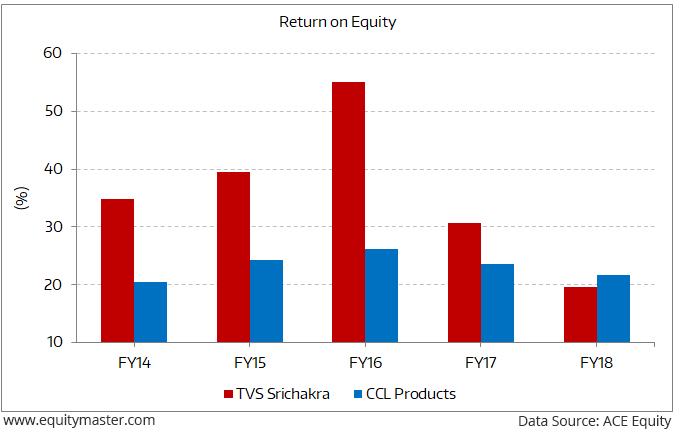 Warm regards,



Radhika Pandit
Co-editor and Research Analyst, Smart Money Secrets
PS: Radhika Pandit and Sarvajeet Bodas, co-editors of Smart Money Secrets, are getting ready to recommend their next stock. If you haven't subscribed to Smart Money Secrets yet... you can do so here.
Recent Articles