Super Investor Rajeev Thakkar is Busy Buying Stocks...and So Are We
Aug 16, 2019
Do you know what an Armageddon is?
In a very general sense, it means any 'end of the world' scenario.
Today as I was sipping the first cup of coffee in the morning, I opened the business papers. The headline screamed... 'Carmageddon? Auto Inc goes into a frenzy.'
Auto sales, as you know, have been falling. Last month it only got worse.
Last Time: Watch the Re-Airing of our 'One Stock Crorepati' Mega Summit
It seems that passenger vehicles sales could post their steepest yearly decline in nearly two decades. This explains the dramatic headlines in newspapers.
Do I think the world of cars is coming to an end? Not really.
What I do know is the data on automobile volumes points to the Indian economy facing a slowdown.
It also explains why the stock markets have been so volatile, among many other reasons.
It reminds us once again that both the economy and the markets operate in cycles - what goes up must come down and vice versa.
And no one can be sure when the cycle will turn.
However, in the stock markets, if an upcycle is a given (even if the timing is uncertain), it only makes sense to prepare for it by loading up on quality stocks.
Stock Alert: Our Top 5 Stocks to Buy Now
I can tell you...it's certainly what some of India's top super investors are doing.
For instance, last week I wrote to you how Pulak Prasad of Nalanda Capital substantially increased stake in one of India's largest battery makers.
Sarvajeet and I have also observed Rajeev Thakkar of PPFAS gradually buying stocks as well.
If you look at the factsheet of his fund, you will see that, in February 2019, the fund was around 22% in cash. Over these months, the cash levels have reduced. So in the latest factsheet of July 2019, the fund is around 15% in cash.
Indeed, with stock prices falling and valuations coming down to reasonable levels, the time is ripe to increase allocation to stocks.
And that is how Rajeev Thakkar is putting cash to good use.
In fact, he has been doing both - picking up new stocks as well as increasing exposure to existing stocks in the portfolio.
--- Advertisement ---
Urgent: 'One Stock Crorepati' mega summit will re-air at 1 pm

Yesterday, we went LIVE with our 'One Stock Crorepati' MEGA Summit at 5 pm which thousands of people attended to learn about the 'Crorepati Stock' opportunity…

Now, we have decided to give our readers one last chance to learn about the 'Crorepati Stock' opportunity.

That is why we are re-airing the 'One Stock Crorepati' Summit at 1 PM today.

Here are the things you will get from the summit:
| | |
| --- | --- |
| • | Details of a 'crorepati stock' that could potentially make you a lasting fortune |
| • | A '5-minute blueprint' to finding out potential multibaggers in the market |
| • | A Breakdown and analysis of how some people became Crorepatis from a single stock |
| • | And a lot more! |

Remember: This event is could be a gamechanger for you and can save you years of frustration and failure to pick the right multibagger stock.

So, don't miss it for any reason.

Claim your free seat right away before we end the free registrations
------------------------------
In Smart Money Secrets, we had already recommended two stocks from Rajeev's portfolio - Persistent Systems and CDSL.
If you've subscribed to Smart Money Secrets you can read our latest views on both these stocks here.
If you haven't subscribed to Smart Money Secrets, you can sign up here.
Certainly, Rajeev's value investing philosophies mirror our own. The crux of which is to start buying when stock prices start becoming reasonable, if not downright cheap.
Thus, given the kind of correction we have been seeing in the markets, Sarvajeet and I have also identified quite a few opportunities. Indeed, besides looking to recommend new stocks, we have also been gradually increasing exposure in existing ones as well.
Chart of the Day
The bad news for the Indian auto industry refuses to go away. The July volume numbers are out, and it is obvious that sales are sputtering.
The sector has been battling many negative forces - slowing economic activity, rising car prices (led by stricter emission norms and insurance costs), shortage of financing options because of the NBFC crisis, and weak rural sentiment. All these factors have dampened demand.
It seems unlikely that the upcoming festival season will work wonders in terms of bolstering growth...unless the government steps in to help the industry.
April to July Auto Sales Are Down in the Dumps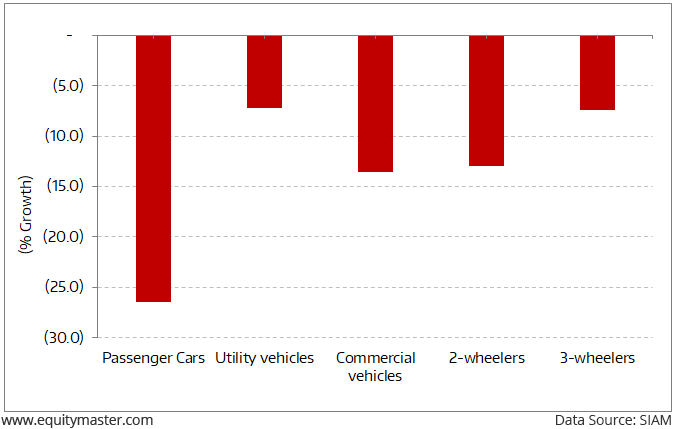 Warm regards,



Radhika Pandit
Co-editor and Research Analyst, Smart Money Secrets
PS: Radhika Pandit and Sarvajeet Bodas, co-editors of Smart Money Secrets, will recommend their next stock later this month. If you haven't subscribed to Smart Money Secrets yet... you can do so here.
Recent Articles