Super investor Pulak Prasad is Buying Stocks Big Time...and You Should Too
Aug 9, 2019
When you are faced with a crisis or moments of uncertainty in your life, how do you cope?
In my family, my mother finds solace in prayer and temple visits.
My grandmother turns to astrology. Predictions of a better future give her comfort.
Some of us look at role models and take inspiration from their personal experiences. Stories of overcoming challenges give us hope.
Last Time: Watch the Re-Airing of our 'One Stock Crorepati' Mega Summit
Of course, each and every individual has his or her own way of dealing with uncertain times.
And that brings me to the Indian stock market. There is a lot of uncertainty prevailing here too.
GDP growth hasn't exactly been the greatest. The NBFC crisis spooked the markets with the rise in debt defaults.
And the tax on the super-rich, announced in the Union Budget, led to a plethora of foreign portfolio investors (FPIs) pulling money out of Indian equities in droves.
Indeed, in July, FPIs have pulled out nearly US$ 2 billion from the equity market.
So how does one make sense of this? Should you panic and offload all your equity holdings just because others are doing so.
We strongly think not.
Stock Alert: Our Top 5 Stocks to Buy Now
And the super investors we track are not doing so either.
Indeed, despite the spate of correction we are seeing in the markets, none of the super investors that Sarvajeet and I follow have pressed the panic button.
Most of them have maintained their stakes in the companies.
Then there are others who have pounced upon the opportunity to buy more of the stock they already have in their portfolio.
One such super investor is none other than Pulak Prasad of Nalanda Equity Fund Limited.
We like Pulak Prasad's investing approach which is largely long term and fundamental.
He does not believe in extreme diversification. Rather, he prefers identifying a few high quality stocks and investing in them for long periods of time.
Because of the deeper analysis that goes into picking stocks, the stakes he has in them are quite substantial as well.
--- Advertisement ---
Urgent: 'One Stock Crorepati' mega summit will re-air at 1 pm

Yesterday, we went LIVE with our 'One Stock Crorepati' MEGA Summit at 5 pm which thousands of people attended to learn about the 'Crorepati Stock' opportunity…

Now, we have decided to give our readers one last chance to learn about the 'Crorepati Stock' opportunity.

That is why we are re-airing the 'One Stock Crorepati' Summit at 1 PM today.

Here are the things you will get from the summit:
| | |
| --- | --- |
| • | Details of a 'crorepati stock' that could potentially make you a lasting fortune |
| • | A '5-minute blueprint' to finding out potential multibaggers in the market |
| • | A Breakdown and analysis of how some people became Crorepatis from a single stock |
| • | And a lot more! |

Remember: This event is could be a gamechanger for you and can save you years of frustration and failure to pick the right multibagger stock.

So, don't miss it for any reason.

Claim your free seat right away before we end the free registrations
------------------------------
Indeed, we recommended a stock from his portfolio in July 2019. It is a stock in which his fund increased exposure from 4.38% in September 2017 to 9.3% in July 2019.
As you can see, there has been a steady increase in stake over the quarters. Even when the market correction has been relentless.
A Steady Rise in Pulak Prasad's Stake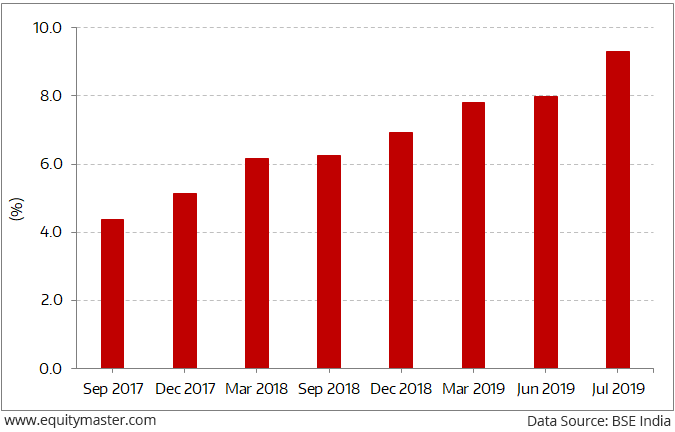 Due to his long term fundamental approach, he is not bothered about the volatile price movements in recent times.
He has adopted a classic value investing approach - Buy more of quality stocks when markets are falling.
We endorse this view. If the fundamentals of a company are as strong as ever, then the wild swings in its stock price should be looked upon as an opportunity to accumulate more of the stock.
And it's a strategy Sarvajeet and I have been sticking to in Smart Money Secrets.
Warm regards,



Radhika Pandit
Co-editor and Research Analyst, Smart Money Secrets
PS: Radhika Pandit and Sarvajeet Bodas, co-editors of Smart Money Secrets, are getting ready to recommend their next stock. If you haven't subscribed to Smart Money Secrets yet... you can do so here.
Recent Articles