On This Day - 8 JANUARY 2019
The First Corporate Merger of 2019 Supports this Irreversible Trend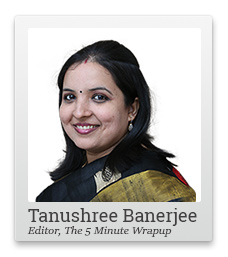 HDFC. Gruh Finance. Bandhan Bank.
These 3 companies have quite a few things in common. The most important among them are impeccable track records and far sighted managements.
So, I'm not surprised these companies announced a merger.
But did you know they have a very solid long-term tailwind in their favour? I'll get to that in a minute.
Bandhan Bank's decision to acquire Gruh Finance, one of the most healthy and profitable housing finance companies in the country, like its parent HDFC, is not just based on growth. And certainly not to only reduce the promoter's stake. Rather the managements of Gruh Finance, HDFC and Bandhan Bank are already preparing to leverage tailwinds that their competitors are yet to recognize.
Both Gruh Finance and Bandhan Bank have witnessed the impact of India's financial inclusion drive first hand. Rather, both have been part of the rural economy for years. The former offered mortgage credit and the latter - micro loans to the unbanked population.
But a shortage of bank branches across India's hinterland had held back Indian banks' efforts at financial inclusion.
--- Advertisement ---


Calling All Those Who Seek "Big Returns with Minimal Risk"…

A lot of people want big returns in the stock market with minimal risk.

And from on our 20-plus years of experience in stocks research, we can tell you there's only one kind of stock that gives both – bluechips.

Yes! Research Analyst and Co-Head of research, Tanushree Banerjee, has perfected the strategy to make substantial returns from safe bluechip stocks. And now, Tanushree's latest special report reveals 7 bluechip stocks that look very attractive right now.

However, these stocks will not remain in the buy zone forever.

So hurry, click here to get the full details now!
------------------------------
The Jan Dhan Yojana changed all that.
Launched in August 2014, the first phase of Jandhan Yojana focussed on opening basic bank accounts. It offered RuPay debit card with in-built accident insurance cover of Rs 0.1 million. Besides, it provided basic banking accounts with overdraft facility of Rs 5,000 after six months.
The Jandhan Yojana helped bring 318 million people into the formal banking system in just four years, upto FY18, according to the RBI. 177 million accounts were opened in rural areas. About 53% of Jandhan account holders are women.
Compared to the number of Indian households entering the middle-income level, the Jandhan Yojana has just scratched the surface of financial inclusion.
Needless to say, Bandhan and Gruh spotted an irreversible trend. Both Bandhan Bank and Gruh Finance realised that their scope for growth is immense. Provided they have a much bigger balance sheet, geographical presence and economies of scale.
Compared to any other large public or private sector banking entity, Bandhan Bank and Gruh Finance have a natural advantage. Over the past decade both the entities have honed their credit appraisal skills while lending to the self-employed and unsecured borrowers.
So, even at a time when the sector's NPA levels are close to historic peaks both the entities have no provisioning worries.
Putting the two together, their individual strengths and their collective ability to leverage the progress of Jandhan, the merger of Gruh Finance and Bandhan Bank seems to be a win-win for both shareholders. HDFC which remains a big stake holder in the combined entity, also has a lot going in its favour.
--- Advertisement ---


13 'Must-Own' Stocks for 2019

Radhika and Sarvajeet, co-editors of Smart Money Secrets track over 40 of India's most successful investors, bringing the best of their stock picks to their subscribers…

And they've identified 13 potentially profitable stocks that you could consider adding to your portfolio right now!

Click here for full details on Sarvajeet and Radhika's stock picking strategy – and to get access to these 13 stocks.
------------------------------
Thus, the first corporate merger of 2019 is not just an example of healthy entities joining hands. Rather it points to one of the many irreversible trends that I have been studying for the past few months.
How can you identify such stocks?
Don't worry, dear reader. I've been working on identifying such massive opportunities for you.
And I'll share the exciting details with you soon. Watch this space...
Chart of the Day
Mergers and acquisitions are typically evaluated based on the synergies of the businesses and valuations offered. Rightly so.
But apart from that they also need to be evaluated based on whether the deal is only focused on growth or even strengthening the moat of the combined entity. And whether the deal is a win-win for shareholders of both the entities.
Turns out Bandhan Bank's acquisition of Gruh Finance is a winner on all counts. Not that the bank has struck a bargain in the share swap ratio. Rather Gruh Finance has been richly valued. But Gruh Finance could help Bandhan become more than a bigger bank.
Although HDFC (parent of Gruh Finance) is not directly involved in the deal, it is evident that both HDFC and Bandhan Bank want a bigger share of the rural pie. The exponential growth that rural banking has witnessed over past few years offers huge scope. Especially, for entities with proven credit appraisal history.
The Potential that HDFC and Bandhan Bank Tapped Into...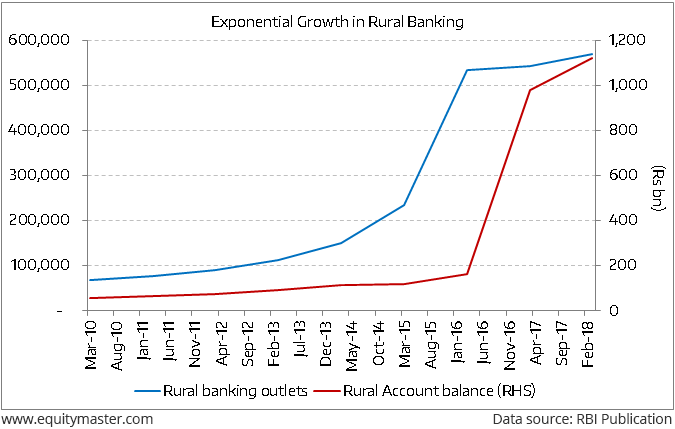 Warm regards,



Tanushree Banerjee (Research Analyst)
Editor, The 5 Minute WrapUp
PS: Tanushree Banerjee is Equitymaster's co-head of research and editor of StockSelect. She has a long and illustrious track record of picking safe stocks. For over 16 years, StockSelect subscribers have received safe stock recommendations that delivered double and triple digit gains. You can receive Tanushree's safe stock recommendations by signing up here.
Copyright © Equitymaster Agora Research Private Limited. All rights reserved.
Any act of copying, reproducing or distributing this newsletter whether wholly or in part, for any purpose without the permission of Equitymaster is strictly prohibited and shall be deemed to be copyright infringement
Disclosure & Disclaimer:
Equitymaster Agora Research Private Limited (Research Analyst) bearing Registration No. INH000000537 (hereinafter referred as 'Equitymaster') is an independent equity research Company. The Author does not hold any shares in the company/ies discussed in this document. Equitymaster may hold shares in the company/ies discussed in this document under any of its other services.
This document is confidential and is supplied to you for information purposes only. It should not (directly or indirectly) be reproduced, further distributed to any person or published, in whole or in part, for any purpose whatsoever, without the consent of Equitymaster.
This document is not directed to, or intended for display, downloading, printing, reproducing or for distribution to or use by, any person or entity, who is a citizen or resident or located in any locality, state, country or other jurisdiction, where such distribution, publication, reproduction, availability or use would be contrary to law or regulation or what would subject Equitymaster or its affiliates to any registration or licensing requirement within such jurisdiction. If this document is sent or has reached any individual in such country, especially, USA, Canada or the European Union countries, the same may be ignored.
This document does not constitute a personal recommendation or take into account the particular investment objectives, financial situations, or needs of individual subscribers. Our research recommendations are general in nature and available electronically to all kind of subscribers irrespective of subscribers' investment objectives and financial situation/risk profile. Before acting on any recommendation in this document, subscribers should consider whether it is suitable for their particular circumstances and, if necessary, seek professional advice. The price and value of the securities referred to in this material and the income from them may go down as well as up, and subscribers may realize losses on any investments. Past performance is not a guide for future performance, future returns are not guaranteed and a loss of original capital may occur. Information herein is believed to be reliable but Equitymaster and its affiliates do not warrant its completeness or accuracy. The views/opinions expressed are our current opinions as of the date appearing in the material and may be subject to change from time to time without notice. This document should not be construed as an offer to sell or solicitation of an offer to buy any security or asset in any jurisdiction. Equitymaster and its affiliates, its directors, analyst and employees will not be responsible for any loss or liability incurred to any person as a consequence of his or any other person on his behalf taking any decisions based on this document.
As a condition to accessing Equitymaster content and website, you agree to our
Terms and Conditions of Use
, available here. The performance data quoted represents past performance and does not guarantee future results.
SEBI (Research Analysts) Regulations 2014, Registration No. INH000000537.

Equitymaster Agora Research Private Limited (Research Analyst) 103, Regent Chambers, Above Status Restaurant, Nariman Point, Mumbai - 400 021. India.
Telephone: +91-22-61434055. Fax: +91-22-22028550. Email: info@equitymaster.com. Website: www.equitymaster.com. CIN:U74999MH2007PTC175407