On This Day - 27 FEBRUARY 2020
Another Modi Government Reform to Boost the Rebirth of India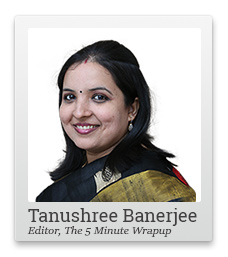 There's one pesky thing I encounter every day: tele callers. I'm sure you endure them too dear reader.
Every day, more than once, I get a call from some bank for personal loans, credit cards etc. I've tried blocking those numbers but it hasn't helped much. There is always a new person calling from a different number or from a different bank.
But there is a reason for these calls: The size of the opportunity.
You see, India is still in the early stages of a massive credit boom. India's retail credit is expected to grow to US$ 2.8 trillion by FY25.
Add to that the expected corporate credit of US$ 2.2 trillion by FY25 and we have a US$ 5 trillion opportunity. A huge market for banks and other lending firms.
Not only that, credit growth also provides a big boost to the Indian economy. With money in their hands, people consume more. Corporates invest in plant and machinery. A cycle of consumption starts which benefits various sectors.
It's no wonder that reviving credit growth has been a major focus of the Modi government.
I wrote to you last week about how the Insolvency and Bankruptcy Code (IBC) resolution is picking up pace. It is bound to boost credit growth in a big way.
And as you read this another big reform is quietly underway.
This reform is aimed at small sized firms. A digital platform is in the works which improve the ability of these firms to get loans. This platform will rate these small firms based on past performance. It will be linked to their GST returns. Lenders will thus have a fair idea of whom to lend, risk profile of these small firms, etc.
Small firms with a good track record will benefit the most. These firms will get loans faster and at lower rates. This will help them to grow their business.
Why is this important?
According to NRI consulting (an affiliate of Nomura holdings), micro small and medium enterprises (MSMEs) employ close to 36 million people in India.
The growth and expansion of MSMEs will create many jobs across the length and breadth of the country.
And this job creation by MSMEs, will be at the heart of consumption growth in smaller towns in India. In other words, it will be a driving force of the Rebirth of India.
I believe, banks and other financial firms which are lending to MSMEs in a responsible way, will be huge wealth creators in this decade.
This is one sector I'll watching closely for a stock recommendation.
When I spot a great stock, rest assured, as a subscriber I will let you know.
But why wait?
You can go ahead and buy my best 7 stocks in the market today.
Chart of the Day
The low access to credit for micro medium and small enterprises (MSMEs) tells us there is a huge opportunity for lenders.
Of the 60 million MSMEs in India, only 11% had access to credit from organised lenders. Most of them are self-financed or get credit from unorganised sources.
India's Huge Lending Opportunity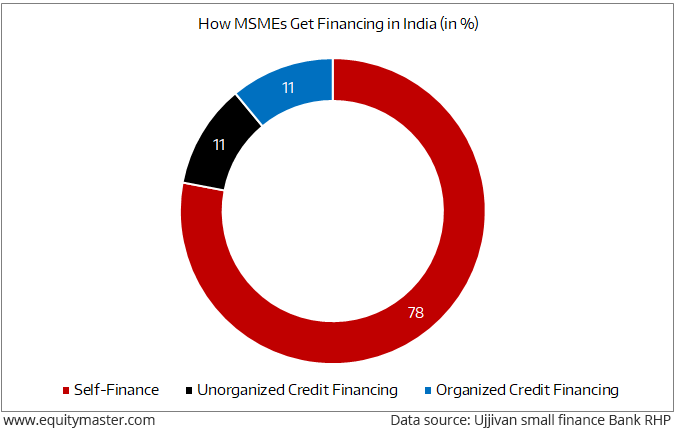 Self-financing limits the growth of these MSMEs. On the other hand, high interest rates from unorganised sources makes it difficult for them to earn profits.
The Modi government is looking at various ways to correct this problem. Mudra loans, online loans facilities are being made available to MSMEs.
Slowly but surely, lenders are sensing the huge opportunity that lies ahead for this sector.
Banks and other financial firms with prudent lending practices and strong distribution networks will benefit from this megatrend.
Warm regards,

Tanushree Banerjee
Editor, The 5 Minute WrapUp
Equitymaster Agora Research Private Limited (Research Analyst)
PS: Take advantage of this temporary market correction to buy the best 7 stocks in the market. Read about my top 7 stocks here.
Copyright © Equitymaster Agora Research Private Limited. All rights reserved.
Any act of copying, reproducing or distributing this newsletter whether wholly or in part, for any purpose without the permission of Equitymaster is strictly prohibited and shall be deemed to be copyright infringement
Disclosure & Disclaimer:
Equitymaster Agora Research Private Limited (Research Analyst) bearing Registration No. INH000000537 (hereinafter referred as 'Equitymaster') is an independent equity research Company. The Author does not hold any shares in the company/ies discussed in this document. Equitymaster may hold shares in the company/ies discussed in this document under any of its other services.
This document is confidential and is supplied to you for information purposes only. It should not (directly or indirectly) be reproduced, further distributed to any person or published, in whole or in part, for any purpose whatsoever, without the consent of Equitymaster.
This document is not directed to, or intended for display, downloading, printing, reproducing or for distribution to or use by, any person or entity, who is a citizen or resident or located in any locality, state, country or other jurisdiction, where such distribution, publication, reproduction, availability or use would be contrary to law or regulation or what would subject Equitymaster or its affiliates to any registration or licensing requirement within such jurisdiction. If this document is sent or has reached any individual in such country, especially, USA, the same may be ignored.
This document does not constitute a personal recommendation or take into account the particular investment objectives, financial situations, or needs of individual subscribers. Our research recommendations are general in nature and available electronically to all kind of subscribers irrespective of subscribers' investment objectives and financial situation/risk profile. Before acting on any recommendation in this document, subscribers should consider whether it is suitable for their particular circumstances and, if necessary, seek professional advice. The price and value of the securities referred to in this material and the income from them may go down as well as up, and subscribers may realize losses on any investments. Past performance is not a guide for future performance, future returns are not guaranteed and a loss of original capital may occur. Information herein is believed to be reliable but Equitymaster and its affiliates do not warrant its completeness or accuracy. The views/opinions expressed are our current opinions as of the date appearing in the material and may be subject to change from time to time without notice. This document should not be construed as an offer to sell or solicitation of an offer to buy any security or asset in any jurisdiction. Equitymaster and its affiliates, its directors, analyst and employees will not be responsible for any loss or liability incurred to any person as a consequence of his or any other person on his behalf taking any decisions based on this document.
As a condition to accessing Equitymaster content and website, you agree to our
Terms and Conditions of Use
, available here. The performance data quoted represents past performance and does not guarantee future results.
SEBI (Research Analysts) Regulations 2014, Registration No. INH000000537.

Equitymaster Agora Research Private Limited (Research Analyst) 103, Regent Chambers, Above Status Restaurant, Nariman Point, Mumbai - 400 021. India.
Telephone: +91-22-6143 4055. Fax: +91-22-2202 8550. Email: info@equitymaster.com. Website: www.equitymaster.com. CIN:U74999MH2007PTC175407