On This Day - 12 APRIL 2017
Professor Damodaran: Our Meeting with an Authority on Valuations

In this issue:

» Is there a bubble building in small and midcap space?
» Market roundup
» ...and more!
Kunal and I have been working on a project.
To tell you the truth, it has consumed us.
The inspiration behind this little project was nothing short of mastering The Art of Stock Picking.
This took us on a journey to track the smartest minds in the world of investing.
In an earlier WrapUp, we wrote to you about how tracking smart money can give you an edge.
We then shared with you what we learned from India's Peter Lynch, Kenneth Andrade.
In this week's edition, we bring you an international guru, a professor who has been teaching valuations to students for decades.
Professor Aswath Damodaran is an authority on valuations. He teaches a popular course on corporate finance and valuation at the Stern School of Business at New York University.
We have been the beneficiaries of Professor Damodaran's pearls of wisdom in the past. However, this time around, we covered more ground.
Without any further delay. Here is our conversation with the legendary Professor.
What got you interested in stock markets?
To be honest, I am not that interested in stock markets. I don't follow stocks religiously, don't watch market TV shows, or read about stocks intensely. I am interested in markets of any sort, since I find it fascinating that thousands of buyers and sellers can create a market clearing price even on the most obscure and complex of claims.
Who has been your biggest inspiration?
My inspiration has always come from within. I think that looking to other people for inspiration is a dangerous thing to do. Even the best and most amazing people are human beings, filled with all of the false pride, blind spots, and frailties of humanity.
What according to you is the most difficult part in investing?
Learning what you don't know and what your blind spots are in investing. We all have our weaknesses, and often we are the last ones to recognize those weaknesses.
If you could change one thing about your investing approach in the past, what would that be?
Nothing. I am who I am today (as a person and as an investor) because of the mistakes (and right decisions) that I have made in the past. I don't believe in regretting or reliving the past and I also believe that going back and selectively changing only the things that you don't like about your own history is never as easy as it looks.
Could you tell us something about your mistakes in picking stocks?
If by mistakes, you mean stocks that I have bought that have gone down, what is there to tell? The nature of investing is that you are going to be wrong not just sometimes but a lot of the time and the way you insulate yourself is not by trying to avoid making mistakes but by spreading your bets.
What kind of businesses do you think will be the biggest wealth creators over the next two decades?
Who knows? This is the kind of hubristic macro question that people like to hear profound answers to, and I am afraid that I not only don't have the answer but don't even try to answer.
What do you think is the 'one thing' that every Indian investor should keep in mind?
That we live in a world where change is the only constant, that you have to keep an open mind, learn from everyone around you, and be willing to say the three most difficult (and freeing words) that anyone can say, 'I was wrong'.
If you had an extra hour each day, what would you like to do?
Sleep.
Do you prefer a concentrated portfolio or a diversified one and why?
I am surprised that people still ask this question. It takes a special combination of arrogance and ignorance to think that you are so good at picking the right stocks and that so convinced that the market will come around to your point of view that you put all their money into four or five stocks. I don't have that conviction and I have always held a broader portfolio. Contrary to popular wisdom, there are enough stocks in the world that I can both pick stocks and be diversified at the same time.
What is your preferred Valuation metric and why?
I don't use metrics (by which I think you are talking about multiples like PE, price to book, or EV/EBITDA). To be honest, if you pick stocks based on metrics, you should just throw in the towel and just buy an index fund or ETF. After all, if you can screen stocks based on metrics, what makes you think that an automated process cannot do it much more efficiently and cheaply?
Towards the end of our interview, we asked him to answer a few rapid fire questions.
| Questions | Professor Damodaran's Responses |
| --- | --- |
| Your Top Three Favourite Books | Moneyball. A Conspiracy of Paper. Thinking Fast and Slow. |
| Your Favourite Movie/TV Series | Lost, ABC. The Walking Dead. The Twilight Zone. |
| Graham or Fisher or Lynch | Lynch. |
| Alphabet or Apple or Amazon | Amazon. |
| Growth (Size of the Opportunity) or Valuation | A false choice! |
| Movies or Annual reports | Movies. |
| Great Management or Business Moat | Neither; the right price. |
| Historical Performance or Future Expectations | Come on! Does anyone pick historical performance? |
| Cash Flow Statement or P&L | Cash flow statement. |
We appreciate the Professor taking the time to answer our questions, and we hope you enjoyed his often-amusing insights.
As I mentioned earlier, we are on a journey.
In the process, we have met-discussed-debated with some of the smartest minds in the world of investing, both India and abroad.
Now, there are many ways of picking stocks. Different investment philosophies exist to exploit the inefficiencies in the market.
However, we believe there is a great merit in marrying different yet proven investing approaches.
I highly recommend you to watch this space closely as Kunal and I are fully geared up to bring some interesting stuff in the coming days.
And Next time, we will share more value investing insights with you from one of India's best value investors. In our view, this man is both an accomplished teacher and successful practitioner of his craft.
In the interview, he told us what patterns investors should seek, which ones to avoid, and much more.
We are excited to share all his learnings with you.
Stay tuned...
--- Advertisement ---
Big Savings On Our Small Cap Research...

We have some important news for you today...

For a limited time, our small cap recommendation service, Hidden Treasure, will be available for more than 50% discount on its normal price.

With the stock market scaling new heights in the recent weeks, it's an excellent opportunity for you to grab some extremely good small cap stocks and set yourself up for BIG returns from them going forward.

Therefore, we suggest grabbing this opportunity with both hands while it still lasts!

Again, this offer will be open for a limited time only.

So hurry! Get the full details below and sign up right away...
------------------------------
04:40

Chart of the Day

Professor Damodaran is very much clear on his thoughts when it comes to valuation. One simply cannot afford to overpay in the stock market.

Indian stock markets are at life time highs. In fact, the mid and small cap index has returned 31% in FY17, as against nearly 16% given by the S&P BSE Sensex and around 19% by Nifty.

Interestingly, many mid and small cap stocks have outperformed the index not only in last one year but have been on the winning streak from last 5 years.
BSE Small Cap Index Flying High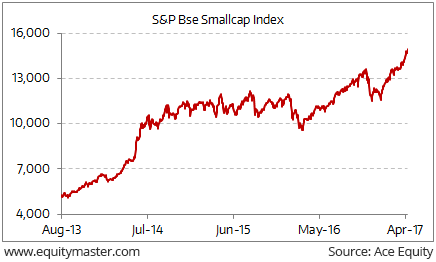 With earnings not improving from quite some time now, the rise in the stock prices has led to unreasonable valuations. In fact, some of them are in a bubble phase right now. We believe, these stocks are vulnerable if there is any correction in the broader market.
My Colleague Richa, Managing Editor at Hidden Treasure is very cautious about the same. She is very skeptical about the current scenario with stock prices shooting up and earnings are near stagnant.
We too believe, in times like this, one need to be extremely disciplined about the businesses they are buying. Compromising on the quality of the business could prove fatal in these times.
After opening the day on a flat note, share markets in India witnessed volatile trading activity and are trading marginally below the dotted line. Sectoral indices are trading on a mixed note with stocks in the FMCG sector and stocks in the banking sector trading in green, while stocks in the power sector are leading the losses.
The BSE Sensex is trading down by 55 points (down 0.2%), and the NSE Nifty is trading down by 11 points (down 0.1%). Meanwhile, the BSE Mid Cap index is trading up by 0.1%, while the BSE Small Cap index is trading down by 0.1%
04:55

Today's Investing Mantra

"Be Fearful When Others Are Greedy and Greedy When Others Are Fearful." - Warren Buffett

DISCLOSURES UNDER SEBI (RESEARCH ANALYSTS) REGULATIONS, 2014
---
INTRODUCTION:
Equitymaster Agora Research Private Limited (hereinafter referred to as "Equitymaster"/"Company") was incorporated on October 25, 2007. Equitymaster is a joint venture between Quantum Information Services Private Limited (QIS) and Agora group. Equitymaster is a SEBI registered Research Analyst under the SEBI (Research Analysts) Regulations, 2014 with registration number INH000000537.

BUSINESS ACTIVITY:
An independent research initiative, Equitymaster is committed to providing honest and unbiased views, opinions and recommendations on various investment opportunities across asset classes.

DISCIPLINARY HISTORY:
There are no outstanding litigations against the Company, it subsidiaries and its Directors.

GENERAL TERMS AND CONDITIONS FOR RESEARCH REPORT:
For the terms and conditions for research reports click here.

DETAILS OF ASSOCIATES:
Details of Associates are available here.

DISCLOSURE WITH REGARDS TO OWNERSHIP AND MATERIAL CONFLICTS OF INTEREST:
'subject company' is a company on which a buy/sell/hold view or target price is given/changed in this Research Report
Neither Equitymaster, it's Associates, Research Analyst or his/her relative have any financial interest in the subject company.
Neither Equitymaster, it's Associates, Research Analyst or his/her relative have actual/beneficial ownership of one percent or more securities of the subject company at the end of the month immediately preceding the date of publication of the research report.
Neither Equitymaster, it's Associates, Research Analyst or his/her relative have any other material conflict of interest at the time of publication of the research report.
DISCLOSURE WITH REGARDS TO RECEIPT OF COMPENSATION:
Neither Equitymaster nor it's Associates have received any compensation from the subject company in the past twelve months.
Neither Equitymaster nor it's Associates have managed or co-managed public offering of securities for the subject company in the past twelve months.
Neither Equitymaster nor it's Associates have received any compensation for investment banking or merchant banking or brokerage services from the subject company in the past twelve months.
Neither Equitymaster nor it's Associates have received any compensation for products or services other than investment banking or merchant banking or brokerage services from the subject company in the past twelve months.
Neither Equitymaster nor it's Associates have received any compensation or other benefits from the subject company or third party in connection with the research report.
GENERAL DISCLOSURES:
The Research Analyst has not served as an officer, director or employee of the subject company.
Equitymaster or the Research Analyst has not been engaged in market making activity for the subject company.
Definitions of Terms Used:
Buy recommendation: This means that the subscriber could consider buying the concerned stock at current market price keeping in mind the tenure and objective of the recommendation service.
Hold recommendation: This means that the subscriber could consider holding on to the shares of the company until further update and not buy more of the stock at current market price.
Buy at lower price: This means that the subscriber should wait for some correction in the market price so that the stock can be bought at more attractive valuations keeping in mind the tenure and the objective of the service.
Sell recommendation: This means that the subscriber could consider selling the stock at current market price keeping in mind the objective of the recommendation service.
Feedback:
If you have any feedback or query or wish to report a matter, please do not hesitate to write to us.
Copyright © Equitymaster Agora Research Private Limited. All rights reserved.
Any act of copying, reproducing or distributing this newsletter whether wholly or in part, for any purpose without the permission of Equitymaster is strictly prohibited and shall be deemed to be copyright infringement
Disclosure & Disclaimer:
Equitymaster Agora Research Private Limited (hereinafter referred as 'Equitymaster') is an independent equity research Company. The Author does not hold any shares in the company/ies discussed in this document. Equitymaster may hold shares in the company/ies discussed in this document under any of its other services.
This document is confidential and is supplied to you for information purposes only. It should not (directly or indirectly) be reproduced, further distributed to any person or published, in whole or in part, for any purpose whatsoever, without the consent of Equitymaster.
This document is not directed to, or intended for display, downloading, printing, reproducing or for distribution to or use by, any person or entity, who is a citizen or resident or located in any locality, state, country or other jurisdiction, where such distribution, publication, reproduction, availability or use would be contrary to law or regulation or what would subject Equitymaster or its affiliates to any registration or licensing requirement within such jurisdiction. If this document is sent or has reached any individual in such country, especially, USA, Canada or the European Union countries, the same may be ignored.
This document does not constitute a personal recommendation or take into account the particular investment objectives, financial situations, or needs of individual subscribers. Our research recommendations are general in nature and available electronically to all kind of subscribers irrespective of subscribers' investment objectives and financial situation/risk profile. Before acting on any recommendation in this document, subscribers should consider whether it is suitable for their particular circumstances and, if necessary, seek professional advice. The price and value of the securities referred to in this material and the income from them may go down as well as up, and subscribers may realize losses on any investments. Past performance is not a guide for future performance, future returns are not guaranteed and a loss of original capital may occur. Information herein is believed to be reliable but Equitymaster and its affiliates do not warrant its completeness or accuracy. The views/opinions expressed are our current opinions as of the date appearing in the material and may be subject to change from time to time without notice. This document should not be construed as an offer to sell or solicitation of an offer to buy any security or asset in any jurisdiction. Equitymaster and its affiliates, its directors, analyst and employees will not be responsible for any loss or liability incurred to any person as a consequence of his or any other person on his behalf taking any decisions based on this document.
As a condition to accessing Equitymaster content and website, you agree to our
Terms and Conditions of Use
, available here. The performance data quoted represents past performance and does not guarantee future results.
SEBI (Research Analysts) Regulations 2014, Registration No. INH000000537.

Equitymaster Agora Research Private Limited. 103, Regent Chambers, Above Status Restaurant, Nariman Point, Mumbai - 400 021. India.
Telephone: +91-22-61434055. Fax: +91-22-22028550. Email: info@equitymaster.com. Website: www.equitymaster.com. CIN:U74999MH2007PTC175407