On This Day - 13 MAY 2019
Sensex 100,000 is Right in Front of You


Editor's note: The MEGA summit - Rebirth of India - is only a few days away! More than 11,000 have signed up for it. The Equitymaster office in Mumbai Is excited to bring this FREE event to you. Tanushree is spearheading the effort and is all set to reveal the historic opportunity to make generational wealth for yourself. Don't miss out on this dear reader. Download Tanushree's FREE special report - Rebirth of India - and you will automatically block your seat for the MEGA event at 5 P.M. on Thursday, 16 May. Reserve your seat here...
---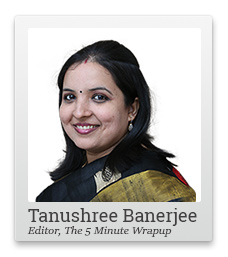 Ask a Mumbaikar, what is the city's lifeline and the answer would be 'Mumbai's local trains'.
That's a fair answer given 8 million people use the local trains daily.
The local train gives a glimpse of the city...fast paced, crowded but somehow able to fit everyone in.
All kinds of people are bunched up together in a small crowded space.
But I've noticed something else and I'm sure you have too.
The local train also gives an insight into the rapid changes taking place in the city.
Travelling home yesterday, I counted 10 people in the compartment with me.
One woman was asleep. Another was reading a magazine. No prizes for guessing what the other eight were up to.
They were all glued to their smart phones.
Either browsing the latest news or watching the latest movie, their eyes were fixed on the screen.
It's fascinating to see how things have changed in the last 10-15 years.
From sharing a landline in a house of 4 to 5 people, we have moved to a device that is now an integral part of our life...as important as the local train.
--- Advertisement ---


"We Expect Over 10,000 Indians to Tune in 'LIVE' for This…"

Already well over 9,000 Indians (as of writing this) have blocked their FREE seats for an upcoming MEGA SUMMIT.

By the time we finish writing this, many more Indians would have grabbed their FREE seats too.

You should attend it for three reasons:

#1 – You could find potentially the greatest investment opportunity of your lifetime…

#2 – You will get full details about one secret, an irreversible trend that is leading to what we call the Rebirth of India.

#3 – We will reveal details on specific opportunities that could guide you in potentially profiting BIG as the Sensex rushes all the way to 100,000!

We have NEVER ever done any summit this BIG in the last 23 years.

On 16th May, we will reveal EVERYTHING… but only to those Indians who will show up.



Book Your FREE Seat Now – In Just 1-Click!
(Plus automatically get a free copy of our special guide: Rebirth of India)


------------------------------
Want to book a cab? You need your phone.
Your local train pass has expired? Renew it through your phone.
Feel like ordering food today? Again, your phone can get it done.
A smartphone just takes the hassle of 'how to buy' out of the picture. It then becomes a question of 'what to buy'.
It's no surprise then that 79% of internet users in India access the internet with a smartphone. That's higher than even China at 62%.
The number of smartphone users in India has increased from around 250 million to 340 million in a span of just two years.
But this one area where India still has a long way to go.
Did you know that less than one out of five people in India have a smartphone? The numbers are 17% in India compared to 58% in China.
Close to 1 billion people in India are yet to be introduced to a smartphone.
Therein lies a massive opportunity.
With smartphones, a whole new world will open up for the rural population as they get hold of one.
FMCG, retail, and food companies would have a whole new market to cater to.
E-commerce companies will have a field day with such a huge market.
Logistic companies will benefit from the huge increase in deliveries.
Mobile towers will need to be set up in a big way for internet access to the rural population.
All this means more jobs and more money in the hands of the people. This will lead to even more consumption.
This is a virtuous cycle and it has played out in every developed nation.
It has happened in China too.
And now we are starting to see these trends in India.
There are 50 irreversible trends in all. Smartphones are one of them.
At the heart of it all is the rising disposable income of the population. This leads to greater consumption.
This is a transformation I call - Rebirth of India.
It will take the stock market to new highs. Companies that are able to latch on to this trend will create multibagger opportunities for investors.
For you dear reader, this means a great opportunity to participate in the Sensex's journey towards 100,000.
The good news is that you don't need to wait. I've identified seven actionable stocks you could consider buying right away!
For details, join me and Rahul Goel, CEO of Equitymaster on Thursday, 16 May, at 5 P.M for the Rebirth of India MEGA summit.
I look forward to sharing all my research with you.
In case you haven't signed up for the summit, download my special report - Rebirth of India - and your seat will be booked.
--- Advertisement ---


Secret Behind WhatsApp's Incredible Success

Have you ever thought of how WhatsApp grew so big?

With more than 1 billion users, WhatsApp's killed text messages. Killed MMS. Reduced voice calls.

The interesting thing is, it's now the world's biggest messaging service.

And despite being No.1, WhatsApp's has not even 200 employees all over the world.

So, what made WhatsApp's so much successful?

The key is the 'Click-of-a-Button' strategy which enabled WhatsApp to grow quickly and expand everywhere by just click of a button.

The good news is, some smart Indian companies are using the same strategy to scale their business and kill competitors.

Want to know which Indian companies are using this strategy?

Click here and see yourself…
------------------------------
Chart of the Day
India has a young population. That means a tech savvy generation. A generation that is quick to embrace technology.
It's no surprise then that the number of smartphone users was expected to reach 339 million in by the end of 2018.
But it might surprise you to learn this is the highest growth rate in the world.
Smartphone Revolution in India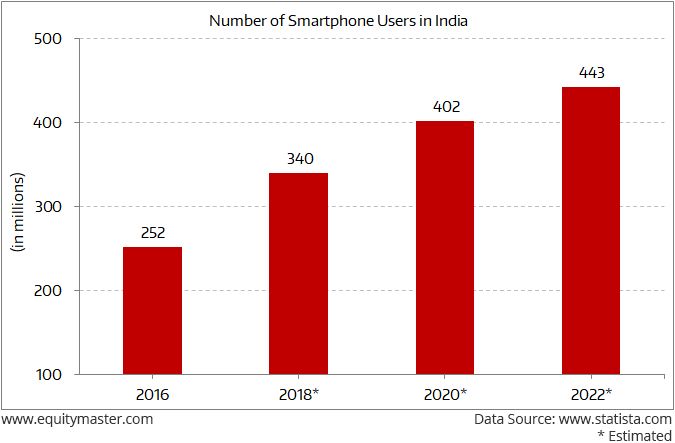 The number is expected to grow up to 440 million by 2020. Despite this, the penetration is expected to be close to only 35% by 2020.
This is much lower than countries like China and US where more than half the population already use smartphones.
All this tells us a huge opportunity lies in wait for entrepreneurs as the internet revolution takes off in India.
And don't forget, this is just one of the 50 irreversible trends driving the Rebirth of India.
Warm regards,



Tanushree Banerjee
Editor and Research Analyst, The 5 Minute WrapUp
PS: Dear reader, we have published - Rebirth of India: The First Step to the Biggest Investment Opportunity of Your Lifetime. I strongly urge you to download it and read it right away. It has the potential to dramatically change your life for the better. When you download it, you will automatically book a seat for yourself at the Rebirth of India MEGA summit where Tanushree will reveal full details about the historic opportunity that she calls - Rebirth of India.
Copyright © Equitymaster Agora Research Private Limited. All rights reserved.
Any act of copying, reproducing or distributing this newsletter whether wholly or in part, for any purpose without the permission of Equitymaster is strictly prohibited and shall be deemed to be copyright infringement
Disclosure & Disclaimer:
Equitymaster Agora Research Private Limited (Research Analyst) bearing Registration No. INH000000537 (hereinafter referred as 'Equitymaster') is an independent equity research Company. The Author does not hold any shares in the company/ies discussed in this document. Equitymaster may hold shares in the company/ies discussed in this document under any of its other services.
This document is confidential and is supplied to you for information purposes only. It should not (directly or indirectly) be reproduced, further distributed to any person or published, in whole or in part, for any purpose whatsoever, without the consent of Equitymaster.
This document is not directed to, or intended for display, downloading, printing, reproducing or for distribution to or use by, any person or entity, who is a citizen or resident or located in any locality, state, country or other jurisdiction, where such distribution, publication, reproduction, availability or use would be contrary to law or regulation or what would subject Equitymaster or its affiliates to any registration or licensing requirement within such jurisdiction. If this document is sent or has reached any individual in such country, especially, USA, Canada or the European Union countries, the same may be ignored.
This document does not constitute a personal recommendation or take into account the particular investment objectives, financial situations, or needs of individual subscribers. Our research recommendations are general in nature and available electronically to all kind of subscribers irrespective of subscribers' investment objectives and financial situation/risk profile. Before acting on any recommendation in this document, subscribers should consider whether it is suitable for their particular circumstances and, if necessary, seek professional advice. The price and value of the securities referred to in this material and the income from them may go down as well as up, and subscribers may realize losses on any investments. Past performance is not a guide for future performance, future returns are not guaranteed and a loss of original capital may occur. Information herein is believed to be reliable but Equitymaster and its affiliates do not warrant its completeness or accuracy. The views/opinions expressed are our current opinions as of the date appearing in the material and may be subject to change from time to time without notice. This document should not be construed as an offer to sell or solicitation of an offer to buy any security or asset in any jurisdiction. Equitymaster and its affiliates, its directors, analyst and employees will not be responsible for any loss or liability incurred to any person as a consequence of his or any other person on his behalf taking any decisions based on this document.
As a condition to accessing Equitymaster content and website, you agree to our
Terms and Conditions of Use
, available here. The performance data quoted represents past performance and does not guarantee future results.
SEBI (Research Analysts) Regulations 2014, Registration No. INH000000537.

Equitymaster Agora Research Private Limited (Research Analyst) 103, Regent Chambers, Above Status Restaurant, Nariman Point, Mumbai - 400 021. India.
Telephone: +91-22-61434055. Fax: +91-22-22028550. Email: info@equitymaster.com. Website: www.equitymaster.com. CIN:U74999MH2007PTC175407