On This Day - 18 MAY 2017
Why We Skipped This 70% Gainer

In this issue

» Debt ridden Telecom Sector faces RBI music
» The Dangerous Politics of Loan Waivers
» Market Update
» And more...
00:00

Chart of the Day
During the financial crisis in 2008, when global financial behemoths were falling like a pack of cards, Indian banks were unscathed.
Their strong and conservative credit systems were greatly lauded at that time.
However, a few years down the line, they seemed to have lost the plot completely.
As the economic downturn gripped the country, not only did credit growth slow to multi-decade lows but souring loans that were extended to India Inc started to push banks down a deep chasm.
The state-run banks were the first to step onto the firing line. After the RBI's mandatory asset quality review in the latter half of 2015, public sector banks hamstrung with inefficiency and bureaucracy quickly fell to the mounting corporate bad loans.
India Inc in the Centre of the Bad Loan Storm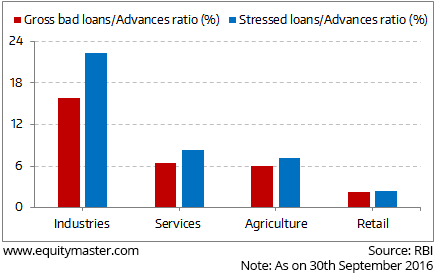 On the other hand, private sector banks were in a much better position. Not only were their retail-focused operations witnessing robust credit growth, but even the loan defaults weren't too significant.
By the end of March 2016, the gross bad loans of public sector banks had shot up to 10%. At private banks, they increased marginally to 3%.
During the spiraling bad loan crisis, private banks were largely seen as safer than their troubled public sector counterparts.
The perceived safety of some of these private sector banks has turned out to be a mirage, an illusion of water created by burning sands in deserts.
This became amply clear after a recent RBI notification mandated banks to report diversion in their reported and audited NPA numbers (varied more than 15%).
Turns out Yes Bank was the most errant bank.
It reported a gross bad loan ratio of 0.76% for FY16, much lower than the 5% as per the RBI audit.
Meanwhile, the stock gained more than 70% in the twelve months of FY17.
Yes Bank defended its action claiming remedial measures have reduced the divergence in FY17.
But the fact of the matter is that Yes Bank underreported its bad loans.
Reportedly, other private sector banks also kept their bad loans under wraps.
The question now is how much can we trust these banks? They failed to be fair and transparent in disclosing bad loans, which are an important metric to judge their risk preparedness and ultimately their earnings capability.
All this while, markets were giving state-run banks the short end of the stick as most of them were left with bloated bad loans after their asset review in 2015.
However, private sector banks continued to enjoy the market's goodwill by keeping bad loans to the minimum despite registering robust growth.
Clearly, banking on the clean image of private banks had its pitfalls. The stock of Yes Bank has corrected just 10% from its peak after its actual bad loans came to light. But lack of transparency could go a long way in hurting the credibility and valuations of select private sector banks.
At Equitymaster, we never get carried away by the favourable dynamics of a sector. Rather, we've always followed a rigorous bottom-up approach to stock picking.
Even at the height of the bad loan crisis, we steered clear of private sector banks that were growing recklessly. After conservatively weighing risk management capability, only a few private sector banks made the cut for our large-cap recommendation service Stockselect.
In hindsight, it's easy to identify a mirage. But in the heat of the desert, only a seasoned eye can discern the deception. A bottom-up strategy is the only shield against wealth-destroying mirages.
--- Advertisement ---
17,000+ Copies Downloaded...

The Super Investors of India - our latest special guide, has already been downloaded by more than 17,000 readers...

And that number is going up rapidly as we speak. So, if you still haven't claimed your copy...do not delay.

It's absolutely FREE. Click here to download...
------------------------------
Talking about bad loans, Indian banks are struggling with non-performing assets (NPAs) for quite some time. Stressed assets have been consistently rising over the last few years. New addition to this list is the telecom sector. Last month, the Reserve Bank of India (RBI) advised to set aside higher provisioning for the telecom sector starting from the first quarter of FY18. As per the RBI's notification, interest coverage ratio for the sector is less than one. A ratio of less than one indicates that companies are not able to service their full interest from the operating profit, a clear sign of high stress.
The telecom industry had outstanding debts of nearly Rs 4 lakh crore, incurred mainly on the back of payments for spectrum, spectrum usage charges and other levies. With the entry of Reliance Jio, the industry has been going through a turbulent period.
Take the recent results of Bharti Airtel, Idea Cellular, and Vodafone India. In the case of Airtel, profit was down 82%. Idea registered a loss of Rs 4.26 billion. Vodafone India reported a 10.2% decline in operating profit. The telecom industry is now on a downward trajectory as far as margins and profitability are concerned.
Don't be surprised if the banks refuse to lend more to the sector going forward.
As per the recent report on State Finances 2016-17, RBI warned that loan waivers could have an adverse bearing on the fiscal viability of states. The report reasons that loan waivers impact credit discipline, vitiate credit culture and disincentivise borrowers from repayment.
To fund loan waivers, various state governments need to issue debt relief bonds. With this, overall government borrowing would increase. This will have an impact on yields. Yields on state development loans (SDL) may firm up posing a higher interest burden in the future.
Our big picture expert Vivek Kaul explains it succinctly in his Diary:
The decision of the Uttar Pradesh to waive off loans, is likely to lead to a similar demand and decisions from other states. Such demands have already been made in Maharashtra. They may soon be made in other states where elections are due in the months to come. And this is something which isn't good for the nation as a whole.

If several state governments raise money in a quick time, it can push up interest rates as well, despite the fact that currently the demand for bank loans is low. It will also push up the combined fiscal deficit of the state governments and the central government, which as I said earlier in the piece, is already high.
Vivek Kaul has written some brilliant articles on this topic. Read it here. I highly recommend it.
After opening the day on a negative note, Indian share markets witnessed further losses and continued to trade in the red. At the time of writing, BSE Sensex was trading lower by 100 points and NSE-Nifty was trading lower by 39 points. The mid cap index is trading down by 0.45%, while the small cap index is trading down by 0.42%.
04:56

Investment mantra of the day

"Valuing a business is part art and part science." - Warren Buffett

DISCLOSURES UNDER SEBI (RESEARCH ANALYSTS) REGULATIONS, 2014
---
INTRODUCTION:
Equitymaster Agora Research Private Limited (hereinafter referred to as "Equitymaster"/"Company") was incorporated on October 25, 2007. Equitymaster is a joint venture between Quantum Information Services Private Limited (QIS) and Agora group. Equitymaster is a SEBI registered Research Analyst under the SEBI (Research Analysts) Regulations, 2014 with registration number INH000000537.

BUSINESS ACTIVITY:
An independent research initiative, Equitymaster is committed to providing honest and unbiased views, opinions and recommendations on various investment opportunities across asset classes.

DISCIPLINARY HISTORY:
There are no outstanding litigations against the Company, it subsidiaries and its Directors.

GENERAL TERMS AND CONDITIONS FOR RESEARCH REPORT:
For the terms and conditions for research reports click here.

DETAILS OF ASSOCIATES:
Details of Associates are available here.

DISCLOSURE WITH REGARDS TO OWNERSHIP AND MATERIAL CONFLICTS OF INTEREST:
'subject company' is a company on which a buy/sell/hold view or target price is given/changed in this Research Report
Neither Equitymaster, it's Associates, Research Analyst or his/her relative have any financial interest in the subject company.
Neither Equitymaster, it's Associates, Research Analyst or his/her relative have actual/beneficial ownership of one percent or more securities of the subject company at the end of the month immediately preceding the date of publication of the research report.
Neither Equitymaster, it's Associates, Research Analyst or his/her relative have any other material conflict of interest at the time of publication of the research report.
DISCLOSURE WITH REGARDS TO RECEIPT OF COMPENSATION:
Neither Equitymaster nor it's Associates have received any compensation from the subject company in the past twelve months.
Neither Equitymaster nor it's Associates have managed or co-managed public offering of securities for the subject company in the past twelve months.
Neither Equitymaster nor it's Associates have received any compensation for investment banking or merchant banking or brokerage services from the subject company in the past twelve months.
Neither Equitymaster nor it's Associates have received any compensation for products or services other than investment banking or merchant banking or brokerage services from the subject company in the past twelve months.
Neither Equitymaster nor it's Associates have received any compensation or other benefits from the subject company or third party in connection with the research report.
GENERAL DISCLOSURES:
The Research Analyst has not served as an officer, director or employee of the subject company.
Equitymaster or the Research Analyst has not been engaged in market making activity for the subject company.
Definitions of Terms Used:
Buy recommendation: This means that the subscriber could consider buying the concerned stock at current market price keeping in mind the tenure and objective of the recommendation service.
Hold recommendation: This means that the subscriber could consider holding on to the shares of the company until further update and not buy more of the stock at current market price.
Buy at lower price: This means that the subscriber should wait for some correction in the market price so that the stock can be bought at more attractive valuations keeping in mind the tenure and the objective of the service.
Sell recommendation: This means that the subscriber could consider selling the stock at current market price keeping in mind the objective of the recommendation service.
Feedback:
If you have any feedback or query or wish to report a matter, please do not hesitate to write to us.
Copyright © Equitymaster Agora Research Private Limited. All rights reserved.
Any act of copying, reproducing or distributing this newsletter whether wholly or in part, for any purpose without the permission of Equitymaster is strictly prohibited and shall be deemed to be copyright infringement
Disclosure & Disclaimer:
Equitymaster Agora Research Private Limited (Research Analyst) bearing Registration No. INH000000537 (hereinafter referred as 'Equitymaster') is an independent equity research Company. The Author does not hold any shares in the company/ies discussed in this document. Equitymaster may hold shares in the company/ies discussed in this document under any of its other services.
This document is confidential and is supplied to you for information purposes only. It should not (directly or indirectly) be reproduced, further distributed to any person or published, in whole or in part, for any purpose whatsoever, without the consent of Equitymaster.
This document is not directed to, or intended for display, downloading, printing, reproducing or for distribution to or use by, any person or entity, who is a citizen or resident or located in any locality, state, country or other jurisdiction, where such distribution, publication, reproduction, availability or use would be contrary to law or regulation or what would subject Equitymaster or its affiliates to any registration or licensing requirement within such jurisdiction. If this document is sent or has reached any individual in such country, especially, USA, Canada or the European Union countries, the same may be ignored.
This document does not constitute a personal recommendation or take into account the particular investment objectives, financial situations, or needs of individual subscribers. Our research recommendations are general in nature and available electronically to all kind of subscribers irrespective of subscribers' investment objectives and financial situation/risk profile. Before acting on any recommendation in this document, subscribers should consider whether it is suitable for their particular circumstances and, if necessary, seek professional advice. The price and value of the securities referred to in this material and the income from them may go down as well as up, and subscribers may realize losses on any investments. Past performance is not a guide for future performance, future returns are not guaranteed and a loss of original capital may occur. Information herein is believed to be reliable but Equitymaster and its affiliates do not warrant its completeness or accuracy. The views/opinions expressed are our current opinions as of the date appearing in the material and may be subject to change from time to time without notice. This document should not be construed as an offer to sell or solicitation of an offer to buy any security or asset in any jurisdiction. Equitymaster and its affiliates, its directors, analyst and employees will not be responsible for any loss or liability incurred to any person as a consequence of his or any other person on his behalf taking any decisions based on this document.
As a condition to accessing Equitymaster content and website, you agree to our
Terms and Conditions of Use
, available here. The performance data quoted represents past performance and does not guarantee future results.
SEBI (Research Analysts) Regulations 2014, Registration No. INH000000537.

Equitymaster Agora Research Private Limited (Research Analyst) 103, Regent Chambers, Above Status Restaurant, Nariman Point, Mumbai - 400 021. India.
Telephone: +91-22-61434055. Fax: +91-22-22028550. Email: info@equitymaster.com. Website: www.equitymaster.com. CIN:U74999MH2007PTC175407