On This Day - 27 MAY 2019
The Secret to Picking Winning Stocks in Modi's Second Term

After months of uncertainty and anticipation, and a week full of intense volatility, the general elections of the world's largest democracy are behind us.
In a landslide victory that took many by surprise, Narendra Modi has set new records in Indian political history.
He will be the first non-Congress political leader to become the Prime Minister of India for a second consecutive term.
Last week, the Indian stock markets gave a big thumbs-up to the election outcome as the Sensex gained 1,504 points (+4.0%) to close at 39,435.
How to invest after the elections are over?
Now, here's something very fundamental about the stock markets that you must know. Stock markets are always forward-looking. They price in potential future events. And when the actual event occurs, they adjust the stock prices according to the difference between the expected and the real outcome.
In the context of the current general elections, the markets were already expecting a return of the NDA. But the better-than-expected tally of the NDA gave reason for some extra cheer. But with the election results behind us, don't expect the market rally to continue purely on the back of the Modi victory.
---

Advertisement

---

The One Thing That Could Trigger Sensex 100,000 Sooner Than You'd Thought…

After news of Modi's win came out yesterday…

The Sensex briefly hit 40,000 in a bout of euphoria – the highest it's ever been at.

And I have no doubt that the Sensex will see many new highs under Modi's leadership…

Even going all the way upto 100,000 in the years to come.

We at Equitymaster predicted Sensex 100,000 a long time ago.

But Modi's historic win – and the market's reaction to it could indicate a much quicker route to Sensex 100,000.

I'd suggest reading all about this opportunity before it's too late.
------------------------------
What is the significance of Modi returning to power?
Politics and economics have a very symbiotic relationship. Both go hand in hand. For a flourishing business environment, political stability plays a crucial role. This is the reason why elections have a significant impact on the markets.
With the Modi government returning to power with a thumping majority in the Lok Sabha, investors are not only assured of a stable government, but also expect the government to push through more economic reforms to give a boost to the economy.
The Modi victory is also bringing back investors who had been waiting on the sidelines owing to the political uncertainty. As such, stock prices may show strength in the near term. But once the markets have adjusted to the new reality, they will shift focus to the economic realities.
In the coming weeks and months, market participants will closely watch what steps the government initiates to kickstart investments and economic activity.
What are the wealth-creation prospects for investors in Modi's second term?
I'm sure many of you are asking this question. To answer that, let's see how the markets performed in the first Modi term.
How did the Indian stock markets perform over the last five years?
In 2014, the Modi government came to power against a backdrop of high anti-incumbency. The UPA-II was facing massive corruption charges and highly criticized for the policy paralysis. The economy was in bad shape with high inflation, high fiscal deficit, slowing economic growth, and a weak currency.
At such a time, the Modi-led BJP rose to power on the promise of growth and development. The NDA had won 334 seats, with the BJP alone securing a majority with 282 seats.
The chart below shows that performance of the Sensex over the last five years...
Sensex Gains 57% in the First Modi Term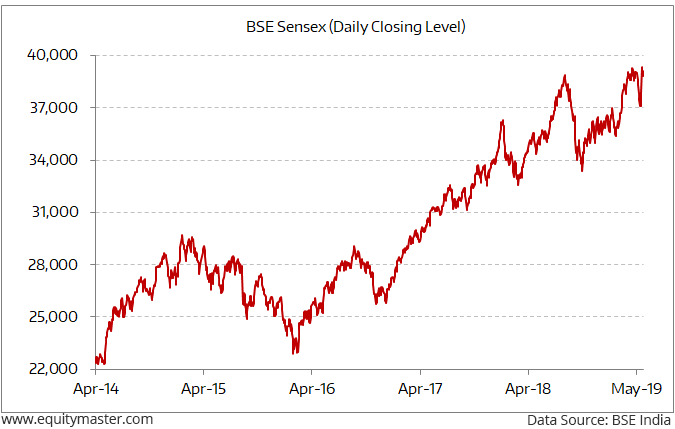 In 2014, the Lok Sabha elections took place from 7 April to 12 May.
The Sensex closed at 22,343 on 7 April 2014, the day the first phase of polling started. By the time Modi was sworn in as Prime Minister on 23 May 2014, the Sensex had risen 10.5% to 24,693.
Thereafter, the markets continued to ride the Modi wave and hit a high of 29,682 in January 2015. But when the expectations of a meaningful recovery in the economy were met with disappointment, the markets shed nearly all the gains by February 2016.
Then for the entire calendar year 2017, the Indian stock markets had a fantastic bull run, taking the cue from the global stock market rally.
This was followed by a severe market correction in 2018, though the Sensex was not as badly hurt as the overall markets.
Between the 2014 election result and the latest election result, the Sensex has gained 61%, compounding annually at 10%. Add to this a dividend yield of roughly 1.5% and you have an annual return about 11.5%. (Note: If you calculate the returns from 23 May 2014, the day Modi was sworn in as PM, the Sensex returns till date are 57%).
Let's see the trend in overall markets by looking at the total market capitalization of all BSE listed companies over the last five years...
Investor Wealth Grows by Rs 70 Trillion in 5 Years
On 16 May 2014, when the 2014 general election results came out, the total market capitalization of all BSE listed companies was Rs 80.6 lakh crore (1 lakh crore = 1 trllion).
Last week, on the day of the election result, the total market capitalization of all BSE listed companies stood at Rs 150.7 lakh crore.
In other words, the total market value has increased by Rs 70 lakh crore during the last five years, hinting at compounded annual growth rate of 13.3%. (However, it must be noted that the gain in total market cap of the stock market universe is also subject to addition of new listed companies and delisting of others.)
Having seen the performance of the Indian stock markets in Modi's first term, what should you expect in the second term? What's the secret to making winning investments over the next five years?
To answer that, let me take you through the chart of the day...
---

Advertisement

---

Revealed: 7 Stocks With Potential to Scale New Heights Just like Modi...

When the BJP gained an absolute majority on its own in 2014, a lot of people thought it was a one-off thing.

But Modi proved them wrong in the 2019 elections, when he beat his party's 2014 seats tally.

Yes! And now, just like Modi, who appears to be scaling new heights regularly, our Co-Head of Research has identified 7 companies that too have the potential to scale new heights and grow substantially during Modi's second stint as PM.

Full details of these 7 stocks are included in Tanushree's special report.

Click here to know how you could get this report for FREE now…
------------------------------
Chart of the Day
The chart of the day shows the change in the Sensex price to earnings (PE) multiple over the last five years of Modi government.
Sensex Rally Driven by PE Expansion in Modi's First Term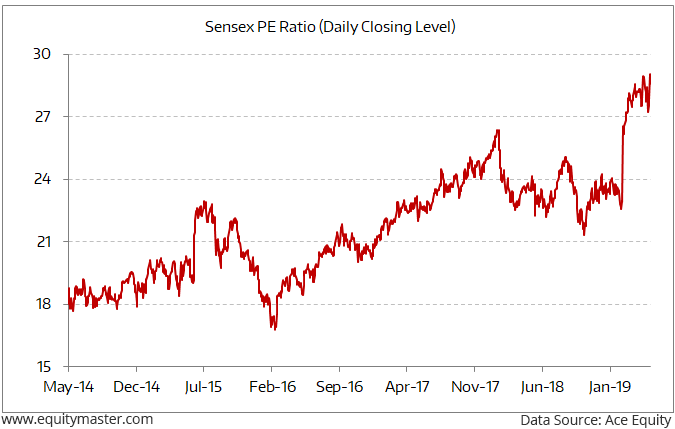 You can see that, overall, the Sensex PE ratio has been in expansion mode over the last five years. Between the election results of 2014 and 2019, the Sensex PE expanded by 52%.
What this means is that most of the gains in Modi's first term have come mostly from an expansion of valuation multiples and only partially due to earnings growth.
What are the implications for investors in Modi's second term?
In my view, what worked in Modi's first term may not necessarily work in the second one. Back in 2014, you could have put your finger on a random set of stocks, and there were good chances you would make money.
But right now, the circumstances are quite different. The overall markets are trading at elevated valuation multiples. The economy has been showing signs of fatigue. The financial sector is still in a mess. Unemployment levels are high.
For much of Modi's first term, the global markets were in a bull run. However, global economic conditions are not as favourable now. There are growing fears of an impending global slowdown. There has been an escalation in the US-China trade war.
Given all these factors, do not expect the markets to have a broad-based bull run in Modi's second term.
Also, it's clear that the next major bully rally will have to be supported by solid earnings growth and revival in the economy.
With the elections done, the markets will now move based on earnings visibility, economic policies, global sentiments, and so on.
So, be very selective about the stocks you pick for your portfolio.
Make staggered investments and take advantage of market corrections.
And stay invested for the long run.
Where do you expect the Sensex to be at the end of the second Modi term in May 2024? What, according to you, will be the key to making winning investments in the second Modi term?
In my premium daily newsletter Insider, besides cherry-picking the best investing ideas, I have been regularly sharing insights about the top global and domestic factors affecting the stock markets and guiding my readers to invest smartly.
You can sign up for Insider here.
Warm regards,



Ankit Shah
Editor and Research Analyst, Equitymaster Insider
PS: Dear Reader, Ankit Shah's Equitymaster Insider is one of our most popular services. Ankit provides a select group with cherry-picked investment ideas from our 8 premium services. You can join this elite group for less than Rs 1,000 per month! Get full details here.
Copyright © Equitymaster Agora Research Private Limited. All rights reserved.
Any act of copying, reproducing or distributing this newsletter whether wholly or in part, for any purpose without the permission of Equitymaster is strictly prohibited and shall be deemed to be copyright infringement
Disclosure & Disclaimer:
Equitymaster Agora Research Private Limited (Research Analyst) bearing Registration No. INH000000537 (hereinafter referred as 'Equitymaster') is an independent equity research Company. The Author does not hold any shares in the company/ies discussed in this document. Equitymaster may hold shares in the company/ies discussed in this document under any of its other services.
This document is confidential and is supplied to you for information purposes only. It should not (directly or indirectly) be reproduced, further distributed to any person or published, in whole or in part, for any purpose whatsoever, without the consent of Equitymaster.
This document is not directed to, or intended for display, downloading, printing, reproducing or for distribution to or use by, any person or entity, who is a citizen or resident or located in any locality, state, country or other jurisdiction, where such distribution, publication, reproduction, availability or use would be contrary to law or regulation or what would subject Equitymaster or its affiliates to any registration or licensing requirement within such jurisdiction. If this document is sent or has reached any individual in such country, especially, USA, Canada or the European Union countries, the same may be ignored.
This document does not constitute a personal recommendation or take into account the particular investment objectives, financial situations, or needs of individual subscribers. Our research recommendations are general in nature and available electronically to all kind of subscribers irrespective of subscribers' investment objectives and financial situation/risk profile. Before acting on any recommendation in this document, subscribers should consider whether it is suitable for their particular circumstances and, if necessary, seek professional advice. The price and value of the securities referred to in this material and the income from them may go down as well as up, and subscribers may realize losses on any investments. Past performance is not a guide for future performance, future returns are not guaranteed and a loss of original capital may occur. Information herein is believed to be reliable but Equitymaster and its affiliates do not warrant its completeness or accuracy. The views/opinions expressed are our current opinions as of the date appearing in the material and may be subject to change from time to time without notice. This document should not be construed as an offer to sell or solicitation of an offer to buy any security or asset in any jurisdiction. Equitymaster and its affiliates, its directors, analyst and employees will not be responsible for any loss or liability incurred to any person as a consequence of his or any other person on his behalf taking any decisions based on this document.
As a condition to accessing Equitymaster content and website, you agree to our
Terms and Conditions of Use
, available here. The performance data quoted represents past performance and does not guarantee future results.
SEBI (Research Analysts) Regulations 2014, Registration No. INH000000537.

Equitymaster Agora Research Private Limited (Research Analyst) 103, Regent Chambers, Above Status Restaurant, Nariman Point, Mumbai - 400 021. India.
Telephone: +91-22-61434055. Fax: +91-22-22028550. Email: info@equitymaster.com. Website: www.equitymaster.com. CIN:U74999MH2007PTC175407