On This Day - 7 AUGUST 2018
The Stock That Goes Up 4 Times Every 10 Years


Editor's note: Dear reader, the markets are exceptionally tricky right now. On one hand, the Sensex is at an all-time high. On the other, 80% of stocks have fallen. We want to make sure you don't lose your wealth in times like these. Tanushree Banerjee, has developed a safe investing blueprint - The Permanent Wealth Blueprint - and she is ready to share it with you! Join Rahul Goel, CEO of Equitymaster, in a special online presentation of Tanushree's Permanent Wealth Blueprint. You don't want to miss out on this! Just click here for the video...
---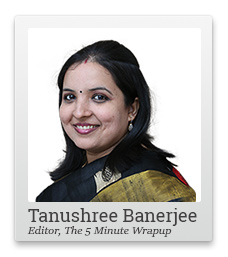 Mr Sharma and Mr Patel once lived in the same neighbourhood. They were colleagues and good friends. Both started investing when they joined their first job in 1990. But did it a little differently.
Mr Sharma was always a firm believer in physical assets. He had inherited some gold from his parents. And was determined to accumulate a lot more of the yellow metal. So that he could not just be carefree about his own retirement, but also leave enough for his future generations. Buying gold was hassle-free. And putting the new gold bars in the bank locker was extremely satisfying.
His friend Mr Patel, however, was keen to see his savings work. Quite literally.
He accidentally happened to read a book called 'One Up On Wall Street', which had been published just a year back, in 1989. He knew nothing about the author Peter Lynch. But the book had captivated his imagination about creating wealth. So, Mr Sharma decided to try it for himself. But initially with a small capital.
Following Peter Lynch's advice, he identified companies which sell his favourite products. He also made sure that the company had been around for a while, done well financially and could last decades. So, first he bought some stocks of Hindustan Unilever, followed by some Asian Paints and then Titan.
By 1995, both Mr Sharma and Mr Patel had invested about Rs 50,000 each of their savings in gold and stocks respectively. Both had very similar dreams and aspirations. Both were diligent about their investments. And hoped that they don't go wrong.
The only difference was that Mr Sharma could already boast of having a kilo of gold in his locker. Something that he could barter for a brand new Maruti 800 any day.
--- Advertisement ---


3 Stocks to Generate Permanent Wealth

Yesterday, Tanushree revealed 3 Permanent Wealth Stocks that are a buy right now.

3 stocks based on her brand-new stock picking strategy…

3 stocks that she believes have the potential to guide you towards permanent Wealth.

And if you act right away…

You can get full details on these stocks in Tanushree's Permanent Wealth Blueprint.

Interested?

Click here to claim your blueprint…
------------------------------
His friend Mr Patel, on the other hand, was facing some agony. Not only did he not have much to boast about, but his investments seemed to be going through a rough patch. The BSE Sensex had corrected by about 20% between January 1994 and January 1996. It was tough for him to stick to his conviction about the stocks. But he did.
The same thing happened in 2003.
Eventually, the two friends changed jobs and moved to other cities.
But every few years, they caught up and discussed about their investments. And it was only Mr Patel who had loads of stories to tell. He talked about how much his favourite stock had fallen in the recent market crash. And how he got the opportunity to load up on it. He was convinced that his family would spend even more on the products that the companies produced, over the years. So, the stocks hedged that risk.
Mr Sharma, on the other hand, kept wondering how much more rental he will have to pay the bank for storing all his gold. Even though he was quite satisfied about the fact that gold would always be a good inflation hedge.
2008 turned out to be the year Mr Patel had been eagerly waiting for.
Stocks of the companies he only dreamt of buying were falling like pack of cards. He already had saved up enough capital for the right opportunity. And knew that it was a 'now or never' chance for him to really put his savings to work. Over the next twelve months he diligently bought the stocks he had carefully studied for years. The market's gyrations did not worry him. For by now he fully understood what Peter Lynch wanted to convey in his book. And had also managed to follow Buffett's golden advice to keep 'margin of safety' in his stocks.
That Mr Sharma kept telling him to move from stocks to gold did not shake Mr Patel's conviction one bit.
What do you think happened after this?
What if I asked you to complete the story?
Well, factually by the end of 2017, Mr Patel, would be at least two times richer than his friend.
As much as Mr Sharma was right in protecting his capital, he did not take the effort to make it slog. And as a result, over the decades, his capital was safe, with an inflation hedge, but nothing more.
Mr Patel's efforts to see his savings grow, that too in the safest possible manner, yielded big results over the years. Not only did his savings work harder, but they also compounded. And over several years, the result was magical.
If a movie producer had to adapt this story, he would have to show Mr Sharma driving a BMW and Mr Patel a Rolls Royce. He would have to show Mr Sharma living in a sprawling apartment in south Mumbai and Mr Patel in a sea facing bungalow.
You get the drift?
Well, like in a movie, this story also has several missing parts. Mr Patel would have certainly not got all his stocks right. But the majority that did, paid off brilliantly.
Also remember, the turning point in his investing journey was 2008. The stocks that he bought that year went on to multiply 4, 7, 9 and even 11 times in the next decade.
And why not? These stocks were compounding machines. Bought at a good discount and held for a long tenure, they were certain to pay off handsomely.
And did I tell you that the dividends these companies paid funded Mr Patel's family vacations abroad, all through the decade?
Wish you were in Mr Patel's shoes in 2008? Well. It's not too late! For I have already identified a stock that has multiplied 4 times every decade. And is set to repeat that feat.
Chart of the Day
If you are wondering whether there are stocks that have offered stiff competition to gold's alchemy, take a look at the chart. These are just few of the stocks that have, over past two decades, not just proven to be safe wealth creators for investors. But they have beaten the returns from gold hands down.
Whether or not they will repeat this performance over the next few decades? That's something to be assessed on case to case basis. Nevertheless, there are several other stocks poised to repeat such a performance.
Rate at Which Price Has Multiplied Every 10 Years
Warm regards,



Tanushree Banerjee (Research Analyst)
Editor, The 5 Minute WrapUp
PS: Dear reader, Tanushree has penned this tale of Mr Sharma and Mr Patel to highlight the difference in wealth between these two gentlemen. Mr Patel has what Tanushree calls 'Permanent Wealth'. Wouldn't you prefer your financial future to resemble his? It can! Over the last few months, Tanushree has developed a new and exciting blueprint for building permanent wealth! This blueprint could be the springboard to your long-lasting wealth. Tanushree is ready to share it with a select group of readers. Join Rahul Goel, CEO of Equitymaster, for an online video presentation of Tanushree's Permanent Wealth Blueprint. Click here to grab this opportunity to launch your journey to permanent wealth!
Copyright © Equitymaster Agora Research Private Limited. All rights reserved.
Any act of copying, reproducing or distributing this newsletter whether wholly or in part, for any purpose without the permission of Equitymaster is strictly prohibited and shall be deemed to be copyright infringement
Disclosure & Disclaimer:
Equitymaster Agora Research Private Limited (Research Analyst) bearing Registration No. INH000000537 (hereinafter referred as 'Equitymaster') is an independent equity research Company. The Author does not hold any shares in the company/ies discussed in this document. Equitymaster may hold shares in the company/ies discussed in this document under any of its other services.
This document is confidential and is supplied to you for information purposes only. It should not (directly or indirectly) be reproduced, further distributed to any person or published, in whole or in part, for any purpose whatsoever, without the consent of Equitymaster.
This document is not directed to, or intended for display, downloading, printing, reproducing or for distribution to or use by, any person or entity, who is a citizen or resident or located in any locality, state, country or other jurisdiction, where such distribution, publication, reproduction, availability or use would be contrary to law or regulation or what would subject Equitymaster or its affiliates to any registration or licensing requirement within such jurisdiction. If this document is sent or has reached any individual in such country, especially, USA, Canada or the European Union countries, the same may be ignored.
This document does not constitute a personal recommendation or take into account the particular investment objectives, financial situations, or needs of individual subscribers. Our research recommendations are general in nature and available electronically to all kind of subscribers irrespective of subscribers' investment objectives and financial situation/risk profile. Before acting on any recommendation in this document, subscribers should consider whether it is suitable for their particular circumstances and, if necessary, seek professional advice. The price and value of the securities referred to in this material and the income from them may go down as well as up, and subscribers may realize losses on any investments. Past performance is not a guide for future performance, future returns are not guaranteed and a loss of original capital may occur. Information herein is believed to be reliable but Equitymaster and its affiliates do not warrant its completeness or accuracy. The views/opinions expressed are our current opinions as of the date appearing in the material and may be subject to change from time to time without notice. This document should not be construed as an offer to sell or solicitation of an offer to buy any security or asset in any jurisdiction. Equitymaster and its affiliates, its directors, analyst and employees will not be responsible for any loss or liability incurred to any person as a consequence of his or any other person on his behalf taking any decisions based on this document.
As a condition to accessing Equitymaster content and website, you agree to our
Terms and Conditions of Use
, available here. The performance data quoted represents past performance and does not guarantee future results.
SEBI (Research Analysts) Regulations 2014, Registration No. INH000000537.

Equitymaster Agora Research Private Limited (Research Analyst) 103, Regent Chambers, Above Status Restaurant, Nariman Point, Mumbai - 400 021. India.
Telephone: +91-22-61434055. Fax: +91-22-22028550. Email: info@equitymaster.com. Website: www.equitymaster.com. CIN:U74999MH2007PTC175407