On This Day - 10 AUGUST 2017
A 'Backdoor' to Multibaggers: It's Like Investing in Asian Paints Ten Years Ago

In this issue:

» Bitcoin at a New All-time High, What's Next?
» Did Direct Tax Collections Increase Due to Demonetisation?
» ...and more!
If I could turn back time...
This idea has fascinated scientists, poets, writers and, artists...
After all, it is fun to think about. I mean, I'm none of these. But of the various science fiction themes that I grew up watching on TV and reading about, one that fascinated me the most was time travelling.
Imagine if you had a time machine...
You could re-live your happiest moments...avoid your worst mistakes...
Or you could go back in time to invest in all the right companies.
For instance, if you could turn back time by a decade and invest in stocks like Asian Paints, Cera Sanitaryware, or La Opala them...you'd be sitting on gains of 1,142%, 4,242%, and 7,214% today. A Rs 1,000 investment in each of these company ten years ago would be worth Rs 1.3 lakh today.
Oh well...
But it does make me wonder...
Can you think of any stocks trading today that could offer those kinds of returns ten years from now?
Unfortunately, I doubt it.
While the Sensex may very well go on to touch 40,000 or even 100,000 in ten years, the fact is, with the kind of money and interest in stocks these days, all of the well-known businesses that are actually growing are already taken.
And while these businesses will likely do well, given the valuations they are trading at, the rewards of investing in them at these levels may not bring La Opala-like gains.
But I have good news: I believe I have found a 'backdoor' to big profitable businesses.
It may not be a time machine, but feel free to think of it as a 'secret entrance' to future multibaggers.
Let me explain...
I'm talking about investing in small companies that cater to much bigger businesses. They're what I call 'proxy plays', an indirect investment in the big business. If the big business does well, so do these smaller businesses. The best part is, in many cases, the valuations of these small businesses are much more attractive than their overbought large-cap partners.
I saw one such opportunity when I met the management of this small cap company based in Hyderabad. This company is a key supplier to almost all the major paint companies. With around a 20% market share, it's a leader in its niche segment.
More importantly, the company has recently started catering to India's fast-growing food and FMCG segment. It's managed to rope in clients like Amul, Vadilal, Kwality, Unilever, and Cadbury.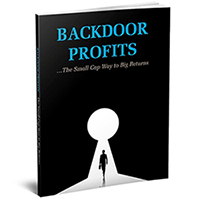 This company is making the most of a huge, largely unexplored market opportunity. It's still unknown to most market participants. But ten years from now, I believe those who did not bet on this stock may find themselves wishing they had a time machine.
The best way to see your wealth grow in the stock markets today is to be on the lookout for these small-cap proxy plays.
I show my readers exactly how to approach this quest in my free report - Backdoor Profits: A Little-Known Investing Approach to Ride Big Returns in Stock Markets.
03:30

Chart of the Day

Bitcoin's stellar rise has been hitting the headlines recently. Bitcoin went up by 121% in 2016 making it the best performing asset class of that year. After such a phenomenal rise, one would think it would run out of steam; but instead, bitcoin has continued to surge unabated and is up by a whopping 230% since the beginning of this year.

After events such as demonetisation and at a time when the value of fiat currencies is called into question the world over, bitcoin and various other cryptocurrencies have found many takers. Bitcoin in particular hit an all-time high of US$3,453 per bitcoin after the cryptocurrency 'forked' or split into two.
Bitcoin Continues Stellar Rise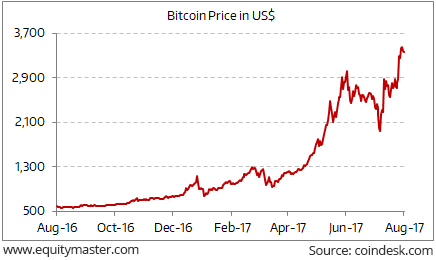 Bitcoin and cryptocurrencies are a curious bunch. They have no central bank backing and have not yet been regulated. Yet they seem to have found favour among a large number of people, with demand for them growing every day. There are over 800 cryptocurrencies in existence today, with new ones being added to the list every day.
While the world of digital currencies is intriguing, it can get very confusing for the layman. Our very own, Ankit Shah, Research Analyst, has taken upon himself to study cryptocurrencies and help our readers understand them.
Here's Ankit in a recent edition of Equitymaster Insider:
I've been studying and tracking bitcoin for a while, and though I still understand very little about it, I believe that it is a revolutionary technology that could transform a range of businesses and money itself. It would be naive to dismiss it as a passing fad.

I want my readers to be on top of the biggest megatrends in the global economy. So, you can expect to hear about bitcoin whenever there is an important update or insight. (I'm sure you know I'm also the editor of Vivek Kaul's Inner Circle and I have access to a wealth of economic insights from our global think-tank.)
Ankit has also released a premium guide for Equitymaster Insider subscribers, titled Bitcoin 101 which contains everything you need to know about bitcoins and other digital currencies.
If you haven't been receiving Ankit's insights, get on the Insider's list now.
In what could be seen as an impact of demonetisation, direct tax collections up to July 2017 in the current financial year stood at Rs 1.9 trillion, 19.1% higher than in the corresponding period of the previous year according to data released by the government.
Within this, net personal income tax grew 15.7% and net corporate tax grew 23.2% over the same period.
However, only Rs 619.2 billion was issued in tax refunds during April-July, 5.1% lower than issued in the same period of 2016-17. Thus, increasing the total collections.
Earlier this week, the government released the numbers of tax returns filed, showing demonetisation of old Rs 500 and Rs 1,000 notes had resulted in substantial growth. However, our macro expert Vivek Kaul differs from this view.
Here's Vivek:
Demonetisation has led to a minuscule increase in tax collections when it comes to income tax. But overall direct tax collections have more or less stayed the same as in previous years. Also, all this it has come at the cost of a major destruction of large sections of the economy, particularly the informal sector.

Given this, trying to project demonetisation as a major success on the tax front is basically a marketing spin and nothing else.
Read more in Vivek Kaul's Diary.
After opening the day in red, Indian equity markets continued to trade in the negative territory. At the time of writing, the BSE Sensex was down 59 points and the NSE Nifty was down 21 points. Sectoral indices are trading on a mixed note with the auto and power sectors leading the losses.
04:55

Today's Investment Mantra

"We always look at them as businesses, whether we're buying the whole thing or 100 shares." - Warren Buffett

Copyright © Equitymaster Agora Research Private Limited. All rights reserved.

Any act of copying, reproducing or distributing this newsletter whether wholly or in part, for any purpose without the permission of Equitymaster is strictly prohibited and shall be deemed to be copyright infringement

Disclosure & Disclaimer:

Equitymaster Agora Research Private Limited (Research Analyst) bearing Registration No. INH000000537 (hereinafter referred as 'Equitymaster') is an independent equity research Company. The Author does not hold any shares in the company/ies discussed in this document. Equitymaster may hold shares in the company/ies discussed in this document under any of its other services.

This document is confidential and is supplied to you for information purposes only. It should not (directly or indirectly) be reproduced, further distributed to any person or published, in whole or in part, for any purpose whatsoever, without the consent of Equitymaster.

This document is not directed to, or intended for display, downloading, printing, reproducing or for distribution to or use by, any person or entity, who is a citizen or resident or located in any locality, state, country or other jurisdiction, where such distribution, publication, reproduction, availability or use would be contrary to law or regulation or what would subject Equitymaster or its affiliates to any registration or licensing requirement within such jurisdiction. If this document is sent or has reached any individual in such country, especially, USA, Canada or the European Union countries, the same may be ignored.

This document does not constitute a personal recommendation or take into account the particular investment objectives, financial situations, or needs of individual subscribers. Our research recommendations are general in nature and available electronically to all kind of subscribers irrespective of subscribers' investment objectives and financial situation/risk profile. Before acting on any recommendation in this document, subscribers should consider whether it is suitable for their particular circumstances and, if necessary, seek professional advice. The price and value of the securities referred to in this material and the income from them may go down as well as up, and subscribers may realize losses on any investments. Past performance is not a guide for future performance, future returns are not guaranteed and a loss of original capital may occur. Information herein is believed to be reliable but Equitymaster and its affiliates do not warrant its completeness or accuracy. The views/opinions expressed are our current opinions as of the date appearing in the material and may be subject to change from time to time without notice. This document should not be construed as an offer to sell or solicitation of an offer to buy any security or asset in any jurisdiction. Equitymaster and its affiliates, its directors, analyst and employees will not be responsible for any loss or liability incurred to any person as a consequence of his or any other person on his behalf taking any decisions based on this document.

As a condition to accessing Equitymaster content and website, you agree to our

Terms and Conditions of Use

, available here. The performance data quoted represents past performance and does not guarantee future results.

SEBI (Research Analysts) Regulations 2014, Registration No. INH000000537.

Equitymaster Agora Research Private Limited (Research Analyst) 103, Regent Chambers, Above Status Restaurant, Nariman Point, Mumbai - 400 021. India.
Telephone: +91-22-61434055. Fax: +91-22-22028550. Email: info@equitymaster.com. Website: www.equitymaster.com. CIN:U74999MH2007PTC175407