On This Day - 16 AUGUST 2017
This Company Beat the Business World's 'Three Killer Cs'

In this issue:

» Telecom Sector: A Decade of Underperformance
» Luxury Cars Feeling the GST Heat
» Market roundup
» And more!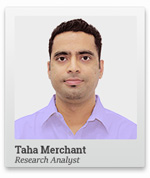 Not one but three 'killer Cs' lurk around the darkest corners of the business world.
If any one of them grips a business, it makes life hell for the managers and profits elusive for the owners. What are they?
The first is 'cyclical'. When a business is cyclical, it sees large and unpredictable swings in its revenues, margins, and profits. Everything that matters is all over the place.
The second is 'capital-intensive'. Businesses afflicted by high capital-intensity require a lot to produce little. They suck investors dry as they need large amounts of capital to make profits.
The third is 'commoditised'. Companies here can do very little to prove to customers that their product or service is better than their competitor's.
The presence of even one of these killer Cs is bad news for a business.
So imagine a business that has all three killer Cs. A sure recipe for disaster!
What if I told you this company exists? Not just that - but this company has been able to do something incredible: It has not had one year of losses in in the last quarter of a century.
You read that right. Twenty-five long years of clean profits year in and year out.
Most companies in much better businesses will never come close to such a record.
The company is The Great Eastern Shipping Company and operates of course in the infamous shipping business.
And trust me, this is one choppy industry. It's a space filled with bankruptcies - both in companies that make as well as operate ships.
So how has GE Shipping managed to pull-off its impressive success story?
If you think about it, the shipping business has many similarities to the stock market. And GE Shipping's success mantra is very close to what we call value investing.
Here's the company's Chairman in a recent letter to shareholders:
Shipping is a highly capital-intensive business... As you may have noticed, interest and depreciation, which are directly affected by the capital cost of the asset, constitute almost half of our operating cost base. This shows the key role that the acquisition price of ships plays in our profitability. This leads to critical decisions that the management needs to take on when is the 'right' time to buy (ships)...

We have done a lot of work trying to identify the right price for different types of assets. In most cases, this coincides with very weak freight markets, which means that charter rates are unremunerative if not lossmaking, i.e., earning a very low or negative current yield. As a result, the purchase decision which is good for the long term is often detrimental to the short term profitability of the company.

The one possible downside with the value investing method is that there may be significant periods of time when we are unable to invest due to prices not being right. In such times, and with a focus on longer term returns, we will resist the temptation to move from 'low yielding' cash to 'higher yielding' assets.
The same value investing mindset that's helped us deliver rich returns to our subscribers for more than two decades has also helped GE Shipping thrive in the extremely difficult shipping business.
If you're not part of the value investing clan yet, I suggest you join us right away!
Editor's Note: Speaking of value, Ankit has just written about the fundamentals of a contrarian bet he's recently cherry-picked for his readers. If you're not already on his Insider list, click here now to subscribe.
02:15

Chart of the Day
Telecom Sector: A Decade of Underperformance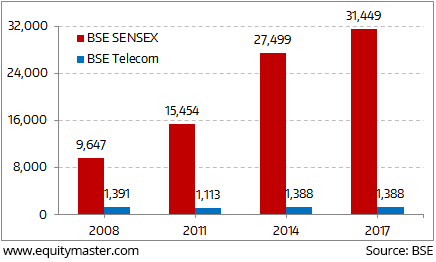 Speaking of difficult businesses, the whole telecom business has been an underwhelming story so far. While the telecom subscriber base has increased from 300 million in 2008 to 1.2 billion in 2017, investors have little to cheer. The BSE Sensex has gone up 3.25 times in nine years, but the BSE Telecom Index has not moved an inch from its levels of 2008.
Telecom companies are straddled with high debt, intense competition, and lack of pricing power. High spectrum costs and regulatory issues have hampered the sector. While consumers have benefited from low costs and new players fighting for their share, investors have suffered.
With the entry of Reliance Jio, the competition has intensified further. Reliance Jio's low cost offerings and strategy of capturing market share will further dent the sector. The sector has been a classic 'valuet trap'. While it always looks cheap compared to other sectors, it has failed to provide any reasonable returns. We also believe the situation is unlikely to change in the near future. For an investor, it's important to differentiate between 'value' and 'value traps'.
After cigarette companies, it's time for luxury car companies to suffer. Constant policy revisions related to tax rates post GST have left car makers in a fix. The GST council has proposed to increase cess on premium vehicles from 15% to 25%. This is over and above the 28% GST tax rate. With the increased cess, prices of top luxury cars are expected to go up to Rs 2.58 lakh.
It's been a rough ride for the automobile industry since the second half of 2016. Notebandi affected vehicle sales in Q3 of FY17. Once the sector recovered from the shock, BS-IV compliance presented another roadblock. Once they managed to maneuver these obstacles, a third hurdle came when the Goods and Services Tax (GST) hit in Q1FY18 and has been a problem since.
While GST is likely to benefit these automobile manufacturers in the long run, these constant tax rate changes will hurt the companies in the near future. Some car makers also hinted they will need to review their expansion plans in India. This is likely to affect job creation at the company and dealership level.
With valuations of most companies close to all-time highs, it's important to consider this when valuing an automobile manufacturer.
It is always important to look at the long-term picture. Identify stocks that are a part of the Megatrend, a trend that ignores short-term fluctuations and looks at the bigger picture.
The Indian stock markets were trading lower at the time of writing. The BSE Sensex is down 20 points and the NSE Nifty is down 12 points. The S&P BSE Mid-Cap and S&P BSE Small-Cap Indices are up 0.8% and 0.7%, respectively. Barring capital goods stocks and bank stocks, all sectoral indices are in the green with FMCG stocks and automobile stocks leading the pack of gainers.
04:56

Investment Mantra of the Day

'When we own portions of outstanding businesses with outstanding managements, our favorite holding period is forever.' - Warren Buffett

Copyright © Equitymaster Agora Research Private Limited. All rights reserved.

Any act of copying, reproducing or distributing this newsletter whether wholly or in part, for any purpose without the permission of Equitymaster is strictly prohibited and shall be deemed to be copyright infringement

Disclosure & Disclaimer:

Equitymaster Agora Research Private Limited (Research Analyst) bearing Registration No. INH000000537 (hereinafter referred as 'Equitymaster') is an independent equity research Company. The Author does not hold any shares in the company/ies discussed in this document. Equitymaster may hold shares in the company/ies discussed in this document under any of its other services.

This document is confidential and is supplied to you for information purposes only. It should not (directly or indirectly) be reproduced, further distributed to any person or published, in whole or in part, for any purpose whatsoever, without the consent of Equitymaster.

This document is not directed to, or intended for display, downloading, printing, reproducing or for distribution to or use by, any person or entity, who is a citizen or resident or located in any locality, state, country or other jurisdiction, where such distribution, publication, reproduction, availability or use would be contrary to law or regulation or what would subject Equitymaster or its affiliates to any registration or licensing requirement within such jurisdiction. If this document is sent or has reached any individual in such country, especially, USA, Canada or the European Union countries, the same may be ignored.

This document does not constitute a personal recommendation or take into account the particular investment objectives, financial situations, or needs of individual subscribers. Our research recommendations are general in nature and available electronically to all kind of subscribers irrespective of subscribers' investment objectives and financial situation/risk profile. Before acting on any recommendation in this document, subscribers should consider whether it is suitable for their particular circumstances and, if necessary, seek professional advice. The price and value of the securities referred to in this material and the income from them may go down as well as up, and subscribers may realize losses on any investments. Past performance is not a guide for future performance, future returns are not guaranteed and a loss of original capital may occur. Information herein is believed to be reliable but Equitymaster and its affiliates do not warrant its completeness or accuracy. The views/opinions expressed are our current opinions as of the date appearing in the material and may be subject to change from time to time without notice. This document should not be construed as an offer to sell or solicitation of an offer to buy any security or asset in any jurisdiction. Equitymaster and its affiliates, its directors, analyst and employees will not be responsible for any loss or liability incurred to any person as a consequence of his or any other person on his behalf taking any decisions based on this document.

As a condition to accessing Equitymaster content and website, you agree to our

Terms and Conditions of Use

, available here. The performance data quoted represents past performance and does not guarantee future results.

SEBI (Research Analysts) Regulations 2014, Registration No. INH000000537.

Equitymaster Agora Research Private Limited (Research Analyst) 103, Regent Chambers, Above Status Restaurant, Nariman Point, Mumbai - 400 021. India.
Telephone: +91-22-61434055. Fax: +91-22-22028550. Email: info@equitymaster.com. Website: www.equitymaster.com. CIN:U74999MH2007PTC175407