On This Day - 7 OCTOBER 2017
Invest in a 'Haunted House' Stock and Make a Killing

Imagine you want to buy a house in Mumbai.
After months of struggle, you feel deflated. Everything in your budget sucks - the neighbourhood is wrong, or the flat itself looks like a jail cell, but dingier.
Then you walk into a spacious beautiful house in one of the loveliest areas in the city. While you were expecting to hear a number so high it would make you dizzy, you find, instead, the house is exceptionally cheap.
It is well below market price as compared to other properties in the same locality.
You want to jump for joy. But, hold on a minute, you have seen enough of the world to know when something is too good to believe.
You do some investigative 'taak jhaak' and find that rumours have it this is a 'Ghost House' - a 'bhoot bangla' as we say in Hindi movies.
Nobody wants it. The owner is desperate to sell it. And lo and behold, a cheap house in a swanky part of Mumbai winds up on the market.
Do you buy it?
Most people don't. We are much more influenced by perception than we realise.
But perceptions change. Soon people forgot about the rumours of ghosts and the price of the house soared. If you could have ignored the perceived value of the house, and focused on the real value, you would have made a killing.
And you can do this in the stock markets as well.
The stock markets sometimes perceive a business below its true potential, and price it below its true value.
This happens often in the commodity industry. Sometimes, a business that seems like a commodity business, might actually have some non-commodity characteristics that set it apart.
A commodity business is where the pricing of the product is decided by the general demand and supply situation in the market. Steel, for example. Or oil and gas.
The product of the company cannot be set apart from any other product in the market. No one ever asks, 'Hey, which company makes the shiniest steel?' or 'Which petrol gives the most mileage?'
These businesses do not command any pricing or brand power. Their fate lies entirely in general market conditions.
But sometimes, a business perceived as a commodity business, actually has pricing power. It has a brand, a niche, and the ability to pass on the increase in the raw material prices to their customers (unlike a traditional commodity biz). (Read businesses like Ambika Cottons )
This is what Warren Buffett means when he says, 'Invest in businesses that buy commodities and sell brands'
The market and the investment community don't always see this. Because of this misperception - a non-commodity business gets priced like a commodity business (low) - and gives you, the retail investor, a chance to stock up on it and build a stake in a company.
When the broader market realises the non-commodity nature of the business, the stock appreciates significantly - and you can make a killing.
Now, it is, of course, difficult to find such businesses. How can you know if the house actually has a ghost living in it, or if it is just a rumour?
I for one love finding such anomalies in the market. I closely track my super investors to see who is buying into any such business. Once spotted, the Smart Money Secrets team gets to work to find out whether the house shelters a ghost or it's just market perception.
And I recently discovered this exact pattern in a company: A typical commodity business that has quietly carved out a significant niche for itself unnoticed by the investment community. I've recently recommended it to my subscribers - at this point they should be building up a stake (and so can you if you like, by subscribing here to get the report) - and waiting for the rest of the world to wake up, so they can make their killing.
PS: There's much buzzing around the electric cars conversations - and Rahul Shah, editor of the fantastic free newsletter, Smart Contrarian, believes there is HUGE opportunity there. Read his thoughts here.
Is it Worth Investing in an IPO?
BSE IPO Index vis-a-vis Sensex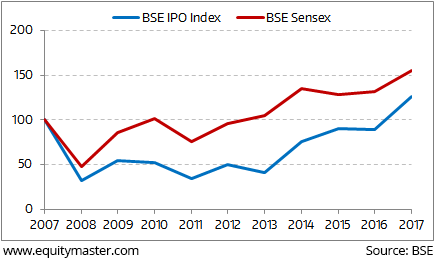 The opposite of a perceived ghost house is a real one. Imagine over paying to stay in a haunted house. In the Indian stock market, IPOs are the closest thing there is to a ghost house. And they have special powers to attract gullible investors. Barring a few names that have quality, most IPO companies fail to live up to the hype.
The BSE IPO index has underperformed the Sensex over the past decade. Investors blindly following the IPO hype might have done better following the Sensex. Moreover, when the markets touch new highs, the frequency of new IPOs hitting the market increases. The valuations go through the roof. Promoters and private equity investors take advantage of this frenzy to offload their stake.
Also, reasonably priced issues get oversubscribed multiple times. Investors rarely get shares of such companies. And they end up owning shares of overpriced issues.
What should one do in such a situation?
While it's necessary to be cautious on IPOs, you don't need to completely ignore them either.
For every Reliance Power - like issue, there have been issues like Maruti, TCS, and Jubilant Foodworks Ltd (with returns over 4,000%, 1,000% and 500% respectively) that have made investors rich.
The percentage of such issues, unfortunately, is very low (Check this IPO performance snapshot). The odds are stacked against a retail investor.
A careful evaluation of each IPO on its merits - its fundamentals, and most importantly, valuations - is the only way to spot future multi-baggers. To learn how to navigate the treacherous world of IPOs, do read our special report on finding money-spinning IPOs.
Corporate Governance Overhaul
The panel appointed by stock market regulator proposed various measures to improve transparency and disclosures of Indian corporates. One of the recommendations was to split the role of Chairman and Managing Director of listed companies. It also proposed that companies discuss their business strategy in their annual reports to provide more clarity to investors.
Recent tussles between board members highlight the corporate governance issue faced by Indian companies. Infosys and Tata - torch bearers of high ethical standards - made news for all the wrong reasons.
A trustworthy and transparent management can act as a moat for investors. In times of turbulence, one should be able to blindly trust these companies to ride out the storm. While implementation of these proposals will be key, it surely comes as a breath of fresh air for investors.
What the Markets Looked Like This Week
Global financial markets ended the week on a positive note. The US markets remained resilient and were up 1.8% for the week. This was despite the fall in U.S. employment in September for the first time in seven years.
Most of the Asian indices, barring China, have risen in the week gone by. Hong Kong was the biggest gainer up 3.3% for the week. The Japanese market scaled a fresh two-year peak and posted its fourth straight weekly gain on the back of a weaker currency.
Back home, Indian share markets snapped a two-week decline and rose by 1.7% amid positive global rub-off and strong investor inflows on increasing domestic inflows. The Reserve Bank of India, in its latest policy review, kept interest rates unchanged amid concerns on rising inflation.
Investment Mantra of the Day
"Investors making purchases in an overheated market need to recognize that it may often take an extended period for the value of even an outstanding company to catch up with the price they paid." - Warren Buffett
Copyright © Equitymaster Agora Research Private Limited. All rights reserved.
Any act of copying, reproducing or distributing this newsletter whether wholly or in part, for any purpose without the permission of Equitymaster is strictly prohibited and shall be deemed to be copyright infringement
Disclosure & Disclaimer:
Equitymaster Agora Research Private Limited (Research Analyst) bearing Registration No. INH000000537 (hereinafter referred as 'Equitymaster') is an independent equity research Company. The Author does not hold any shares in the company/ies discussed in this document. Equitymaster may hold shares in the company/ies discussed in this document under any of its other services.
This document is confidential and is supplied to you for information purposes only. It should not (directly or indirectly) be reproduced, further distributed to any person or published, in whole or in part, for any purpose whatsoever, without the consent of Equitymaster.
This document is not directed to, or intended for display, downloading, printing, reproducing or for distribution to or use by, any person or entity, who is a citizen or resident or located in any locality, state, country or other jurisdiction, where such distribution, publication, reproduction, availability or use would be contrary to law or regulation or what would subject Equitymaster or its affiliates to any registration or licensing requirement within such jurisdiction. If this document is sent or has reached any individual in such country, especially, USA, Canada or the European Union countries, the same may be ignored.
This document does not constitute a personal recommendation or take into account the particular investment objectives, financial situations, or needs of individual subscribers. Our research recommendations are general in nature and available electronically to all kind of subscribers irrespective of subscribers' investment objectives and financial situation/risk profile. Before acting on any recommendation in this document, subscribers should consider whether it is suitable for their particular circumstances and, if necessary, seek professional advice. The price and value of the securities referred to in this material and the income from them may go down as well as up, and subscribers may realize losses on any investments. Past performance is not a guide for future performance, future returns are not guaranteed and a loss of original capital may occur. Information herein is believed to be reliable but Equitymaster and its affiliates do not warrant its completeness or accuracy. The views/opinions expressed are our current opinions as of the date appearing in the material and may be subject to change from time to time without notice. This document should not be construed as an offer to sell or solicitation of an offer to buy any security or asset in any jurisdiction. Equitymaster and its affiliates, its directors, analyst and employees will not be responsible for any loss or liability incurred to any person as a consequence of his or any other person on his behalf taking any decisions based on this document.
As a condition to accessing Equitymaster content and website, you agree to our
Terms and Conditions of Use
, available here. The performance data quoted represents past performance and does not guarantee future results.
SEBI (Research Analysts) Regulations 2014, Registration No. INH000000537.

Equitymaster Agora Research Private Limited (Research Analyst) 103, Regent Chambers, Above Status Restaurant, Nariman Point, Mumbai - 400 021. India.
Telephone: +91-22-61434055. Fax: +91-22-22028550. Email: info@equitymaster.com. Website: www.equitymaster.com. CIN:U74999MH2007PTC175407