These 5 Penny Stocks are Held by Rakesh Jhunjhunwala. Worth a Look?
Aug 10, 2022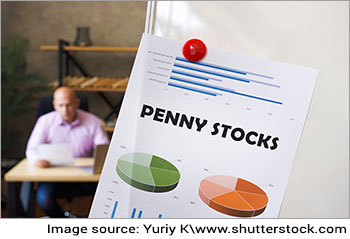 Editor's note: There are a lot of WhatsApp messages doing the rounds these days. They list out the gains and losses made by India's most famous investors like Rakesh Jhunjhunwala, Dolly Khanna, Ashish Kacholia and the likes.
These investing gurus of India have spent many years in the market. They've already made their millions (and even lost in some cases).
If you're wondering what these stock market gurus are doing in 2022, data revealed shows that they have been busy as ever.
They seem to be making most of the market correction and loading up on fundamentally strong stocks.
As the stock market is steadily recovering as a result of falling crude oil prices, the interest in stock market seems to be going up. Especially for penny stocks.
If you are investing in penny stocks, the backing of a super investor like Rakesh Jhunjhunwala will give you added confidence.
Earlier this year in January 2022, we wrote to you about the five penny stocks which are held by Rakesh Jhunjhunwala for several years.
Penny Stocks in Rakesh Jhunjhunwala's Portfolio
Source: Equitymaster
The above list is still extremely relevant today and a lot has happened since we last wrote to you.
Continue reading for the latest developments.
Penny Stocks Held by Rakesh Jhunjhunwala
In recent weeks, we've covered topics where renowned investors have invested in specific stocks. You can read some of the pieces, here, here and here.
Whenever these investors pick up a stake in a company, the stock jumps the very next day once the details are disclosed. This is true more often than not.
Even big companies move quite a bit when these "so-called guru investors" pick up a stake.
Now imagine the volatility penny stocks will witness if and when such news comes out. They're low priced with low float. Penny stocks can double in a matter of weeks.
Bull market or bear market, regardless of what cycle the market is in, investors are always on the lookout for 'cheap' penny stocks to buy.
However, there are cases where even if the stock is held by renowned investors for several years, the stock has outperformed.
Today, we cover five penny stocks held by Rakesh Jhunjhunwala in his portfolio. What's interesting is that Jhunjhunwala has been holding on to these shares for several years now.
#1 TV18 Broadcast
Rakesh Jhunjhunwala's investment in TV18 Broadcast goes back to 2012 when he initially bought stake in the company. Since then, he has held on to the stock with minimal increase/decrease in his stake.
As of September 2021, he holds around 2.04% stake in the media company.
Despite Jhunjhunwala's backing, the stock has remained in a tight range over the years, maintaining its penny stock status.
It did rise to around Rs 70 in 2018 but then fell back below Rs 50.
The stock had a decent run last year, gaining around 60% as it reported good financials. The company did face some heat last April when Mukesh Ambani-led Reliance Industries called off merger plans.
Profitability saw improvement from March 2021. The company has continued its expansion and has invested in various business segments. What's more, the company continues to make critical investments in fresh content for its subscription based OTT platform VOOT Select.
It has also made a foray into the sports broadcasting segment recently by acquiring rights of FIFA World Cup 2022 and three major football leagues.
TV18 Network is a subsidiary of Network18, which is a step-down subsidiary of Reliance Industries. The reliance group continues to provide financial support and considers the media businesses as a key element for the group's telecom thrust and the digital businesses.
As of September 2021, even FIIs held a substantial stake in the company. To know more, check out the latest shareholding pattern of TV18 Broadcast.
Update: As of June 2022, Rakesh Jhunjhunwala holds less than 1% stake in the company. His name does not feature in the shareholding filing as only investors who have 1% or more in the company have to report their holding.
The quarter gone by was very challenging for TV18 as the entire industry was struggling. Take a look at the chart below which shows the company's performance in 2022.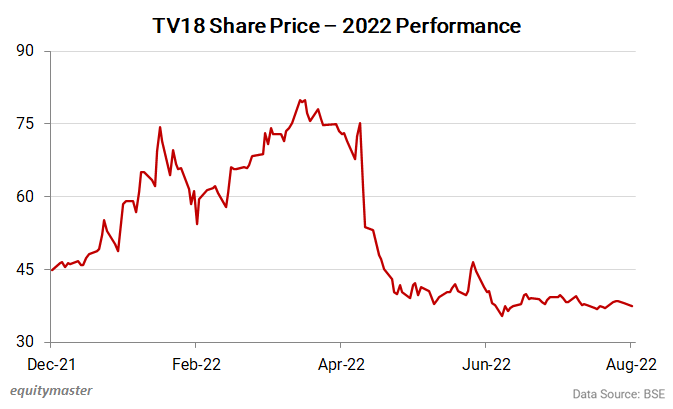 The silver lining was that TV18's JV Viacom18 announced a deal with Bodhi Tree and Reliance and acquired the exclusive digital streaming rights of the Indian Premier League for the Indian sub-continent for the next five seasons (2023-2027).
#2 Bilcare
Up until last week, Bilcare was a penny stock trading below Rs 100. But yesterday, the stock zoomed 10% to Rs 109. Today, it us up 3%.
The reason for such a sharp spike is unknown.
Jhunjhunwala holds 8.5% in Bilcare as of December 2021. He has made a ton of money from this investment. The stock is up 150% in the past one year.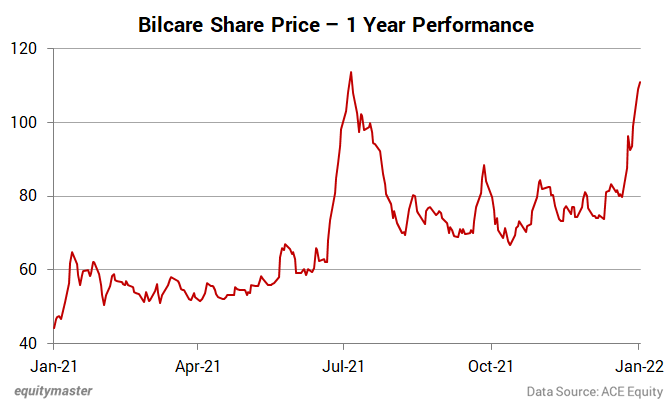 Shares of this pharma packaging research firm are on a tear ever since the company started reporting good financials. The company reported decent sales growth and also turned profitable in the September 2021 quarter.
Bilcare is primarily involved in manufacturing specialty pharma packaging barrier films. It provides pharma packaging innovation (PPI) services and products, global clinical services (GCS), and anti-counterfeit technologies to major pharma companies.
Over the years, Bilcare has diversified its geographical presence by organic and inorganic expansion. The company's manufacturing facilities are located in India, Singapore, USA, and Europe and its R&D facilities are in India, Singapore, and the USA.
To know more about the company, check out Bilcare financial factsheet and Bilcare quarterly results.
Update: As of June 2022, Rakesh Jhunjhunwala holds 8.48% stake in the company. The stake has remained constant for the past few quarters.
#3 Prozone Intu Properties
Latest shareholding data for December 2021 shows that Rakesh Jhunjhunwala holds about 2.06% stake or 3.15 m equity shares of realty firm Prozone Intu. Jhunjhunwala holds this stake since December 2017.
Jhunjhunwala had reduced stake in the company to 2.06% in the quarter-ended March 2018 from 2.46% in the quarter ended December 2017. And since then, he continues to hold the same stake.
Even well-known investor Radhakishan Damani held 1.26% equity stake in Prozone Intu. However, his name is not present in the December 2021 shareholding pattern. He exited the stock in the September 2021 quarter.
Prozone Intu is a focused retail-led and residential mixed-use real estate development company. It's engaged in the business of developing, owning and operating shopping malls, commercial, and residential premises. The company has a strong presence in Tier II and Tier III cities in India.
Over the year gone by, shares of Prozone Intu have gained 50%.
When Jhunjhunwala bought into the stock, it was trading near Rs 75 levels. Since then, it has never come any closer to that same level. The closest it gained was to Rs 50 in June 2021.
To know more, check out Prozone Intu financial factsheet and Prozone Intu quarterly results.
Update: Jhunjhunwala continues to hold the same quantity of shares, 2.06% stake or 3.15 million shares of Prozone Intu. The stake has stayed constant since March 2018.
#4 NCC
Rakesh Jhunjhunwala's investment in NCC goes back to 2014. Back then, he acquired 40 m shares by subscribing to the rights issue and bought 0.65 m shares through open market.
Back then, he held around 12.8% stake in the realty company. Today, he holds 10.63% stake through his wife Rekha Jhunjhunwala's account.
The December 2021 shareholding data for NCC shows Rekha Jhunjhunwala holds about 66.7 m shares!
Jhunjhunwala has been investing in NCC through multiple channels such as open market, block deals, and rights issue (at Rs 20 per share).
Not just Jhunjhunwala, but Indian mutual funds and foreign investors hold a significant stake in NCC.
Why is Jhunjhunwala bullish on NCC? That too for several years?
NCC has shown strong revenue visibility with healthy order book and project execution. As of September 2021, it has an order Book of Rs 391.1 bn. It received new orders worth Rs 56.1 bn received during the first six months of 2021.
In the month of December alone, NCC has received five new orders worth Rs 19 bn.
NCC's order book is well diversified across geographies and segments viz. buildings, water supply, environment and railways, mining, irrigation, electrical, roads, and others.
Also, a key point to take into consideration while looking at realty stocks is their debt levels. NCC's debt has come down significantly over the years. Its current debt to equity ratio stands at 0.4.
NCC share price was in focus last week when KBC Eco Fund continued selling shares in the company.
Over the year gone by, shares of NCC have gained about 30%. To know more, check out NCC's latest shareholding pattern.
Update: In the most recent June 2022 quarter, Rakesh Jhunjhunwala trimmed his stake in NCC to 12.48% from 12.86%.
NCC has announced a dividend of Rs 2 per equity share in the March 2022 quarter.
If dividends interest you, you should definitely check out the stocks which are paying dividend next month.
#5 Geojit Financial Services
Big bull first invested in Geojit Financial Services way back in 2004. Since then, he has been on the board of the company.
Over the years, he has increased stake by buying more shares via open market transactions.
Latest shareholding pattern for December 2021 shows that Jhunjhunwala held 7.55% stake in Geojit.
Last week, Geojit became the first company to offer loans against shares digitally. Geojit Credits, the NBFC arm of Geojit Financial, launched a digital platform to offer loans against shares (LAS). It became the first company to offer LAS digitally to any demat account holder registered with the National Securities Depository Ltd (NSDL).
What has reaffirmed Jhunjhunwala's faith in the company? There are many reasons.
Despite the cyclical nature of the industry in which Geojit operates, it has been making profits. Since 2004, it has only reported loss in one fiscal (2014).
Sales and profitability, both have been growing over the past few years. 2021 marks the year where Geojit reported highest profit and sales figures.
Also, the company has a consistent track record of paying healthy dividends. The dividend growth rate has accelerated in the past 2-3 years. Its dividend payout history goes back to 1998.
Debt free companies and the ones which pay consistent dividends make for a good investment and Geojit with almost zero debt gives comfort to shareholders.
Over the year gone by, shares of the company have gained 50%.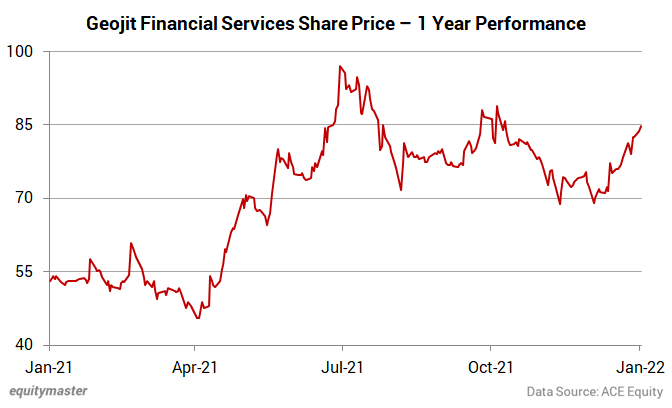 To know more, check out Geojit Financial company fact sheet and quarterly results.
Update: Jhunjhunwala's holding in Geojit Financial has changed in percentage terms because of the corporate action but the number of shares has remained the same.
What is the right penny stocks strategy?
Since all investing comes with risk, diversifying your portfolio with penny stocks is a good strategy.
But here's the crux.
There are around 1,000 penny stocks that are vying your attention. And if you don't know how to say no to more than 90% of them, you will end up with a lot of junk.
Penny stocks can do extremely well when other stocks don't. As per a leading financial, the return data of penny stocks shows that more than 850 stocks listed on the BSE have risen over 100% in the past 18 months. 102 stocks have risen over 1,000% in the same time period and 10 stocks have risen over 5,000%. Spectacular, isn't it?
But here's the thing...penny stocks can take a U-turn at a faster rate, trapping retail shareholders, when things turn bad. (Read our article on popular stocks turned penny stocks).
That is why you need a strong framework. This framework should not only zero in on the right penny stock at the right price but also helps you avoid big losers.
Back in July 2020, Co-head of Research at Equitymaster, Rahul Shah shared a very effective technique that zeroes in on the right penny stocks.
You can check it out here: What No One Told You About Finding the Best Penny Stocks.
Rahul also did an interview discussing how to invest and make money with penny stocks.
If you've not read the interview yet, you're in for a treat.
Also check out the below video where Rahul talks about the top penny stocks in this market.
Investment in securities market are subject to market risks. Read all the related documents carefully before investing
Alert on Emerging Business Stocks
Our small business research team has been tracking a few exciting opportunities in India's Emerging Business space.
If you've ever looked at stocks like Titan, Pidilite, or Page Industries and wished you would
have invested in these companies at an early stage - this is for you.
*The securities quoted are for illustration only and are not recommendatory
Details of our SEBI Research Analyst registration are mentioned on our website - www.equitymaster.com
Disclaimer: This article is for information purposes only. It is not a stock recommendation and should not be treated as such. Learn more about our recommendation services here...
FAQs
How should you go about investing in penny stocks?
Penny stocks are usually issued by new or very small companies. These companies often don't have a proven track record, which is why their shares are sold for so little.
Larger, more established companies may also have stocks trading under Rs 100 when they are facing financial trouble or approaching bankruptcy.
Since they carry a high amount of risk, one must have a proper strategy in place.
Check out our framework for investing in penny stocks. This strategy is the easiest one to make money from penny stocks.
How much should you invest in penny stocks?
Penny stocks are not suitable for investors who have a low-risk appetite.
However, even if you have a high-risk appetite, we believe one should not invest more than 2-3% of one's stock portfolio in penny stocks.