Adani Enterprises FPO: 5 Things to Know
Jan 20, 2023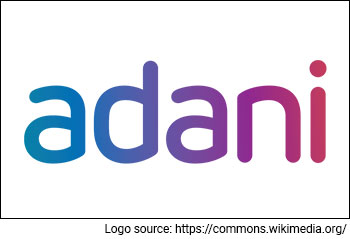 The flagship company of the Adani group, Adani Enterprises has filed for a Rs 200 billion (bn) follow on public offer (FPO).
The FPO is expected to be India's largest, bettering the record of Yes Bank, which raised Rs 150 bn in July 2020.
This fundraising will be the group's second attempt to raise funds within a year. Earlier, in January 2022, Adani Wilmar came out with an initial public offering of Rs 36 bn.
What is an FPO?
A follow-on public offer (FPO) is a follow-up to the initial public offering (IPO), as the name suggests. It is the issuance of shares after the company is listed on a stock exchange.
It is a popular method for companies to raise additional equity capital in the capital markets through a stock issue and diversify their equity base.
In other words, an FPO is an additional issue, whereas an IPO is an initial or first issue.
Companies usually announce FPOs to raise equity or reduce debt.
Adani Enterprises FPO Details
Last year on 25 November 2022, Adani Enterprises announced approval from the board to raise funds by follow-on public offering (FPO).
Here are the key details about the FPO.
Issue period: 27 January 2023 to 31 January 2023
Issue size: Rs 20,000 crore (about Rs 200 billion)
Price band: Rs 3,112 to Rs 3,276 per equity share (the company is offering a 10-15% discount to investors in FPO)
Bid lot: 4 shares and multiples thereof.
Application limit: Minimum one lot, maximum fifteen lots
Face value: Rs 1 per equity share
The company has reserved 50% shares of the offer for qualified institutional buyers (QIB). It has reserved 15% for non-institutional buyers (HNI). Hence 35% is available for retail investors.
Tentative FPO allotment date: 3 February 2023
Tentative listing date: 8 February 2023
#1 About Adani enterprises
Adani Enterprises is the flagship company of the Adani Group. It primarily has businesses in the natural resources, transport and logistics, and utility and strategy segments.
It has widened its presence across several industries, including integrated resource management (IRM), , airports, edible oil, and aerospace.
Off late, it has ventured into new businesses such as airports, data centers, and water treatment plants.
#2 Objective of the Issue
According to the RHP (red herring prospectus), the company proposes to utilize the net proceeds towards funding the capital expenditure requirements of some of its subsidiaries, debt repayment, and other general corporate purposes.
Around Rs 108.7 bn of the funds raised would be used for projects related to the green hydrogen ecosystem, improvement works of certain existing airport facilities, and construction of a greenfield expressway.
It has proposed to use Rs 41.7 bn for the repayment of certain borrowings of Adani Enterprises and three of its subsidiaries- Adani Airport Holding, Adani Road Transport, and Mundra Solar.
The remaining will be used for general corporate purposes.
#3 Financial Outlook
The company's revenue has grown at a CAGR of 16.9% in the last three years, while the net profit has grown by a CAGR growth of 13.5%. This was due to successful incubation of various businesses and strong performances by Integrated resource management business.
Going forward, its ambitious growth plans are expected to support revenue in the medium term.
It is also looking forward to increase its revenue from green hydrogen ecosystem segment, which has seen a revenue decline of 0.7% YoY to Rs 12.2 bn for the September 2022 quarter.
Also, for the upcoming quarter the company is planning to increase its revenue from mining sector and integrated resource management business.
The company is expected to incur a capex of Rs 520 bn in the financial years 2023 and 2024, which it plans to fund majorly through debt. With the company's debt-to-equity already above 0.8x, more debt will only increase the burden on its books.
To know more, check out Adani Enterprises' financial factsheet and its latest quarterly results.
Financial Snapshot
| Particulars | 31-Mar-22 | 31-Mar-21 | 31-Mar-20 |
| --- | --- | --- | --- |
| Revenue (Rs bn) | 704 | 402 | 440 |
| Revenue Growth (%) | 74.8 | -8.6 | |
| | | | |
| Net Profit (Rs bn) | 11 | 9 | 7 |
| Net Profit Margin (%) | 2.6 | 2.3 | 1.1 |
| | | | |
| Net Worth (Rs bn) | 269 | 189 | 128 |
| Return on Net Worth (%) | 2.9 | 5.5 | 5.7 |
| | | | |
| Basic Earnings per share (Rs) | 7.1 | 8.4 | 10.4 |
| Please round off these numbers to bn | | | |
| This has not been addressed. Please don't resolve comments if instructions have not been followed | | | |
| Round off to billion when you can | | | |
Data Source: Company's Red Herring Prospectus(RHP)
#4 Arguments in favor of Adani Enterprises
Adani enterprises is a flagship company of the Adani Group with an extensive range of products and services.
Due to its widespread networks, it has a presence across several industries, including integrated resource management (IRM), mining, solar manufacturing, airports, edible oil, defence, and aerospace.
It has a long track record of successfully executing large-scale projects in India.
The company is one of India's largest listed business incubators in terms of market capitalization of Rs 3.9 tn, with a demonstrated track record of incubating sustainable infrastructure businesses in India and a focus on enhancing stakeholder value.
As of 31 December 2022, the company's portfolio comprised of seven operational airports and one greenfield airport and has emerged as the largest private operator of airports based on number of airports.
Further, the company is also committed to invest US$ 70 bn in the green energy transition and infrastructure projects to become a net exporter of clean energy.
#5 Risk Factors
Adani Enterprises has high debt on the balance sheet.
The company's debt-to-equity has shot up to 0.8x in March 2022 quarter as against 0.6x in the previous year after it announced various projects in airports, roads, and power segments.
The company is expected to incur a capex of Rs 520 bn in the financial years 2023 and 2024, which it plans to fund majorly through debt.
With its debt-to-equity already above 1x, more debt will only increase the burden on its books.
Its RoE (Return on Equity) and RoCE (Return on Capital Employed) have also been consistently falling for the last three years. In the financial year 2022, it reported a RoE and RoCE of 3.5% and 9.2%, respectively, the lowest in the past three years.
How Adani Enterprises has performed recently
In the past month, Adani Enterprise share price has fallen 15% due to equity dilution concerns over the FPO.
Additionally, the issuance of new shares has created a negative sentiment in the market, as this would increases the total number of shares outstanding, dragging down company's earnings per share (EPS).
Yesterday, the stock was down over 4% on an intraday basis, post announcing the FPO dates.
Adani Enterprises touched a 52-week high of Rs 4,189 on 21 December 2022 and a 52-week low of Rs 1,529 on 24 February 2022.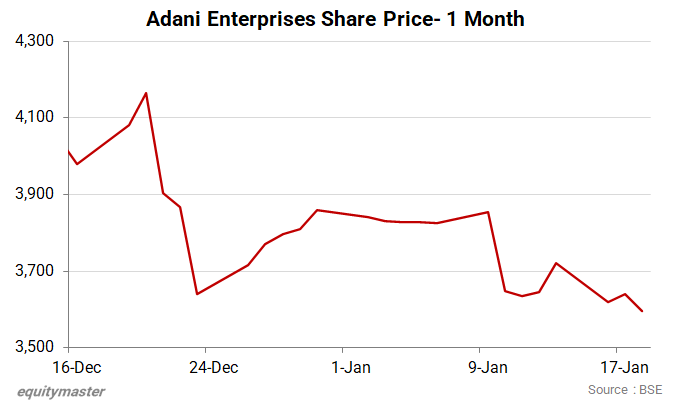 To conclude,
The company operates in various segments from iron ore and coal mining to port services and has been betting heavily on growth sectors
It plans to carry out a capex of more than Rs 550 bn over the next few years in the new energy, airport, and road sectors.
Adani New Industries, a subsidiary of Adani Enterprises, plans to invest over US$ 50 bn over the next 10 years in green hydrogen and its associated ecosystem.
For the green hydrogen push, the Adani group has partnered with French energy giant Total Energies.
This will make it one of the largest green hydrogen producers in the world.
How this pans out remains to be seen. Meanwhile stay tuned for more updates from this space.
And to know what's moving the Indian stock markets today, check out the most recent share market updates here.
Investment in securities market are subject to market risks. Read all the related documents carefully before investing
Alert on Emerging Business Stocks
Our small business research team has been tracking a few exciting opportunities in India's Emerging Business space.
If you've ever looked at stocks like Titan, Pidilite, or Page Industries and wished you would
have invested in these companies at an early stage - this is for you.
*The securities quoted are for illustration only and are not recommendatory
Details of our SEBI Research Analyst registration are mentioned on our website - www.equitymaster.com
Disclaimer: This article is for information purposes only. It is not a stock recommendation and should not be treated as such. Learn more about our recommendation services here...