India's Agriculture Focus: The Top Fertilizer Companies in India to Watch Out For
Dec 29, 2022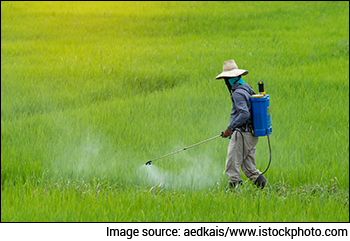 Editor's note: Although late to the party, several fertilizer stocks have made it to the list of fastest growing stocks of 2022.
Fertilizer stocks have started to see a similar one-way rally like PSU bank stocks in recent months.
The reason? The sharp spike is seen on the back of two reasons...
First is optimism ahead of the Union Budget 2023 and second reason being the deadline for Russia's imposition of export tax on fertilizers.
According to reports, the center may announce a rise in the subsidy on urea in the upcoming Union budget.
Meanwhile, we could see an export ban or increase of taxes for Russian exported fertilisers.
Both these reasons are a big positive for the industry, which is facing supply constraints post Russia-Ukraine war.
Agriculture and fertilizer, being crucial sectors, are always on investors' radar ahead of any year's budget. This time around, investors are anticipating a subsidy.
Back in January 2022, we wrote to you about the top fertilizer stocks and top agriculture stocks in India.
Fertilizer Stocks in India
Source: Equitymaster
A lot has happened since then, but the list of stocks is still relevant today.
Continue reading this updated article to know the most recent updates in the sector...
Top Fertilizer Stocks to Watch Out for
The agriculture sector has been kind of a paradox. Despite employing the biggest chunk of population in India, its contribution to the gross domestic product (GDP) is dismal.
Amid India's economic development, this sector has been left behind. There are still gaping voids in infrastructure and still too much reliance on the rain gods.
The initial covid period caused a havoc in the marketing of agricultural produce. This caused huge uncertainty in the minds of farmers.
The need for food security and a desire to help poor and marginal farmers led to a surge of policy measures. What followed was the government announcing slew of policies aimed at increasing incomes for farmers.
As things stand now, the outlook for the sector seems very encouraging.
Why you ask? Consider these points...
The agriculture industry is ramping up in automation given that India still has some of the most archaic farm systems in the world.
You must have already heard about how agriculture companies are using drone technology in the agriculture sector to boost crop production. This is a classic example of multiplier effect which will benefit agriculture companies as well as Indian companies in the exploding drone market.
Also, as India goes on a gradual transition from a developing country to a developed country, the agriculture sector is bound to shrink. So, the competitive intensity will reduce, which is a big plus for the stronger players present in this space.
The Top Fertilizer Companies in India
It's that time of the year when people await the Union Budget with bated breath. The whole nation has great hopes for the forthcoming Union Budget 2022.
The fate of several industries will be discussed in the upcoming budget, which will be held on 1 February 2022.
Today, we want to focus on one of the most important sectors of the Indian economy - Fertiliser sector.
The Indian government plans to allocate nearly US$19 bn in its federal budget to compensate fertiliser companies who sell their products at lower than market prices to farmers, reported Bloomberg.
Following the withdrawal of three farm law bills last year, five states including Uttar Pradesh, are set to hold elections earlier this year. This step is believed to placate farmers.
The increase in fertiliser subsidies may aid fertiliser businesses in recouping volumes lost last year due to higher input costs. The rise in subsidy would also assist farmers in coping with chemical firms' price hikes in order to reduce input costs.
Agriculture is the primary source of livelihood for about 58% of India's population. Based on this, India's fertiliser sector is incredibly essential. It produces some of the most crucial raw materials for agricultural production.
The growing population of India is also one of the benefits for the fertiliser business. It would result in increased demand in the future.
With the help of Equitymaster's powerful stock screener, we've narrowed down the best fertiliser firms in India for you to track.
These are the stocks that came up when we ran the screener for top fertilizer companies in India.
#1 Chambal Fertilisers & Chemicals
Chambal Fertilisers and Chemicals is a manufacturer of urea and di-ammonium phosphate (DAP).
It's the largest manufacturer of urea in the private sector with an installed capacity of 1.5 m tonnes per annum (MTPA).
The company's segments include fertilisers and other agri inputs, own manufactured phosphoric acid, textile, shipping, and others.
It was also engaged in software business. But in 2021, it sold assets and transferred certain liabilities of the business to cease the software operations.
The firm has a wide distribution network of 3,700 dealers and 50,000 retailers across the country. It has presence in states such as J&K, Haryana, Uttarakhand, Punjab, Uttar Pradesh, Bihar, West Bengal, Madhya Pradesh, Rajasthan, and others. It has access to 90% of total market size of fertilisers in India.
For the September 2022 quarter, the net profit of Chambal Fertilisers rose 15.8% to Rs 5.1 bn against Rs 4.4 bn during the same quarter last year.
The company will declare the December quarter results on 28 January 2022. It will also provide information related to dividend pay outs.
So far, the stock price has risen 111% to Rs 477 as on 20 January 2022 from Rs 214 in the same month last year.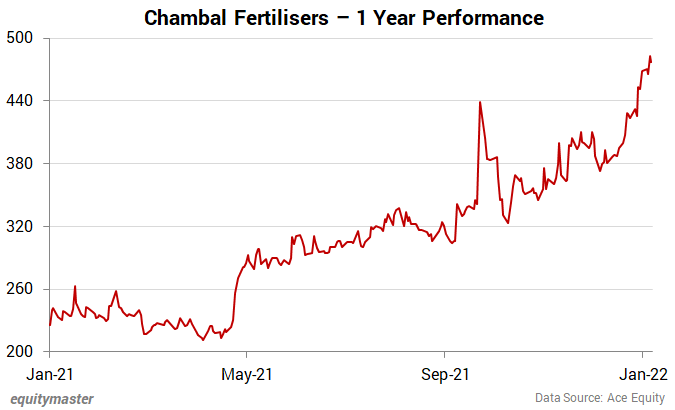 For more details about the company, you can have a look at Chambal Fertilisers' factsheet and quarterly results on our website.
Update: For financial year 2021-22, Chambal Fertilizers posted increased revenues. Although the profit decreased to Rs 12.6 bn from Rs 16.6 bn as expenses rose by almost 40%.
So far in 2022, shares of Chambal Fertilizers have corrected around 17%, from Rs 400 to Rs 330 at present.
Promoters of the company seem to be making most of this fall as they have increased stake in the company for the past four quarters.
Not just promoters. Even FIIs are so bullish that they have increased their stake for the past seven consecutive quarters, from 6.65% in December 2020 to 13.45% at present.
To know more, check out the latest shareholding pattern of Chambal Fertilizers.
#2 Coromandel International
Coromandel International is a part of the Murugappa Group. The group has presence across various industries such as auto components, abrasives, financial services, transmission systems, cycles, sugars, farm inputs, fertilisers, plantations, etc.
The company is one of India's leading agri solutions providers. It offers a diverse range of products and services across the farming value chain.
It specialises in fertilizers, crop protein, bio-pesticide, specialty nutrients, organic fertilizers, etc. The company distributes its products through a network of 20,000 dealers and 2,000+ market development team.
It owns and operates 16 manufacturing facilities across India in Tamil Nadu, Karnataka, Andhra Pradesh, Maharashtra, and other locations.
Coromandel International shares have underperformed in the last one year, declining by about 8%. Investor confidence has been affected by the irregular monsoon.
However, the company's profitability prospects seem bright, thanks to anticipated growth in the upcoming Rabi crop season.
The company did well on the revenues front for the quarter ended 30 September 2022, registering a growth of 34% over the previous year.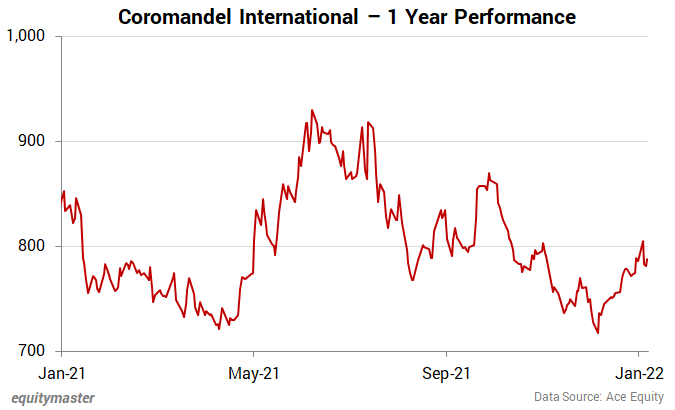 To know more, check out Coromandel International's 2020-21 annual report analysis.
Update: Coromandel International is on its way to become one of the multibagger stocks of 2022.
Shares of the company keep rallying despite all the volatility presented in 2022.
For financial year 2021-22, the company reported total income of Rs 192 bn as compared to Rs 142 bn last year.
Profit also rose to Rs 15.3 bn as compared to Rs 13.2 bn last year.
The company reduced its debt and is now a zero debt company.
Coromandel International is among the fastest growing companies that analysts are still bullish on.
To know more, check out Coromandel International's 2021-22 annual report analysis.
#3 Rama Phosphates
Rama Phosphates (RPL) is one of the leading phosphatic fertilizer manufacturers, i.e. single super phosphate (SSP) fertilizer manufacturing, in India.
The company also produces oleum, nitrogen, phosphorous, and potassium (NPK), de-oiled cake, and soya oil.
It's trademark brands, 'Suryaphool' and 'Girnar' are well recognised in the farming community.
On the financial front, Rama Phosphates net profit rose 101.1% to Rs 227.2 m in the quarter ended September 2021 against Rs 113 m during the previous quarter in 2020. The company's strong performance was on the back of higher operational revenue.
Over the last 5 years, the company has delivered good profit growth of 39.3% compound annual growth rate (CAGR).
That apart, ace investor Dolly Khanna has picked up additional stake in this multibagger fertilizer stock, as per the December 2021 shareholding data.
Dolly Khanna has bought around 0.4% stake in Rama Phosphate, taking the total holding to nearly 2.3%, or 4 lakh equity shares in the company.
The fertiliser stock in the last one-year has delivered multibagger returns of 320%, while in a month's time, it has gained 31%.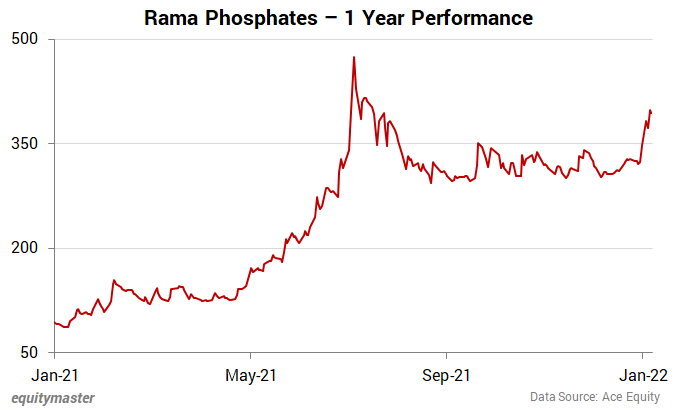 To know more, check out Rama Phosphates' latest shareholding pattern.
Update: Rama Phosphates reported net sales of Rs 8.8 bn in financial year 2021-22 as compared to Rs 5.8 bn last year.
Net profit rose to Rs 700 m as compared to Rs 421 m reported last year.
The company has declared a dividend of Rs 2 for the year 2022.
One of the top investing gurus of India Dolly Khanna owns 2.23% stake in the company or 393,729 shares as of June 2022.
#4 Dharamsi Morarji Chemical
Dharamsi Morarji Chemical company is engaged in manufacturing of bulk chemicals and specialty chemicals used in industries such as pharmaceuticals, detergents, dyes, etc.
This smallcap company was among the first producer of sulphuric acid and phosphate fertilisers in India.
It's a multi-product, multi-locational company and has emerged as the single largest manufacturer of SSP in India as well as a major producer of heavy chemicals.
It has two manufacturing facilities located in Roha and Dahej.
The company is backed by a number of key clients including Alkyl Amines, IPCA, Apcotex, Aurobindo, Dow, Deepak Nitrite, Pidilite etc.
The company recorded a strong growth in revenues in September 2022 quarter as the revenues increased 61% to Rs 725.3 m against Rs 497.7 m in the same period last year. The growth is due to higher realisations and moderate increase in volumes.
However, earnings before interest, taxes, depreciation, and amortization (EBITDA) margins and profitability suffered on account of sharp increase in the prices of raw materials and freight costs.
The company recorded strong performance in the specialty chemicals segment despite the challenging operating environment. It remains confident about passing on the increasing input costs to customers in this segment.
The outlook for the specialty chemicals remains strong. The company is witnessing strong demand from domestic as well as export customers.
In the past year, the company has managed to double its investor wealth. The share price has surged over 100% during the period.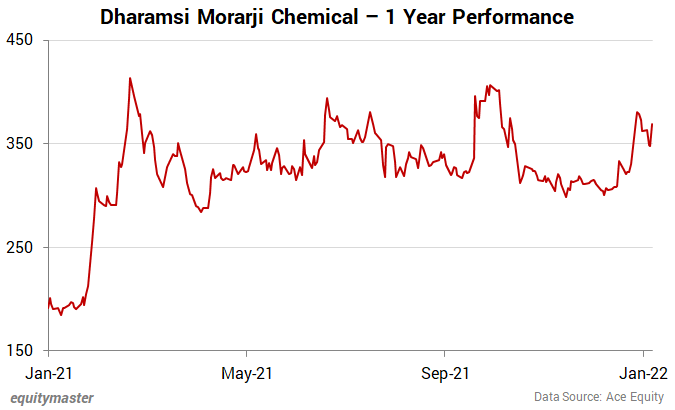 For more details about the company, you can have a look at Dharamsi Morarji Chemical's factsheet and quarterly results on our website.
Update: Just like most of the chemical companies, Dharamshi Chemicals reported increased revenues for financial year 2021-22.
But the company's net profit declined to Rs 213 m from Rs 325 m reported last year.
#5 Deepak Fertilisers
Deepak Fertilisers and Petrochemicals (DFPCL) is an Indian manufacturer of industrial and agricultural chemicals, crop nutrients, and fertilizers. It also owns real estate.
The company has marketed fertilizers under the brand name of 'Mahadhan' since 1990.
Deepak Fertilisers is one of the largest manufacturers of chemicals in India. It manufactures technical ammonium nitrate (mining chemicals), industrial chemicals, and crop nutrition. These products have uses in explosives, mining, infrastructure, and healthcare.
Recently, Deepak Fertilisers' Smartchem Technologies, a fully-owned subsidiary, said that Odisha's Chief Minister Naveen Patnaik had laid the foundation stone for a Rs 22 bn technical ammonium nitrate complex.
The complex, located at the Gopalpur Industrial Park, will have an annual capacity of 377-kilo tonne and is scheduled for commissioning by August 2024.
Once completed, the project will help Odisha become a key supply source for technical ammonium nitrate, serving the entire Eastern region, from where a majority of future mining growth is expected to come.
This bodes well for the company.
Deepak Fertilizers reported a 16% YoY jump in consolidated net profit to Rs 933.3 m in the second quarter ended September, primarily driven by higher income.
The net income in the second quarter increased to Rs 18 bn from Rs 14.2 bn in the year-ago period.
Deepak Fertilisers share price has delivered around 45.5% return to its shareholders in the last one month, while in the last six months the chemical stock has given around 29% return.
While, in the past one year, it has given around 230% return to its investors.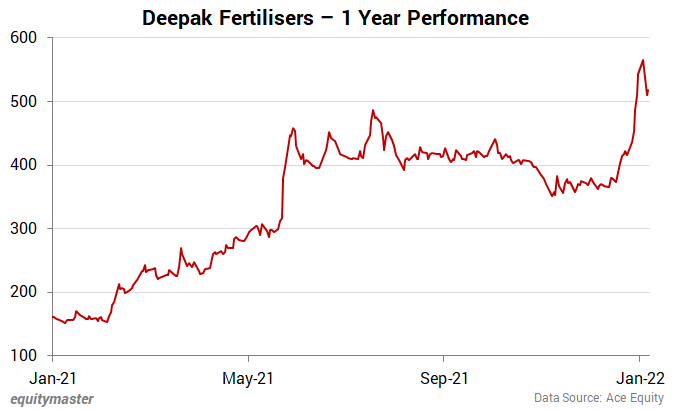 To know more, check out Deepak Fertilisers' latest shareholding pattern.
Update: Deepak Fertilizers is among the fundamentally strong stocks, having delivered multibagger gains already in 2022.
The stock has risen from Rs 390 at the start of this year to Rs 780 at present.
It has been on an upward trend since reporting stellar Q1 results last week, where it posted a multifold jump in net profit on a YoY basis.
The company's consolidated net profit rose 233% to Rs 4.4 bn in the June quarter, while revenue from operations surged 59.4% to Rs 30.3 bn.
Deepak Fertilizer's net profit for financial year 2021-22 rose to Rs 6.8 bn from Rs 4 bn reported last year.
Snapshot of top fertilizer stocks in India from Equitymaster's stock screener
Here's a quick view at the above mentioned companies based on some crucial financials.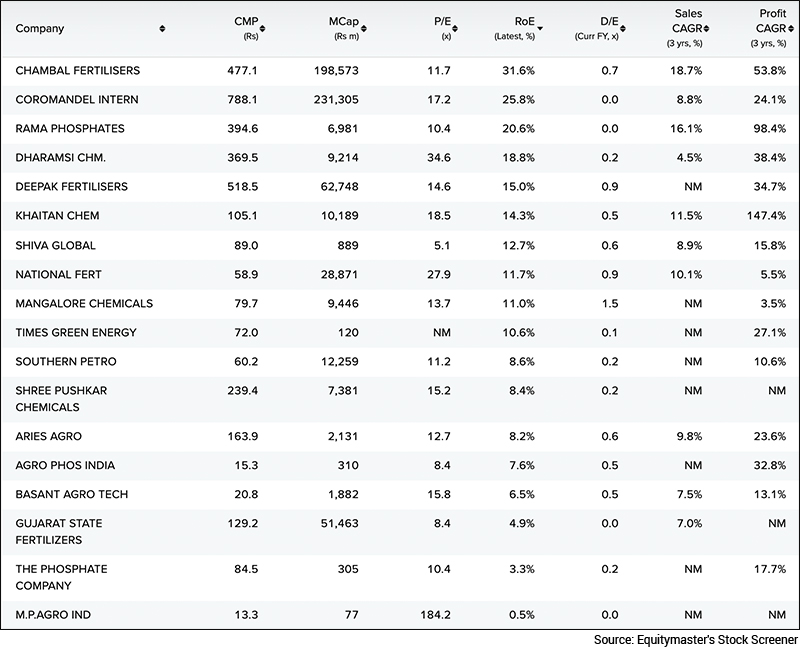 Please note these parameters can be changed according to your selection criteria.
This will help you in identifying and eliminating stocks that are not meeting your requirements and give emphasis on those stocks that are well inside the metrics.
To conclude
Given the importance of agriculture, the fertiliser business is one that the Indian economy cannot afford to ignore.
The share of agriculture in gross domestic products (GDP) increased to 19.9% in 2020-21 from 17.8% in 2019-20. The last time the contribution this high was in 2003-04.
Agribusiness is a life-sustaining industry and it offers excellent investment opportunities.
However, not all agricultural stocks are the same. Each business has its own set of concerns. When deciding which agricultural stocks are suitable, examine how these opportunities and risks fit with your investment preferences.
Look for companies which are innovating. Think agritech, which has huge untapped potential. Although at a nascent stage, agritech is bound to change the way agriculture business is done.
To conclude, when it comes to investing, the stock you choose must be credible. Investors should put their money into a firm that has a proven track record of success.
If there isn't enough confidence in the stock, it can make the initial investment weak and deplete it before it has a chance to grow.
Happy Investing!
Disclaimer: This article is for information purposes only. It is not a stock recommendation and should not be treated as such. Learn more about our recommendation services here...
FAQs on Fertilizer Stocks
1) Which are the best fertilizer stocks in India?
Here's a list of popular fertilizers companies in India. These companies have strong fundamentals and potentially bright prospects.
But these not necessarily be the best stocks to own. For that you need to dig a lot deeper.
One can also make one's own list of best fertilizers stocks in India by visiting Equitymaster's Indian stock screener and filtering Fertilizer Companies in India as per your requirements.
2) Which company is largest producer of fertilizers in India?
Tata Chemicals, Coromandel International, Chambal Fertilizers, Deepak Fertilizers and GNFC are among the largest fertilizer producing companies in India.
3) Do we have any fertilizer Penny Stocks in India?
Rashtriya Chemicals and Fertiizers, Nagarjuna Fertilizers, Madras Fertilizers, Paradeep Phosphates and Basant Agro are among the fertilizer penny stocks in India.
To find out the entire list, you can filter companies below Rs 100 on Equitymaster's screener for Top Fertilizer Companies in India.
4) Where can we find List of Fertilizer Stocks?
To find a list of fertiliser stocks in India, visit Equitymaster's stock screener and filter the Top Fertilizer Companies in India.