Top 4 Ethanol Stocks to Add to Your Watchlist
Jan 1, 2022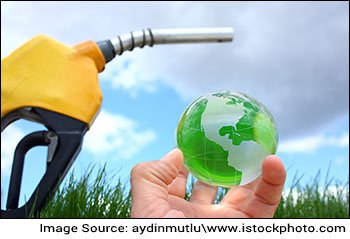 Union Minister of Road Transport and Highways Nitin Gadkari recently announced that all vehicles in India will soon be able to run on ethanol.
He had previously issued an advisory to carmakers to introduce flexible-fuel (petrol combined with methanol or ethanol) engines in vehicles within the next six months.
Flexible fuel or flex-fuel is claimed as less pollutant compared to petrol because of its biofuel nature. Since petrol costs more than ethanol, people will be able to save more as well.
Auto companies such as TVS Motors and Bajaj Auto have already started manufacturing flex-fuel engines for their two-wheelers and three-wheelers.
Since ethanol production is critical to achieving this goal, many companies are working towards catering to the potential increase in demand.
Here are the Top Four Ethanol Stocks to add to your Watchlist.
#1 Praj Industries
Praj Industries is an engineering company that provides end-to-end solutions in bioenergy, process technology (distillery and brewery), and wastewater treatment technology.
The company is the undisputed market leader in the domestic ethanol plant installation and equipment business and the domestic breweries installation segment.
Its market position is supported by its global presence with over 750 references in more than 70 countries.
Currently, Praj is executing India's first second-generation ethanol plant for Indian Oil at its Panipat facility. It has also inked an MoU with the company to set up biofuel production facilities, including CBG, biodiesel, and ethanol.
Both companies will work together to facilitate the sales and marketing of various co-products and intermediates produced from these facilities.
Recently, Praj has announced the launch of its patented technology, which would allow the preservation of sugarcane juice for twelve months. This technology will allow sugar mills to produce ethanol around the year.
For the September 2021 quarter, the company reported a net profit of Rs 333 m nearly 3x its net profit in the year-ago period.
Revenue from operations also more than doubled during the quarter to Rs 5.3 bn as against Rs 2.6 bn in the September 2020 quarter.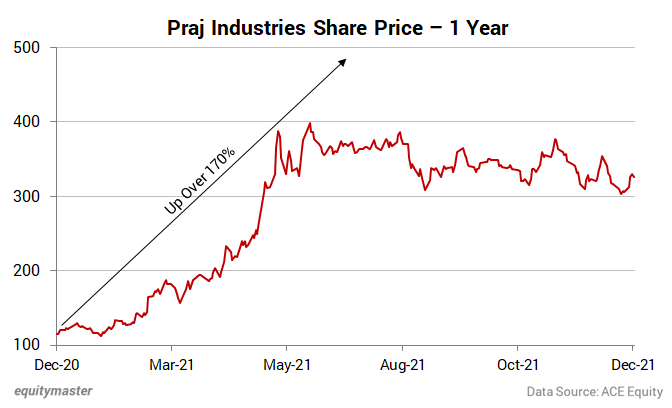 #2 Shree Renuka Sugars
The next ethanol stock on our list is Shree Renuka Sugars (SRS)
The company is an agri-business and bio-energy company that is engaged in the business of sugar manufacturing, refining, trading, and ethanol generation.
It also provides turnkey distillery, ethanol and certain sugar process equipment and biofuel plant solutions through its subsidiary, KBK Chem Engineering.
SRS' distilleries manufacture potable grade alcohol and fuel-grade ethanol that can be blended with petrol.
In June 2021, the company announced that it will invest Rs 4.5 bn to expand its ethanol capacity from 970 KLPD (kilolitre per day) to 1,400 KLPD to meet untapped demand.
In February 2021, the board had approved capacity expansion from 720 KLPD to 970 KLPD.
Post the debt restructuring exercise and the subsequent open offer, SRS is now a subsidiary of Wilmar International (WIL). WIL is one of the largest global processors and merchandisers of palm oils.
SRS posted a net loss of Rs 978 m during the September 2021 quarter on lower-income and higher finance costs.
It had posted a net profit of Rs 1.1 bn in the corresponding quarter of the previous fiscal.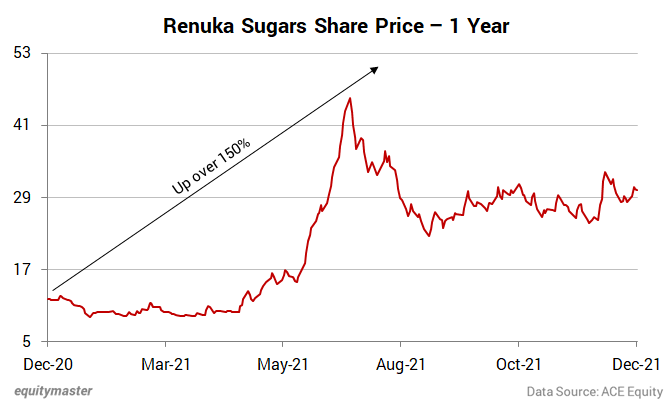 #3 Dwarikesh Sugar
Dwarikesh Sugar Industries is the next stock on our list.
The company is engaged in the business of sugar, co-generation of power and industrial alcohol. It operates under the brand name Bundki.
Sugar accounts for 80% of the total revenue while power accounts for 13%. The distillery (ethanol and industrial alcohol) business accounts for the remaining 7%.
The company has 3 manufacturing facilities located in the state of UP.
In July 2021, Dwarikesh Sugar announced it would set up a 175 KLPD distillery at its Dham Unit, in Bareilly, Uttar Pradesh.
The company's existing distillery capacity is 162.5 KLPD, with existing capacity utilisation being approximately 90%. It expects to complete the project within 15 to 16 months.
The project cost is Rs 2.3 bn, of which Rs 1.9 bn would be via bank finance and the remaining Rs 464 m would be via internal accruals.
This expansion in capacity is expected to drive revenue in 2022.
Further, higher sucrose diversion towards B-heavy molasses/juice-based ethanol is expected to moderate its inventory levels and lower its working capital borrowing.
For the September 2021 quarter, Dwarikesh Sugar reported a 123.4% growth in net profit at Rs 396 m. The company's net profit stood at Rs 177.4 m during the same period last year.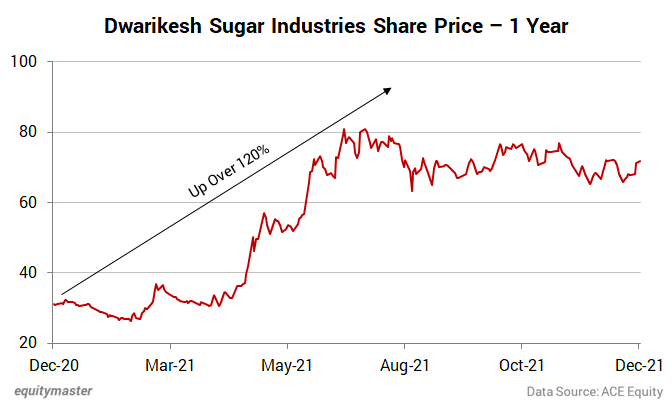 #4 Balrampur Chini
The last stock on our list is Balrampur Chini.
The company is one of the largest integrated sugar companies in India. The allied businesses of the company comprise distillery operations, and co-generation of power.
The sugar business accounts for 82% of the company's revenues, followed by the distillery business (10%) & co-gen power business (8%).
It entered the distillery business in 1996 and has commissioned four distilleries to date. Its four distillery units operate at a capacity of 520 KLPD. They are primarily engaged in the production of industrial alcohol and ethanol.
Over the years, Balrampur Chini has grown its capacity by expansion projects and acquisitions.
In January last year, the company invested close to Rs 2 bn to scale up its distillery business.
It's set to invest another Rs 4 bn during the current fiscal to enhance its distillery capacity from 520 KLPD to 840 KLPD. This will be done by adding another 320 KLPD at its Maizapur plant in Uttar Pradesh.
The capacity should become operational in the 2022-23 (December-November) ethanol season.
The management of the company said it expects close to 30% of its revenues to come from the distillery business over the next three years.
In its latest quarterly results, Balrampur Chini reported a 6% increase in its net profit at Rs 831 m. Its net profit stood at Rs 783 in the year-ago period.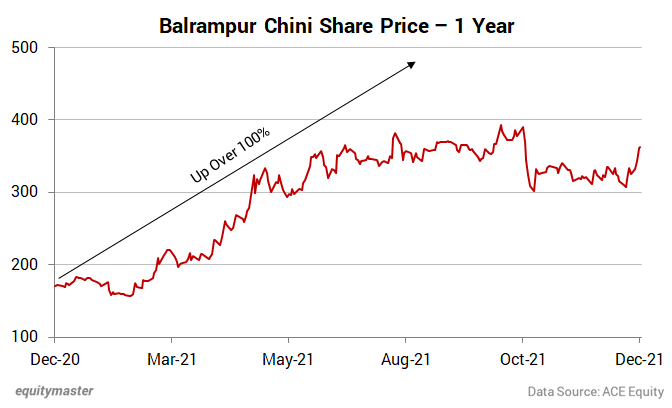 Why should ethanol stocks be a part of your portfolio?
A recent report by the International Energy Agency (IEA) said that India is set to become the third-largest market for ethanol in the world after the US and Brazil by 2026.
This comes as no surprise as ethanol demand in India tripled to an estimated 3 bn litres between 2017 and 2021.
While government policies were the principal drivers of this demand, factors such as overall transport fuel demand, costs, and specific policy design, also drove sales.
Going forward, the increase in demand for ethanol is expected to continue.
Prime Minister Narendra Modi in June announced that the government has resolved to meet the target of 20% ethanol blending in petrol by 2025. Earlier the target was set for 2030.
The government has already directed oil CPSEs (Central Public Sector Enterprises) to set up second generation (2G) ethanol bio-refineries in different parts of the country to meet its target.
It has also lowered the goods and service tax (GST) on ethanol meant for blending with gasoline from 18% to 5% as it looks to curb dependence on imported fuels.
While the above-mentioned reasons are compelling, one must view ethanol stocks with the same amount of caution as one would view other stocks.
Ethanol stocks are vulnerable to the cyclical nature of the sugar industry and agro-climatic risks related to cane production.
Further, their profitability remains vulnerable to the policies of the government, domestic and international trade, and pricing.
If you plan to invest, assess the fundamentals and prospects of the business. Sustained research must not be compromised despite the positive odds.
Happy Investing!
Disclaimer: This article is for information purposes only. It is not a stock recommendation and should not be treated as such. Learn more about our recommendation services here...
Ayesha Shetty is a financial writer with the StockSelect team at Equitymaster. An engineer by qualification, she uses her analytical skills to decode the latest developments in financial markets. This reflects in her well-researched and insightful articles. When she is not busy separating financial fact from fiction, she can be found reading about new trends in technology and international politics.