Rahul Shah shares a tip that he believes will hold good not just in 2020 but well beyond.
Hello everyone and thank you for tuning into my you tube video.
Now, if you have entered this session hoping to find a hot investment tip, sorry to disappoint you.
I have no hot tip to share.
In fact, I no longer believe in them.
So, I have decided that I am going to do something a little different.
I am going to hand you an investment lesson- call it a valuable tip if you will - that has personally had a huge impact on me.
And I believe it will do the same for you.
In fact, this is a tip that will keep giving not just in 2020 but well beyond. In other words, it is timeless and has no expiry date.
So, what exactly is this tip?
Well, let us try and understand in detail.
For starters, look at this chart.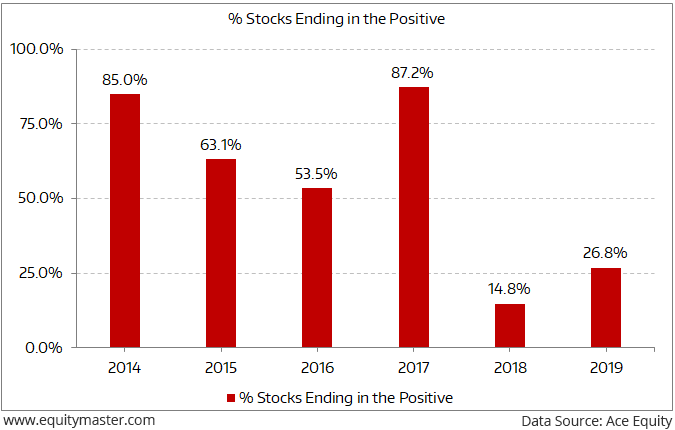 It tells you the number of stocks that ended in the positive each year from a portfolio that I created.
The years 2014, 2015, 2016 and 2017 have been very good for the portfolio. The number of stocks that ended positive in these years were 85%, 63%, 54% and 87%.
However, 2018 and 2019 weren't all that great. Only 15% and 27% stocks respectively ended in the green.
Now, one could argue that the portfolio for 2014 to 2017 was made up of good quality stocks and therefore, a majority of them went up during these years.
On the other hand, 2018 and 2019 portfolios were made up of bad quality companies and therefore most of them ended in the negative.
Well, here's the thing.
There was zero fundamental analysis involved while creating portfolios for all these six years.
Yes, you heard that right. I did not even care to know the names of the companies that were part of these portfolios.
All I did was ensure that all the stocks followed a minimum average liquidity criterion of Rs 10 m over the last one year. I wanted to leave out stocks that were illiquid or were small businesses.
Other than this, there was no other filter involved.
It is clear that there was something else that moved the stocks in 2014, 2015, 2016 and 2017 and brought them down in 2018 and 2019. It was certainly not the fundamentals.
So, what exactly was it? Well, I believe a lot of the movement in these portfolios had to do with the broader market valuation.
These stocks did what they did because they were influenced to a great extent by whether the market conditions were favorable for stock picking.
Take a look.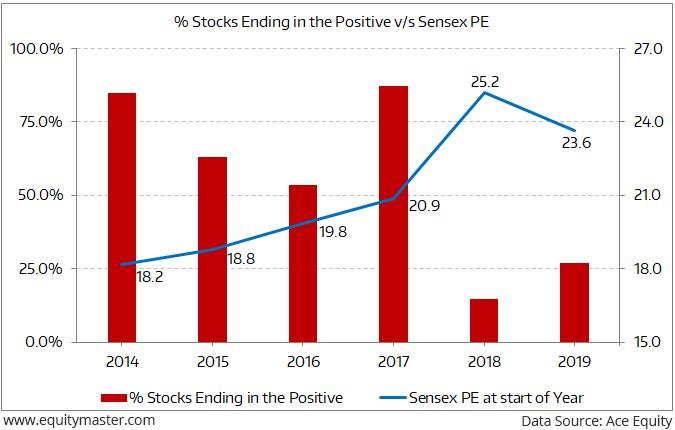 As long as the Sensex was within its long-term average of 18x-20x, the number of stocks that ended in the positive was very high.
We had more than 80% stocks close in the positive.
However, as the Sensex PE went significantly higher than the long-term average in 2018 and 2019, the stocks performed poorly.
The number of stocks that ended in the positive was mere 15%-25%.
Well, this is an eye opener for those who think fundamentals are the only thing that matters.
This is not true. As we just saw, even with zero fundamentals, you can build a good portfolio if you invest when the markets are cheap and stay away when the markets are expensive.
However, please note that I am not suggesting that investors completely ignore the fundamentals.
They are important and one should have stocks with only good fundamentals in the portfolio. However, what I am suggesting is that investors would be making a big mistake if they completely ignore the broader market valuations.
Broader market valuations play a big role in generating market beating returns over the long term.
Therefore, if they want to earn market beating returns, they should try and introduce this element into atleast a small percentage of their portfolio.
Here's what they should do. When markets are cheap like they were in 2014, 2015, 2016 and 2017, they can have maximum allocation to stocks, say to the extent of 60%-70%. And when they turn expensive like in 2018 and 2019, their exposure to stocks should be minimum, say around 30%-40%.
I have been using this strategy since 2014 in one of my services where I have been able to generate returns that are 1.5x better than the Sensex, the benchmark index.
And now, I am using the same approach in my most ambitious project yet, the Double Income strategy.
Here, I am building a corpus of fundamentally strong companies and also taking into account the valuations of the broader market. Right now, since the Sensex PE is on the higher side, the cash allocation is higher.
Once the Sensex PE falls, I will allocate more to stocks. My readers can then benefit from both, the quality of stocks in the portfolio and the attractive valuation of the broader market.
So, if you haven't started using this approach yet, I suggest you do so for at least a small percentage of your portfolio.
Thank you for listening.
By the way, do click on the like button if you've enjoyed and learned something from this video. Comments on what else should I cover or any other point are also welcome.
See you around.