The Most Oversold Stocks in India. Is it Finally Time to Get in?
Jan 7, 2022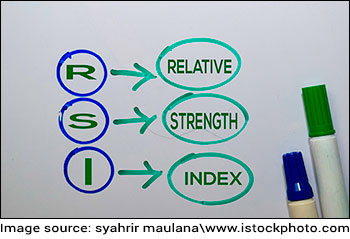 Even in a bull market, there are certain stocks which go out of favour and underperform their peers.
This raises questions such as why are these stocks falling in a very strong market?
More often than not, investors like to look for stocks that have attracted too much attention in the market. These stocks have been sold to the extent that sellers are increasingly scarce. The implication is that these stocks are likely to rebound.
In technical analysis, this condition is called 'oversold'.
How does one know if the stock is oversold or overbought? We can find out with the help of RSI (Relative Strength Index).
Created by Welles Wilder, the RSI tells us if an index or a stock is overbought or oversold.
This technical indicator has a reading from 0 to 100. If the RSI is 70 or higher, the security is overbought. If the RSI comes near 30 or below, it's oversold.
In today's article, we look at the top oversold stocks in India.
The stocks below are from the Nifty 500 index. They're among the names with the lowest RSI readings. Their relative strength index, which measures momentum relative to price history, is close to or below the 30 mark that suggests oversold conditions.
#1 Strides Pharma Science
At the moment, Strides Pharma Science is the most oversold stock on the Nifty 500 index. It's RSI is 27.
Even as the Nifty Pharma index nears 52-week high, Strides Pharma Science trades in a tight range.
The stock has been an underperformer in the past one year, having halved from its 52-week high. The average 52-week liquidity of the stock stands at Rs 591 m.
While 2021 turned out to be great for benchmarks BSE Sensex and NSE Nifty, Strides Pharma Science is one popular stock which dropped around 49% in 2021.
The primary reason behind the stock's downtrend is because of poor financial performance. The company made a loss of Rs 1.4 bn in the September 2021 quarter. The company's revenues also took a hit of 8%.
Strides Pharma faced continued headwinds in its US business along with a drop in demand after the pandemic on account of low prescriptions, high logistics costs and pricing pressures.
Strides Pharma Science RSI (January 2021-January 2022)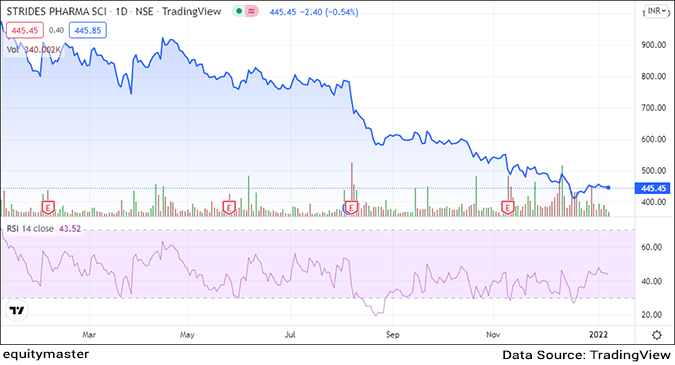 Founded in 1990 and headquartered in Bangalore, Strides Pharma Science is a vertically integrated global pharmaceutical company. It develops a wide range of IP-led niche pharmaceutical products for regulated and emerging markets.
To know more about the company, check out Strides Pharma Science company factsheet and quarterly results.
#2 Mahanagar Gas
Second on our list we have Mahanagar Gas, one of the largest city gas distribution (CGD) companies in India with over 25 years of experience in supplying natural gas in Mumbai.
If you see the share price chart of past one year for Mahanagar Gas, you'll see that the stock is on a continuous downtrend starting September 2021. It has fallen from the highs of Rs 1,200 to Rs 900.
All this pressure on the stock is due to a sharp rally in international gas prices and nothing else. If you see the stock price chart of its peer - Indraprastha Gas, you will see the same downtrend.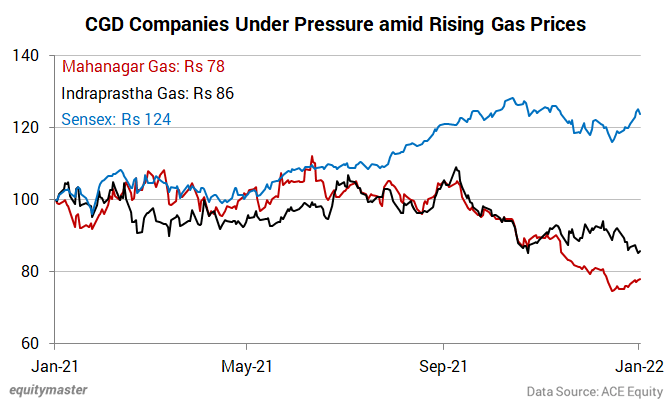 The margin pressure on CGD companies comes amid the rising cost burden and shrinking price discount of gas over liquid fuels.
Global gas prices gained traction in the September-December 2021 quarter after falling by nearly 50% in the past two years.
Also, in October 2021, the government hiked the price of natural gas which several analysts feel is mildly negative for CGD companies.
Coming to latest developments, the stock is in focus again as Life Insurance Corporation (LIC) has increased its stake in the company. LIC acquired 2% stake via open market transactions, increasing shareholding to 7.01% from 5% earlier.
Mahanagar Gas RSI (January 2021-January 2022)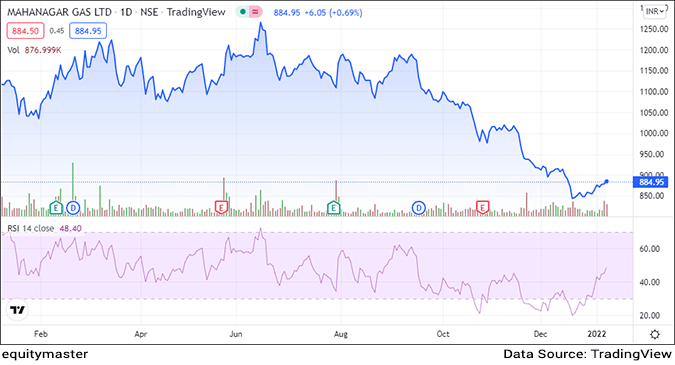 Mahanagar Gas is the sole authorised distributor of CNG and PNG in Mumbai, Thane urban and adjoining municipalities, and the Raigad district in the state of Maharashtra, India.
It's promoted by GAIL (India), which has a deep understanding and interest in the domestic gas distribution business. GAIL holds 32.5% stake in Mahanagar Gas.
To know more, check out the latest shareholding pattern of Mahanagar Gas.
#3 Jyothy Labs
Next on the list we have a leading FMCG player with a pan-India presence and several household brands - Jyothy Labs. The stock currently has an RSI of 31.
Ever since the company posted its September quarter results, the stock has been on a downtrend.
The homegrown FMCG firm has reported a 27% fall in its consolidated net profit at Rs 439.7 m as it faced pressure on margins due to rise in input prices.
According to the company's joint Managing Director, there was a 12% escalation in raw material cost partially mitigated through price hikes of 4-5% and cost rationalisation through scale of 1-2%.
Although the company is facing margin pressure due to high raw material prices, its sales growth has been impressive.
To bring margins back to level, Jyothy Labs is looking at price hikes in the 5% range across the third and fourth quarters of this fiscal.
The company's management in an earnings call said Jyothy Labs is aiming to improve its mix by selling higher margin products and expects market share gains in key categories.
Jyothy Labs RSI (January 2021-January 2022)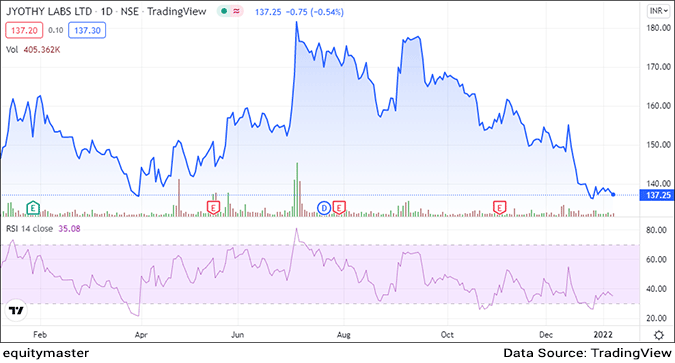 To know more about the company, check out Jyothy Lab's latest quarterly results.
#4 Bajaj Consumer Care
Bajaj Consumer Care is a dominant player in India's hair oil industry, with a pan-India presence, well-diversified product basket and multiple brands.
Its flagship brand - Bajaj Almond Drops Hair Oil is a leading name in the Hair Oil market.
The company is among the top dividend paying companies having paid Rs 8-9 per share average dividend in the last 10 years. For fiscal 2021, two thirds of profit were paid out as dividend.
Despite all this, shares of the company have underperformed in the year gone by, falling around 12%. The underperformance looks worse when we see the company's performance over the past five years.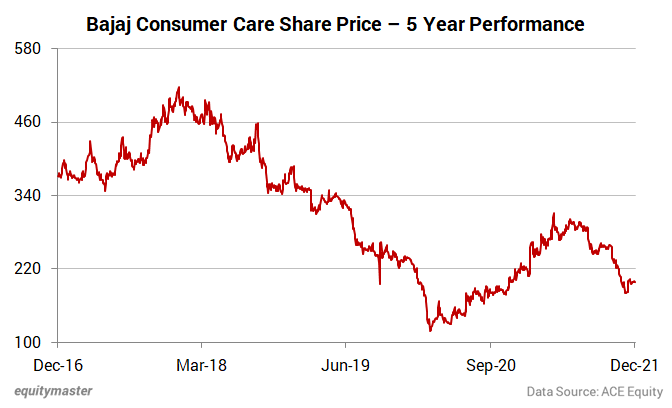 The reasons behind the underperformance can be many. One of it being the company's weak show in the latest quarter.
Bajaj Consumer Care, in its latest quarterly results, reported a 18.3% decline in its consolidated net profit on top of 4.5% decline in sales. Even Bajaj Consumer was a victim of input cost pressures.
Currently, the stock has an RSI of 32.
Bajaj Consumer Care RSI (January 2021-January 2022)
To know more about the company, check out Bajaj Consumer's latest quarterly results.
#5 RBL Bank
Last on our list, we have RBL Bank. It's stock currently trades at a RSI of 34.
RBL Bank share price has fallen 50% in the past one year with majority of losses coming in the month of December 2021.
Shares of the private lender have been under pressure lately, ever since the bank had a mini crisis that raised concerns over its financial performance.
The stock saw huge downtrend for days as investors started fretting after the company's CEO and MD, Vishwavir Ahuja, went on a sudden leave. The, RBI appointed an additional director on its board.
Following these developments, several brokerages suspended coverage on RBL Bank. Many were even touting this situation to be the next saga similar to Yes Bank.
But RBL Bank did well and immediately held a press conference explaining that the bank's financial health is well and there's no reason to worry.
Shares of RBL Bank also got some boost after the bank reported better loan growth in September-December 2021 quarter.
RBL Bank's gross advances jumped 5% to Rs 599.4 bn during the third quarter from Rs 570.9 bn in the same quarter a year ago.
RBL Bank RSI (January 2021-January 2022)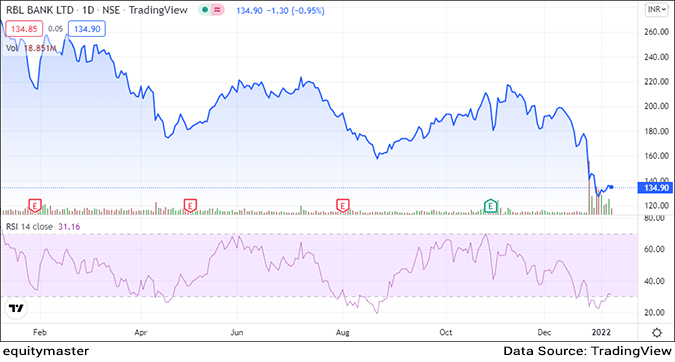 Following the many developments at RBL Bank, we covered an article explaining the reason why this happened. Research Analyst Aditya Vora also gave quite an interesting view on the developments.
You can read the article here: Everything You Need to Know About the RBI's Surprising Move Against RBL Bank.
Why RSI shouldn't be the only indicator to look out for...
Like most investing tools, the RSI has its limitations.
For example, the indicator is less effective if the stock remains overbought or oversold for a long period without reversing.
This can happen as sometimes certain stocks can remain overbought or oversold not for days or weeks, but for months.
Also, like many indicators, RSI is not as successful in a low-volatile market environment. It gives false negatives and false positives.
The answer is to combine RSI with other indicators. This can help cut down your margin of error. In other words, don't trade unless you can confirm the RSI with other indicators (such as moving averages or MACD).
Do note that many traders also use more extreme RSI values in an attempt to avoid false signals from the indicator.
However, the RSI usually generates reliable signals, especially on weekly charts. Although not perfect, one should not ignore or dismiss it.
Since you're interested in technical indicators, do check out the below video where Brijesh Bhatia, Research Analyst of Fast Profits Report, talks about RSI and other indicators.
We also recommend you take a look at these insightful articles and videos on trading and technical analysis.
Disclaimer: This article is for information purposes only. It is not a stock recommendation and should not be treated as such. Learn more about our recommendation services here...
Yash Vora is a financial writer with the Microcap Millionaires team at Equitymaster. He has followed the stock markets right from his early college days. So, Yash has a keen eye for the big market movers. His clear and crisp writeups offer sharp insights on market moving stocks, fund flows, economic data and IPOs. When not looking at stocks, Yash loves a game of table tennis or chess.