Adani Group Stocks: Biggest Gainers of 2022
Jan 7, 2023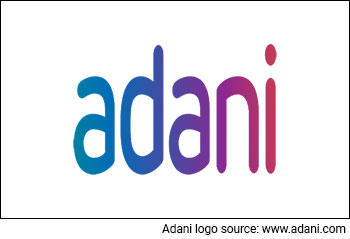 In 2022, only a few stocks of huge conglomerate businesses surpassed expert forecasts and delivered multibagger gains, while others disappointed investors.
One conglomerate that has beaten the market and dominated the indices is the Adani Group.
Adani Group is the third largest conglomerate in India.
The group's numerous businesses span a variety of industries, including port management, electric power production and transmission, renewable energy, mining, airport operations, natural gas, food processing, and infrastructure.
Often touted as proxies to India's growth story, Adani stocks have had a stellar run in 2022.
Top Adani stocks have made immense wealth for investors. The seven listed Adani Group companies added Rs 7.4 tn to investors' wealth in 2022, making them the fastest growing stocks of 2022.
This sharp rally has driven Gautam Adani to claim the spot of the second richest person in the world for a brief period.
Here is the list of the five biggest gainers of Adani Group.
#1 Adani Power
The first stock on the list is Adani Power.
Adani Power has rallied over 200% in 2022, making it the group's top multibagger stock in 2022.
The surge in the stock came in after the company announced an amalgamation scheme for the merger of its six wholly owned subsidiaries with itself.
These subsidiaries are Adani Power Maharashtra, Adani Power Rajasthan, Adani Power Mundra, Udupi Power Corporation, Raipur Energen, and Raigarh Energy Generation.
The rally in the stock was further boosted by MSCI (Morgan Stanley Capital International) including Adani Power in its global index.
Adani Power is India's largest private thermal power company. It is a pioneer in setting up a coal-based supercritical thermal power plant in India.
Over the last five years, the company's sales and net profits grew by a CAGR (compounded annual growth rate) of 6.1% and 18.3%, respectively.
This growth was due to strong electricity demand in India, driven by economic growth and heatwaves in the northern parts of the country.
The company's revenue for the September 2022 quarter stood at Rs 84.5 billion (bn), up 51.5% year on year YoY, while net profit increased by 201.6% YoY to Rs 6.9 bn.
The rise in net profit was on the back of higher one-time income. The revenue growth was aided by improved tariffs under long-term power purchase agreements on account of higher import coal prices.
In 2023, as a part of company's expansion plan, the company's Godda power plant will supply 1,600 MW of electricity to Bangladesh.
With the dedicated transmission line, it wants to build large-scale power connectivity with Nepal, Bhutan, and Assam.
For more details, see the Adani Power company fact sheet and quarterly results.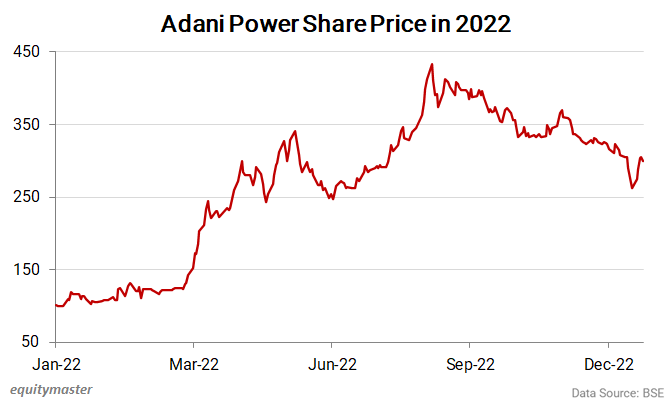 #2 Adani Wilmar
Second, on the list is Adani Wilmar.
The stock rallied over 179% in 2022 due to its strong brand name and market share compared to the majority of other recently listed companies.
The Russia-Ukraine war led to a global price rise in commodities, including oil. This helped Adani Wilmar. The company owns India's top edible oil brand, 'Fortune'. It has an 18% market share in the edible oil segment.
Adani Wilmar is the FMCG arm of the giant Adani Group. It made its debut on the bourses on 8 February 2022. The company is a big name under its flagship brand and has the largest distribution network among all the branded edible oil companies in India, with a fair market share left to grab.
The company's revenue from operations rose at a muted 4% year-on-year (YoY) for the September 2022 quarter to Rs 141.5 bn. It could have been higher, but the edible oil segment witnessed multiple headwinds during the quarter.
Consequently, it reported a 73% YoY decline in net profit down to Rs 487 m from Rs 1.8 bn a year ago. This decline was due to low demand from rural areas and input cost inflation.
Due to macroeconomic factors affecting the demand-supply balance, the segment witnessed a steep decline in palm oil, soybean oil, and sunflower oil prices.
The company is planning to reduce its input costs for upcoming quarters. For expansion, it is looking to increase its reach in the premium segment through its brand Kohinoor.
For more details, see the Adani Wilmar company fact sheet and quarterly results.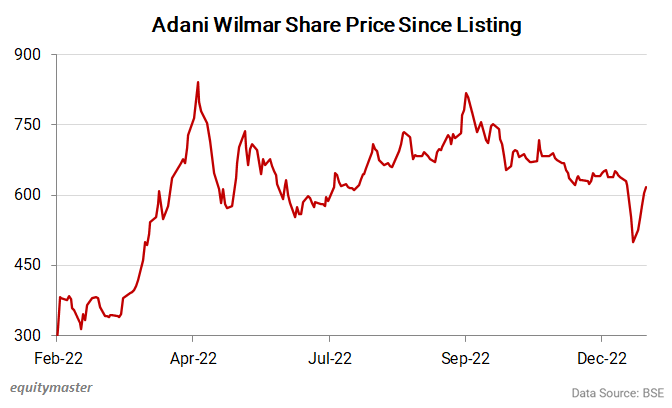 #3 Adani Enterprises
Third on the list is Adani Enterprises.
The stock rallied over 125% in 2022 after its inclusion in the Nifty 50 index.
Adani Enterprises is the flagship company of the Adani Group. It primarily has businesses in the natural resources, transport and logistics, and utility and strategy segments.
It has widened its presence across several industries, including integrated resource management (IRM), mining, solar manufacturing, airports, edible oil, defense, and aerospace.
Recently, it ventured into new businesses such as airports, data centers, and water treatment plants.
Over the last five years, the company's sales and net profits have grown at a CAGR of 13.2% and 5.8%, respectively, due to the growth of the integrated resource management business.
The company for the September 2022 quarter clocked a revenue of Rs 381.7 bn, up 188.8% YoY, while its net profit witnessed a massive rise of 117% YoY to Rs 4.6 bn.
This three-fold jump was due to strong performances by IRM and airport business.
For upcoming quarters, it is accelerating the pace of business incubation, as its remarkably consistent success demonstrates the robustness of the Adani Group's fundamental approach to value creation.
It is aiming to make capital expenditures of more than Rs 550 bn over the next few years in the new energy, airport, and road sectors.
To know more, check out Adani Enterprises' financial factsheet and its latest quarterly results.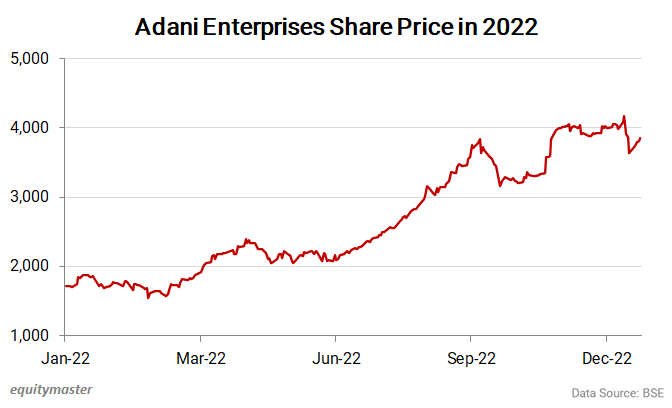 #4 Adani Total Gas
Fourth on the list is Adani Total Gas.
This Adani Group-backed company zoomed 116% in 2022.
The rally can be attributed to the company's foray into electric mobility infrastructure. Last month, it launched its first electric vehicle charging station in Ahmedabad, Gujarat.
Besides this, the company, along with Indian Oil Corporation, has announced a plan to set up compressed biogas (CBG) plants in Uttar Pradesh to produce biogas from cattle dung and crop residue.
Adani Total Gas is engaged in the marketing and distribution of piped and compressed natural gas for domestic, commercial, and industrial purposes.
Along with France's Total Group, the company manages a distribution network across 19 geographical areas across the northern states of India.
Over the last five years, the company's sales have grown at a CAGR of 17.3%, while net profit has grown by 25.1%, led by increasing volumes in the last five years.
The company for the September 2022 quarter clocked a revenue of Rs 11.9 bn, up 73.2% YoY, while the net profit rose marginally by 1.3% YoY to Rs 1.6 bn.
The growth was due to increased volumes and higher prices, as the company was able to pass on the rise in costs to customers. The company's compressed natural gas sales volumes also rose 25%.
The bottom line was affected as the city gas distribution industry continues to face challenges due to significantly higher input gas prices, mainly due to geopolitical factors and supply shortages across the globe.
Global gas prices have also jumped in 2022 due to supply disruptions and sanctions linked to Russia's invasion of Ukraine.
For the financial year 2023, the company is planning to grow its geographical footprint rapidly. It has bid aggressively for city gas distribution and has won 29 new locations in three bidding rounds.
One must note that Adani Total Gas has high debt in its books and inadequate free cash flows. So, these expansion plans might increase the books' burden with rising interest rates.
For more details, see the Adani Total Gas company fact sheet and quarterly results.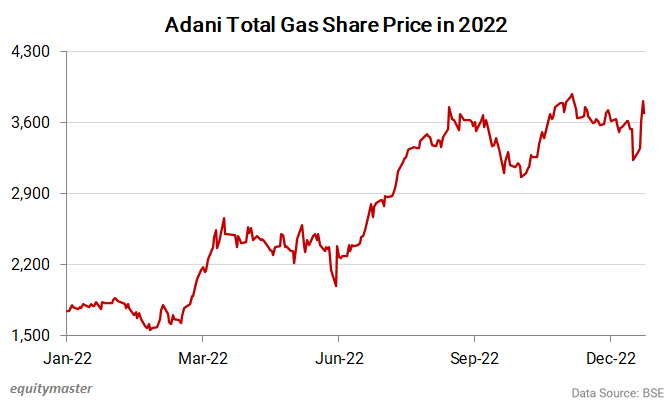 #5 Adani Transmission
Last on the list is Adani Transmission.
In 2022, the stock has surged by 50%.
The surge in the share was because of the rise in demand and consumption of electricity with the onset of the summer season.
Adani Transmission, along with its subsidiaries is engaged in power generation, transmission, and distribution across several states, including Bihar, Jharkhand, Uttar Pradesh, Maharashtra, and Madhya Pradesh.
It operates 18,500 circuit km of transmission lines and has a power transformation capacity of 20,400 megavolt amperes (MVA).
Driven by the expansion of its transmission business, its revenue has increased at a CAGR of 23.3% over the last five years, while net profit has increased marginally by 1.5%.
The company's revenue rose 28% YoY for the September 2022 quarter on the back of new transmission lines coming into operation and higher energy demand.
However, due to adverse currency movement adjustments, net profit fell 32% YoY to Rs 1.9 bn.
The company has recently forayed into the smart meter business by establishing a new subsidiary.
It will aid in better management of the company's cash flows, allowing utilities to reduce AT&C (aggregate technical and commercial) losses.
However, the company is also looking forward to expanding its business in the transmission space.
Given a high level of debt on its books and a low-interest coverage ratio, funding capex through debt can be a problem for the company.
For more, check out Adani Transmission financial factsheet and its latest quarterly results.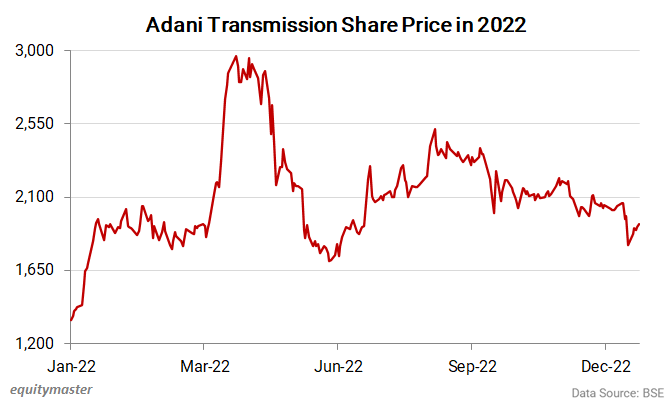 Apart from these five companies delivering the highest returns, the shares of other two listed companies Adani Green Energy and Adani Ports and Special Economic Zone have given positive return of 46% and 12% respectively.
The rally in Adani green came after renewable energy arm of the Adani group planned to add around 3.5-4 gigawatts of greenfield renewable capacity annually for the next seven to eight years.
While the rally in Adani ports was due to increasing cargo volumes.
Adani Group: Path Ahead
Operating with the motto of growth with goodness, the Adani group is operating in various segments. It started with iron ore and coal mining, then moved to port services, and from there, it has been betting heavily on growth sectors.
The group has laid down plans to invest over US$ 100 billion (Rs 8 tn) over the next 10 years, eyeing a big play in energy transition and digital transition within India and abroad.
It has earmarked 70% of this investment for the energy transition space and has already committed US$70 bn towards an integrated hydrogen-based value chain.
Under the banner of Adani New Industries, it plans to augment the additional gigwatts (GWs) over 100,000 hectares of land, 1.4 times the size of Singapore. This move will lead to the commercialization of three million metric tons of green hydrogen.
The next priority for the group is Digital Transformation. It intends to interconnect green data centers through a series of terrestrial and globally linked undersea cables drawn at its ports and build consumer-based super-apps.
Investment in securities market are subject to market risks. Read all the related documents carefully before investing
Want to Grow Your Wealth With Safe Stocks?
If you want a simple, safe, and hassle-free approach to long term wealth building...
Without having to worry about negative news or every little downswing in the market...
And without having to worry whether your investments will actually "deliver"...
You must read our note on Blue Chip Stocks now.
Details of our SEBI Research Analyst registration are mentioned on our website - www.equitymaster.com
Disclaimer: This article is for information purposes only. It is not a stock recommendation and should not be treated as such. Learn more about our recommendation services here...