Watch Out for these 4 Indian Companies Betting Big on EV Supply Chain
Jan 11, 2022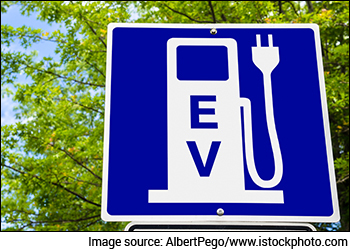 According to a report, the electric vehicles (EV) segment in India is likely to witness investments of US$12.6 bn across the automotive supply chain over the next five years.
These investments will be across supply chain like battery manufacturing, charging spots, logistics hub, among others.
To understand what goes into an EV, you need to understand the EV supply chain which is somewhat different from the traditional internal combustion engines (ICE) vehicles supply chain.
The most valuable component which goes in an EV is its battery, which represents around 40% of the total value of EVs.
These are lithium-ion batteries, also known as the heart of EVs. Producing these batteries needs raw materials like lithium, nickel, and cobalt.
Apart from batteries and other raw materials, there's electric motor, power electronics, vehicle integration control module and even battery swapping which is included in the EV supply chain.
Then there's charging infrastructure, chemicals, and other components like wiring harnesses, rearview mirrors, cockpits, bumpers, and more, which are used in EVs.
Since there's limited supply, Indian companies are ramping up their business and investing big time on the EV supply chain.
Also, at present, there are a few limitations including long battery recharge time and lack of charging infrastructure. To overcome these challenges, companies are investing heavily on technological developments.
In this article, we take a look at top 4 Indian companies that are betting big on the EV supply chain.
1. TVS Motor Company
TVS Motor Company has successfully established its name in the Indian EV market, both directly and indirectly. While the company manufactures 2 and 3-wheeler EVs, it has also built an efficient and sustainable charging infrastructure.
While the company has been working on EVs for last one decade, it was in 2017 when the company initially started betting big. In 2017, TVS Motor Company invested in Bengaluru-based electric two-wheeler manufacturer Ultraviolette Automotive. Over the years, TVS has invested more in Ultraviolette.
Then in 2020, the company decided to invest a small sum in clean energy generation through solar and wind power for its EV charging infrastructure.
iQube was also launched in 2020, which is currently the only all-electric battery powered scooter in the market from TVS.
A major boost came in July 2021 when TVS committed a whopping Rs 10 bn to manufacture EVs under a separate vertical.
The company has set up a dedicated facility for EVs and is also developing integrated vehicle architecture with a critical backend manufacturing of battery and other critical parts managed in house.
For charging infrastructure, it has tied up with Tata Power to set up charging stations across India.
In September 2021, TVS picked up 80% stake in a Swiss company EGO Movement for US$17.9 m. EGO Movement is a Swiss technology company providing a wide range of mobility solutions through a portfolio of e-bikes, e-cargo bikes, and e-scooters.
It comes as no surprise that markets have factored in the positives and sent the stock upward.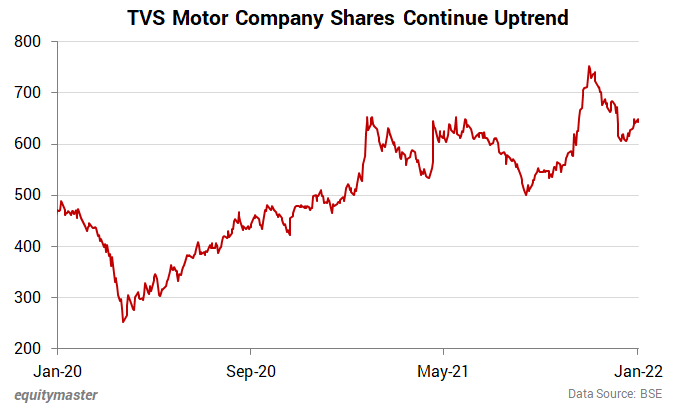 It remains to be seen how TVS Motor Company fares in the coming quarter after reporting the highest ever revenues and highest ever EBITDA in the September 2021 quarter.
To know more, check out TVS Motors' financial factsheet and its latest quarterly results.
2. Amara Raja Batteries
Often known as the traditional lead acid battery maker, Amara Raja Batteries is catching up with peers by focusing more on new age batteries.
Amara Raja Batteries is the second largest player in the battery making segment after Exide Industries. It has a large distribution network comprising of 30,000+ Amaron and PowerZone retailers across India. This, along with the strong brand equity of Amaron has strengthened its market position.
Amara Raja Batteries is not solely focusing on lithium-ion batteries but also continuing its legacy in lead acid batteries. The company is aiming to put about US$2 bn over the next decade.
The battery maker is betting big on new age batteries by focusing on two areas - new energy solutions and lead acid business value maximisation.
It's also in talks with the Tamil Nadu government for setting up a battery-making unit in the state as part of its expansion plans.
While the company manufactures new lithium-ion batteries, it also has a strong power electronics division that has all in house battery management systems and other control software.
Amara Raja has made careful and successful attempts to adapt to the dynamics of the market by making strategic investments. Some of its recent investments include Euro 10 m in Norway-based EV tech and batteries maker InoBat Auto AS.
In August last year, the company also invested in Log 9 Materials, a startup building advanced battery and fuel technologies for EVs.
The company's management has been very careful in terms of timing of entry as early entry could result in huge investments and interest costs without expected return. Similarly, late entry could result in missing the overall opportunity.
In fiscal 2019, the company commissioned a pilot facility for assembling lithium-ion battery packs to serve EV applications in 2-wheeler and 3-wheeler vehicle segments.
Also, it has developed a lithium-ion battery for the Telecom and UPS (single-phase system) applications.
It's no surprise that Amara Raja has prestigious clients and exports to around 32 countries.
In India, Amara Raja is the preferred supplier to major telecom service providers, telecom equipment manufacturers, UPS sector, Indian Railways and to the power, oil & gas, and other industries.
Even though the company boasts of big plans, it has little to show on the stock performance. Even in a bull market, shares of the company have fallen as much as 35% in a year.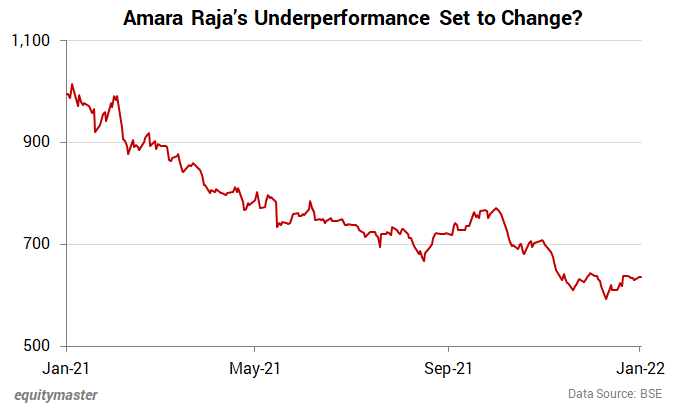 Can this be because lithium-ion batteries are replacing traditional batteries and energy storage applications in telecom towers? Maybe.
One thing is for sure. The transition to EVs will take time and how Amara Raja goes on to adopt the technology of the future remains the main question.
3. Tata Power
In August last year, we wrote to you about how Tata Power is riding the EV opportunity without making any cars.
Like lithium-ion batteries which are the heart of electric vehicles, charging points are the next important thing. And companies are spending tons of capital and energy on charging station infrastructure.
One such company is Tata Power.
Tata Power is aggressively expanding its electric vehicle charging network. Its charging accessories are present across all segments of the EV - public charging, captive charging, home charging, and workplace charging.
In India, there are more than 70,000 petrol pumps that serve as the backbone of the country's transportation industry. How many charging stations would India require in the not-too-distant future when cars are powered by electricity?
There is no obvious answer but Tata Power has taken the lead in establishing charging stations around the country. In October last year, Tata Power achieved a milestone of having more than 1,000 EV charging stations. It aims to complete 2,000 by end of this fiscal. In 5 years, it wants that number to increase five times.
From tying up with charging manufacturers and companies including HPCL and Lodha Developers to collaborating with Ama Stays & Trails and ETO Motors, Tata Power is going all in to set up EV charging stations.
The efforts have been noticed and have been factored in its share price.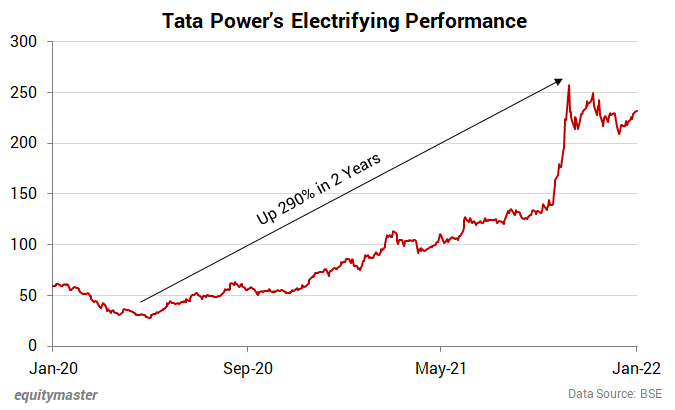 With the dire need of charging stations across India, Tata Power's growth prospects look way better now.
4. Neogen Chemicals
To enhance the specialty product market, chemicals companies have entered the lithium-ion battery business, where they plan to build an integrated business which includes cell manufacturing, battery recycling, and battery production.
One company which recently started its effort in the EV space is Neogen Chemicals. Recently, the company started manufacturing electrolytes for lithium-ion batteries.
While this is Neogen's first step in the lithium ion battery space, it has a fair amount of advantage compared to its peers.
Neogen has more than three decades of expertise in lithium salts. The company's MD Harin Kanani said that Neogen has been manufacturing lithium salts for the last 30 years but so far, there was no clarity on the production of lithium ion batteries from scratch.
The company is anticipating a massive opportunity in EV batteries business as demand for electrolytes is slated to grow.
The company's management said that completion of capacity addition at the Dahej plant has strengthened the capability for production of high-margin and more complex products.
Along similar lines, the company has announced a Rs 350-m capex for a 250 MT pilot battery electrolyte manufacturing project.
Ever since the company announced plans in the EV space, its stock has been on fire. See the uptrend Neogen's stock witnessed starting November 2021.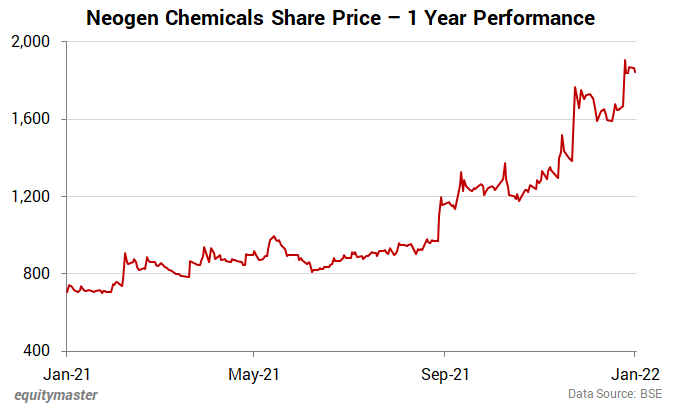 Apart from Neogen, there are a few other chemical companies too which are involved in this space. These include Tata Chemicals, Gujarat Fluorochemicals, and Tatva Chintan Pharma.
Out of these, Gujarat Fluorochemicals is taking big leaps and foraying into the business of battery chemicals for EV batteries. The company has announced a capex of Rs 25 bn for battery inputs, with Rs 6 bn, Rs 9 bn crore, and Rs 10 bn spread over fiscals 2022 to 2024.
The EV supply ecosystem
Here's what Richa Agarwal, editor of Hidden Treasure and lead smallcap analyst at Equitymaster, wrote about the EV supply ecosystem in one of her editorials.
A fully electric vehicle will not need multi-speed transmissions, radiators, fuel injectors, gas tanks, valve trains or exhaust systems, pistons, gears, spare parts, and so on.

Companies that produce these parts only for ICEs based vehicles will suffer.

Companies like Shriram Pistons and Rings, or UCAL Fuel systems (that makes carburetors and Air Suction Valves) could be on the losing side of this race.

On the other hand, players in these segments will benefit:
Charging infrastructure
Battery swapping operators
EV ancillary manufacturers
EV software and product designing
Battery makers
Metal, mining, and chemical companies - lithium, copper, soda ash, silver, fluoride (substitute for lithium).
The upside in these players could be huge but getting the timing right is a huge challenge. In case of a delay in the transition to EVs, or any policy related hiccups, the momentum in these stocks could end swiftly.
You can read Richa's entire piece here: The First Among Equals in India's EV Ecosystem
To conclude, before you invest in any EV stock, we recommend you watch the below video to see how you can cash in on the EV revolution.
You can also check out the playlist on electric vehicles on Equitymaster's YouTube channel for more such videos.
Investment in securities market are subject to market risks. Read all the related documents carefully before investing
Safe Stocks to Ride India's Lithium Megatrend
Lithium is the new oil. It is the key component of electric batteries.
There is a huge demand for electric batteries coming from the EV industry, large data centres, telecom companies, railways, power grid companies, and many other places.
So, in the coming years and decades, we could possibly see a sharp rally in the stocks of electric battery making companies.
If you're an investor, then you simply cannot ignore this opportunity.
Details of our SEBI Research Analyst registration are mentioned on our website - www.equitymaster.com
Here are Links to Some Very Insightful Equitymaster Articles and Videos on electric Vehicles:
Disclaimer: This article is for information purposes only. It is not a stock recommendation and should not be treated as such. Learn more about our recommendation services here...
Yash Vora is a financial writer with the Microcap Millionaires team at Equitymaster. He has followed the stock markets right from his early college days. So, Yash has a keen eye for the big market movers. His clear and crisp writeups offer sharp insights on market moving stocks, fund flows, economic data and IPOs. When not looking at stocks, Yash loves a game of table tennis or chess.