6 Stocks with Consistently Increasing Return Ratios
Jan 11, 2022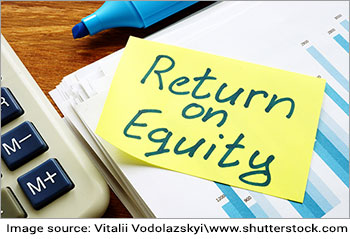 In the investing world, it's easy to get confused with all the fundamental, valuation, and cash flow ratios.
Of all the ratios that investors look at, return ratios are important. Return ratios represent a company's ability to generate returns for its shareholders. Investors look at these ratios to get a clear representation of its performance.
The three important return ratios which investors often look at are:
Return on Equity (ROE): The ROE tells us how much profit the firm generates for each rupee of its equity. For example, a firm with a ROE of 10% means that they generate a profit of Rs 10 for every Rs 100 of equity it owns.
Return on Assets (ROA): The ROA tells us how much profit the firm generates for each rupee of assets it has. For example, a firm with an ROA of 5% means it generates a profit of Rs 5 for every Rs 100 of assets.
Return on Capital Employed (ROCE): ROCE is a measure of how effectively a company is able to deploy its capital base (debt and equity) to generate returns for the capital providers. A company which can generate higher return from a lower capital base and continues to improve on the same, should in theory, always be preferred over its peers.
In this article, we take a look at six stocks which have consistently increased their return ratios. These companies have fared better on all the three return ratios.
#1 Tips Industries
Tips Industries is one of India's leading entertainment companies having presence across music, film production, distribution, and artist management. The company has a large music library with a collection of over 29,000 songs across various genres and major regional languages.
Over the past three years, the company has increased its return ratios substantially. Have a look at the table below:
| (%) | 2019 | 2020 | 2021 |
| --- | --- | --- | --- |
| Return on Equity | 4.0 | 14.1 | 42.9 |
| Return on Assets | 5.1 | 11.9 | 25.8 |
| Return on Capital | 13.0 | 17.8 | 58.5 |
Source: Equitymaster
Due to healthy profits over the past two years, the company's reserves have increased and its dependence on borrowed working capital, for the acquisition of music rights, has reduced. This has resulted in the company posting robust return ratios.
By posting multifold profit in the past two fiscals and doubling its total assets, Tips Industries has reinvested earnings and generated higher returns.
Increasing return ratios aren't the only thing that the company is doing well on. The media company has also reduced its debt over time. From having a debt to equity ratio of 1 in 2017, the company currently has zero debt on its books.
Last year in January, the company's management agreed to explore the option of demerger of film production division in to separate entity.
By acquiring rights for songs and partnering for new licensing deals, Tips Industries has generated phenomenal returns over the year gone by.
The company, last year, signed a music licensing deal with Google's new YouTube service 'Shorts'. In 2020, it had announced a deal with global giant Facebook to license its music for videos.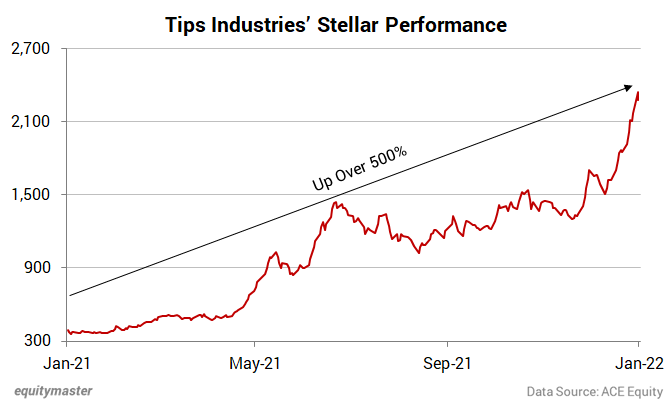 To know more about the company, check out Tips Industries factsheet and latest quarterly results.
#2 CAMS
Next on our list we have a near monopoly stock, Computer Age Management Services (CAMS).
CAMS is India's largest registrar and transfer agent of mutual funds with an aggregate market share of approximately 70% based on mutual fund average assets under management (AAUM). Over the years, CAMS has grown its market share from approximately 61% during to 70%.
As CAMS has a strong foothold in the mutual fund industry, having experience of over 31 years, it scores well on all the return ratios.
CAMS also has the highest revenue in the industry and has witnessed revenue growth of 12.8% (CAGR) between the financial years 2015-2020.
With steady revenues and growing profits, the company has been able to grow its return ratios over the years.
CAMS Return Ratios (2019-2021)
| (%) | 2019 | 2020 | 2021 |
| --- | --- | --- | --- |
| Return on Equity | 29.9 | 31.5 | 40.7 |
| Return on Assets | 13.4 | 14.6 | 15.9 |
| Return on Capital | 45.9 | 47.1 | 56.0 |
Source: Equitymaster
Despite operating in a regulated ecosystem, the entity's pricing power does not seem to be subject to significant regulatory risks.
Its strong cash flows and professional management are some more other factors which offer comfort.
To know more about the company, check out CAMS financial factsheet and its latest quarterly results.
#3 Laurus Labs
The pandemic period between March 2020 and December 2021 would be unforgettable for many. But most importantly, it would be remembered as the period when pharma companies roared back to life.
During the pandemic, pharma companies stayed resilient and performed better compared to other sectors. Not just in India, but global pharma companies also performed well and made up for their underperformance.
Majority of companies reported multifold jump in revenues and profits in financial year 2021. And one such company was Laurus Labs.
Laurus Labs reported a massive jump in its revenue and profits for financial year 2021. This in turn, improved the company's return ratios.
Laurus Labs Return Ratios (2019-2021)
| (%) | 2019 | 2020 | 2021 |
| --- | --- | --- | --- |
| Return on Equity | 6.0 | 14.5 | 37.9 |
| Return on Assets | 5.6 | 9.4 | 18.3 |
| Return on Capital | 11.5 | 19.9 | 45.3 |
Source: Equitymaster
There are other factors too such as the company spending heavily over the last 3 years to build capacity.
Apart from strong earnings, Laurus Labs has evolved as a pharma major on the back of launching new products, enhancing capabilities and by strategic acquisitions.
Laurus Labs recently acquired Richcore, which is likely to provide the company a launching pad in recombinant animal-free food proteins.
To know more about the company, check out Laurus Lab's financial factsheet.
#4 JB Chemicals
While most companies look to expand their business by launching new products or foraying globally, JB Chemicals has concentrated on building a few large brands in India.
Though it has a small presence in US, Russia among other countries, more than 80% of the revenues are derived from its top 4 products in India - Cilacar, Rantac, Metrogyl, and Nicardia.
Over the years, JB Chemicals has increased its return ratios on the back of consistent increase in revenues and profits.
JB Chemicals Return Ratios (2019-2021)
| (%) | 2019 | 2020 | 2021 |
| --- | --- | --- | --- |
| Return on Equity | 13.1 | 19.0 | 24.8 |
| Return on Assets | 8.5 | 13.7 | 17.7 |
| Return on Capital | 19.7 | 24.5 | 33.4 |
Source: Equitymaster
JB Chemicals is one such smallcap stock where mutual funds and foreign investors hold a significant stake. As of September 2021, mutual funds held 12.8% stake in the company while FIIs had 8.7% stake.
To know more about the company, check out the latest shareholding pattern of JB Chemicals & Pharma.
#5 Ajanta Pharma
Ajanta Pharma features as the third pharma company in this list.
From strengthening its branded generic business, continuing investment in R&D to continuously enhancing its manufacturing capabilities, Ajanta Pharma has come a long way from where it was.
Post 2000, when every Indian pharma company had a strategy of getting into the lucrative US market, Ajanta Pharma chose a different path. It looked at opportunities in Africa and other emerging economies. Subsequently, it became the first Indian generic drug-maker to secure a pre-qualification from the World Health Organization for its Anti-malarial drug.
Also, while most Indian pharma companies supplied each and every drug they made to each and every geography, Ajanta did things differently. The company catered to the unmet therapy needs of each geography separately.
If you take a look at Ajanta Pharma's financials, you'll understand the kind of business strength it has. The company has a strong balance sheet with almost zero debt.
The company's net profits over the last three years have grown way faster than sales. This has resulted in Ajanta Pharma's strong return profile.
In fact, the company's return ratios are much better than peers and with its strong balance sheet, Ajanta Pharma is in a strong position for its next phase of growth.
Ajanta Pharma's Return Ratios (2019-2021)
| (%) | 2019 | 2020 | 2021 |
| --- | --- | --- | --- |
| Return on Equity | 17.2 | 18.0 | 21.8 |
| Return on Assets | 13.4 | 13.4 | 16.1 |
| Return on Capital | 23.0 | 26.0 | 30.3 |
Source: Equitymaster
Over the past seven years, Ajanta Pharma has a track record of healthy cash flows. As a result, it has been able to use the same for funding capex, R&D and also bring down debt.
Recently, the company announced a share buyback program, which is its third consecutive buyback. In 2020, the company bought back 735,000 equity shares at a price of Rs 1,850 while it bought back 769,230 equity shares at Rs 1,300 per share in 2019.
To know more about the company's financials, check out Ajanta Pharma's 2020-21 annual report analysis.
#6 Wipro
Last on our list is an IT consulting firm Wipro.
Though Wipro has not reported any exceptional rise in its return ratios over the years, it remains a preferred choice.
Due to its robust business structure backed by strong technology driven services, brokerages are expecting Wipro to post higher return ratios over the years to come and sustain momentum.
Wipro targeted BFSI, healthcare and pharmaceuticals and technologies verticals in geographies like North America, Europe, and India which have good growth potential. This helped in Wipro's cash flow generation and a stronger balance sheet.
Wipro's Return Ratios
| (%) | 2019 | 2020 | 2021 |
| --- | --- | --- | --- |
| Return on Equity | 16.1 | 17.7 | 19.9 |
| Return on Assets | 11.8 | 13.0 | 13.8 |
| Return on Capital | 20.8 | 23.3 | 26.0 |
Source: Equitymaster
The company's acquisitions have been remarkable. Every few weeks, the stock is in focus because it has made some acquisition.
Last year, the company made its largest-ever acquisition of Capco, an IT service consultancy in the financial services space in Europe and the US.
As the earnings season has just started, IT companies will be the first ones to report their numbers. Wipro is expected to post good numbers along with other peers as IT was the one sector which did exceptionally well in 2021. And we might just see the result in the companies' earnings.
Which other companies have consistently increased their return ratios?
Apart from the above, here are a few more companies which have reported growth in their return ratios.
Since you're interested in tracking how the companies fare on return ratios, check out Equitymaster's powerful stock screener.
This tool shortlists stocks which fare well on fundamentals as well as valuations. Here are some of the popular screens:
What's interesting is that this tool allows you to change parameters according to your selection criteria.
Investing in companies with high return ratios
What comes to your mind when someone says - 'this is a high-quality company'?
Strong return ratios, free cash flow generation, surplus cash balance, strong brands, high dividend payout. All these attributes of companies of superior quality would come to mind.
When used correctly, return ratios can easily measure the management's capability on the three crucial factors -
1) Profitability
2) Asset turnover
3) Financial leverage
However, the most important ratio - ROE, faces one drawback. A company that takes high levels of debt will show up a high ROE.
Hence it is advised to look at trends for all return ratios over a number of years and analyze each of its components. It will not only help you understand the company's profit and loss statement better, but also balance it against the overlooked left and right sides of the balance sheet.
Happy Investing!
Disclaimer: This article is for information purposes only. It is not a stock recommendation and should not be treated as such. Learn more about our recommendation services here...