These 7 Tata Group Stocks have Given Multibagger Returns in the Last One Year
Jan 12, 2022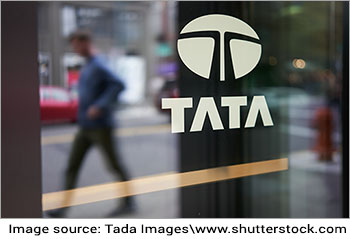 The Indian stock markets experienced a historic bull run in 2021.
Not only did the benchmark indices hit record highs last year, the largecap, midcap, and smallcap indices too put up a stellar show giving returns of nearly 61%.
Despite the fact that the Covid-19 outbreak is still posing difficulties to the Indian economy, the market has managed to deliver a good number of multibagger stocks in the last twelve months.
Interestingly, a few Tata Group companies have provided significant returns to their investors during this period.
According the data available with BSE, there are 29 publicly-listed Tata enterprises with a combined market capitalisation of Rs 23 tn as on 31 December 2021.
Overall, 7 out of 29 group stocks more than doubled investor wealth in 2021. Take a close look at these 7 stocks that have become multibaggers in the last one year.
1. Tata Teleservices (3,000%)
In the midcap space, Tata Teleservices is a multibagger penny stock that has given phenomenal returns to its shareholders.
The stock has surged over 3,000% in the last one year, from Rs 9 in January 2021. The stock is up 87% this month!
As per media reports, in May 2021, Tata Sons said its reviving Tata Teleservices in a new avatar called Tata Tele Business Services (TTBS), which will cater to small and medium enterprises (SME). The stock of the company has seen heavy buying since then.
Besides, the company is further looking at the 5G space to grow its business.
In a very recent development, Tata Teleservices opted for converting the interest from adjusted gross revenue (AGR) dues amounting to Rs 8.5 bn to equity, following which the government will hold 9.5% in the company.
According to the filing, in case of conversion, it will result in dilution of stakes of all existing shareholders of the company, including the promoters.
Tata Teleservices follows Vodafone Idea in converting interest on dues to equity after having taken a four-year moratorium on payments of AGR dues.
Tata Teleservices is engaged in the business of wired and wireless telecommunications activities.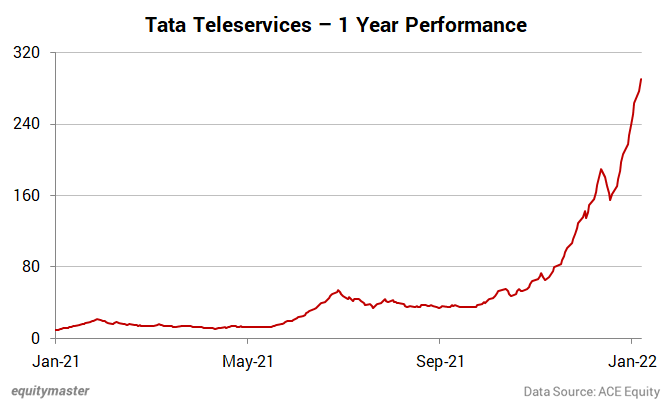 2. Automotive Stampings & Assemblies (2,934%)
Over the past year, this lesser-known Tata group company's stock has surged over 2,900%. Shares of Automotive Stampings & Assemblies (ASAL) jumped from Rs 30 to Rs 920 apiece.
Investment of Rs 1 lakh in this stock at the beginning of 2021 would have grown to Rs 30.7 lakh in just a year.
The company's stellar performance was on the back of improving financials.
For the first half (April-September) of the financial year 2021-22, the company's standalone net loss declined to Rs 81.3 m from Rs 256.8 m.
Revenue from operations grew 160% year on year (YoY) to Rs 2.4 bn from Rs 930 m during same period of last fiscal.
Moreover, credit rating agency CRISIL has upgraded its rating on the long-term bank facilities.
According to CRISIL, the upgrade reflects expected improvement in the financial risk profile in the near term, supported by cash inflow from sale of land parcels in Chakan, Maharashtra, and Halol, Gujarat, for total consideration of Rs 1.1 bn and better cash flow from operations.
The company will use the proceeds from the land sale for debt reduction.
ASAL mainly manufactures sheet-metal stampings, welded assemblies, and modules for passenger cars and commercial vehicles, largely for Tata Motors, these products account for more than 95% of the total revenue. The firm is being promoted by Tata Autocomp Systems.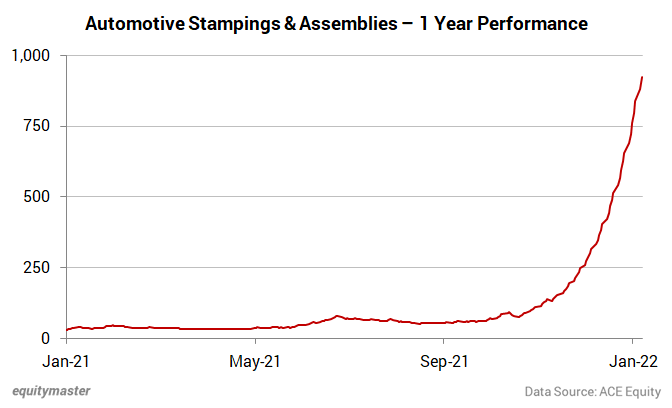 3. Tayo Rolls (376%)
Tayo Rolls, a subsidiary of Tata Steel since December 2008, rallied 370% in the last twelve months.
Tata Steel owned 55.24% stake in this company as of 30 September 2021. Apart from the above two Tata group companies, this too is a loss making company and is under corporate insolvency resolution plan.
The company has not been in operation since September 2016. The net worth of the company has already been eroded.
The sharp up move on the counter had made the stock exchange seek explanation from the company over the price movement.
To this, the company said there was no event that required disclosures to be made under regulation 30 of Market Regulations, 2015.
Tayo Rolls was into the business of manufacture of ingots, engineering forgings and forged rolls apart from the general cast roll and pig iron.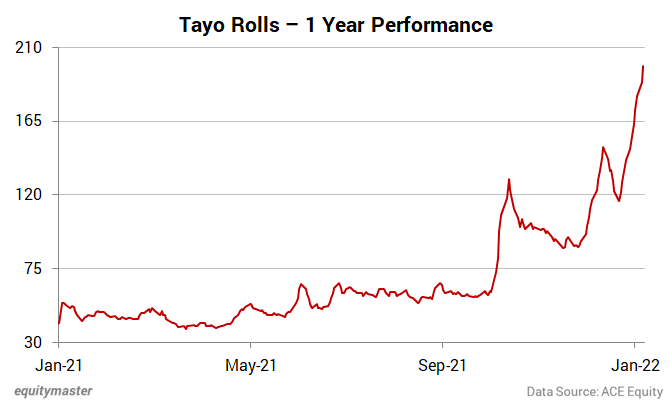 4. Nelco (291.7%)
Shares of Nelco, a smallcap company that offers very small aperture terminal connectivity solutions, have generated multibagger returns for investors.
The stock has rallied 290%, outperforming the BSE SmallCap Index, which gained 61% in the past one year.
This rally was supported by the internal restructuring of the company's various businesses and its two wholly owned subsidiaries - Tatanet Services and Nelco Network Products.
In 2021, the company said it received approval from the Department of Telecommunications (DoT) for the transfer of the internet service provider licence and very small aperture terminal (VSAT) licence from Tatanet Services.
That apart, Nelco has joined hands with Canadian company Telesat to launch fast satellite broadband services in India.
The company is likely to get an experimental licence and spectrum from the DoT for trialing broadband-from-space service.
Telesat's Lightspeed brand will put it in direct competition with Bharti Airtel-backed OneWeb, Amazon's Project Kuiper, and Elon Musk's SpaceX.
Started in 1940, Nelco offers enterprise and government customers solutions in VSAT connectivity, satellite communication projects and integrated security and surveillance.
Its service benefits oil & gas companies, banks for ATM and inter-branch connectivity, and the renewable energy sector to connect with power grids.
It offers networking solutions and maintenance of private hubs and hybrid networks.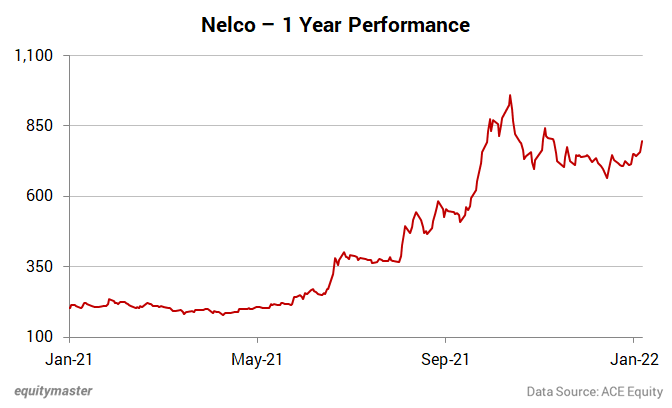 5. Tata Elxsi (181%)
Shares of Tata Elxsi are going through the roof, delivering over 181% return so far.
Over the period of last five years, long-term investors have made a huge profit by investing in Tata Elxsi as it has soared by 749%.
According to company's annual report, Tata Elxsi highlighted that increased hyper-digitisation and technology adoption across industries would open up growth avenues for the firm. It's well placed to leverage this given its strong relevant digital capabilities.
Tata Elxsi is a software and product development IT company, unlike traditional IT businesses like Infosys and TCS where their main business is software support and maintenance.
It works with leading original equipment manufacturers (OEMs) and suppliers in the automotive and transportation industries for research and development (R&D), design, and product engineering. It also addresses the complete product development lifecycle from R&D, new product development, and testing for broadcast, consumer electronics, and communications.
Over the last 5 years, its market share increased from 4.97% to 5.8%.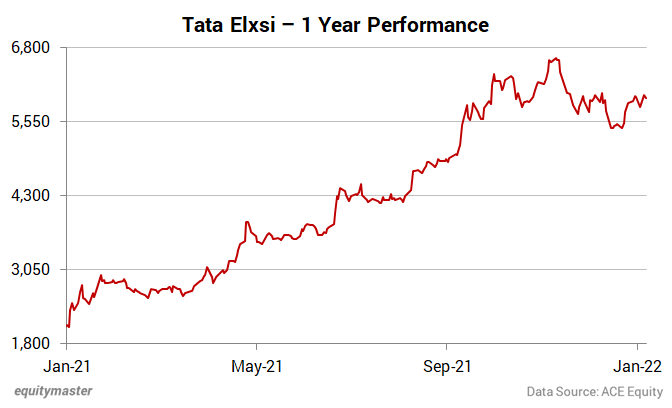 6. Tata Power (179.8%)
Shares of Tata Power have skyrocketed from Rs 75 to Rs 270 apiece in the last 12 months - up around 180% in this period.
In the last one week, this Indian electric utility company has given around 22% return to its shareholders.
Tata Power is among the largest players in high-growth areas of power distribution, solar EPC, and solar rooftops.
It's also engaged in power generation with some 12,808 megawatt (MW) capacity and has plans to expand its renewable portfolio.
Solar/wind generation capacity, regulated electricity transmission/distribution, and new environmental, social and governance (ESG) positive companies such as charging of electric vehicles, solar micro grids, rooftop solar, and solar EPC are all part of the company's growth strategy.
All these factors have helped turn the company's stock into a multibagger.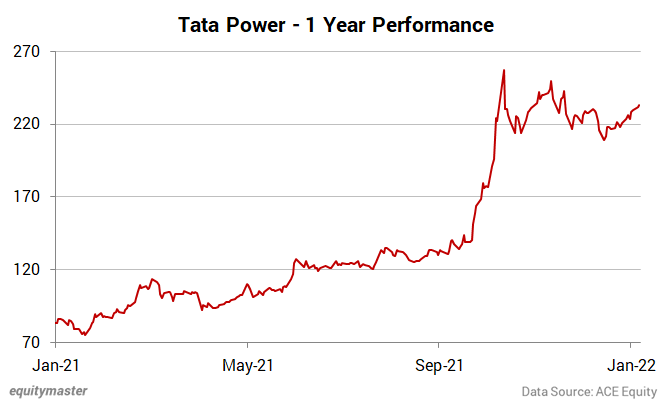 7. Tata Motors (128%)
This is an obvious entry on this list. You probably thought of Tata motors when you clicked on this piece.
Tata Motors shares have been on a dream run.
Anyone who bought the stock exactly one year ago, would be sitting on gains of 128%. Over the past three months, the stock has gained over 21%.
For the last ten years, the shareholders of Tata Motors were frustrated due to the poor performance of its subsidiary, the international luxury brand, Jaguar Land Rover (JLR).
However, the losses of British subsidiary JLR and the Mumbai-based parent's overwhelming debt over the last few years seems to have turned around in the new decade, despite the pandemic.
Tata Motors' stock has undoubtedly been in the headlines for past several months now.
The company has witnessed favourable sentiment as a result of new product releases, price rises, capex based on the PLI scheme, and green energy activities. Add to that the narrowing losses, quarter after quarter.
But it was the company's concentration on electric vehicles (EVs) that truly improved the stock performance.
Tata Motors, with 4,419 units sold between April and September 2021, accounts for 70.6% of the total sales in the first half of the fiscal 2022. Presently, Tata Motors has one of the highest share of EVs sold in India.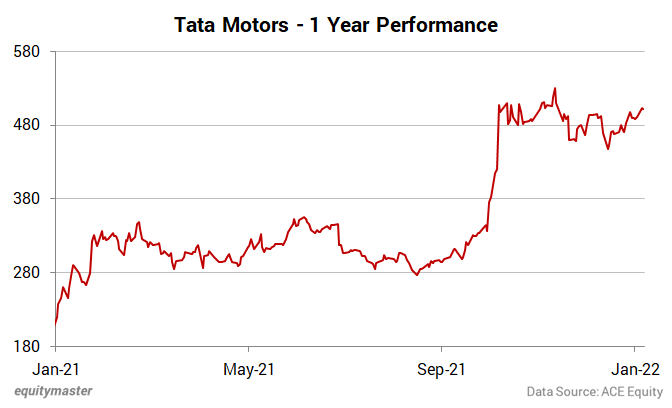 Tata Group Emerged as the Most Trustworthy Conglomerate Among Investors
Over the last few decades, the most preferred brand among the people of India is Tata group of companies.
Tata has always developed products that are sensitive to the needs of Indian consumers and hence people trust it more than any other competing brands.
It's vital to note that Tata has provided consumers with a service or solution that is both inexpensive and feasible.
Moreover, the group's contribution towards India's EV infrastructure, clean energy, semiconductor assembly business and significant presence online via all-in-one e-commerce app augurs well for the company in the long run.
In the month of September 2021, Equitymaster's conducted a poll consisting of 17 of the most popular corporate groups in India.
With an overwhelming response from 5,274 participants, we found out that Tata Group is the most trustworthy corporate group.
The group emerged as the undisputed winner of the poll, with 66.3% of the total votes, more than double the number (31.8%) it received in the last poll.
The group has earned the trust of more of our readers in the last eight years on the back of the values by which its companies operate.
It's 153-year-old legacy is a testament to the fact that that creating value is not only about the quality of the product or a service but also about the quality of a firm's conduct, both internally and externally.
You can read the entire report here: India's Most Trusted Corporate Group is...
In similar vein, back in August 2021, Co-head of Research Rahul Shah talked about the stellar performance of Tata group companies in the bull market, in one of his videos.
Rahul Shah also compared the performance over a 5-year and a 10-year period.
Tune in to find out more:
Should You Invest in Smallcaps Now?
Before you make that decision, here's something you should know...

Richa Agarwal, our top small cap analyst, has just published her report on smallcaps.

It's called Top 3 Stocks for 2023.

If you want to grab a copy of this report, all you need to do is join Richa's upcoming mega event.

It's Free.

Full Details Here

Disclaimer: This article is for information purposes only. It is not a stock recommendation and should not be treated as such. Learn more about our recommendation services here...