Why Did Sunil Singhania Increase Stake in Rupa & Company?
Jan 13, 2022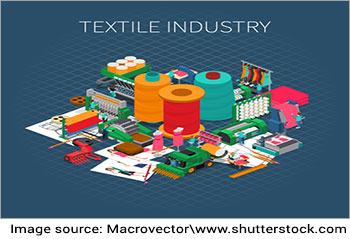 In the past one week, shares of Rupa & Company have gained about 20%. This comes as Sunil Singhania-owned Abakkus acquired stake in the company on Tuesday, 11 January.
Abakkus acquired an additional 2.89% equity stake in the largest manufacturer of inner and casual wear in India via open market transactions.
As per the bulk deal data, Abakkus Asset Manager LLP acquired 14.45 lakh equity shares in Rupa & Company at Rs 465.5 per share and Abakkus Growth Fund-2 bought 8.61 lakh equity shares at same price on the NSE.
Ziyan Developers LLP, on the other hand, were the sellers in this transaction. They sold 23.06 lakh shares. Ziyan Developers LLP owned 8.51% stake as of September 2021.
A word about Abakkus Asset Manager LLP
Abakkus Asset Manager is an investment management company founded by Sunil Singhania, who was the CIO of Equity Investments at Reliance Mutual Funds.
Sunil Singhania has a track record of over two decades in equity markets and he played an important role in building Reliance-Nippon MF into one of India's largest asset management companies (AMCs).
Currently, Abakkus manages over Rs 50 bn of assets. To point out one Abakkus' good investment in recent times, it has continuously raised stake in IT company Mastek. This year alone, Mastek shares are up around 140%.
Why did Abakkus invest in Rupa & Company?
While we don't know why Mr. Singhania bought into it, there are some reasons we can guess...
First, Abakkus already held shares of Rupa & Company prior to the recent acquisition. Abakkus Emerging Opportunities Fund-1 already held 2.03% stake or 16.15 lakh equity shares.
It's not unusual for a fund to increase stake in the company it already owns a stake from time to time.
Second, the company has decent growth prospects. Rupa & Company is planning to expand through the franchise Exclusive Brand Outlets (EBOs) in order to remain asset light. It will also expand business in Southern and Western parts of India.
The knitwear maker is expecting around 18% growth in revenues in fiscal 2022 backed by premiumisation of portfolio and foraying into newer markets.
The company's focus on brand building is also notable. It has spent over Rs 10 bn on brand development in the last decade or so. This makes up for a decent chunk of overall revenues. It even reported a slight dip in margins in the most recent quarter because of heavy spends on advertising.
Rupa & Company does not seem to have any flaws on the financials front. On a consolidated basis, the company's net profit jumped 16.7% on a 20.7% rise in net sales in the September 2021 quarter.
Lastly, the thermal wears and casual wears section is gaining traction. Historically, there's a good increase in thermal sales because of winter.
One more factor which can be added here is seasonality. March is considered as a good month for knitwear industry as a majority of sales happen during the month. Barring last March, when lockdown impacted the company's sales, Rupa & Company has been registering an annual turnover of Rs 11-12 bn over the last few years on a standalone basis.
All these reasons more than justify Mr. Singhania's bullishness on Rupa & Company.
Which other stocks does Abakkus hold in its portfolio?
Apart from Rupa & Company, here are a few other stocks where Mr. Singhania's investment company/fund holds more than 1% stake.
The data is as of 31 December 2021.
Data Source: Ace Equity
Meanwhile, the below table shows shares held by Abakkus as of 30 September 2021.
Data Source: Ace Equity
How the stock of Rupa & Company has performed recently
Rupa & Company share price opened the day today at Rs 500 against its previous close of Rs 500.25.
It extended gains as the session progressed and went on to touch a high of Rs 523 on the BSE.
Rupa & Company is trading just 4% away from its 52-week high of Rs 547 touched last year on 18 January.
Over the last one year, shares of the company have gained 75%.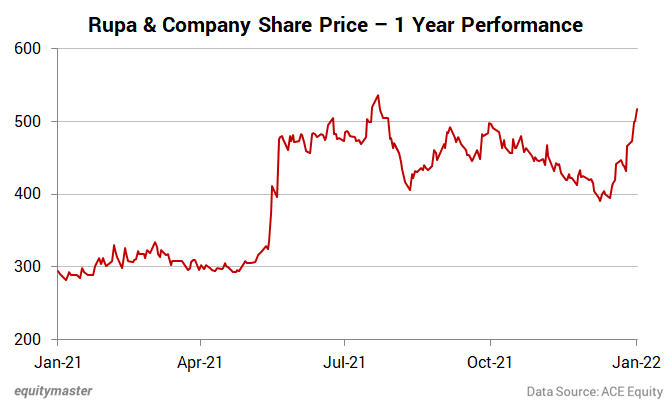 As of September 2021, promoters of the company hold 73.3% stake in the company. To know who holds the rest, check out the latest shareholding pattern of Rupa & Company.
About the company
Rupa & Company is engaged in the manufacture of knitted apparel, including hosiery. The company offers textile, leather and other apparel products.
It has more than 125,000 retail outlets on top of 1,200 plus dealers. This fetches more than 700,000 finished goods pieces per day across major e-commerce platforms like Amazon, Flipkart, Snapdeal, Myntra, etc.
To know more about the company, check out Rupa & Company financial factsheet and latest quarterly results.
You can also compare Rupa & Company with its peers.
Rupa & Company vs Vardhman Textiles
Rupa & Company vs Kewal Kiran Clothing
And to know what's moving the Indian stock markets today, check out the most recent share market updates here.
Disclaimer: This article is for information purposes only. It is not a stock recommendation and should not be treated as such. Learn more about our recommendation services here...