Why did Dolly Khanna Buy Shares of this Coding & Marking Company?
Jan 14, 2022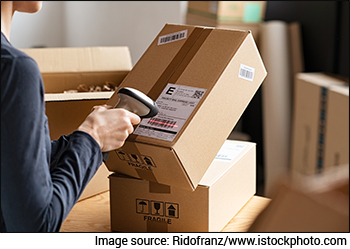 Control Print, a small-sized coding and marking equipment manufacturer, has found itself thrust into the limelight in last two days.
The company is in development, research, manufacturing, and marketing of printing machines, spare parts, consumables (fluids), and associated services.
In the past one year, the counter has delivered decent returns to its shareholders. Share price of Control Print has surged from Rs 230 to Rs 390, logging around 65% return in this period.
Moreover, the stock of the company is witnessing traction today. Control Print shares soared 6% on the BSE in Friday's intra-day trade.
But what's the reason behind this fall?
The entry of high-profile investor Dolly Khanna is the reason behind the sudden volume surge in the stock today.
According to the latest shareholding pattern, Khanna has bought 1.04% fresh stake in the coding & marking company and added Control Print share in her portfolio.
Mutual funds held their holdings in the firm constant in the third quarter of the fiscal 2022, while foreign portfolio investors (FPIs) increased their stake by adding 0.02%.
Ace investor Dolly Khanna owns 170,207 shares, which adds up to 1.04% of the total issued paid up capital of the company.
--- Advertisement ---
STOP Trading and Become a Lazy Millionaire...

There's an incredible way to get extremely rich without losing any sleep whatsoever.

The most amazing thing is that you can accelerate your wealth creation journey with very little effort...and without any unnecessary risk.

Rahul Shah, our Co-Head of Research, is about to reveal his ultimate master key to SUPERFAST riches which he has successfully mastered over the last 15 years.

In fact, on 24th January at 5pm, he's going to reveal everything about the most controversial project of his career - Lazy Millionaire.

If you want to sleepwalk your way to extreme riches, you've got to tune in to this special summit.
------------------------------
As per the recently ended December 2021 quarter, FPIs hold 1,147,205 shares of the company or 7.02% stake in the firm.
In September 2021 quarter, their shareholding in the company was at 1,142,556 shares, which was 7% of the net paid up capital of the company.
Following the news, the company's shares witnessed selling pressure due to weak market sentiment yesterday.
Who is Dolly Khanna and why did she buy shares of Control Print?
Dolly Khanna is a Chennai based large investor, who is known for picking lesser-known midcaps and smallcaps. She has been investing in stocks since 1996.
Dolly Khanna's portfolio, which is managed by her husband Rajiv Khanna, is usually inclined towards more conventional stocks in manufacturing, textile, chemical, and sugar stocks.
FREE REPLAY: Catch the Details of Potential Crorepati-Making Stocks Right Now...
Coming back to Control Print, while we don't know the specific reason for her investment, we can interpret her move by considering certain factors.
Niche segment

Control print is one of the very few players in this space, making it almost an oligopoly market, where few players operate in the entire segment.

Due to this, Control Print has strong pricing power over its products, which allows company to generate higher profit margins.

The company makes continuous inkjet printer (CIJ), high-resolution printers, thermal inkjet printers, thermal transfer over printers, large character printers, laser printers, etc.

CIJ are used for printing on water bottles and other packaging materials. Thermal transfer printers are used in printing on wafers, biscuits, and chocolate packets. Special laser printers are used in printing on automobile and computer parts.

Control Print is engaged in business of making such printing products used for various purposes such as printing brand and product information, barcode, batch number, and manufacturing dates, etc.

Diversified cliental base

The company's clients come from very diverse businesses, such as FMCG, agro chemicals, cables & wires, building materials, electronics, packaging materials, plywood, steel, etc.

Several well-known brands like Glenmark, ITC, Tata Steel, Indian Oil, Hindustan Unilever, JK Tyre, Ajanta Pharma, Hindalco and many more are the company's customers.

Strong market presence

The company has strong national network of sales and services through 11 branch offices, serving 360+ pin codes and a strong technical support team of 400+ engineers.

The company is the only integrated player with capability to manufacture both printers (coding and marking equipment) as well as consumables in India.

It enjoys 8.5% market share of the Rs 13-15 bn Indian market. Over the last 5 years, the company's market share increased by 0.93% to 1.03%.

New acquisition

In August 2021, Control Print entered into an agreement with Innovative Codes (I) Private Limited (ICIPL) and their shareholders in relation to the acquisition of a majority stake (80%) at Rs 16 m.

The object of the proposed purchase or acquisition is strategic long-term investment and considering activities of the said company, to have synergies in the business over the long term.

Strong financials

For the September 2022 quarter, net profit of Control Print rose 32.3% to Rs 98.3 m against Rs 74.3 m during the previous quarter ended September 2020.

Control Print's revenue for the same period went up by 18.4% to Rs 628 m against Rs 530.4 m during the same period last year.

Over the last 5 years, revenue has grown at a yearly rate of 8.5%.

Exports have grown from Rs 24.9 m in the financial year 2016 to Rs 55.4 m in the fiscal 2021.

Moreover, the company is almost debt free.

Consistently paying dividends

Even in the pandemic year, the firm continued to reward their shareholders with 9th consecutive year of dividend.

For the year ending March 2021 Control Print has declared an equity dividend of 85% amounting to Rs 8.5 per share.

At the current share price of Rs 367 this results in a dividend yield of 2.3%.

For more details, check out Control Print's dividend history.
--- Advertisement ---
[Alert] Sell These 3 Stocks Immediately

These 3 stocks are ticking time bombs in your portfolio.

It is very likely that you could be owning these 3 overvalued...

fundamentally weak... ready to crash stocks... in your portfolio today.

Because many stock brokers have painted rosy pictures of these stocks. But the reality is starkly different.

If the market crashes, then these stocks could wipe out your wealth.

You should get rid of these stocks as soon as possible.

Click her for full details of these 3 landmines
------------------------------
Dolly Khanna's portfolio and holdings
As per data available on 13 January 2022, Dolly Khanna publicly holds 19 stocks with a net worth of over Rs 4.1 bn.
| Sr. no. | Company Name | Quantity Held | Holding % as on Dec-21 | Holding % as on Sep-21 |
| --- | --- | --- | --- | --- |
| 1 | Ajanta Soya | 178,500 | 1.10% | - |
| 2 | Simran Farms | 66,135 | 1.70% | - |
| 3 | Control Print | 170,207 | 1.00% | - |
| 4 | Tinna Rubber and Infrastructure | 142,739 | 1.70% | - |
| 5 | Talbros Automotive Components | 211,120 | 1.70% | 1.50% |
| 6 | Butterfly Gandhimathi Appliances | 256,792 | 1.40% | 1.40% |
| 7 | New Delhi Television | 795,170 | 1.20% | - |
| 8 | Nitin Spinners | 964,373 | 1.70% | 1.20% |
| 9 | Mangalore Chemicals & Fertilizers | 1,716,896 | 1.50% | 1.50% |
| 10 | Deepak Spinners | 111,781 | 1.60% | 2.10% |
| 11 | Rain Industries | 3,863,925 | 1.20% | 1.20% |
| 12 | NCL Industries | 784,062 | 1.70% | 1.80% |
| 13 | Aries Agro | 166,058 | 1.30% | 1.50% |
| 14 | KCP | 5,048,682 | 3.90% | 4.30% |
| 15 | Asahi Songwon Colors | - | - | 1.30% |
| 16 | Nucleus Software Exports | 299,720 | - | 1.10% |
| 17 | Polyplex Corporation | 323,778 | - | 1.00% |
| 18 | RSWM | 263,325 | - | 1.10% |
| 19 | Rama Phosphates | 334,596 | - | 1.80% |
Data Source: ACE Equity
How the stock markets reacted to Control Print
Shares of Control Print opened the day at Rs 379.9 on the BSE and Rs 367 on the NSE.
At the time of writing, the company's shares were trading up by 6% on the BSE
At its current price, it is trading at a P/E of 16.32.
The share touched its 52-week high of Rs 416.9 and 52-week low of Rs 219.4 on 26 July 2021 and 22 February 2020, respectively.
Over the last 30 days, the Control Print share price is up 8.3%. Over the last one year, the company's share price is up 58.8%.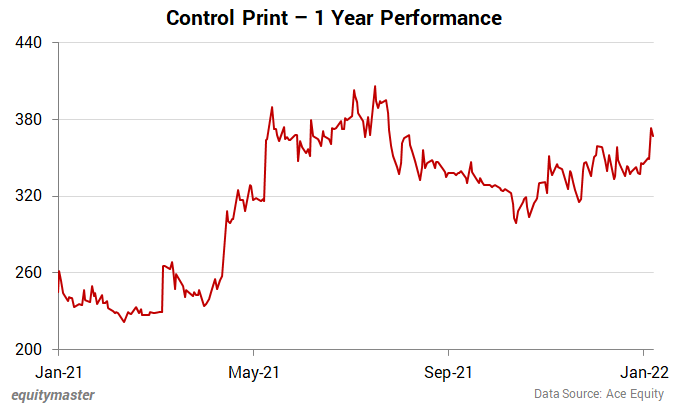 About Control Print
Established in 1991 and listed on BSE in 1993, Control Print is India's leading Coding & Marking solutions provider.
It's the only Indian manufacturer of continuous inkjet printers and fluids under license of KBA-Metronic AG, Germany at their facility in Nalagarh, Himachal Pradesh.
They also manufacture large character printers (both for porous & non-porous substrate), thermal transfer over printers (TTO), hot ink coders and their consumables in collaboration with respective technology leaders.
They are also exclusive distributors of MACSA Laser Marking systems for packaging and industrial coding & marking applications. Thus, Control Print has various technologies available to meet its customers' requirements.
For more details about the company, you can have a look at Control Print's factsheet and quarterly results on our website.
To know what's moving the Indian stock markets today, check out the most recent share market updates here.
Disclaimer: This article is for information purposes only. It is not a stock recommendation and should not be treated as such. Learn more about our recommendation services here...