Why L&T Technology Share Price is Falling
Jan 16, 2023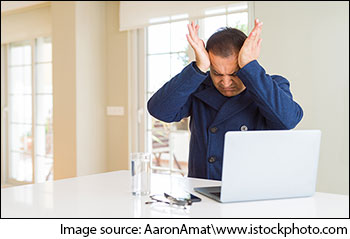 The Indian share markets are buzzing with activity as big companies come out with their quarterly results.
As the third quarter of the financial year comes to an end, investors are keenly keeping a watch on companies that might soon announce their Q3 results.
L&T Technology Services (LTTS) is one such company under the radar, all set to announce its quarterly results later this week on 19 January 2022.
Ahead of its results, the stock has witnessed a correction. In the past two days, the stock has fallen more than 5%.
Let's find out why...
#1 SWC Acquisition
The engineering services company said on Thursday last week that it will acquire Smart World & Communication (SWC) business of L&T which consists of safe and smart, communication and cyber security as a going concern, on a slump sale basis.
The acquisition, worth Rs 8 billion (bn) is expected to complete on or before 30 March 2023.
Since its foundation in 2016, SWC has expanded its business of network operations centre, datacentre, cloud/private 5G to over 25,000 locations across India.
The acquisition may bring with itself long-term benefits but in the short term, investors have not taken the news of acquisition very well.
A stock may fall after a company announces an acquisition for a few reasons. One reason is that investors may be concerned about the company taking on too much debt or overpaying for the acquisition.
They may also be uncertain about how the acquisition will affect the company's earnings in the short-term. Additionally, the market may view the acquisition as a sign that the company is struggling to grow organically and is resorting to buying growth.
#2 Mutual fund selling
To know what's happening in the markets, investors often track the activities of mutual funds and foreign investors. These big names conduct in-depth research about stocks before making any investment decision.
They have a large amount to invest so it only makes sense to pay attention to what they are buying or selling.
When mutual funds or FIIs increase stake in the company, it is considered as a good sign and vice versa.
Mutual funds have consistently sold their stake from LLTS. On 30 September 2021, mutual funds held a 5.5% stake in the company which is reduced to 2.1% as on 31 December 2022.
Apart from this, even promoters are consistently selling minor stakes in the company. In the past seven quarters, investors sold a 0.4% stake in the company.
L&T Technology Services Shareholding
| Quarter ending | Jun-21 | Sep-21 | Dec-21 | Mar-22 | Jun-22 | Sep-22 | Dec-22 |
| --- | --- | --- | --- | --- | --- | --- | --- |
| Mutual fund (%) | 6 | 5.5 | 4.8 | 4.5 | 3.5 | 2.6 | 2.1 |
| Promoters (%) | 74.2 | 74.2 | 73.9 | 73.9 | 73.9 | 73.9 | 73.9 |
Data Source: Ace Equity
To know more check out LTTS' latest shareholding pattern.
Q3 is a seasonally weak quarter for LTTS. Mutual funds might have decreased exposure owing to this reason. They have also sold stake in big IT names including HCL Tech, Wipro and Tech Mahindra.
Also, LTTs is trading at high valuations compared to its peers. LTTS is trading at a PE ratio of 35.8, while the average industry PE ratio is 25.1.
Hence, it seems that mutual funds have divested stake if and before things get worse.
Why the fall looks like a temporary blip
It appears investors have reacted negatively to acquisition news. However, the acquisition will result in many benefits for LTTS.
With this acquisition, the company aims to enhance its operation and provide better services including design, architecture, build and operation, effectively catering to the portfolios encompassing next-gen communications, sustainable spaces, and cybersecurity.
The acquisition will help the company in moving ahead with its six big bets strategy that will open new avenues of growth in 5G, digital products and artificial intelligence (AI), and sustainability.
How LTTS shares have performed recently
L&T Technology Services shares have declined around 5% in the last two trading sessions.
LTTS's share price fell around 12% last month.
In the past three years, LTTS share price gave multibagger returns of 115%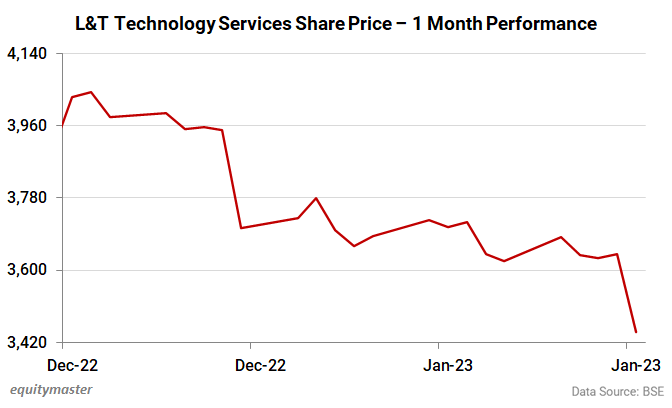 About L&T Technology Services
L&T Technology Services (LTTS) is an Indian multinational technology company that provides engineering research and development services, headquartered in Vadodara.
The company's business interests include automotive engineering, embedded system and semiconductor engineering, industrial internet of things, manufacturing plant engineering, and medical engineering.
To know more about the company checkout company's factsheet and quarterly results.
You can also compare the company with its peers:
L&T Technology Services vs Tata Elxsi
Investment in securities market are subject to market risks. Read all the related documents carefully before investing
Want to Grow Your Wealth With Safe Stocks?
If you want a simple, safe, and hassle-free approach to long term wealth building...
Without having to worry about negative news or every little downswing in the market...
And without having to worry whether your investments will actually "deliver"...
You must read our note on Blue Chip Stocks now.
Details of our SEBI Research Analyst registration are mentioned on our website - www.equitymaster.com
Disclaimer: This article is for information purposes only. It is not a stock recommendation and should not be treated as such. Learn more about our recommendation services here...