Tech Mahindra's CTC Acquisition: Too Expensive?
Jan 18, 2022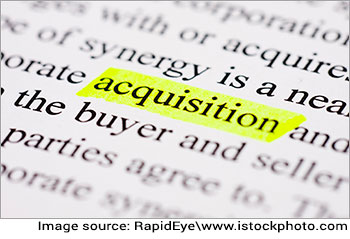 Tech Mahindra share price slipped over 4% intraday today after the IT major announced acquisition of 100% stake in Europe-based Com Tec Co IT (CTC) and 25% stake in two Insurtech platforms for a total of Euro 330 m.
The two Insurtech platforms - Swift and Surance, are also owned by CTC.
With this acquisition, Tech Mahindra completed its 10th acquisition in fiscal 2022, with cash outlay totaling around US$ 880 m.
So what impact will this acquisition have on Tech Mahindra's business? Will it improve the company's earnings? The street certainly doesn't think so...
A high price for overseas acquisitions
The Indian IT sector is one of the few sectors that is witnessing strong demand conditions even during the pandemic, with businesses big and small across the globe, demanding a range of solutions to digitize their day-to-day operations.
To keep up with the demand, several top tier Indian tech players like Tech Mahindra, Infosys and Wipro have gone on an acquisition spree overseas over the last 15-18 months and the valuations for these purchases have shown an upward trend.
And, at first glance, Tech Mahindra's acquisition of European IT-company Com Tec Co IT on late Monday evening appears expensive. At the acquisition price of Euro 310 million (nearly Rs 26.4 bn) it is at nearly four times annualizing calendar year 2021 sales of the overseas player.
At the end of September 2021, Tech Mahindra on a consolidated basis had cash and cash equivalent of Rs 28.8 bn and it would enable this acquisition.
Earlier, Infosys had bought US-based Blue Acorn iCi group for US$125 m (nearly Rs 9.3 bn) in October 2020 and it had paid nearly 2.9 times sales for the calendar year 2019.
Meanwhile, in April 2021, Wipro had purchased Australia-based IT company Ampion Holdings for US$117 m (nearly Rs 8.7 bn) and it paid about 1.4 times sales for financial year ended 30 June 2020.
The above three Indian tech players have not shared operating profit margins or net profits of the respective overseas entities they have purchased, and it is not possible to get a deeper insight to justify the valuations paid.
Investors on Dalal Street also appear to be cautious of the valuations paid by Tech Mahindra for the Europe-based acquisition. Today, the stock closed down by 3.5% at Rs 1,660.65. The stock had opened 1% higher at Rs 1,741.8.
Tech Mahindra had earlier hit a 52-week high of Rs 1,837.8 on 30 December 2021.
Over the year gone by, shares of the IT major are up over 65%.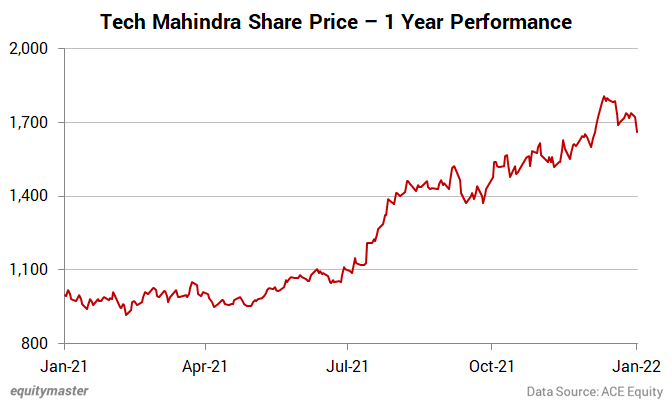 Valuation wise, Tech Mahindra trades at nearly 39 times estimated consolidated fiscal 2022 earnings while it is 36 times for Infosys and 29 times for Wipro.
While several IT majors have already announced their October-December 2021 quarter results, Tech Mahindra is yet to declare the results date.
Growth forecasts for global IT sector
Gartner, a well-recognized name for insight on IT worldwide, has forecast that global IT services expenditure, which is a key focus of Indian IT players, will rise by 8.6% year-on-year (YoY) in calendar year 2022 to nearly US$1.29 tn.
John David Lovelock, research vice president at Gartner, said,
What changed in 2020 and 2021 was not really the technology itself, but people's willingness and eagerness to adopt it and use it in different ways.
Acquisition and strategic objectives for Tech Mahindra
Tech Mahindra has benefited from strong demand conditions for its offering in 5G, blockchain, cyber security and artificial intelligence, amongst others.
The Europe-based acquisition will help the company to expand its offering in digital engineering along with expertise in deep digital transformation in the insurance sector and access to technology professionals in Latvia and Belarus.
About the company
Tech Mahindra was formed as a joint venture between Mahindra & Mahindra, India's leading tractor and utility vehicle manufacturer, and British Telecommunications Plc. (BT), a leading global telecom services company.
It provides services like application development and maintenance, solution integration, product engineering and lifecycle management, testing, consulting, and managed services to global telecom companies.
The company's major focus areas are telecom service providers and telecom equipment manufacturers. BT is one of TM's largest clients and has a long-standing relationship of over 20 years with the company.
For more details about the company, you can have a look at Tech Mahindra's fact sheet and Tech Mahindra's quarterly results on our website.
You can also compare Tech Mahindra with its peers on our website:
Since stocks from the IT sector interest you, check out the top IT companies in India.
To know what's moving the Indian stock markets today, check out the most recent share market updates here.
Disclaimer: This article is for information purposes only. It is not a stock recommendation and should not be treated as such. Learn more about our recommendation services here...
Amriteshwar Mathur is a financial writer with over 20 years of experience. His partnership with Equitymaster involves writing on topics that are critical to understand if Indian investors are to realise their long term wealth building goals.