Jan 19, 2022 - A Penny Stocks Watchlist You Cannot Ignore
A Penny Stocks Watchlist You Cannot Ignore
Jan 19, 2022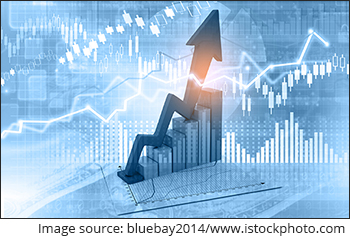 Have you heard of a stock go up 1,000% in one year? Chances are that the stock is a penny stock.
What about a stock that fell 100% in a year? That would probably be a penny stock too.
As you can see, penny stocks offer an extremely high risk to reward ratio.
Priced between Rs 50-100, these stocks offer a terrific entry point into the market and if chosen wisely, hold the potential for some spectacular gains.
However, they can also prove to be extremely risky.
A lack of history and information about companies, as well as low liquidity, can cause you to lose your money on what may seem like a bargain.
Luckily for you, we have put together a list of penny stocks that hold their own in the industries they operate in.
1. IRCON International
First on our list is IRCON International or Indian Railway Construction.
The company is an engineering and construction company that specialises in transport infrastructure. It is owned by the Government of India and is a wholly-owned subsidiary of the Indian Railways.
While IRCON International initially started out as a railway construction company, it has over the years, diversified into multiple segments.
Its services include project management consulting, EPC (engineering, procurement & construction), and real estate.
The company also executes projects on a build, operate and transfer (BOT) / hybrid annuity mode (HAM) basis. It has completed more than 300 infrastructure projects in India.
IRCON's client list is dominated by central and state government undertakings such as MoR, Northern Railways, Dedicated Freight Corridor Corporation of India, National Highway Authority of India (NHAI) etc.
International customers include the Government of Sri Lanka, Bangladesh Railways, etc
Going forward, IRCON plans to enhance its portfolio with projects in international markets such as Bangladesh, Sri Lanka, etc. to achieve healthy profit margins offered by these projects.
It will move from individual projects to partnership projects by forming joint ventures with local companies. It is also exploring additional infrastructure development opportunities in sync with the government such as Smart City Mission and Metro Rail.
In its latest quarterly result, IRCON posted a 50% rise in consolidated net profit at Rs 1.3 bn on account of higher income. In the year-ago quarter, it had clocked a net profit of Rs 840 m.
To know more, check out IRCON International's fact sheet.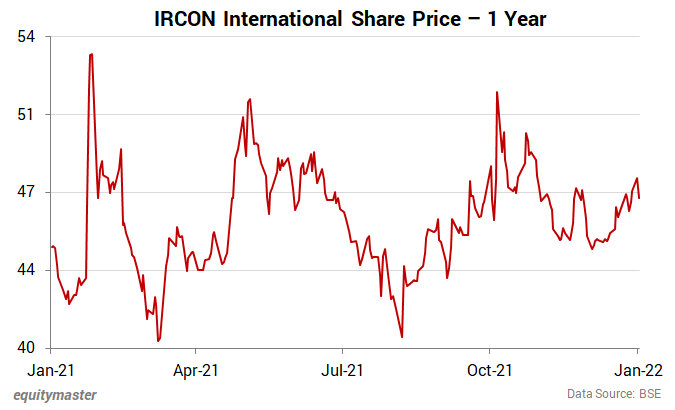 2. Geojit Financial Services
Second, on our list is Geojit Financial Services.
The company is a non-banking finance company (NBFC) with a spectrum of financial services. Some of them are online broking, financial products distribution, portfolio management services, and margin funding.
Geojit has built a formidable and well-entrenched presence across India. However, it is mainly popular in the southern states of Kerala and Tamil Nadu, where it is a market leader in the equity broking segment.
To set itself apart from the rest of the competition, the company continuously invests in technology.
Recently, Geojit Credits, a subsidiary of Geojit Financial Services, launched its digital platform to offer loans against shares (LAS).
With the launch of this platform, Geojit Credits is the first company in India to disburse LAS digitally to any demat account holder registered with NSDL. Geojit aims to make the entire LAS cycle a fully digital experience and shrink the lead time to a few minutes.
Besides this, the company is also diversifying its offerings.
It has approved a proposal to form an entity in GIFT City (Gujarat International Finance Tec-City) aimed towards acquiring an AMC licence as an alternative investment fund (AIF) manager.
It also plans to launch, exclusive investment advisory offices in India.
In its latest results, Geojit Financial Services reported a 22% increase in net profit at Rs 393 m. The company had reported a net profit of Rs 325 m in the year-ago period.
To know more, check out Geojit Financial Services fact sheet.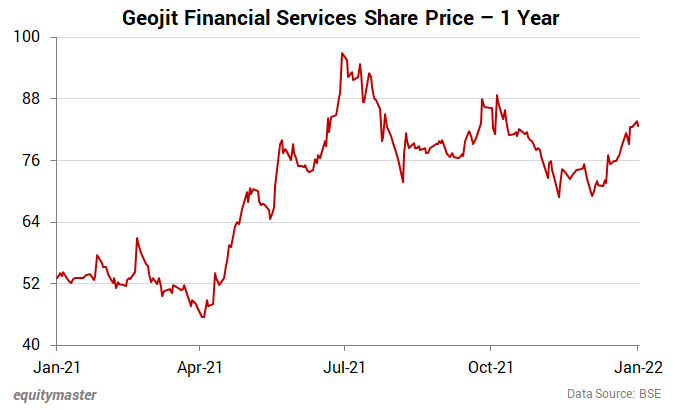 3. Ador Fontech
Third, on our list is Ador Fontech (AFL).
The company provides products, services, and solutions for industrial components.
It initially started out with providing repair welding services but later diversified into other segments such as value-added reclamation, fusion, surfacing, and spraying.
It also sells products such as low-heat input alloys, solid and flux-cored wires, high alumina wear-resistant tiles and components, welding and cutting equipment etc.
AFL has two manufacturing plants in Bengaluru and one reclamation centre in Nagpur.
It also has a subsidiary called 3D Future Technologies (referred to as '3DFT') that explores business opportunities in three-dimensional printing for the dental health care industry.
Currently, the company provides aligners and services related to Orthodontic treatment.
Due to the pandemic, the company's welding business was affected as industries chose to reduce capital expenditure.
However, demand for oxygen increased as a result of which the company's plasma cutting equipment gained prominence.
Going forward, the company believes that ongoing research to upgrade welding techniques and materials presents an opportunity for revenue growth as welding constitutes a significant part of the maintenance costs in power plants.
For the September 2021 quarter, Ador Fontech reported an 81% increase in net profit at Rs 49 m. It had posted a net profit of Rs 27 m in the year-ago period.
To know more, check out Ador Fontech's fact sheet.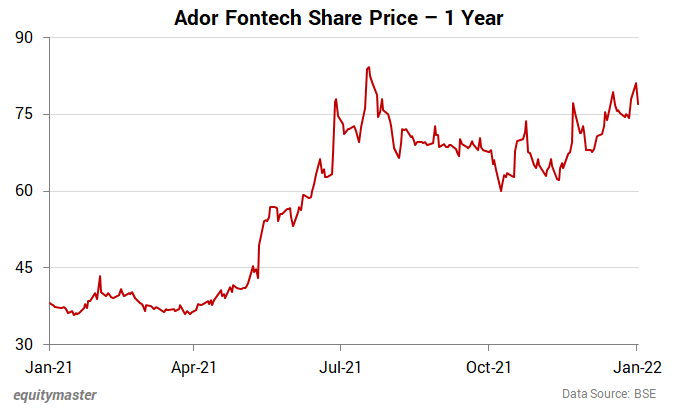 4. Rubfila International
Last on the list is Rubfila International.
The company is the only and largest Indian manufacturer to manufacture both talcum coated and silicon-coated rubber threads.
Rubfila also produces premium products catering to highly niche areas like toys, fishing, bungee jumping cords etc
Over the last few years, the company has witnessed tremendous demand for its rubber threads. As a result, it has expanded its installed capacity by 250%.
It recently set up a new plant in Tamil Nadu in 2020 with a capacity of 2500 T to meet the growing demand for rubber threads.
During the pandemic, Rubfila acquired 100% of Premier Tissues as the market for hygiene products gained traction.
Premier has a strong presence in South India and is considered one of the most respected paper brands in India. The company has already launched a bouquet of new products such as sanitizers, surface wipes, and disinfectant sprays.
In its latest quarterly results, Rubfila International reported an 18.3% increase in net profit at Rs 120 m. It registered a net profit of Rs 98 m in the year-ago quarter.
To know more, check out Rubfila International's fact sheet.
Things to consider while investing in penny stocks
Penny stocks are extremely volatile and hence require investors to have a higher tolerance for risk. However, they can be quite rewarding as they have huge growth potential.
Before investing in a penny stock, one must check whether the company has a strong balance sheet. A healthy financial profile indicates good growth prospects.
Next, check for future growth opportunities. Favourable government policies or good order book status are some indicators you can look at.
Finally, check for feasibility of business. The more viable the business, the longer it will last.
Investing in penny stocks is no rocket science. However, it requires you to practice caution while doing so. Picking the right penny stocks will help boost your portfolio returns.
Back in July 2020, Rahul Shah, Co-head of Research at Equitymaster, gave an effective technique to pick out the right penny stocks.
Investment in securities market are subject to market risks. Read all the related documents carefully before investing
Want to Grow Your Wealth With Safe Stocks?
If you want a simple, safe, and hassle-free approach to long term wealth building...
Without having to worry about negative news or every little downswing in the market...
And without having to worry whether your investments will actually "deliver"...
You must read our note on Blue Chip Stocks now.
Details of our SEBI Research Analyst registration are mentioned on our website - www.equitymaster.com
Here are Links to Some Very Insightful Equitymaster Articles and Videos on Penny Stocks:
Disclaimer: This article is for information purposes only. It is not a stock recommendation and should not be treated as such. Learn more about our recommendation services here...