Insiders are Buying into these 5 Stocks Aggressively. More Details here...
Jan 19, 2022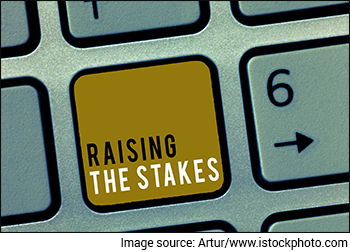 When promoters of a company increase their stake, there is a lot of curiosity in knowing why that happened.
While promoters may have a hundred reasons to sell, they generally only have one compelling reason to buy. The market thinks the promoters know something that it doesn't.
As markets were volatile during the October-December 2021 quarter, many stocks saw a decent correction. Seizing the opportunity provided by the correction, promoters increased their stakes.
The same is not true in US though. Promoters of US based companies are offloading their stakes amid soaring market valuations.
Let's take a look at 6 companies where promoters increased their stake during the last quarter.
#1 Tejas Networks
From a zero promoter holding entity since listing in 2017, Tejas Networks became a promoter holding entity in December 2021 quarter.
December 2021 shareholding data shows that promoter group holds 37.3% stake in Tejas Networks.
This was on the cards as the Tata Group had announced plans to acquire stake in the domestic telecom gear firm. With this, the Tata Group acquired a controlling stake in Tejas Networks.
Tata Sons and its subsidiaries Panatone Finvest, Akashastha Technologies made a cash offer to acquire equity shares of Tejas Networks at a price of Rs 258.
In September end, Kotak Mahindra Capital announced details of the open offer by Panatone Finvest to garner up to 40.25 m shares, or 26% stake. This was followed by the preferential allotment of 16.8% of Tejas Network shares to Panatone Finvest based on a shareholder agreement dated 29 July.
Ever since it was announced that Tata group will acquire a controlling stake in Tejas Networks to help it access 5G technology, its shares have been on a tear.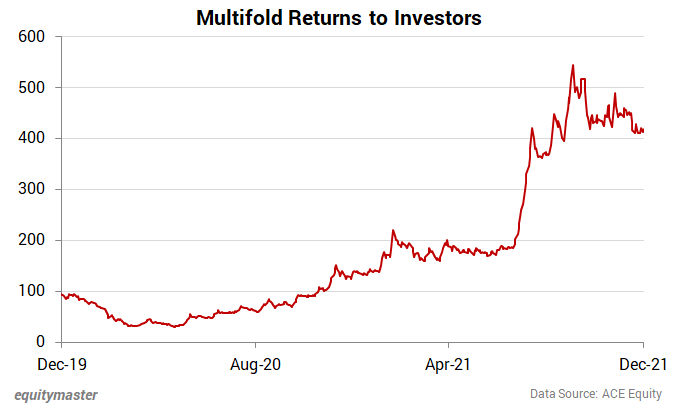 Now that Tejas Networks has Tata group's backing and financial resources, it will expand its telecom products-portfolio. It will and design/manufacture the gamut of 4G and 5G wireless gear. This would help Tejas take on the likes of Ericsson, Nokia, and Huawei in tapping capital investments.
With 5G technology just around the corner, telecom companies including Tejas Networks have big plans to roll out 5G.
No wonder why mutual funds and foreign investors with 5.2% and 14.2% stake are bullish on the stock. Seasoned investor Vijay Kedia also holds about 2.3% stake.
To know more about the company, check out Tejas Networks financial factsheet.
#2 Goldstone Technologies
December 2021 shareholding data for Goldstone Tech shows that promoters of the company substantially increased their stake by 35.1% in Oct-Dec period.
Promoters now hold 53.9% stake in the company. Prior to this, promoters had a 18.8% stake.
The company's board in October last year approved allotment of 15.8 m fully paid up equity shares at an issue price of Rs 14.30, by preferential allotment.
Incorporated in 1994 and based in Hyderabad, Goldstone Tech is promoted by L P Sashikumar. It provides software development and management services.
Commanding a penny stock status a year ago, the stock of Goldstone Tech is on a roll. From Rs 8 in January 2021, it currently trades at Rs 90. That's a massive up move of over 800%!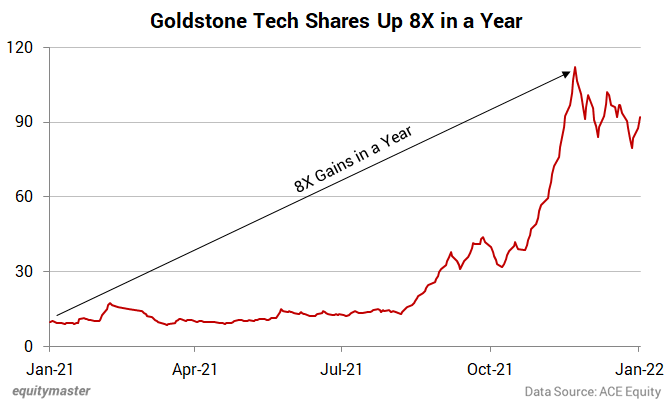 The sharp rise is due to the good results it posted in the September 2021 quarter. The company's net profit saw an around 25-fold increase to Rs 18.2 m as against Rs 0.7 m in the previous quarter.
Also, investors seem to be betting on small IT service and technology solutions providers as the risk of Omicron still remains. Goldstone's peers - R Systems International, Palred Tech, and 3I Infotech have also performed well. IT companies tend to do well in this scenario, just like they were strong during the first and second wave of Covid.
To know more, check out Goldstone Tech's latest quarterly results.
#3 JSW Holdings
Promoters of JSW Holdings purchased around 537,451 shares of the company during the October-December 2021 quarter. In percentage terms, this accounted for a stake increase of 4.84%.
The top three promoters are Siddeshwari Tradex (12.58 lakhs shares/11.3%), Nalwa Sons Investments (11.37 lakhs shares/10.24%), and Vinamra Consultancy (10.83 lakhs shares/9.76%).
In total, promoters hold 73.55 lakh shares, or 66.3% stake out of which 13.49 lakh shares (18.34%) have been pledged.
JSW Holdings is a core investment company, primarily engaged in the business of investing and financing. It earns a majority of its revenue from interest on loans (53%) and dividend income (39%), followed by pledge fees (8%).
Over the year gone by, shares of the company have shown a muted performance.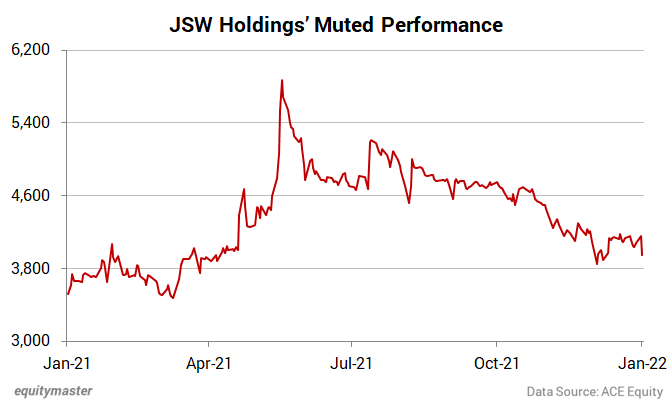 As the company's shares have shown muted performance this year, its promoters might have been lured to buy stake. Do note that when a promoter buys more shares, investors get some relief and are assured of the long-term prospects of the company.
To know more about the company, check out JSW Holdings' latest shareholding pattern.
#4 Best Agrolife
Best Agrolife is a leading manufacturer of agrochemical products like insecticides, pesticides, herbicides, fungicides, and plant nutrients. It has a vast distribution network of more than 3,000+ distributors and directs dealers?with 14 stock points.
The company has more than 60 products, 80 technical manufacturing licenses, around 360 formulations licenses, 30,000+ MPTA manufacturing formulation capacity, and 7,000+ MTPA integrated state-of-the-art technical plants.
For the quarter under review, promoters of the company hiked their stake by 4.6%. The total promoter holding now stands at 45.4%.
Interestingly, foreign investors also hold a significant 11.2% stake in the agrochemical company.
In the current fiscal, the company acquired group entity Best Crop Science. This acquisition will result in increased market share and better financials for fiscal 2022. It will also solve storage and logistic problems the company has been facing for some time now.
Over the year gone by, Best Agrolife shares have given multibagger returns of 110%.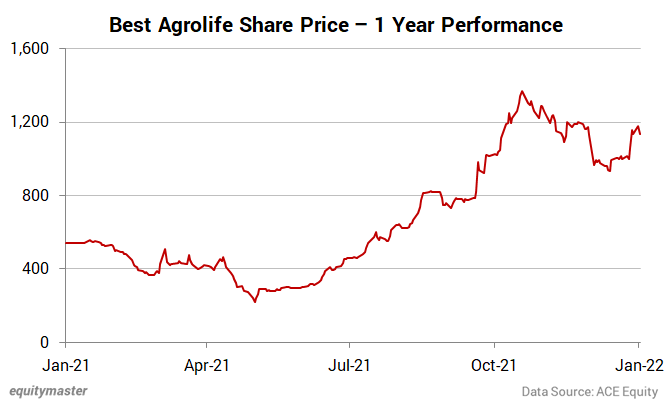 #5 Vedanta
Promoter holding in Vedanta has steadily increased over the past two years. In March 2020, Vedanta's promoters had 50.1% stake in the company. Today, the same figure has increased to almost 70%.
In the December 2021 quarter, promoters hiked stake by 4.5%, bringing their total stake to 69.7%.
Twin Star Holdings and Vedanta Netherlands Investments BV purchased around 170 m shares at an offer price of Rs 350 per share. The total value of this purchase came to Rs 59.5 bn. This was funded through a combination of debt from Oaktree Capital, IDBI Bank, and Canara Bank.
A big red flag for the company is that the promoter pledging still remains at 99.99%.
Holding companies of Vedanta raised about Rs 60 bn in the quarter by pledging shares. They pledged 2,422.6 m or 65.18% shareholding in Vedanta in three facility agreements to raise the money.
While you may think the acquisition is positive for Vedanta, several analysts have said otherwise. They said the debt is likely to go up.
Here's Nomura,
'The cost of comfort is a large debt addition at a high cost. The latest stake acquisition will take Vedanta Resources' holding company debt to more than $10 billion, per our estimates'.
Insider buying has also raised other opinions. Many say that all this will lead to a delisting of Vedanta.
To know more, check out Vedanta's latest shareholding pattern.
#6 Deep Polymers
Last on our list, we have a specialty chemical company which has grown by leaps and bounds - Deep Polymers.
Promoters of the company increased their stake by 3.2% taking their total holding to 67.9% as of December 2021.
Ramesh Bhimji Patel and Deep Additives Pvt Ltd are the top two promoters holding 23.8% and 22% stake, respectively.
Over the year gone by, shares of Deep Polymers have skyrocketed around 800%.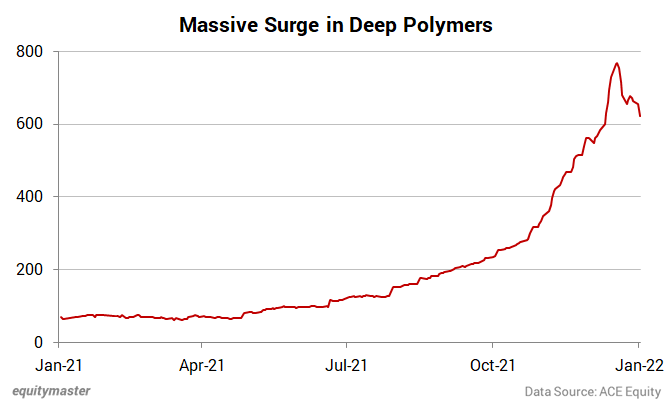 This week, the company's board recommended a bonus issue of equity shares. The board also approved rights issue.
To know more about the company, check out Deep Polymers' latest shareholding pattern.
In which other companies did insiders increase stake?
Apart from the above, here are a few more companies where promoters increased their stake.
| Company Name | Sep '21 Promoter Holding | Dec '21 Promoter Holding | Change (%) |
| --- | --- | --- | --- |
| Mangalam Industrial Finance | 52.54 | 74.54 | 22.00 |
| Ducon Infratechnologies | 65.34 | 70.23 | 4.89 |
| Suraj Industries | 49.81 | 54.50 | 4.69 |
| RHI Magnesita India | 66.49 | 70.19 | 3.70 |
| Bal Pharma | 46.87 | 49.57 | 2.70 |
| Available Finance | 59.20 | 61.81 | 2.61 |
| Natural Capsules | 54.38 | 56.58 | 2.20 |
| Aimco Pesticides | 51.35 | 53.37 | 2.02 |
| Mcleod Russel India | 4.33 | 6.25 | 1.92 |
| STEL Holdings | 58.21 | 60.09 | 1.88 |
Data Source: Ace Equity
Since you're interested in tracking promoter shareholding activity, check out Equitymaster's Powerful Stock Screener.
This tool keeps track of which company's promoters are increasing their stake. Here's a snapshot of the screen: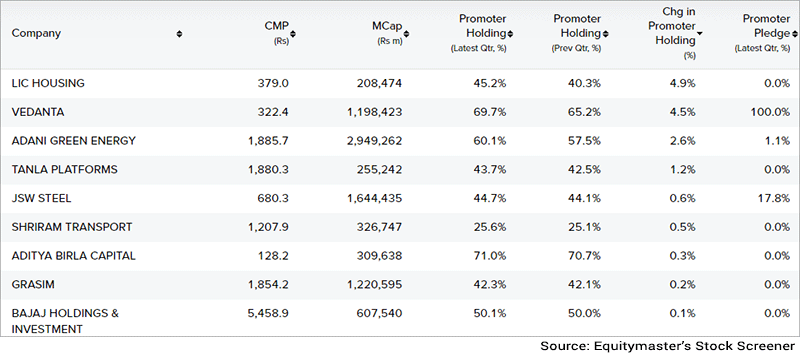 Why high promoter holding is a big positive
The level of promoters' shareholding is very important, especially in India where many businesses are family owned.
The shareholding level acts as an indicator about the confidence of the promoters in the business as well as the strength of leadership control in the company.
A company with a very high promoter shareholding often represents a scenario where the promoters see a bright future for the company and in turn, they plan to benefit from its good growth.
A promoter has all the information about the company. If they are investing, it shows they're confident about the company's prospects.
While promoter holding is an important parameter, it should not be the sole reason for buying a stock.
In rare cases, penny stock promoters can use misleading information about the actual valuation of the company.
Also, promoters pledge their shares to raise funds for either personal or company needs. High promoter pledging can lead to high volatility in the stock prices and as a result, it can turn out to be a major investment risk.
Hence, it's always better to check promoter pledging before making investment decisions.
Happy investing!
Disclaimer: This article is for information purposes only. It is not a stock recommendation and should not be treated as such. Learn more about our recommendation services here...