Top Indian Drone Companies to Watch Out for in 2022
Jan 21, 2022
Drone stocks are making headlines ever since the New Drone Rules and the PLI scheme was announced last year.
The increased use of drones across industries has created a market opportunity that's too big to ignore.
Drones being used primarily in the military is all set to change. Widespread commercial use also contribute to the number of applications.
It's now evident that in the future, drones will become integrated into everyday life. Who would have thought we would see drones flying around in our daily lives?
That's why, you need to keep a few drone stocks on your watchlist. We have just such a watchlist for you today.
Let's take a look at the top Indian drone companies you need to watch out for in 2022.
#1 Paras Defence & Space Tech
Through its subsidiary Paras Aerospace, Paras Defence primarily focuses on drone related aerospace technology development.
It launched this subsidiary back in 2019.
Paras Defence is a newly listed company and via its subsidiary, has tied up with a few unmanned aerial vehicle (UAV) manufacturers in Israel, Latvia, & Italy.
Israel has been producing drones since 1980 for various applications and has a strong expertise. So this partnership helps the company access state of the art solutions.
In fiscal 2021, Paras Defence entered into a partnership with High Lander, which provides end-to-end solutions for the management of autonomous drone fleets.
Its major focus is on drones and on being one of the leading IDDM private sector companies in India for various defence segments. The company has received increased attention of late.
It was listed on the bourses in October last year and received big thumbs up. It break all records of IPO subscription. Its IPO was oversubscribed about 304 times!
Over the years, the company has added more debt. The profitability has also gone down while sales have shown a muted performance.
Paras Defence - Financial Snapshot
| (Rs m, Consolidated) | FY18 | FY19 | FY20 | FY21 |
| --- | --- | --- | --- | --- |
| Net sales | 1,431 | 1,544 | 1,470 | 1,433 |
| Sales growth (%) | - | 7.9% | -4.8% | -2.5% |
| Operating profit | 445 | 460 | 417 | 453 |
| Operating profit margin (%) | 31.1% | 29.8% | 28.4% | 31.6% |
| Net profit | 251 | 190 | 197 | 157 |
| Net profit margin (%) | 17.5% | 12.3% | 13.4% | 11.0% |
| Total Debt | 664 | 849 | 1,033 | 1,036 |
| Debt to Equity (x) | 0.81 | 0.77 | 0.79 | 0.63 |
Data Source: Ace Equity
The company has a healthy order book with little to worry as majority of its orders come from government entities.
Shares of Paras Defence listed on the bourses on 1 October 2021 at a price of Rs 475 per share, a premium of 171.4% to the issue price of Rs 175 per share.
Post listing on the bourses, shares of Paras Defence went on to touch record peaks of Rs 1,200 in October last year. Since then, shares have fallen sharply by around 30% in the past one month.
To know more about the company, check out Paras Defence company factsheet and its latest quarterly results.
#2 Zen Technologies
Up until October 2021, Zen Technologies was the sole listed player active in manufacturing drones in India. This changed when Paras Defence listed.
Along with drone manufacturing, the company also provides defence training solutions and anti-drone solutions.
The stock was hot back in September 2021 when they doubled in a matter of weeks after receiving large orders from Indian Air force, including for drones.
Even foreign companies were in line for these orders but Zen Technologies was the winner. In an interview, the company's CMD had a very interesting thing to say...
Between sword fighting and guns, guns have a big advantage worldwide. Now, drones are being used in wars and counter-drone systems are the way to neutralise that threat, and Zen has competed against worlds' bigger players and has won this order against them.
It currently has a counter drone order of Rs 1 bn, which will be executed in the next nine months.
On the back of these orders, the stock has been breaking grounds. It has gained over 130% in the past year.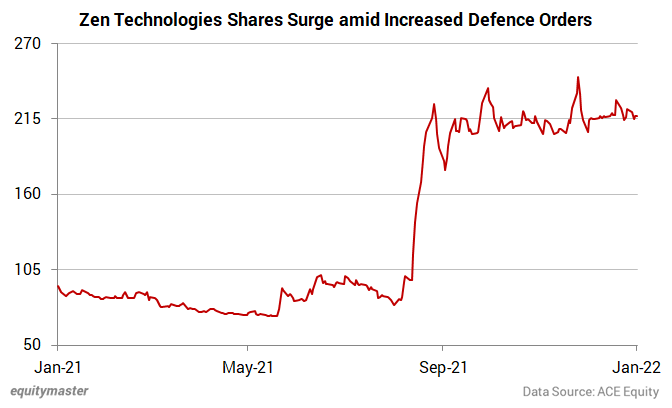 Just a month ago, the company received another boost after its subsidiary - Unistring Tech Solutions - bagged an order worth Rs 610 m from a public-sector undertaking (PSU).
Although the company has had a few up and down years on profitability and sales, its debt has reduced to almost nil.
Zen Technologies Financial Snapshot
| (Rs m, Standalone) | FY16 | FY17 | FY18 | FY19 | FY20 | FY21 |
| --- | --- | --- | --- | --- | --- | --- |
| Net sales | 526 | 617 | 390 | 922 | 1,470 | 496 |
| Sales growth (%) | -33% | 17% | -37% | 137% | 59% | -66% |
| Net profit | 23 | 74 | -4 | 192 | 605 | 41 |
| Total Debt | 405 | 92 | 101 | 418 | 9 | 8 |
| Debt to Equity (x) | 0.4 | 0.1 | 0.1 | 0.3 | 0.0 | 0.0 |
Data Source: Ace Equity
Now that the drone licensing rules are in place, Zen Technologies is expected to do well in the coming years as it manufactures drones, components and even anti-drone systems.
The PLI scheme would add enthusiasm to the already hyped 'drone buzz'.
#3 Zomato
How is Zomato a drone company you may ask?
The company is hoping drones will make food deliveries more efficient and cost-effective.
Zomato had acquired TechEagle, a Lucknow-based drone startup, in December 2018. But it parted ways in June 2020, putting a huge question mark on its plans to deliver food through drones.
The company is planning to invest US$1 bn in startups in the coming years. As there are several startups involved in drone technology, it won't be long before news comes out that Zomato has invested in a startup for food deliveries.
This seems like the logical thing to do as Zomato's rivals - Swiggy and Dunzo - are also among the companies testing out drones for delivering food, medicines, and essential items.
Then there's Delhivery. The comapny entered the drone technology space directly with the acquisition of US-based Transition Robotics Inc. This comes ahead of Delhivery's initial public offering (IPO) scheduled this year. It had already signed agreements with cargo division of airline firm SpiceJet to build drone delivery capability in India.
Surely India's leading foodservice platform, Zomato, should be on your watchlist when it comes from a drone industry perspective.
#4 Dhanuka Agritech
A new entrant to our list is agrochemical company - Dhanuka Agritech.
The agrochemical company is making large investments to promote the use of drone technology in the agriculture sector as part of its efforts to boost crop production.
It has entered into a binding agreement with IoTechWorld Avigation, a drone manufacturing company providing services to agriculture solutions.
Along with other modern agriculture technologies, including artificial intelligence (AI) and robotics, Dhanuka is banking on drones. Drone usage in spraying pesticides will help in optimal usage of crop protection molecules, reduce the requirement of water, and the time needed for application.
Drones will also reduce manpower needs, helping to limit exposure to hazardous chemicals.
A leading agrochemical company, Dhanuka has a strong pipeline of products, long standing tie ups with global innovators, strong R&D, as well as upcoming capacity expansions for growth and backward integration. All this bodes well for the company.
Here's where it gets more interesting. Despite a working capital intensive business and significant marketing and branding expenses required, Dhanuka Agritech has been maintaining an almost debt free balance sheet.
Have a look at the charts below which show the company's performance on important financial parameters, over the years.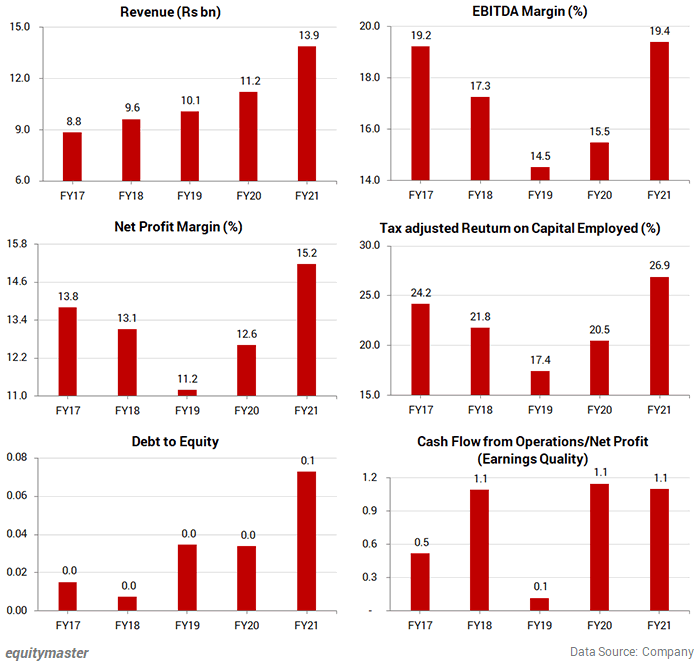 No wonder the company's stock performance looks solid when we plot out a three year chart.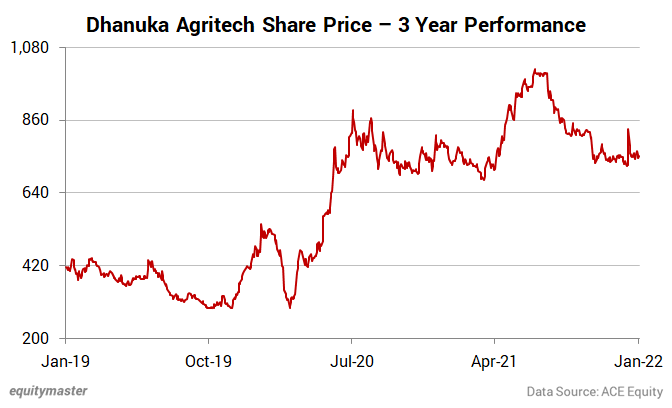 #5 Reliance Industries and Adani Enterprises
Back in August 2021, big corporates Reliance and Adani expressed interest to manufacture or for assembly of drones in India.
Reliance will be participating via Jio Platforms, which owns Asteria Aerospace while Adani Enterprises has Adani Defence and Aerospace, a step-down subsidiary.
Both groups showed interest after the new drone rules came out, hoping to take advantage of the PLI scheme.
Interestingly, Reliance has also invested US$200 m in Dunzo through Reliance Retail Ventures. Dunzo has already started testing via drones and has conducted drone delivery flights for the 'Medicine from the Sky Project'.
#6 L&T
Infra giant Larsen & Toubro (L&T) is also involved in the drone industry.
Almost two years ago, L&T entered into a pact with ideaForge, drone manufacturer, to offer drones and allied systems for defence use.
Both these companies came together to offer hi-tech integrated drone solutions to enhance security and surveillance. They also offer anti-drone solutions to counter the threat of malicious or unintended usage of drones.
L&T's services include advanced technology, such as drone-based CCTV surveillance for smart city projects. It's expected to reap the benefits of the digitisation trend when drone-based project surveys become the 'new normal'.
Currently, there's no significant development on what L&T is doing with regards to drones. Apart from drones, L&T along with Mazagon Dockyard, has been shortlisted as India's strategic partners for building the next set of submarines.
Over the year gone by, shares of the company have gained 43%.
To know more, check out L&T's financial factsheet and latest quarterly results.
To conclude...
There's a lot happening in the drone industry after the drone policy was liberalised and the PLI scheme was announced. Investments in this space have gone up and are expected to increase.
Various companies are changing their stance and adopting drone technology.
Take the mining sector, for instance. These companies are spending heavily to equip themselves with drones for regular business operations. Then there's Indian Oil Corporation (IOC), which plans to use drones to monitor its pipelines for safe operations.
These were just a few examples. Other companies have also deployed drones.
As India moves towards being a global hub for drones by 2030, the drone manufacturing sector is expected to achieve turnover of Rs 150 bn in the next three years.
Although at a nascent stage, the industry has a wide scope and looks quite promising. Imagine the use cases of drones for transportation, agriculture, law enforcement, surveillance, and defence.
Think package delivery, aerial imaging, and a host of other uses in everyday life and businesses. There are endless possibilities.
It remains to be seen whether the upcoming Union Budget on 1 February 2022 focuses on drones and allocates any funds.
Co-head of Research at Equitymaster, Tanushree Banerjee keeps a close watch on stocks from this space. As per Tanushree, India's drone revolution is a 4x profit opportunity. She has identified a little-known drone company with immense potential.
Back in July 2021, she also recorded a video about India's best drone stocks.
Disclaimer: This article is for information purposes only. It is not a stock recommendation and should not be treated as such. Learn more about our recommendation services here...
Yash Vora is a financial writer with the Microcap Millionaires team at Equitymaster. He has followed the stock markets right from his early college days. So, Yash has a keen eye for the big market movers. His clear and crisp writeups offer sharp insights on market moving stocks, fund flows, economic data and IPOs. When not looking at stocks, Yash loves a game of table tennis or chess.