Jan 21, 2023 - Saurabh Mukherjea Dumps Relaxo Footwears; Buys Stake in this Tata Group Stock
Saurabh Mukherjea Dumps Relaxo Footwears; Buys Stake in this Tata Group Stock
Jan 21, 2023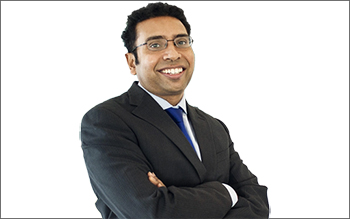 If you ask me my favourite actor and with whom I would love to have an acting session with, my answer would probably be Amitabh Bacchhan. What about singing? I would have to say maybe Lata Mangeshkar. And when it comes to cricket, maybe Sachin Tendulkar or Virat Kohli.
I've used maybe in these answers because you can also learn acting from other greats like Irfan Khan, singing from Shreya Ghosal and cricket from Mahindra Singh Dhoni. In each field, there is more than just one expert.
When we want to learn about a particular field we look up to the experts in that field. The rule applies to stock market as well.
Following ace investor's buying and selling activity and keeping track of their portfolio helps in getting a broad sense of where the market could be headed. These big names also have a process laid out for picking stocks.
In today's article, we take a look at buying and selling activities of Saurabh Mukherjea.
A word about Saurabh Mukherjea
Endorsing the coffee can approach to investing, Saurabh Mukherjea is the founder and chief investment officer of Marcellus Investment Managers.
Living by his thumb rule of 'sustainable growth', Mukherjea is often heard talking about entry barriers, market share potential, and at times, people running the show.
Last year, Saurabh Mukherjea was on Equitymaster's Investor Hour podcast, where he discussed his personal goals, successful calls, failures, and more.
In the hour long podcast, he also shared the investment mistakes to avoid and the one question he would like to ask Warren Buffett.
You can watch it below in case you haven't already...
Which stock did Saurabh Mukherjea sell and why?
, In November 2022, Saurabh Mukherjea took out the chappal he was wearing and held it firmly in his hand, on TV interaction.
Oh wait!
He picked up the chappal just to flaunt it. He held the chappal and said "I am very proud of this chappal. It is an instrument of enormous wealth creation."
He was in fact talking about Relaxo Footwears, one of the best multibagger stocks, having gone up a whopping 15x over the last five years and an equally mind blowing 37x over the last 10 years.
However, his bullish view on the company has changed. In his recent letter addressed to investors, Marcellus Investment Managers said:
"While raw material prices have since corrected and Relaxo has passed on the same to consumers, it will be an uphill task for Relaxo to recover the space ceded to competitors."
Relaxo Footwears is an Indian multinational footwear manufacturer based in New Delhi, India. The company is the largest footwear manufacturer in India in terms of volume and second-largest in terms of revenue. The company makes products under 10 brands including Flite, Sparx, Bahamas and Schoolmate.
Saurabh Mukherjea had all the right reasons to be bullish on the company when he initially bought stake in the company.
During the last twenty years, Relaxo has given mindboggling return of 900 times!
So if you had invested Rs 1 lakh in the stock twenty years ago, it would have turned into Rs 90 (million) m. Perhaps enough for you to retire and lead a comfortable life.
The sharp rally was caused by the strong moat that the company managed to build for itself over the years.
The current PE ratio of Relaxo Footwears is 111.9x. This is a very high, making it among the most overvalued stocks. 20 years ago the PE of the company was 5-6x which was a very attractive valuation. Even 10 years ago the stock was trading at a decent PE of 13-14x.
At such a high PE the stock barely has any space to rise.
Apart from expensive valuations, the company's growth prospects are also dull. On one hand the company is facing margin pressure because of cost inflation and on the other hand the company's sales volume are coming down because of strong competition with price sensitive alternative.
Co-head of Research at Equitymaster, Rahul Shah in his latest editorial says,
".... with high growth over the medium-term as well as the possibility of PE expansion, both looking grim, I won't be surprised if the stock offers below par returns over the next 3-5 years.

Another way of approaching this is by looking at the stock's relative standing vis-a-vis other stocks both in terms of growth as well as valuations.

Our analysis tells us that out of more than 1,400 companies with revenues of at least Rs 2 bn and average daily liquidity of Rs 1 m, over the last one year, it's ranked a lowly 627th in terms of its EPS growth over the last 5 years and only 44th when it comes to valuations.

In other words, there are 626 companies out of more than 1,400 that have grown at a better rate than Relaxo over the last five years but still Relaxo is the 44th most expensive stock in terms of the trailing twelve-month PE ratio.

This is a clear indication that its valuations seem to be running way ahead of its growth."
How shares of Relaxo Footwears have performed recently
Over the last one month, the share price of Relaxo Footwears is down 6%.
On a YoY basis, the stock has gained 25%.
The company touched its 52-week high of Rs 1,375 on 27 January 2022 and its 52-week low of Rs 839.3 on 20 January 2023.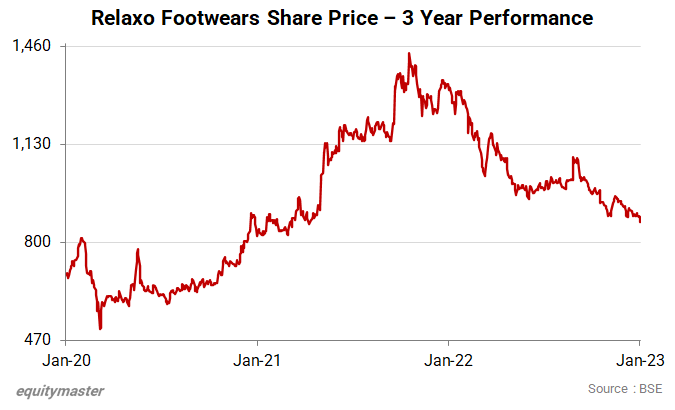 Which Tata group stock did Saurabh Mukerjea buy and why?
In the note that Saurabh Mukherjea shared about Relaxo Footwears, he also talked about a Tata group stock which he added to his portfolio.
The company in question is Tata Elxsi.
"The 'Tata' brand name helps the company attract customers as well as employees, which is also visible in its higher offshore mix of projects vs peers,"
Let us talk about a few more reasons why Mukherjea might have picked stake in Tata Elxsi....
Tata Elxsi is a medium-sized IT firm well-known for its design and engineering capabilities. It is one of the world's leading provider of design and technology services.
The company offers its clients integrated services such as research and strategy, software development, and design. It serves several industries, including automobile, media, consumer appliances, semiconductors, and healthcare.
In the year gone by, Tata Elxsi share price has underperformed the benchmark indices Nifty and Sensex.
Tata Elxsi vs BSE 30 & Nifty 50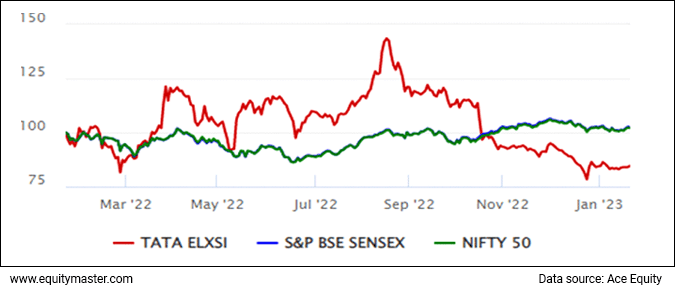 However, if we take a look at its long-term performance, Tata Elxsi has turned out to be a true multibagger stock..
Between September 2019 and September 2022, the stock delivered over 800% returns. It was trading at around Rs 700 in September 2019.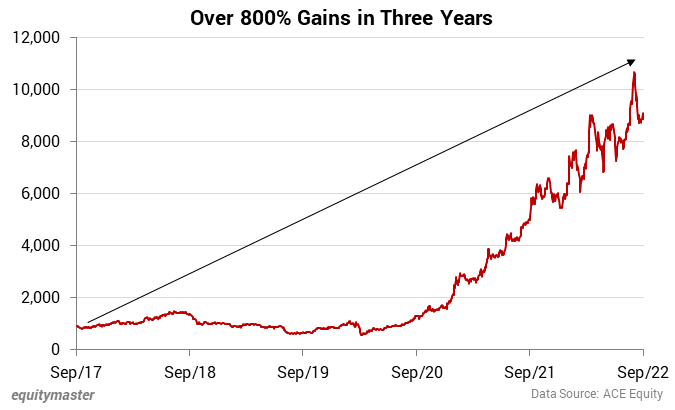 Despite the recent fall, Tata Elxsi's strong presence in a promising segment of internet of things makes it a lucrative investment.
The internet of things (IoT) is a network of interrelated and internet-connected objects. It can collect and transmit data over a wireless network without human intervention.
The Indian IoT market is to exhibit a CAGR of 13.9% in 2022-2027. Under this segment, Tata Elxsi helps customers reimagine their products and services through design thinking and the application of digital technologies such as cloud, mobility, virtual reality, and artificial intelligence (AI).
This trait makes Tata Elxsi a strong contender, well-poised to ride the swelling wave in the artificial intelligence and the Internet of Things (IoT) space.
And with digitisation becoming the new norm in the post-pandemic era, this opportunity will only get bigger.
This has put Tata Elxsi in a sweet spot, helping it deliver stellar returns in a short period of time.
The company's stellar financial performance has surpassed all growth expectations. This growth is mirrored in the phenomenal returns the stock has generated in a long period of time.
Tata Elxsi share price was falling in 2022 because of weak quarterly results and due to the same reasons why other IT stocks were also falling.
We reached out to Tanushree Banerjee, Co-head of Research at Equitymaster, on what she had to say about Tata Elxsi back then:
Here's Tanushree:
With the Tata group heading for a consolidation over the long term, the future of subsidiaries like Tata Elxsi as independent entities, is uncertain.

Also, while Tata Elxsi continues to have a strong order book of projects, with cutting edge technologies, the current valuations of the stock do not price in execution risks. Hence some correction in the valuations was expected.
How shares of Tata Elxsi have performed recently
Over the last one month, the share price of Tata Elxsi is down 1%.
On a YoY basis, the stock is down 10%.
The company touched its 52-week high of Rs 10,760.4 on 17 August 2022 and its 52-week low of Rs 5,708.1 on 26 December 2022.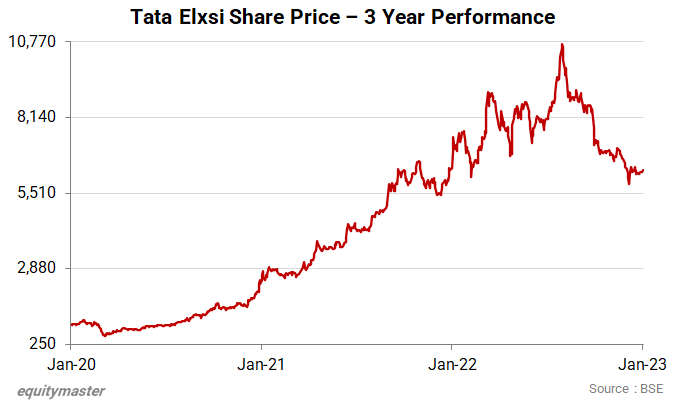 A word of caution
Investors should keep in mind that the trade activates of ace investors should be taken with a pinch of salt and you should not blindly copycat their entire portfolio.
Investment is subject to each individual's level of risk tolerance, investment horizon and size of investment capital.
Investing in a fundamentally strong company should be the ultimate focus of investors.
Investment in securities market are subject to market risks. Read all the related documents carefully before investing
Want to Grow Your Wealth With Safe Stocks?
If you want a simple, safe, and hassle-free approach to long term wealth building...
Without having to worry about negative news or every little downswing in the market...
And without having to worry whether your investments will actually "deliver"...
You must read our note on Blue Chip Stocks now.
Details of our SEBI Research Analyst registration are mentioned on our website - www.equitymaster.com
Disclaimer: This article is for information purposes only. It is not a stock recommendation and should not be treated as such. Learn more about our recommendation services here...