What Indian Companies can Learn from Taiwan's Semiconductor Giant
Jan 22, 2022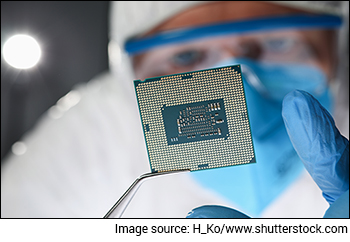 When it comes to semiconductor chip manufacturing, Taiwan rules the roost. The country accounts for more than 60% of all chips manufactured across the world.
This is primarily due to two reasons.
First, the country boasts of cutting-edge manufacturing technology to produce sophisticated chips.
Second, the country has the highest manufacturing capacity in the world to satiate the demand for these sophisticated chips.
The dependence on Taiwan for sourcing semiconductors is not going to reduce anytime soon. In light of a severe global shortage of semiconductor chips, many companies are looking to diversify their sources.
India too plans to tap into this opportunity.
The Indian government has earmarked Rs 760 bn to incentivise private players to set up chip manufacturing plants in the country.
Large Indian conglomerates such as the Tata group and Vedanta group have already expressed their interest in the business. They're scouting for suitable locations to set up factories.
If Indian companies aim to make it big in the global semiconductor industry, they could learn the art of dominating this specialised trade from Taiwanese companies.
One of the most successful companies in Taiwan is Taiwan Semiconductor Manufacturing Company (TSMC). The company is a behemoth in the global semiconductor value chain.
The stock has been a big wealth creator too.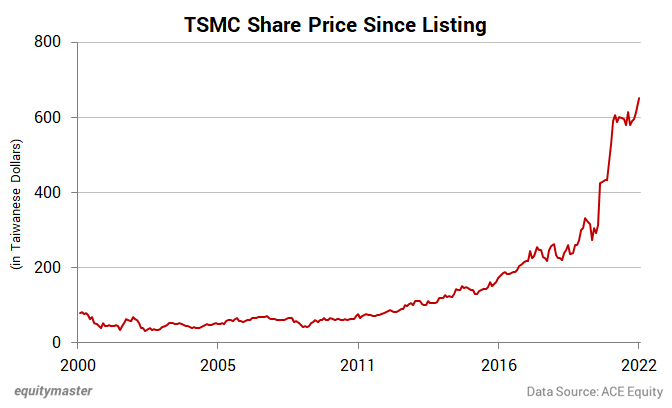 TSMC the largest contract manufacturer of semiconductor chips in the world. The company manufactures chips for major tech firms such as Apple, Nvidia, Intel, Qualcomm, etc.
Here are five lessons Indian companies can learn from TSMC.
#1 A veteran at the helm of affairs
It's highly likely that a person with an astute understanding of the industry along with a grand vision, could propel a company to new heights. This person could perhaps take the company to a position where it dominates the industry.
This is quite apparent in industries with complex manufacturing processes such as specialty chemicals and pharmaceuticals. It holds true for semiconductor manufacturing too. It's an extremely complex industry.
And TSMC's dominance in semiconductor manufacturing is a testament to this.
Armed with a PhD in electrical engineering from Stanford University and work experience of 25 years at Texas Instruments, Mr Morris Chang incorporated TSMC in 1987.
During his 25-year stint with Texas Instruments, he spearheaded the company's global semiconductor division. This gave him exposure of the business side of things.
His astute understanding of the functioning of the industry helped him pioneer the concept of pure play foundries i.e. contract manufacturing.
Today, TSMC is the largest contract manufacturer of semiconductor chips in the world and the credit goes to Mr Chang.
The entire semiconductor value chain is extremely complex. A person who understands the industry in and out will have an easier time getting started.
Indian companies who wish to make it big, need to identify and bring onboard an industry veteran with exceptional leadership qualities.
#2 Collaboration and joint ventures
Taiwan did not pioneer semiconductor technology.
However, the Taiwanese government was determined to accelerate the adoption of this technology.
As a result, they tied up with Radio Corporation of America (RCA) to bring the semiconductor technology to Taiwan. At that time, RCA was a dominant electronics company in America.
RCA provided Taiwanese engineers with intensive on the job training. Thus, they understood various aspects of semiconductor design and manufacturing.
India is now in a similar place where Taiwan was in the 1970s.
Indian companies can collaborate with global companies, academia, and research institutes to do the same at a much faster pace.
India can leverage collaborations with global semiconductor firms to train Indian engineers.
Collaborations with academia and research institutes could result in novel and efficient manufacturing processes, materials, etc. These innovations could help companies optimise their manufacturing costs.
#3 Research and development (R&D) initiatives to stay ahead of competition
Semiconductor chips aid the successful implementation of resource intensive applications such as internet of things (IOT), artificial intelligence (AI), etc
As these technologies evolve and proliferate, the demand for more powerful chips will go up. So, it's imperative for chip manufactures to invest in the development of more advanced chips.
However, manufacturing next generation chips is not easy.
Every time a chip manufacturing company decides to manufacture a sophisticated chip, it needs to develop a novel process unique to that particular chip. This is a result of relentless research and development (R&D) efforts.
Ownership of such a unique manufacturing process provides a competitive edge to a company.
For example, TSMC became the first company to put into practice a niche technology to produce chips that other companies failed to do. TSMC earned 50% of its revenue in the latest quarter from selling these advanced chips.
R&D is of paramount importance in the semiconductor industry. These investments help a semiconductor company develop novel and cost-efficient processes. These in turn result in smaller and more powerful chips.
The following table shows the R&D expenditure of TSMC since 2018.
TSMC's R&D Expenditure (2018-2021)
| | 2018 | 2019 | 2020 | 2021 |
| --- | --- | --- | --- | --- |
| R&D expenditure (Taiwanese dollars in millions) | 85.9 | 91.4 | 109.5 | 122.5 |
| Growth (%) | | 6.40% | 19.80% | 11.80% |
Data Source: Yahoo finance
As you can see, the company has constantly increased its R&D spend.
Continuing the tradition, TSMC has committed US$100 bn towards R&D over the next three years.
These funds will be used to develop a novel process to manufacture the next generation of chips. It's objective is to be the only developer of these sophisticated chips.
A key takeaway lesson for Indian companies here is that continuous innovation is a big competitive advantage and a key to success in this industry.
To make sure that innovation doesn't hit a dead end, Indian companies will have to consistently invest a lot of money in R&D.
#4 Expansion of capacities to meet demand
Demand for powerful and smaller semiconductor chips will increase as complex technologies such as the metaverse become a reality.
TSMC has consistently expanded its production capacity by adding new manufacturing plants even though it's expensive. It costs billions of dollars to set up a new plant.
The company makes sure that the supply of chips meets demand, and it doesn't lose any market share to its peers.
Have a look at the company's capex since 2018 in the following table.
TSMC's Capital Expenditure (2018-2021)
| | 2018 | 2019 | 2020 | 2021 |
| --- | --- | --- | --- | --- |
| Capital Expenditure (Taiwanese dollars in millions) | 322.6 | 469.8 | 521.5 | 702.5 |
| Growth (%) | | 45.6% | 11% | 34.7% |
Source: Yahoo finance
TSMC recently announced plans to invest US$44 bn in expanding its production capacity in 2022. This is the highest amount of capex in the company's history.
Indian companies may start small, but they will have to expand their production capacity by ploughing their earnings back into the business. It's the only way to gain prominence in the global supply chain and maintain it.
#5 Doubling down on strengths
Chang focused more on chip manufacturing in the early days rather than chip design.
This was because he believed Taiwanese engineers were highly efficient at following established processes. He was aware of the strengths of the Taiwanese people. So, he doubled down on that.
Taking inspiration from Chang, Indian companies should focus on segments where they can leverage their strengths.
A couple of segments Indian companies may start with is raw silicon wafer manufacturing and testing & packaging. These segments are less capital intensive and demand huge manpower which is one of the biggest strengths of the country.
Indian companies may also leverage its massive software talent pool to develop electronic design automation (EDA) tools. This an essential tool for designing chips.
If you would like to know about the best semiconductor stocks in India, you can watch the following video recorded by Tanushree Banerjee, co-head of research at Equitymaster.
You can also go through the wide variety of resources on our website.
To know what's moving the Indian stock markets today, check out the most recent share market updates here.