Jan 27, 2023 - Sunil Singhania's Abakkus Picks Stake in this Penny Stock. Key Details Inside...
Sunil Singhania's Abakkus Picks Stake in this Penny Stock. Key Details Inside...
Jan 27, 2023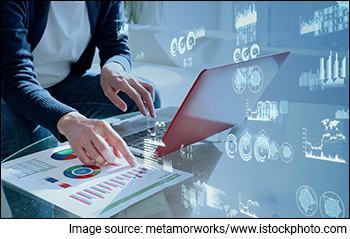 Retail investors often track the activity of big names in the stock market like Ashish Kacholia, or Vijay Kedia. These investing gurus have a track record of successful investments and have gained a reputation as knowledgeable and experienced investors.
By following their investment strategies and stock picks, retail investors also hope to achieve similar success in the market.
Additionally, these individuals may share their insights and market analysis through various media outlets, making it easier for retail investors to access their expertise.
One such widely tracked investing guru in India is Sunil Singhania.
Data reveals that in the September 2022-December 2022 quarter, the market mogul bought stake in a newly listed penny stock.
The transaction was carried out via the fund he manages Abakkus Emerging Opportunities Fund.
A word about Sunil Singhania and Abakkus Asset Manager LLP
Abakkus Asset Manager is an investment management company founded by Sunil Singhania, who was the CIO of Equity Investments at Reliance Mutual Funds.
Sunil Singhania has a track record of over two decades in equity markets and he played an important role in building Reliance-Nippon MF into one of India's largest asset management companies (AMCs).
Which penny stock did Sunil Singhania buy and why?
The newly listed stock in question is Tracxn Technologies.
The latest shareholding pattern of Tracxn shows that Sunil Singhania's Abakkus Emerging Opportunities Fund-1 held 1.62% stake in the company as of December 2022.
The fund holds a little over 1.6 million (m) shares out of the total equity, i.e. 100.3 m shares.
Since the company was only listed in October 2022, this would count as a new stock in Sunil Singhania's portfolio.
The company is also trading under Rs 100. Penny stocks are shares of listed companies with low share prices. These stocks usually have low share prices, typically less than Rs 100 and often less than Rs 50.
While we don't know why Sunil Singhania decided to enter this newly listed company, there are some reasons that we can guess...
First reason could be despite being a new-age tech stock, Tracxn has registered decent growth in its quarterly earnings. Unlike Zomato or Paytm, which continue to bleed on the bourses and burn cash...
For the September 2022 quarter, it registered a revenue growth of 28% YoY to Rs 191.1 m. It reported a net profit of Rs 15.4 m as against a loss of Rs 48.3 m a year ago.
EBITDA margin and PAT margin expanded at a quick pace in the quarter under review. PAT margin for Q2 was 15.3%, and last year during the same quarter, this was negative 6.5%.
The company also generated positive free cash flow of Rs 53 m in the first half of 2023, which is an increase of 42 m for the same first half previous financial year.
This was the first quarterly result published by the startup after its stock market debut in October 2022.
Other reasons why Singhania might be bullish on this SaaS stock could be because of its market position and the comfort if provides following a sharp correction in IT stocks.
Tracxn is among the world's top 5 private market data providers. There is no peer company in the listed space having operations similar to it.
It offers services such as workflow software, excel plug-ins, deal-flow tools, personalised dashboards, and portfolio trackers.
Since listing, the company has traded in a range. It hasn't witnessed a steep selloff like the other listed startup which went public in 2022 - Delhivery.
Not just Delhivery, but also consider the fall from top in stocks such as Paytm, Nykaa, Zomato and CarTrade Tech.
The wealth destruction in these stocks is massive. Most investors, who didn't sell at the peak or after they were listed, are sitting on huge losses.
Tracxn on the other hand has not seen a sharp fall since listing and stood out among the new-age tech stocks.
A word of caution here... when dealing with new age platform businesses, ask yourself if you're comfortable buying them without a margin of safety. These are the kind of stocks that can fall even if the fundamentals improve just because its valuations are too high.
Ask yourself what the highest price to earnings (PE) multiple is that you are willing to pay for this stock and how much the stock needs to fall for the PE will get to that level.
How Tracxn Technologies has performed recently
In 2023 so far, shares of the company have gained 16%.
Today, the stock opened marginally lower at Rs 92.1 against its previous close of Rs 92.5.
As the session progressed, Tracxn Technologies gained over 2% and touched a high of Rs 94.75.
Tracxn Technologies has a 52-week high of Rs 103.4 touched on 16 January 2023 and a 52-week low of Rs 67.3 touched on 2 November 2022.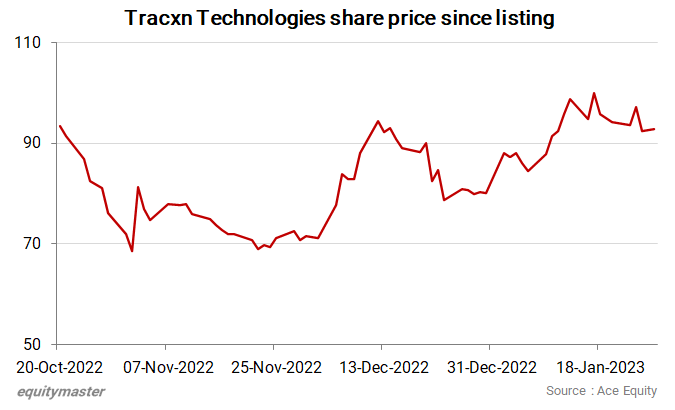 About Tracxn Technologies
Tracxn is a data and software platform for the private markets globally. The company's customers include venture capital funds, private equity funds as well as M&A and innovation teams of large Fortune 500 corporations.
It is a global platform so nearly 70% of revenue is international. The company has customers in over 50 countries.
To know more, check out Tracxn Tech's financial factsheet and its latest quarterly results.
You can also compare Tracxn with its peers:
Tracxn Tech vs Tanla Platforms
Investment in securities market are subject to market risks. Read all the related documents carefully before investing
Want to Grow Your Wealth With Safe Stocks?
If you want a simple, safe, and hassle-free approach to long term wealth building...
Without having to worry about negative news or every little downswing in the market...
And without having to worry whether your investments will actually "deliver"...
You must read our note on Blue Chip Stocks now.
Details of our SEBI Research Analyst registration are mentioned on our website - www.equitymaster.com
Disclaimer: This article is for information purposes only. It is not a stock recommendation and should not be treated as such. Learn more about our recommendation services here...
Yash Vora is a financial writer with the Microcap Millionaires team at Equitymaster. He has followed the stock markets right from his early college days. So, Yash has a keen eye for the big market movers. His clear and crisp writeups offer sharp insights on market moving stocks, fund flows, economic data and IPOs. When not looking at stocks, Yash loves a game of table tennis or chess.