Does Maruti Suzuki's Poor Performance Indicate a Rough Ride for the Automobile Industry?
Jan 28, 2019
With electrification of vehicles catching up fast, the world's economy may change from being oil-driven to dependent on lithium, cobalt, etc.
The introduction of electric vehicles is going to transform the automobile industry in a big way.
In times like these, everyone wants to know 'what's up with automobile stocks?'
Especially looking at the current scenario, nothing seems to be going well in automobile stocks and even the beginning of 2019 is adding more woes to this sector.
Market participants were jolted out of their seats after Maruti Suzuki reported a sharp narrowing of operating profit margin to under 10%. The company's weakening sales volume data have given the impression that the company has hit a rough patch. It looks like it will be a rocky road to recovery.
So, is it only Maruti Suzuki or all automobile stocks?
Both benchmark indices are on a negative trend. One of the reasons for the bloodbath in these two indices can be attributed to the beating automobile stocks have been facing.
All Automobile Stocks in Red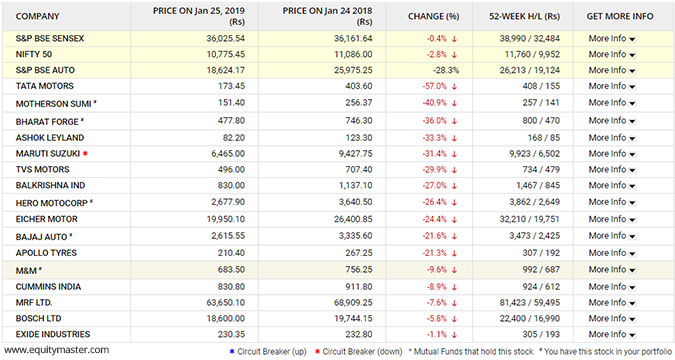 To investors' horror, the S&P BSE Auto has plunged by nearly 25.3% in past one year. Almost every stock in this sector is on a hotbed.
As you can see in the table above, all the components of BSE Auto index have fallen. Tata Motors and Motherson Sumi Systems have plunged over 40% in past one year. While, Bharat Forge, Ashok Leyland and Maruti Suzuki fell over 30% during the same period.
Underperformance of BSE Auto Index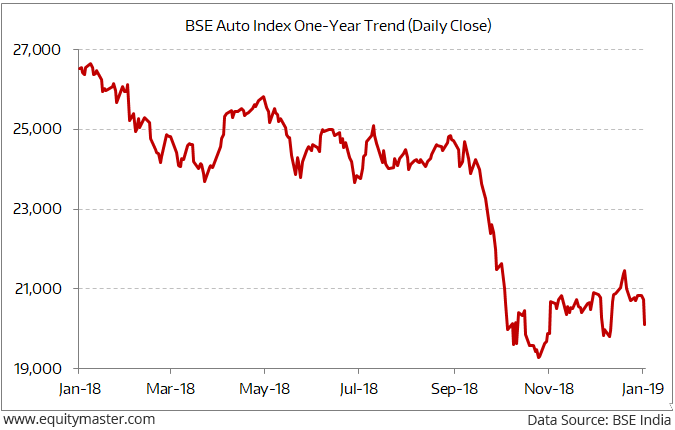 What exactly happened to the ever-growing automobile sector?
Road Block & Road Ahead...
Year 2018 turned out to be a mixed bag for the domestic automobile industry.
Just like many other sectors, the automobile sector too, was caught up in the tide of the major macroeconomic woes this year.
The year started off with a bang. The industry was motoring along well having digested the cramps of demonetisation and the partial disruption due to the roll-out of GST.
In fact, the passenger vehicle industry grew in the beginning of the year. The sale of passenger vehicles (PV) grew by 7.9% in April-March 2018 over the same period last year. Also, the overall commercial vehicles (CV) segment grew by 19.9% in April-March 2018.
Things went awry thereafter as adverse macroeconomic factors such as rising fuel prices and interest rates took a toll.
Talk of electric mobility also gathered steam during the year with the government and industry deliberating at length on the way forward for India.
Then from taxing conventional vehicles more, banning diesel vehicles in its entirety, to incentivizing only vehicles for fleet or battery technologies, a number of options were debated.
While PV showed growth in the first part of the year, the challenge arose in keeping the trend on account of a high base in 2018. The speed of growth slowed down towards the end of the calendar year across segment with the fuel price increase, domino effect due to non-banking financial companies (NBFC) issues and high interest rates.
The festival season also disappointed the segment with tepid sales of PV's.
However, by the end of the year, there were some early visible green shoots of recovery. Oil prices have softened. Interest rates have also been capped with the RBI maintaining status quo in its quarterly review in early December.
So, Should You Invest or Stay Away?
So, coming down to the final and most important question in your mind, should you invest or stay away from automobile stocks?
One thing we must keep in mind is that not all auto companies will make money over time. And also, you shouldn't stay away from auto stocks altogether.
Even Tanushree Banerjee, Co-head of research at Equitymaster believes that there are businesses in this sector that you cannot ignore. She is particularly talking about the blue-chip auto stocks.
Here's Tanushree:
One out of every three household in India is a buyer of their products. They own some of the cult brands in Indian automobile space. They have formidable R&D teams. They have been through several economic cycles over decades. Few have even visited near-bankruptcy in the past and come out successful.

Yet, some of the biggest passenger car, commercial vehicle, and two-wheeler companies in India have seen a huge dent in valuations in recent times.

This could be the opportunity long term investors were waiting for.
Going forward, while the demand of passenger vehicles has kept growing, there will be challenges like new safety norms and the transition from BS-IV to BS-VI fuel in 2020 that may act as speed breakers.
In preparation for the new regulations, manufacturers may also hold back some new product introductions.
Now while the pessimism surrounding auto stocks keep most of us wary, you must look at the sector with the long-term perspective.
In the long run, India's growing working-age population will keep the demand for private vehicles high.
As far as macro trends are concerned, what you must keep in mind is that what happens in the stock markets is often not in sync with the business realities.
India's automobile firms will do well in the long-term. However, you need to be selective in picking stocks from this space.
Best Regards,
Rini Mehta
Rini Mehta is a keen follower of the stock markets and economy. At Equitymaster, she covers daily stock market moves and broader market trends across Indian and global markets.