Why Ambuja Cement Share Price is Falling
Mar 20, 2023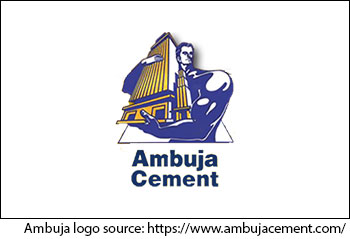 Editor's note: For the past couple of days, reports have been circulating after Adani group's flagship company Adani Enterprises clarified a big development with regards to its recently acquired cement companies.
Concerns have emerged over the related party status of Vinod Adani, brother of Gautam Adani. Vinod Adani-owned Endeavour Trade and Investment is the acquiring subsidiary for both ACC and Ambuja Cements, with disclosures suggesting that he is part of the promoter group.
In response, Adani Enterprises clarified that this fact has already been submitted to Indian regulatory authorities in various disclosures.
However, media reports state that the entity Endeavour Trade is based in Mauritius and owned by Vinod Adani. This means neither Adani Enterprises nor any of the Adani group's other listed companies in India or their subsidiaries acquired Ambuja Cements and ACC.
These allegations have lead to a correction in Ambuja Cements share price and ACC share price.
However, this is not the only reason why Ambuja Cement shares are under pressure. In January 2023, we discussed the possible reasons behind the sharp fall.
Continue reading to know more...
Why Ambuja Cement Share is Falling
It's been a crazy week on Dalal Street.
The sharp selloff in Adani group stocks took over the entire markets down towards the end of the week. Banking stocks were worst hit as street became extremely nervous with regards to banking companies' exposure towards the Adani conglomerate.
There were other reasons too which dragged the Indian share markets, but the impact of Adani stocks cemented the negative sentiment...
Everyone was preoccupied with the Adani stocks this week.
We at Equitymaster have not shied away on giving out opinions and our fundamental research effort has never recommended an Adani stock. So, we were looking from the sidelines.
While we have no view to offer, check out Equitymaster's Indian Stock Screener where you can view the fundamentals of companies within a business group in one screen, including the Adani Group. This should help you get a better grip on fundamentals, business group wise.
Coming back to this week's fall...take a look at the table below to see how Adani stocks performed this week and in 2023 so far.
Adani group stocks in 2023
| Company | CMP (Rs) | 1 Week (%) | 2023 so far (%) |
| --- | --- | --- | --- |
| ACC Ltd. | 1,884 | -20% | -23% |
| Adani Enterprises Ltd. | 2,762 | -20% | -28% |
| Adani Green Energy Ltd. | 1,485 | -25% | -23% |
| Adani Ports and Special Economic Zone Ltd. | 599 | -23% | -27% |
| Adani Power Ltd. | 248 | -10% | -17% |
| Adani Total Gas Ltd. | 2,935 | -25% | -21% |
| Adani Transmission Ltd. | 2,010 | -27% | -22% |
| Adani Wilmar Ltd. | 517 | -7% | -16% |
| Ambuja Cements Ltd. | 381 | -26% | -27% |
Source: Equitymaster
As visible, one of the worst hit stocks was a safe bluechip stock of the past - Ambuja Cement.
On Friday this week, Ambuja Cement crashed over 25% in intraday trade, which according to reports was its steepest fall since May 2006.
The fall was so brutal that investors took over to social media community saying, 'Aaj to ye deewar bhi tut gayi'.
Why did Ambuja Cement fall 25% in a single day?
Margin pressure
Adani group stocks came under intense pressure on Wednesday this week after US activist firm Hindenburg Research LLC took a short position on the group.
Hindenburg also accused Adani group of market manipulation and accounting fraud.
In May 2022, the Adani group agreed to buy Swiss building materials maker Holcim's India assets Ambuja Cement and ACC for US$10.5 billion (around Rs 800 billion).
Setting up a cement plant can take up to 2-3 years. From acquiring land acquisitions to meeting environmental norms, commencing operations can be a prolonged and tedious process in India.
So this acquisition actually made sense as few years ago, the Adani group expressed interest in manufacturing cement by announcing their foray. Their flagship firm Adani Enterprises has two cement subsidiaries. While Adani Cement was established in June 2021, Adani Cementation plans to build an integrated facility in Gujarat.
Post acquiring the assets, the Adani group pledged their entire stakes in Ambuja Cement (63.2%) and ACC (56.7%) in September 2022. This transaction was carried out with Deutsche Bank's Hong Kong branch, according to filings.
Now according to media reports, the latest crash in Ambuja Cement share price is due to margin-funding pressures.
Investors who borrowed money to purchase the stock (using a margin account) are now facing a loss on their investment.
In order to meet margin requirements, these investors may be forced to sell their shares, which can further drive down the price of the stock.
Additionally, if shares have been pledged by the promoters, a fall in stock price can lead to the shares being sold by the lender to meet the margin requirement if the stock falls below the pledge price.
Promoter's entire shares in Ambuja were pledged as of September 2022. In December 2022 however, promoter pledging stands at nil.
Other reasons why Ambuja Cement share is falling
Apart from the above, Ambuja Cement is underperforming benchmark indices due to higher input costs.
Not just Ambuja, but other cements stocks are also falling as market experts are of the view that raw material costs will remain a major concern for the cement sector in the next couple of quarters.
Input costs have remained elevated for the past few months, ever since the Russia-Ukraine war especially. Cement companies haven't been able to pass on the cost increase.
Strong outlook going forward
We have extensively covered editorials explaining how infrastructure pace has picked up and how the Modi government is taking increased steps to make sure infrastructure remains the key focus.
As construction activities rise, cement demand will remain strong.
The government has also laid out plans for the affordable and mid-income housing projects. Housing accounts for up to 68% of the demand for cement, while infrastructure and commercial projects together contribute 32%.
Ambuja, being one of the top cement producers and a market leader with efficient plants, is likely to do well as the infrastructure activities and housing demand pick pace.
With more demand for cement, companies will be able to operate their plants at higher utilization rates, which may lead to greater efficiency and cost savings.
How Ambuja Cement share price has performed recently
Ambuja Cement was the biggest loser from the Adani group at one point of time on Friday. The stock crashed more than 25% to touch a low of Rs 345.
Ambuja Cement closed the day at Rs 381, down 17.2%.
Ambuja Cement has a 52-week low of Rs 274 touched on 8 March 2022 and a 52-week high of Rs 598 touched on 9 December 2022.
In 2023 so far, the stock has declined 27%.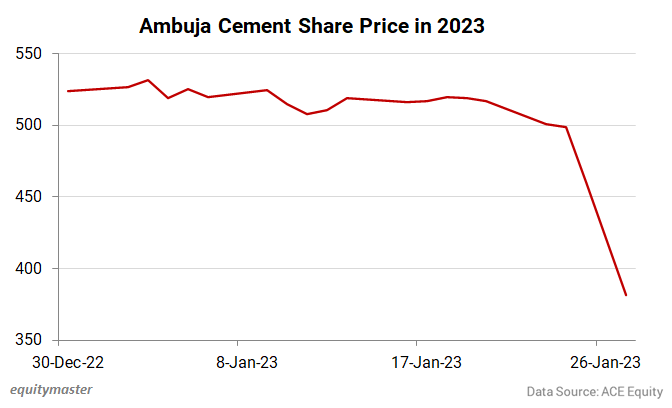 The recent fall has brough Ambuja Cement share price back to the July 2021 levels.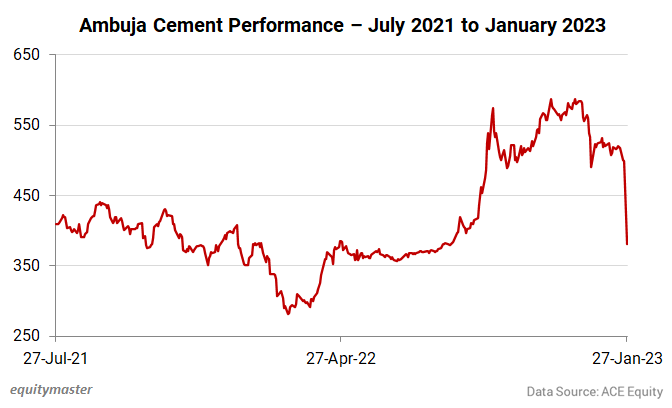 About Ambuja Cement
Ambuja Cement is a part of the Adani Group. Previously it was a part of the Holcim Group, (formerly known as LafargeHolcim), a global leader in providing green building solutions in 70 markets across five continents.
Recently, Adani Group acquired 63.11% stake in Ambuja Cement, and 4.48% in ACC Cement from Holcim Group to become the second largest cement producer in the country after UltraTech Cement.
Ambuja Cement's unique product portfolio is tailor made to suit Indian climatic conditions. The company is the industry leader in using both natural and man-made resources responsibly and has been awarded several accolades for the same.
To know more, check out Ambuja Cement's factsheet.
You can also compare Ambuja with its peer UltraTech Cement to decide which stock is better.
Since stocks from the cement sector interest you, check out Equitymaster's powerful Indian stock screener tool to find the top cement companies in India.
Investment in securities market are subject to market risks. Read all the related documents carefully before investing
Want to Grow Your Wealth With Safe Stocks?
If you want a simple, safe, and hassle-free approach to long term wealth building...
Without having to worry about negative news or every little downswing in the market...
And without having to worry whether your investments will actually "deliver"...
You must read our note on Blue Chip Stocks now.
Details of our SEBI Research Analyst registration are mentioned on our website - www.equitymaster.com
Disclaimer: This article is for information purposes only. It is not a stock recommendation and should not be treated as such. Learn more about our recommendation services here...
Yash Vora is a financial writer with the Microcap Millionaires team at Equitymaster. He has followed the stock markets right from his early college days. So, Yash has a keen eye for the big market movers. His clear and crisp writeups offer sharp insights on market moving stocks, fund flows, economic data and IPOs. When not looking at stocks, Yash loves a game of table tennis or chess.
FAQs
Which are the top cement companies in India?
What are the top gainers and top losers within the cement sector today?
How should you value cement companies?
Investing in stocks requires careful analysis of financial data to find out a company's true worth. However, an easier way to find out about a company's performance is to look at its financial ratios.
Two commonly used financial ratios used in the valuation of stocks are -
Price to Earnings Ratio (P/E)- It compares the company's stock price with its earnings per share. The higher the P/E ratio, the more expensive the stock.
Price to Book Value Ratio (P/BV) - It compares a firm's market capitalization to its book value. A high P/BV indicates markets believe the company's assets to be undervalued and vice versa.