Top Midcap Growth Stocks to Watch Out for in 2022
Jan 29, 2022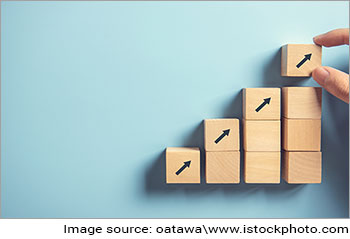 Indian midcap stocks have been on a bullish trend for the past two years.
From 1 January 2020 to 31 December 2021, the Nifty Midcap 100 index has given 77.6% return against the benchmark Nifty's 42.5% return.
Investors who had midcaps in their portfolio have benefited from this and made significant returns.
But a year ago, in 2019, investors who put their money in midcaps made losses. In 2019, the Nifty Midcap index gave a 4.4% loss against the 11.5% return of Nifty 50.
This shows us that midcap stocks can be quite volatile. However, we cannot underestimate these stocks. In a bullish trend, they can grow at a high rate and even turn into large-cap stocks.
Since these companies are under-researched, finding the right one to invest in can be a little tricky. But once you hit the bull's eye, you can boost your portfolio returns.
Here's a list of five mid-cap stocks that we have shortlisted using Equitymaster's Stock Screener.
#1 AU Small Finance Bank
AU Small Finance Bank is primarily engaged in providing banking and financial services in India.
Incorporated in 1996 as a non-banking financial corporation (NBFC), it mainly focuses on retail financing.
It started banking operations in 2017 and offers small business loans to micro, small and medium enterprises (MSME) and other banking products to its customers.
The bank serves over 2.1 m customers with a network of over 800+ touch points spread across fifteen states and two union territories.
It has an established market position in Rajasthan, has expanded to Gujarat, Maharashtra and other states and is evolving as a pan India bank.
AU Small Finance Bank's revenue registered a steady revenue growth of 20.8% CAGR over the last three years. This was on account of the consistency in the bank's overall performance in the last few years.
The bank's net profit also grew at a CAGR of 45% during the same period.
In 2022, the company's deposits and loan disbursements are expected to grow due to branch expansion and improved digital offerings.
During the pandemic, RBI has taken several measures to boost liquidity in the country, including Special Long-Term Repo Operations (SLTRO) of Rs 100 bn for small finance banks to support MSMEs and unorganised sector entities.
AU Small Finance Bank stands to benefit from this as it's one of the leading small finance banks in the country with an established presence that offers last-mile credit delivery.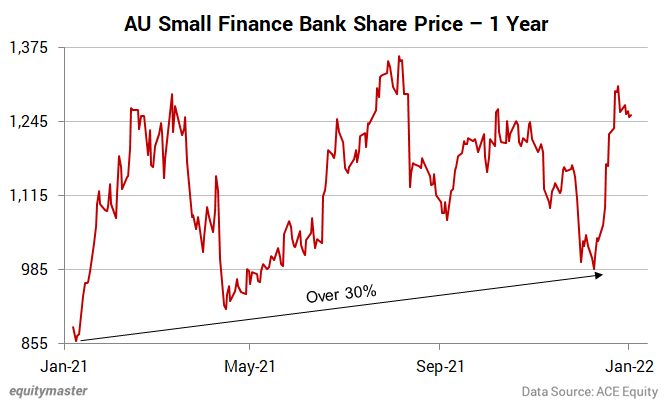 #2 Gland Pharma
Second on our list is Gland Pharma, one of the largest and fastest-growing generic injectable focused companies.
The company manufactures injectables used in vials and pre-filled syringes for major therapeutic areas, including anti-diabetic, anti-infective, oncology, and cardiovascular.
It has four finished formulation facilities and four active pharmaceutical ingredients (API) facilities in India, with a manufacturing capacity of 767 m units.
The company plans to invest Rs 7.7 bn in capex in the next two years to expand its manufacturing capacity in existing plants.
Gland Pharma majorly operates in the business-to-business model (B2B) and has long term supply contracts with its global pharmaceutical companies.
It also sells its products to end-customers such as hospitals, nursing homes, and government facilities under its business-to-customer (B2C) model.
The company's revenues have grown at a healthy pace at about 19% CAGR for the last three years. Its profit has grown at a CAGR of 30% during the same period.
New product launches and volume growth of existing products in key markets such as the USA, Canada, Australia, and Europe have driven the revenue growth.
The revenue from the rest of the world (RoW) business that accounts for 16% grew at about 136% in the last fiscal year due to increased partnerships and geographical penetration.
In the financial year 2022, it's building capacity for biotech and vaccine manufacturing. It's awaiting regulatory approvals to initiate the manufacturing of Sputnik Light.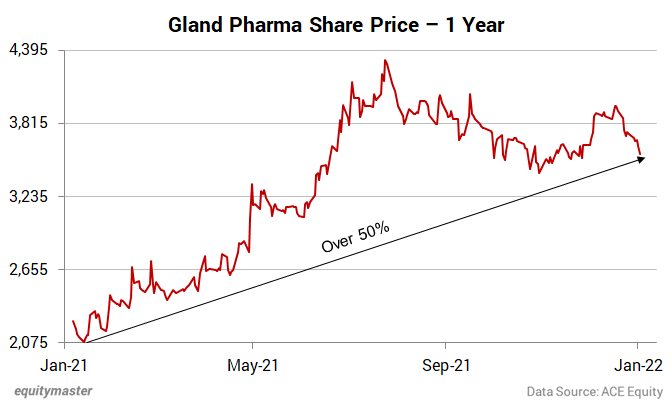 #3 Max Financial Services
Next on our list is Max Financial Services, a life insurance company.
Max Financial Services is a part of one of the leading conglomerates, the Max Group and holds over 80% stake in India's largest non-bank private insurance company, Max Life Insurance.
The company offers different insurance products, including traditional savings plus protection plans, unit-linked insurance plans (ULIPs), pure protection plans, deferred annuity, assured wealth plans and term plans.
It has a market share of 11% among private insurance companies, has a record of settling claims with minimal delays, and a claim paid ratio of 99.35%
Max Financial Services reported a 17% growth (CAGR) in revenues in the last three years. Its profit also grew at 10% CAGR during the same period.
During the financial year 2022, Axis Bank and its subsidiaries became the co-promoters of Max Life after acquiring a 12.99% stake in the company. Max Financial Services aims to benefit from the banks' vast domestic footprint to expand its reach.
The company also plans to capitalize on low insurance penetration in the country through the digitalisation of its services.
To know more about Max Financial Services, check out the company's fact sheet.
#4 IPCA Labs
Fourth on our list is another pharmaceutical company, IPCA Labs.
Indian Pharmaceutical Combine Association (IPCA) Labs is one of the oldest pharmaceutical companies in over 120 countries across six continents.
It manufactures over 350 formulations and 80 APIs for various therapeutic segments, including cardiovascular, anti-diabetic, pain management, gastrointestinal, and cough.
The company has 15 API and 11 formulation manufacturing facilities across the globe, with a manufacturing leadership of 12 APIs. It's setting up a new manufacturing plant in Dewas, Madhya Pradesh, for APIs worth Rs 2.5 bn.
IPCA Labs' revenues have grown steadily at about 13% CAGR over the past three years. This was on account of growth in formulations and API exports.
Its profit has grown at a CAGR of 37% during the same period.
In 2022, the company's revenue is expected to grow due to capacity addition at the Ratlam plant and production at its Dewas plant.
The company has consistently paid dividends to its shareholders and is almost debt-free despite its capex plans.
To know more about IPCA Labs, check out the company's fact sheet.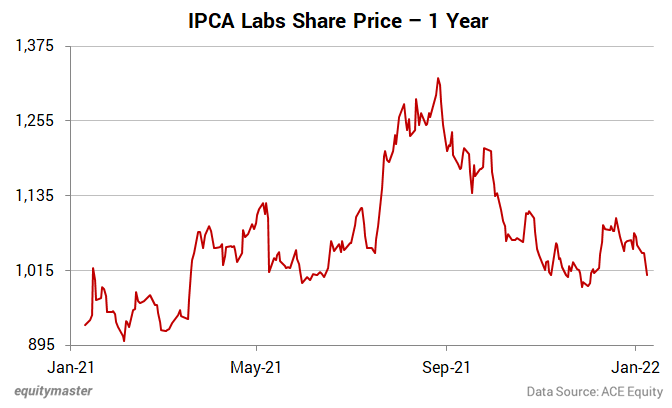 #5 Tata Consumer Products
Last on our list is Tata Consumer Products, a consumer products company.
Tata Consumer Products is a part of the Tata Group and is the world's second-largest tea company.
The company has a diversified portfolio of well-recognised brands in breakfast cereals, salt, pulses, snacks, mini-meals, and beverages such as tea and coffee.
A few of the company's most popular brands are Tetley, Himalayan, and Tata Salt.
It also offers customers a unique experience through its concept tea cafes and premium cafes in partnership with Starbucks in India.
The company has a diversified geographical presence in several international markets, including Canada, North America, the UK, Europe, the Middle East, Africa, and Australia.
Tata Consumer Products' revenue saw a growth of 16.5% CAGR over the last three years. This was on account of the higher volumes and higher realisation.
Its net profit also grew at a CAGR of 28% during the same period.
In 2020, the company acquired Soulfull and NourishCo, to expand its product portfolio into breakfast cereals and healthy hydration space.
The company's revenues are expected to grow in 2022 as the share of branded beverages is steadily increasing in the market. Being an established player, Tata Consumer Products aims to capitalise on it.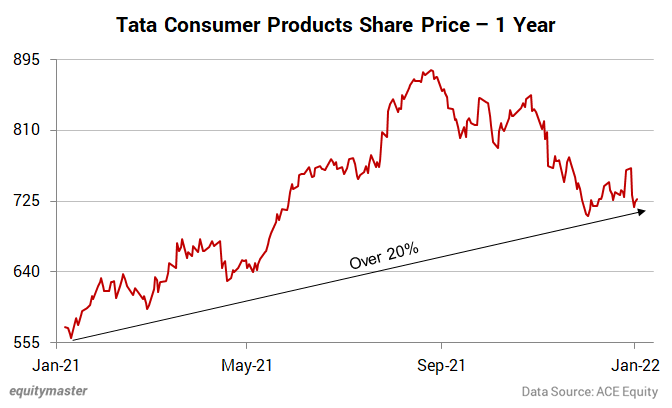 Snapshot of midcap growth stocks in India from Equitymaster's stock screener
Here's a quick view of the top midcap growth companies based on crucial financials.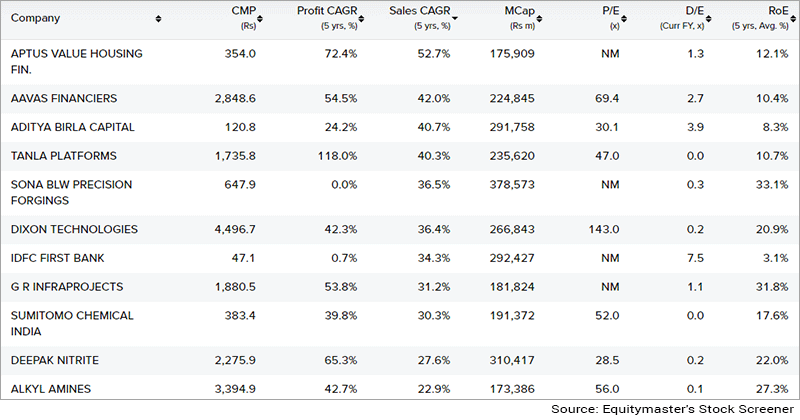 Please note these parameters can be changed according to your selection criteria.
This will help you in identifying and eliminating stocks that are not meeting your requirements and give emphasis on those stocks that are well inside the metrics.
Should you invest in midcap growth stocks?
Midcap growth stocks have a market capitalisation between Rs 50 bn and Rs 200 bn. They have a higher growth potential than large-cap companies.
However, they are very volatile.
There are chances these companies can grow to become future large-caps and add huge value to your portfolio, but there are equal chances for them to drag down your portfolio returns.
They are sensitive to market movements and react to good or bad news.
However, these are stocks that one cannot miss and are often considered hidden treasures.
Midcap's help in diversifying your portfolio. They have the ability to boost a portfolio's returns in the long run.
Investors with a high-risk tolerance and a long-term investment horizon can consider adding these stocks to their watchlist.
But before investing in these companies, assess the fundamentals and valuations of the business.
Happy Investing!
Disclaimer: This article is for information purposes only. It is not a stock recommendation and should not be treated as such. Learn more about our recommendation services here...