Blockchain Technology: 5 Indian Companies to Add to Your Watchlist
Feb 17, 2022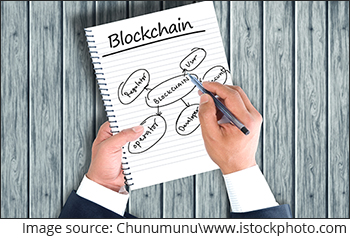 In November last year, we first wrote to you about the 5 Indian companies embracing blockchain technology.
Here's the link to that piece if you haven't read it: 5 Indian Companies Embracing Blockchain Technology.
While we have disruptive technologies such as artificial intelligence (AI) and internet of things (IoT), blockchain was and continues to be the one which has made a significant breakthrough.
There's a craze for anything with the word 'blockchain' associated with it, be it cryptos or NFTs.
In case you don't know what a blockchain is, here's an excerpt from the piece we wrote earlier:
Blockchain is basically a distributed ledger, whose applications could revolutionise many industries.

No data stored on the blockchain can be modified or erased without all of the participants agreeing to the change. That means it protects against fraud.

What's more, the data stored on the blockchain is distributed among all participants, which takes away a single point of failure for the system.

The tamper proof and transparent nature of the blockchain technology makes it an interesting prospect for all kinds of industries.
Simply put, blockchain technology looks like it has immense potential and various use cases which are far from our imagination.
Now let's look at 5 Indian companies that have taken the plunge into this all exciting theme.
#1 Bajaj Finserv
Bajaj Finserv is primarily engaged in the business of promoting financial services such as finance, insurance, wealth management, etc. through its investments in subsidiaries and joint ventures.
The company uses blockchain technology for services like travel insurance, where claims can be settled before they are even registered by the customer.
Have you ever cancelled a ticket and received a refund instantaneously? Bajaj Finserv does this with the help of blockchain. In case of cancellations, the claim amount is automatically paid to the customer.
The company's chairman and MD Sanjiv Bajaj has for long supported blockchain technology. Last month, he showed support for a digital currency, stating there is clearly a very strong need and a role for it.
He also said that adoption of digital currency, based on blockchain technology, can take the economy to the next level.
Bajaj Finserv is not the only finance company leveraging the technology. Others including Shriram Transport Finance are also active in this space.
To know more about the company, check out Bajaj Finserv's factsheet.
#2 Bajaj Electricals
Next on our list we have another Bajaj group company - Bajaj Electricals.
How does Bajaj Electricals use blockchain technology?
It's using a blockchain-based system to pay suppliers and developed in a partnership between Yes Bank, IBM, and a fintech start-up, Cateina Technologies.
With this system, the payment processing time has been almost eliminated for suppliers. Earlier, it used to take up to five days. Now, it's almost real-time.
It was a very laborious process for vendors who supplied materials to Bajaj Electricals. From confirmation of delivery by Bajaj Electricals, to raising a physical bill of exchange by the supplier, to the submission of invoice, and transport documents to Yes Bank. It was definitely a long process.
The company's management in 2017 changed this and let go of the cumbersome process.
To know more, check out Bajaj Electricals' 2020-21 annual report analysis.
#3 Tech Mahindra
IT companies are typically known for making big investment in new age technologies such as blockchain.
Now we already have TCS and Infosys, the big IT bellwethers who have taken big leaps towards blockchain. But one more IT company which has made remarkable contributions is Tech Mahindra.
It has aimed to position itself as the world's leading blockchain company. Currently, the company works on a framework called 'Block Ecosystem' that comprises of various levers to create industry-leading applications.
This shows Tech Mahindra has huge plans in this segment. The company plans to launch 'Stablecoin-as-a-Service' Blockchain Solution with Quantoz for global BFSI customers.
In fact, it has completed several successful blockchain implementations especially across the BFSI, manufacturing, retail, and telecom verticals in fiscal 2021.
Tech Mahindra's work around blockchain-based unit-level traceability solution for global vaccine supply, 'VaccineLedger' is noteworthy in the current situation when there's a supply chain crisis. The solution helps in predicting and preventing failures in supply chains, including problems related to wastage through expired vaccines, stock-outs, and counterfeiting.
Notably, Tech Mahindra was the only company recognised among the top 50 global blockchain companies by Forbes for 2021.
Till now, it has been recognised for developing more than 60 blockchain-based products spanning telecom, media and entertainment, manufacturing, retail, and energy.
To know more, check out Tech Mahindra's latest quarterly results and financial factsheet.
#4 Apollo Hospitals
It was in 2018 when Apollo Hospitals first decided to use blockchain technology. Back then, Niti Aayog and Apollo Hospitals partnered with Oracle Financial, and Strides Pharma to pilot a real drug supply chain using blockchain ledger and IoT software.
This was done so that there's no tampering in records. In case of a fake drug, the blockchain enabled software detects the irregularity and notifies the concerned nodal point.
Since then, Apollo Hospitals has not looked back. It has over time asserted that blockchain and AI in healthcare is more of a need than a luxury. It commenced AI integrations and adoptions before the pandemic outbreak and became future ready.
For now, Apollo Hospitals is leading the charge but there will be more in the future which take on the adoption of blockchain.
To know more about the company, check out Apollo Hospitals' financial factsheet and latest quarterly results.
#5 HDFC Bank
If there's one company which has always adapted to changing times, it's HDFC Bank.
For instance, HDFC Bank wanted to transform itself from a leader in the physical banking to a leader in online banking. Since then, HDFC Bank has constantly focused on going digital and currently dominates the sector.
Banks are some of the most highly regulated industries in the world which have been found guilty of various frauds and scams. So, it was a given that at some point of time, they would need blockchain's help which offers protection against fraud.
In 2020 HDFC Bank joined the Ripple payment network - RippleNet. It's a network of institutional payment-providers such as banks and money services businesses that use solutions developed by Ripple to provide a frictionless experience to send money globally.
Interestingly, Axis Bank and Federal Bank were already partners of RippleNet at that time.
Like IT firms, banks have also not shied away from blockchain. The biggest banks in India have joined hands to create a new company that will leverage the power of blockchain technology to speed up the processing of Letters of Credit (LCs).
Biggest private lenders - ICICI Bank, HDFC Bank, and Axis Bank have taken stakes in the blockchain financial technology firm IBBIC.
IBBIC is a financial technology company, whose main objective is providing a platform for exploring, building, and implementing distributed ledger technology (DLT). This will eliminate paperwork, reduce transaction processing time, and offer a secure environment.
While HDFC Bank and Axis Bank invested Rs 5 lakh each for the shares, ICICI Bank subscribed to 49,000 fully paid-up equity shares of face value Rs 10 each.
HDFC Bank's constant efforts just show that it's a great example of how a company can advantage of its scale and embraced disruption rather than fear it.
There's much to look forward...
It's safe to say now that blockchain has emerged as an up-and-coming technology in various fields.
While cryptos still draw a lot of polarising opinions, their underlying technology - the blockchain - seems to have found favour.
For instance, the Telangana government has launched a Blockchain accelerator program to support and equip blockchain startups with technical know-how and accreditation from the government.
Whether we or the government likes it or not, the blockchain revolution is already happening.
2022 could be the year when blockchain adoption finally moves to next level now that we've already seen the NFT craze, metaverse, and Web 3.0.
That's why it's vital you understand this technology.
It will offer countless investing opportunities in the years ahead. It will also play a key role in your future years with regards to how you work, do business, play, and operate in society.
Look for businesses that are either immune to disruption or are using blockchain as an opportunity to grow their business.
As always, we will be sure to keep an eye on the developments to keep you on the top of blockchain developments in India.
Happy Investing!
Disclaimer: This article is for information purposes only. It is not a stock recommendation and should not be treated as such. Learn more about our recommendation services here...